If you're on the lookout for the ideal e-learning solution for your next project, you'll likely narrow things down to LifterLMS vs LearnDash. 🎓
So, which is better?
Well, before we get into the nitty-gritty, let's look at what we're dealing with:
LifterLMS and LearnDash are what's commonly referred to as Learning Management System (LMS) solutions. These tools take your educational content (courses, lessons) and let you not only publish them on the web efficiently, but also allow people to sign up and enroll in them.
In this comparison, I'll look at which tool wins the battle between LifterLMS vs LearnDash by examining their features, pricing, designs and ease of use.
Let's get started:
🥜 Basic Information
The core idea behind LifterLMS and LearnDash is pretty much the same: The tools install on top of WordPress and turn your site into a fully featured e-learning platform.
What's important is you'll still be able to create normal posts and pages — the thing WordPress is known for — but you'll also be able to create courses, lessons, quizzes and other pages/types of content you'd expect to see on an e-learning site.
With that, there's one fundamental difference between LifterLMS vs LearnDash:
LifterLMS is a freemium plugin — you can create your courses for free and make them available for free as well. Should you want to sell access to your courses at any point, this is when you'll need to upgrade to a premium version of LifterLMS.
LearnDash is a premium solution — there's no free plan available at all.
Now, this doesn't mean that either LifterLMS or LearnDash is better by default — they're simply geared toward a different type of user, which is something I hope to make clear in the following comparison.
Want to add a third player to the mix? Check out our comparison of LearnPress vs LifterLMS.
🧰 Features of LifterLMS vs LearnDash
On the surface, you can achieve similar results with both tools:
✅ Turn any WordPress website into an LMS.
✅ Make the LMS work with your current theme.
✅ Create an unlimited number of courses.
✅ Enroll unlimited users.
✅ Use text and multimedia content in your lessons.
✅ Set up quizzes to test people's progress.
✅ Sell access to your courses.
✅ Issue badges and/or certificates.
I could go on, but you get the point: There's a lot that's similar between LifterLMS and LearnDash. However, the devil's in the details. For starters, check out the following:
It works with any WordPress theme.
It supports unlimited courses, students, instructors, lessons, quizzes and questions.
There's a drag-and-drop course and lesson builder (works with the native block editor in WordPress).
It supports multimedia content for lessons — video, audio, images, and so on, and, of course, you can use text content as well.
It allows you to set up drip content based on the progress the student is making.
It offers the ability to define prerequisites — access to lesson content only once the student completes some previous steps.
There's the option to offer certifications, award achievement badges, track student progress with a gradebook.
There are student dashboards.
It allows you to set up lesson downloads.
You can import/export your courses.
It offers detailed reports.
You can set up discussion areas for students.
You can enable course reviews.
It allows you to use integrations with form plugins to collect assignments, contact messages and more.
There's an extensive add-ons catalog.
There's the option to charge for course access using multiple payment methods.
It has the ability to set up one-time and recurring payments, subscriptions, memberships, member-only pricing, course bundles and bulk sales.
You can enable payment plans and payment switching (users can start paying for course access with one method and then switch to a different one if needed).
You can set up upsells for private coaching.
There's the ability to offer coupons.
It has the option to start an affiliate program.
It supports multiple currencies.
It works with any WordPress theme (plus some themes come with built-in LearnDash optimizations).
It supports unlimited courses, users, lessons, quizzes, questions and assignments.
There's a drag-and-drop course builder (it works with the native block editor in WordPress and popular page builders such as Elementor, BeaverBuilder and Divi).
It supports multimedia content for lessons — video, audio, images, and so on, plus text.
You can set up drip content based on triggers such as certain page/video in a course viewed, or linear and open progression triggers.
You can define flexible prerequisites — access to courses based on completing some other course on the site.
You can offer badges and certifications, publish a leaderboard and award course points (based on progress). Gradebooks are also available.
There's a focus mode — a distraction-free environment for students.
There's an advanced assignment management module.
There's advanced quizzing — eight types of questions, question banks and more.
It has detailed reporting.
You can set up discussion forums for students.
It offers automated notifications — emails to remind students of their course activity.
It offers advanced student management by placing them in groups and sub-groups.
There are loads of integrations with third-party tools.
There's an extensive add-ons catalog.
You can use one of many payment methods and also set up different payment models for your courses, such as one-time purchases, subscriptions, memberships, course bundles and bulk access.
It supports multiple currencies.
It works on WordPress multisite(!).
It has support for REST API (for custom dev projects based on LearnDash).
As I said above, LifterLMS and LearnDash are quite similar when it comes to the core range of features they offer.
It's only once we start looking into some more advanced — or maybe even enterprise-level — setups that LearnDash starts getting slightly ahead in terms of features. It looks like a more refined tool overall, and everything you might ever need is included in the package right from the get-go. You don't have to go shopping around for add-ons one by one (common with LifterLMS).
👐 Ease of Use
Given that the features in both LifterLMS and LearnDash are quite similar, ease of use is where the battle is won or lost (that and the price, of course).
The thing with LMS solutions is most of the time the people who'll use them daily aren't necessarily experienced with websites and/or website management.
What I'm getting at is a quality LMS solution must be easy to use. Otherwise, it will fail the real test out in the wild.
Here's how easy to use each of the platforms is:
Working with LifterLMS
LifterLMS behaves just like a normal WordPress plugin when it comes to the installation. Just get the free version from the official plugin directory and install it on your site normally. As soon as you activate the plugin, you'll be guided through a setup wizard.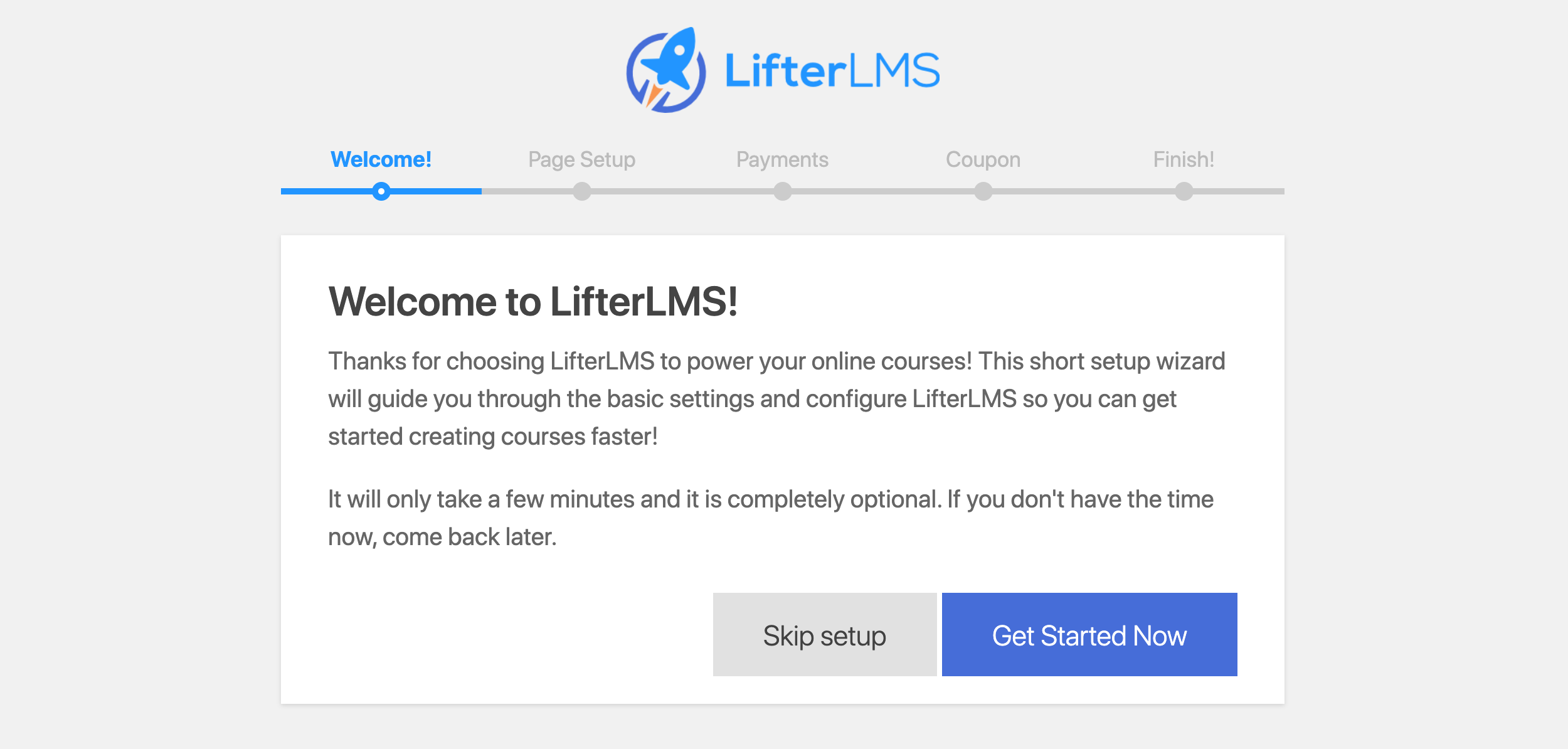 However, instead of requiring you to do any actual work, most of the steps are just confirmations to show you what LifterLMS is doing. Things such as setting up all of the key pages to make your e-learning platform work will happen in the background, and it all takes about a minute.
In the final step, you'll be invited to import a sample course to get a grasp on how everything is organized. I really recommend you take advantage of that sample course import, as it's a nice shortcut to get your work off the ground and not have to start from a blank canvas.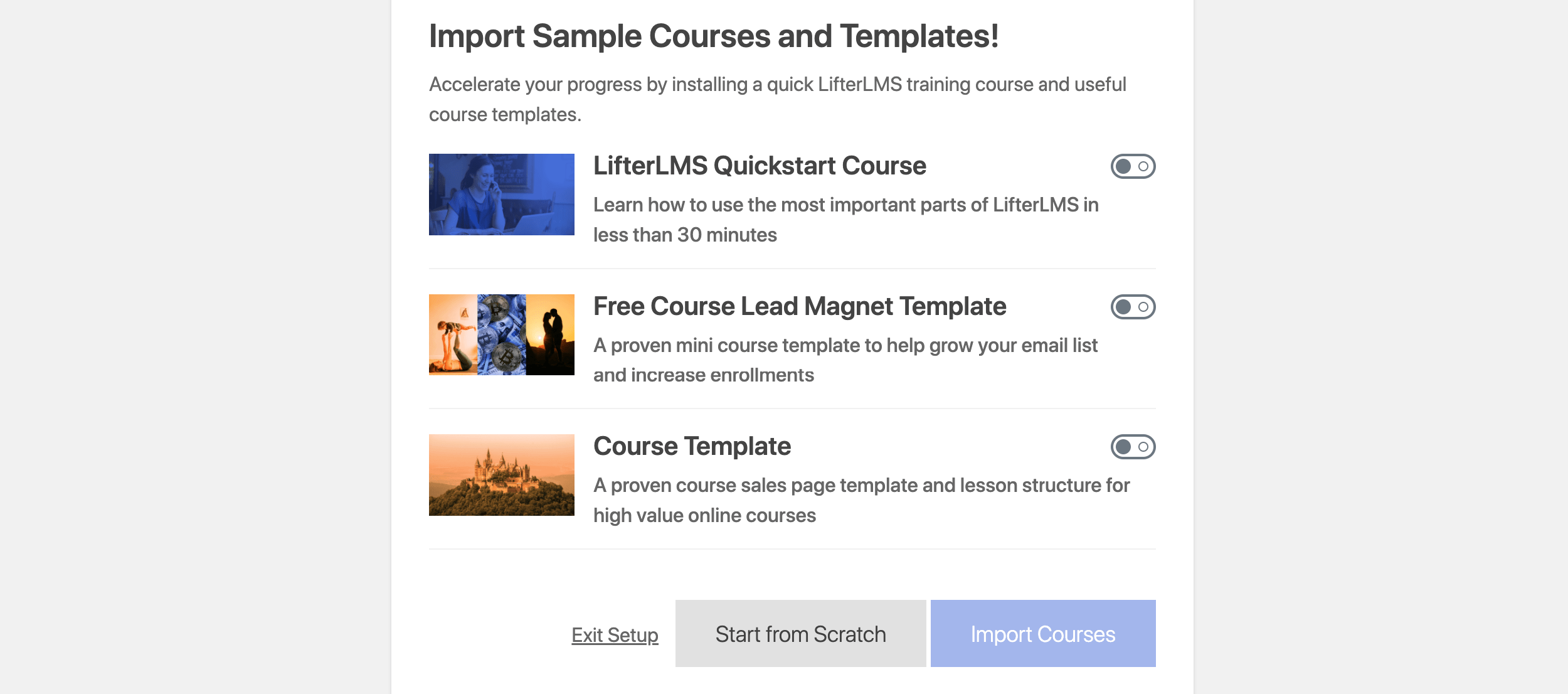 The dashboard of LifterLMS is easy to understand, and highlights all of the key plugin functionality and all of the different areas of your new LMS platform.
As you can see in the screenshot above, navigating between your courses, memberships, user engagements (things such as achievements, certificates and badges) and course sales is quite straightforward.
If you want to start working on your material, go to the Courses section in the main sidebar menu.

Again, the easiest method of adding a new course is to take the Course Template that came with the demo course and customize it.
Editing your course is done through the familiar WordPress interface — the same one you use to write posts or pages.
The good news is LifterLMS comes with full block compatibility, which means you can move things around, drag and drop them, and pick from a selection of different blocks available in WordPress by default.
Your LifterLMS courses will be divided into lessons, and you can add lessons via the Course Builder module. You can find a button to launch it in the right sidebar of the block editor.

The cool thing about this Course Builder is it shows you the structure of your course and all of the lessons at a glance. You can add new lessons by clicking on buttons in the sidebar, and then realign them in the center section.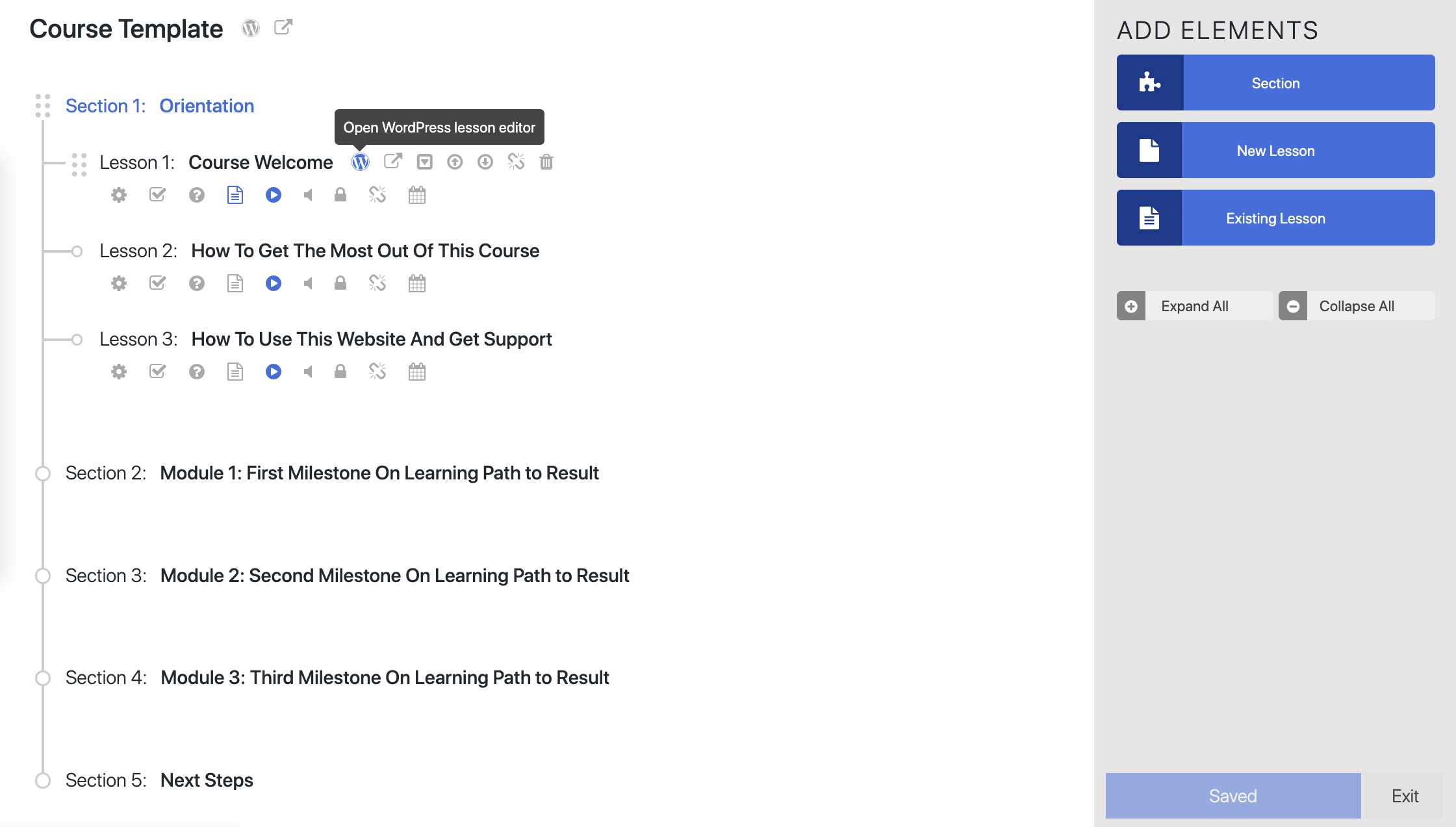 If you want to edit your lessons, this is done through the same block-powered interface.
No matter if you want to add text, images, videos or other media, LifterLMS is equipped to handle it with ease.
Depending on your intended course structure, each lesson can also have some assignments or quizzes added to it. Just click on the gear icon next to any given lesson, and then go to the Assignment or Quiz tabs.

That is how, lesson by lesson and quiz by quiz, you create your entire course or courses. Along the way, you also get to manage memberships, user engagements and course sales (if you're planning to offer paid courses).
Then, if you want to, you can get some add-ons from the official LifterLMS website and install them alongside the main LifterLMS plugin (add-ons come as standalone plugins themselves).
Working with LearnDash
LearnDash is a premium plugin, which means you won't find it in the official directory at WordPress.org.
To get your hands on it, you have to go to LearnDash.com and buy one of the available licenses (I'll talk about the pricing later).
Then, in your user panel at LearnDash.com, you'll find the download link for the plugin and your license details.
At this point, you can install the plugin normally via Plugins → Add New → Upload Plugin in your WordPress dashboard.
As soon as you have the plugin active, LearnDash will show you a nice onboarding panel called the LearnDash Bootcamp, which will take you through the next steps on your way to creating your first course. The bootcamp isn't mandatory, but it's a great introduction to the platform, so we'd recommend you go through it.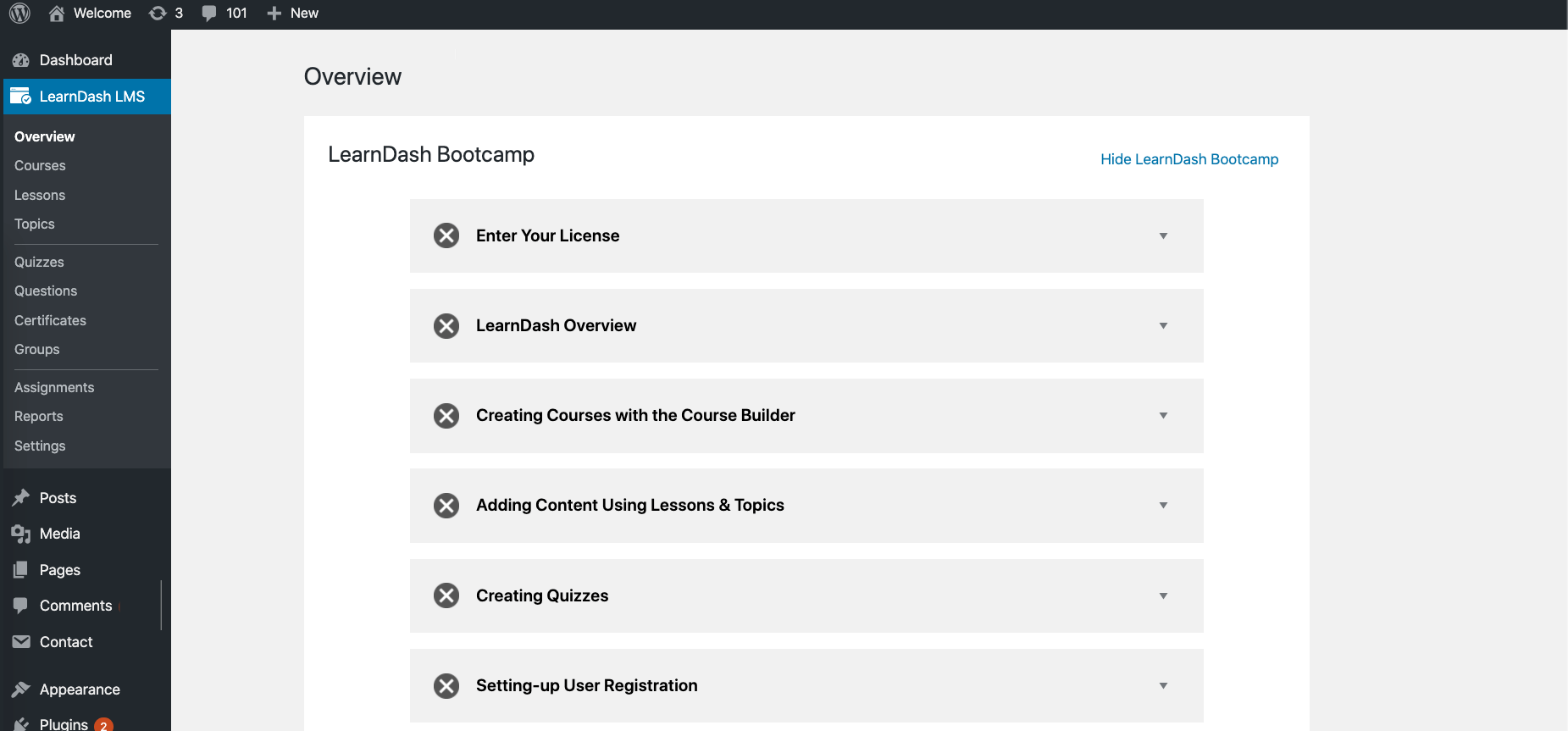 As you can see in the image above, the first order of business is to get your license code validated. You can do that by expanding the Enter Your License box and entering your email and license key.
With that out of the way, you'll be invited to learn a thing or two about LearnDash by watching a sequence of video tutorials. Basically, you've just got enrolled in an online course on how to use LearnDash.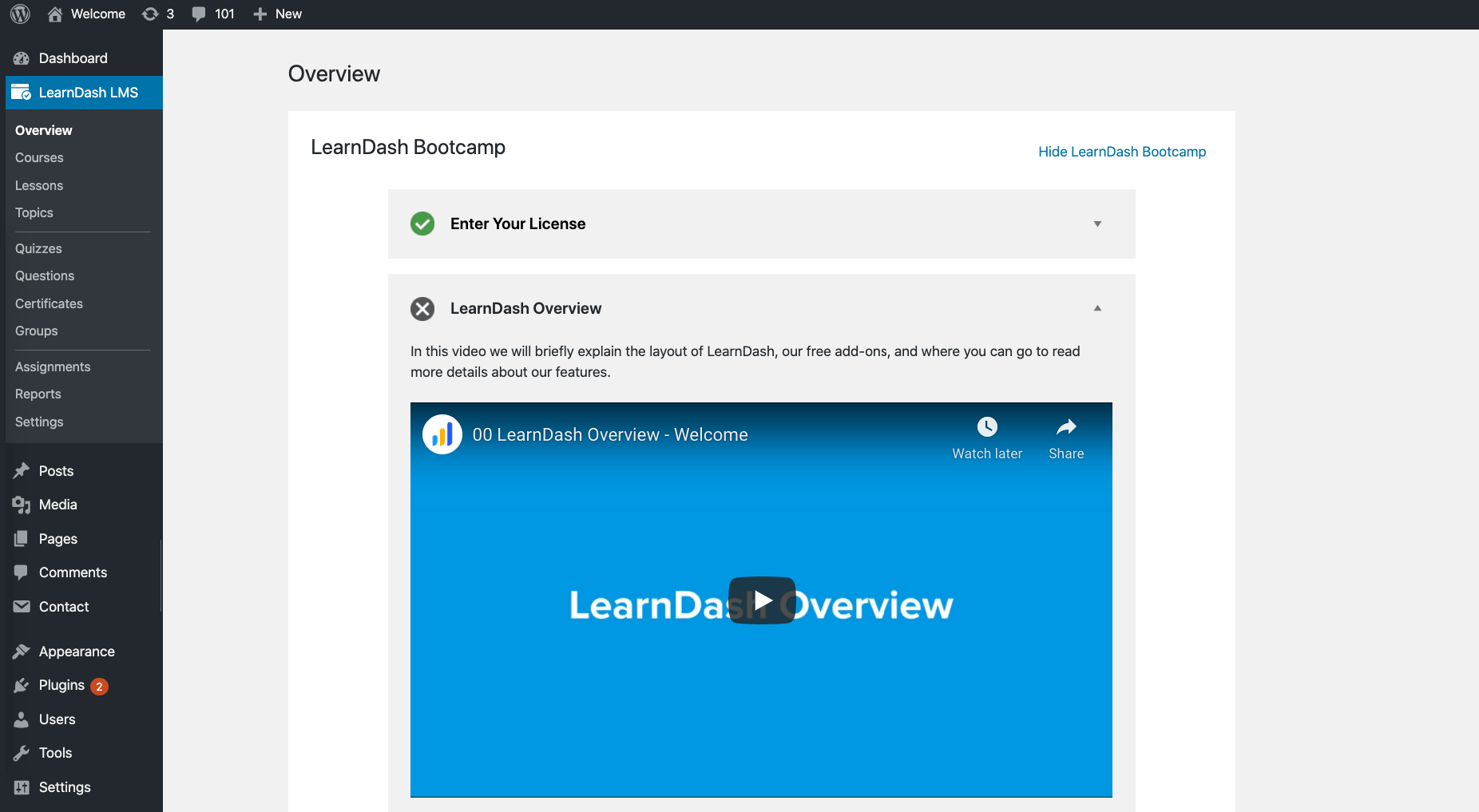 Once you complete the bootcamp, you can begin working on your courses. Adding a new course is done in LearnDash LMS → Courses.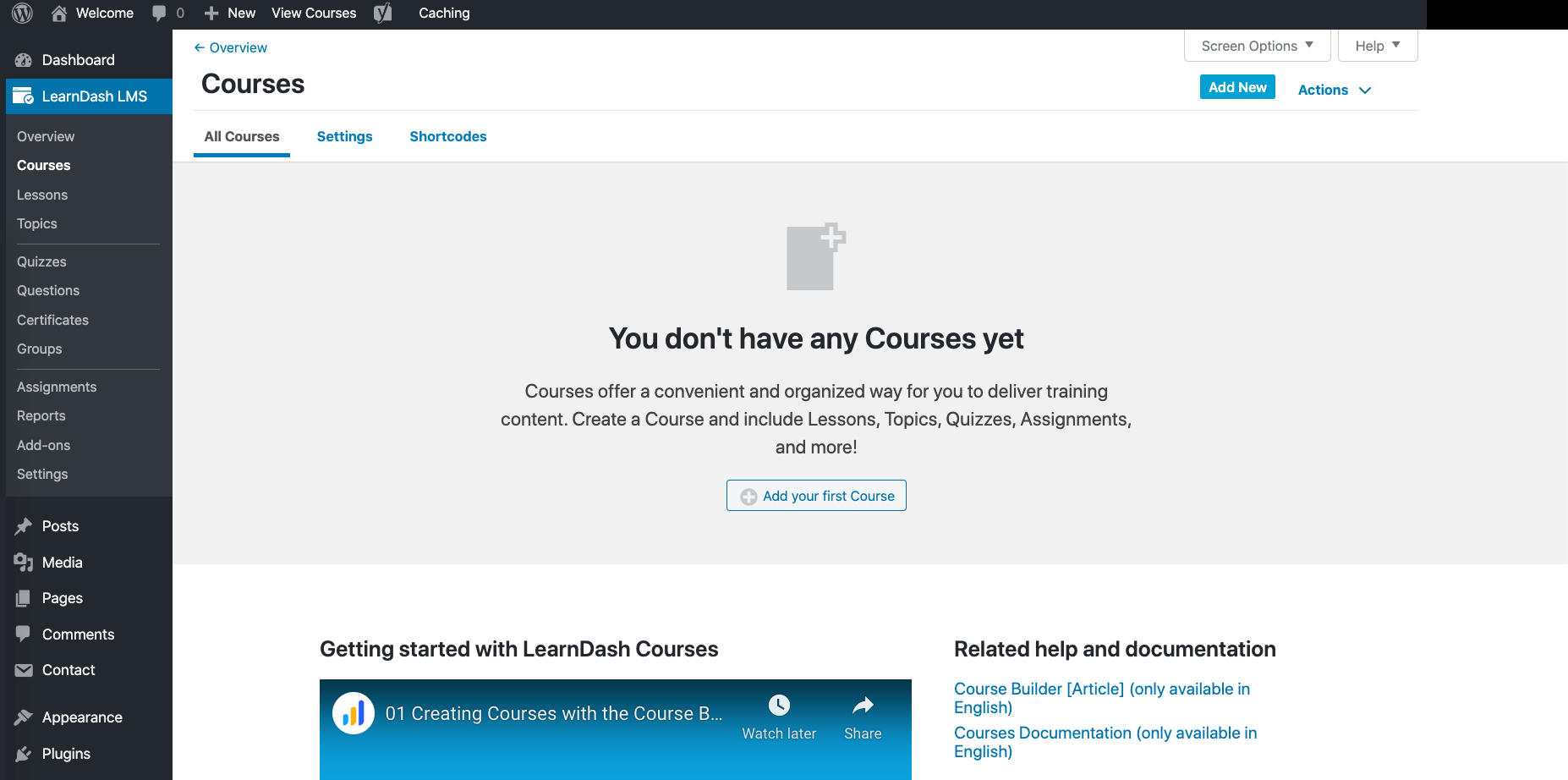 When creating your course, you get to use the familiar WordPress interface — the same UI used for pages and posts.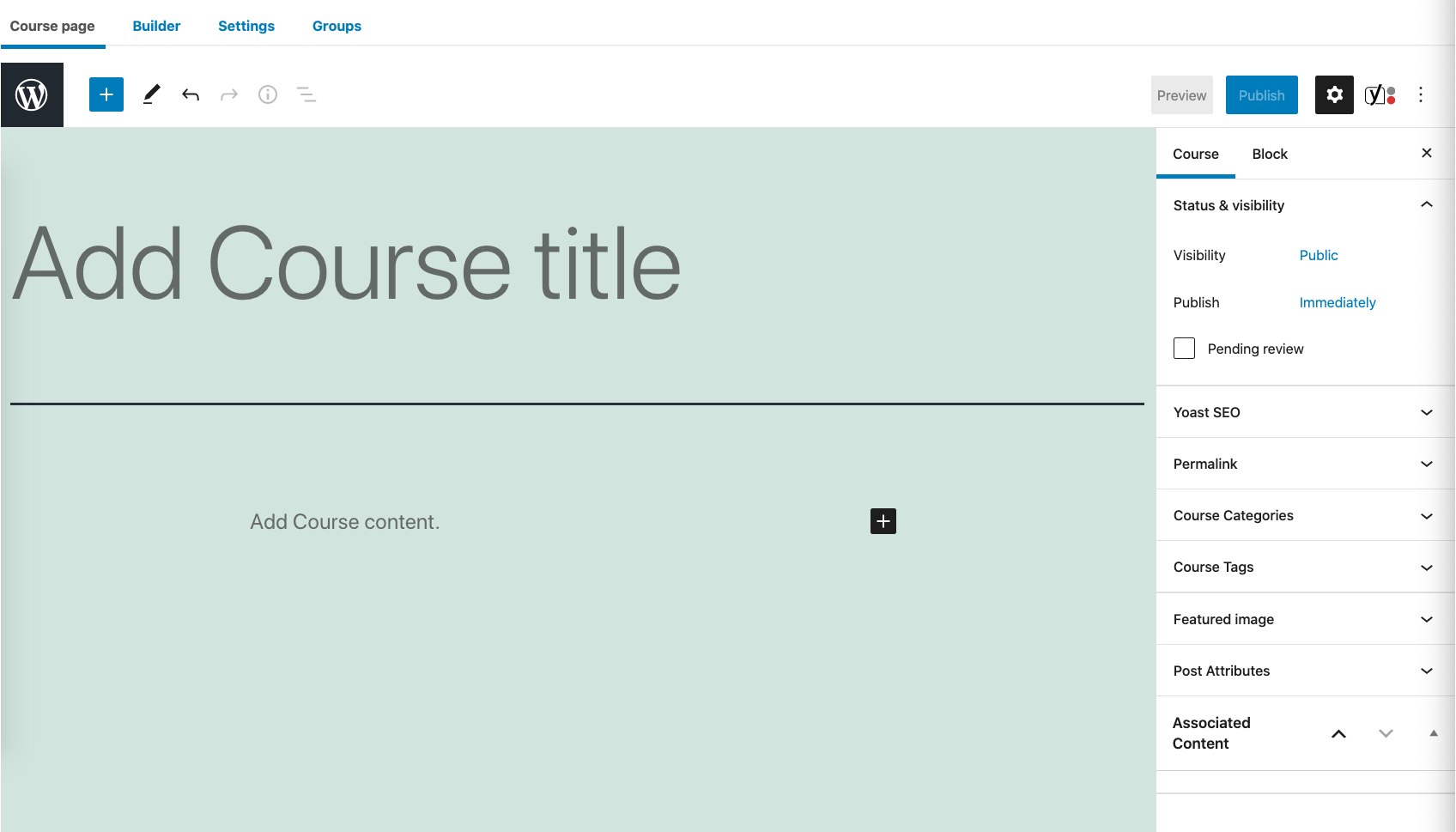 The above screenshot is where you create the main welcome page of your new course. To create lessons and other course elements, switch to the Builder tab: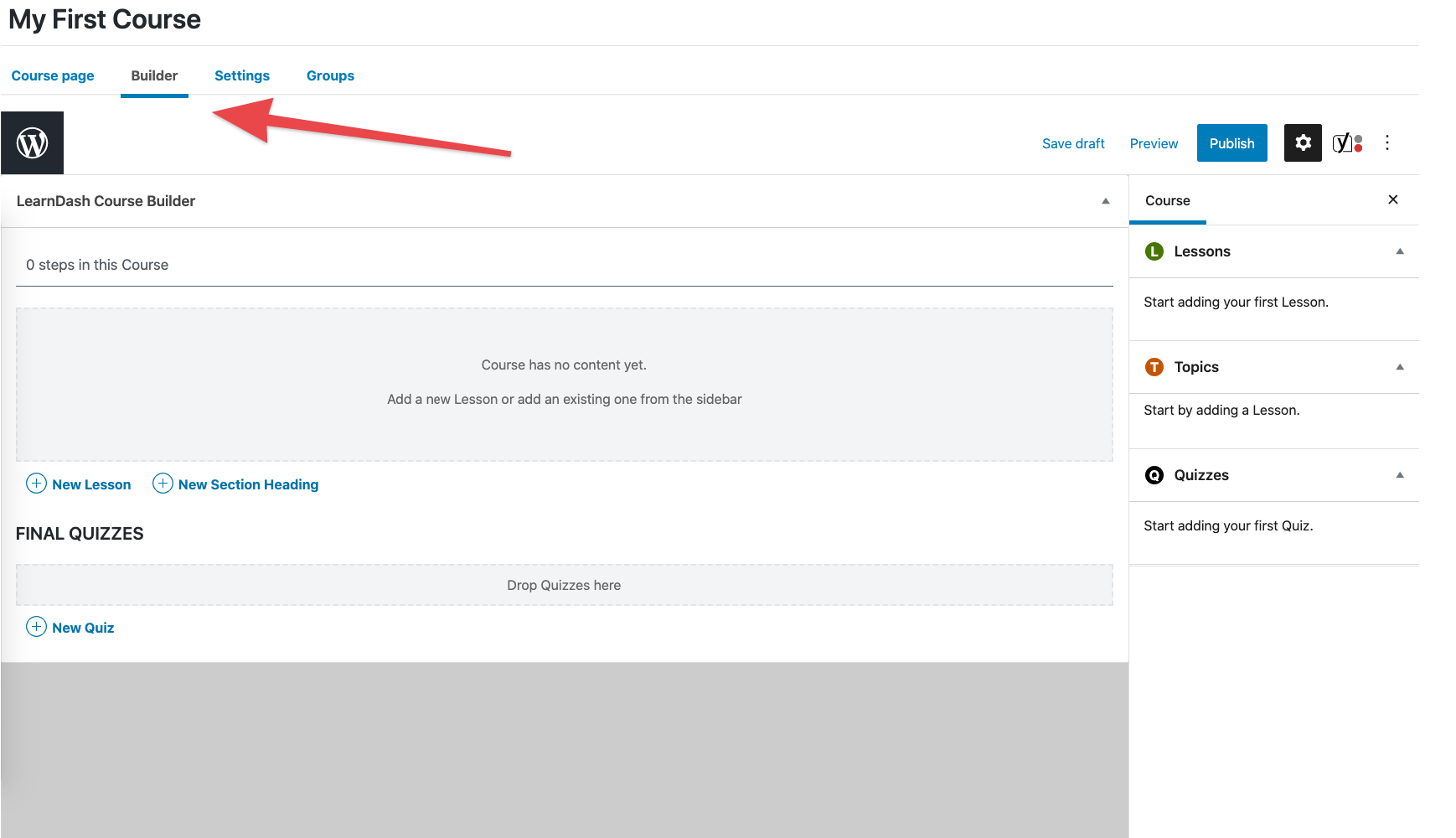 This is where you can add lessons, topics, section headings, and quizzes to your course.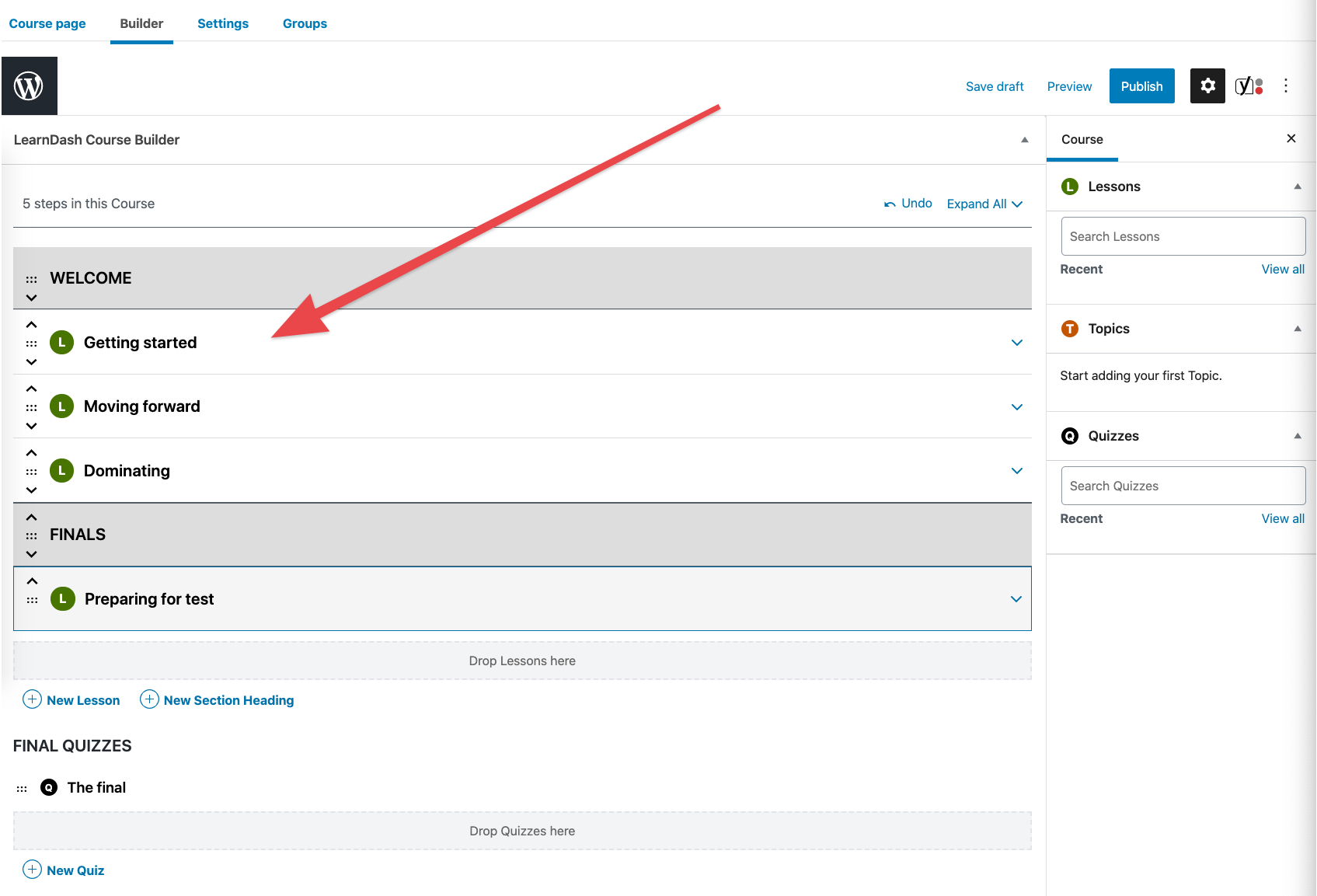 To work on any of the lessons individually, click on the Edit link next to the lesson's title.
Each lesson is basically a standard WordPress page where you can add any type of content — text, images, videos, and so on. Your lessons can also feature additional lesson materials — resources to help the students get through the lesson.
Creating quizzes is also very straightforward. Each quiz can have one or more questions, and you can add a list of acceptable answers.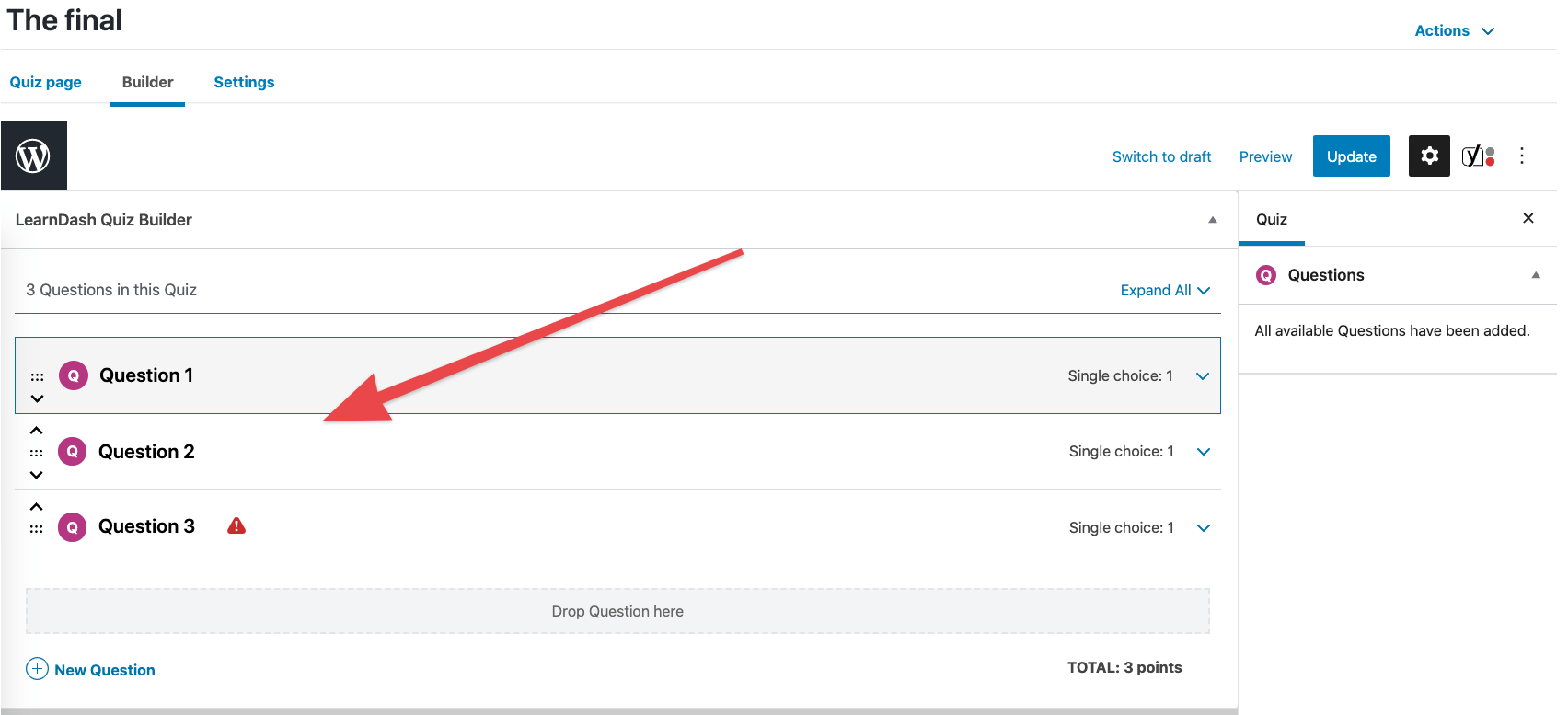 Going back to the course level, each course comes with a settings panel where you can decide if the course should be open (which means everyone can see the contents for free and without registration) or free (registration is required, but the course is free), plus other variations of paid-for courses based on how you want to control access to them.
Lastly, searching for add-ons and installing them is really simple, and you can do that via the WordPress dashboard directly in LearnDash LMS → Add-ons.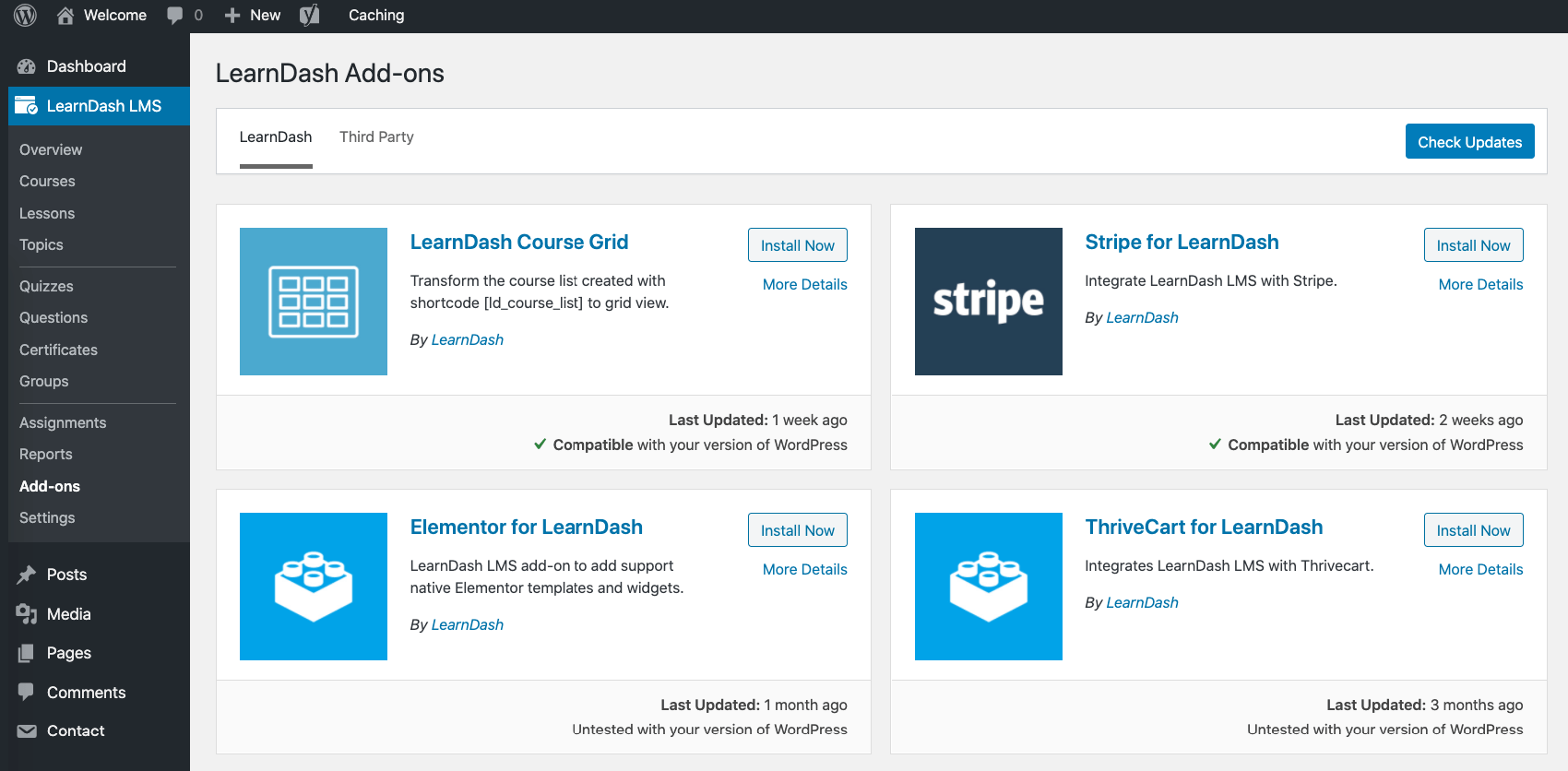 Overall, LearnDash impresses with its onboarding and a well-thought-through organization of courses and course material. You can easily set up new courses, add content, and then even grade people's progress and use that as prerequisites to join other courses. Nice!
🎨 Design of LifterLMS vs LearnDash
The great thing about modern LMS plugins is they can work with any WordPress theme. This means you don't have to overhaul your entire site just because you want to add an e-learning component to it.
However, your results may vary when it comes to the quality of the final outcome/design.
In most cases, your LMS plugin only stores the raw content of your courses and lessons, and doesn't bother that much with how it all appears on the front end of the site. This is all your theme's job.
That being said, you can still expect your LMS to be able to deliver some basic, good-enough content presentation.
Here's how LifterLMS and LearnDash approach this challenge:
---
While LifterLMS's output isn't ugly by any means, you should still expect the best results if you go with the recommended theme, LaunchPad. For other themes, the design is okay but not particularly stunning.
Here's an example of a LifterLMS course page on the Astra theme: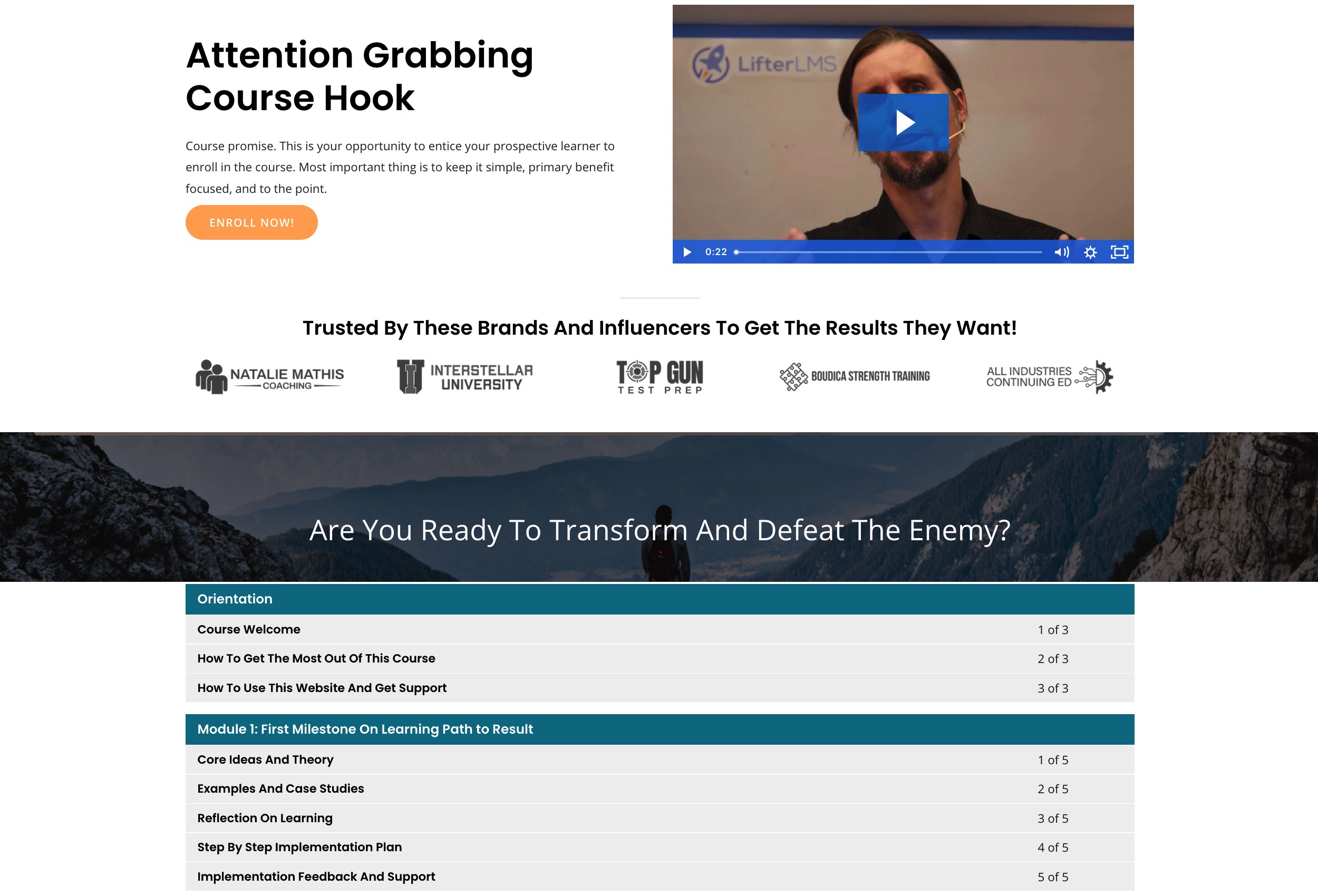 LearnDash is a lot more impressive in the design department, to be honest. Even on the default WordPress theme — Twenty Twenty-One — the results are very satisfactory.
However, if you really want to take your e-learning site to the next level, you should get a theme that comes with some LearnDash optimizations built-in. There's a number of those themes available, as it turns out. Most notably, the aforementioned Astra theme comes with a handful of starter sites for LearnDash-enabled sites. This is a nice shortcut if you want to build a great-looking e-learning website quickly.
💰 Pricing
Pricing tends to be one of the most important factors when picking anything — not just deciding between LifterLMS vs LearnDash.
Let's address the elephant in the room first:
LifterLMS has a free version; LearnDash doesn't.
If you don't have a penny to spend, you can still use LifterLMS to build a functional course and make it available to the public. However, you won't be able to sell access to that course.
Apart from that, here are the other key differences between LifterLMS vs LearnDash pricing:
Universe Bundle: $299 — you get access to all design, eCommerce, marketing, CRM and form add-ons. Use on five sites, with priority support.
Infinity Bundle: $999 — everything above, plus advanced quizzes and assignments, private coaching features, social learning, advanced video and groups. Use on unlimited sites.
Add-ons individually: $99 to $200 per add-on.
Basic: $159 — you can create unlimited courses for unlimited students, get access to course content protection, drip-feed lessons, advanced quizzing, certificates and badges, course forums, and integrations with other tools. Use on one site, and there's one year of support and updates.
Plus Package: $189 — everything above, plus ProPanel (LearnDash's extra dashboard and live activity reporting add-on). Use on ten sites.
Pro Package: $329 — everything above, but for use on 25 sites.
💰 Both tools offer a 30-day money-back guarantee.
As you can see, even though LifterLMS wins the 'free game', LearnDash is firmly in the leader position when it comes to the pricing of the premium version. Even the entry-level version of LearnDash is nearly half the price of LifterLMS.
LearnDash actually remains the more affordable of the two until you reach the point where you want to use it on more than 75 sites, which I assume isn't the most common scenario.
🏆 LifterLMS vs LearnDash: Which One to Pick
I've been through a lot in this comparison, so now it's time to share some final recommendations!
Quite frankly, both LifterLMS and LearnDash deliver quality results in terms of letting you create online courses in an easy-to-grasp way. Enrolling on the courses and getting through the individual lessons is similarly straightforward for your students.
Still, I'd recommend the following:
🌱 If you're only experimenting with the idea of offering online courses on your site, and you don't want to invest any money at the beginning, LifterLMS is going to be a better match for you. The sole fact that there's a free version available opens up many opportunities for website owners who haven't previously considered starting an online course at all.
💸 If online courses are the core of your business and you're certain you're getting yourself into this for the long term, LearnDash is the better overall solution. It's cheaper (for a commercial course launch), a bit easier to use and also looks better on the front end of your site.
Here's a summary of the ratings given to LifterLMS vs LearnDash over the course (no pun intended) of this comparison:
FEATURES: ⭐⭐➕ /3
EASE OF USE: ⭐⭐ /3
DESIGN: ⭐⭐ /3
PRICING: $0; premium from $299
🌱 Entry-level choice
FEATURES: ⭐⭐⭐ /3
EASE OF USE: ⭐⭐➕ /3
DESIGN: ⭐⭐⭐ /3
PRICING: from $159
💸 Top choice for commercial projects
Which of the two is your favorite LMS platform? Is it LifterLMS or LearnDash? Let us know in the comments.