Instapage and Leadpages are two of the most popular (and, frankly, best) landing page builder tools on the market.
In this comparison, I'll point out each one's strengths and help you to decide which one will meet your needs.
So you can make an informed decision, I'll go through the features of these tools, the design options/templates available, ease of use and pricing.
Let's get started:
🥜 Basic Information
On the surface, Instapage and Leadpages are very similar: They'll both let you build a quality landing page* that's not only beautiful but also convinces visitors to take action on whatever you're asking them to do.
As with most things, the devil's in the details: Both Instapage and Leadpages have their unique ways of getting you from nothing to an effective landing page — plus there are specific side features that may steer you towards one of these tools over the other.
Here's what you should know about Instapage vs Leadpages, in a nutshell:
Instapage's main selling point is it lets you create unique landing pages for each individual ad you're running. This means you can personalize the viewer's experience and make sure the landing page always matches the ad, which, overall, is a much more effective approach than just having the same landing page run for all of your ads over and over again.
Although landing pages are Leadpages' core feature, the platform has evolved into much more, and, at this moment, allows you to build custom pop-ups and alert bars — and even entire websites. This makes Leadpages into a complete marketing asset creation suite (as corporate as this may sound). Basically, Leadpages is the tool to use if you have a marketing campaign going on and you need to grab leads coming from that campaign.
🧰 Features of Instapage vs Leadpages
Let me be honest right out of the gate; if the only thing you need is a tool to build a quality landing page with, then you may as well toss a coin and pick either one. Both Instapage and Leadpages will give you a great user experience and a great overall result if classic landing pages are your primary concern.
That said, there are some individual traits to each tool that can be important when you want to go above simple landing pages:
Drag-and-drop landing page builder; fully visual.
Fully hosted solution — Instapage hosts your landing pages for you.
500-plus landing page templates.
1:1 ad-to-page personalization; allows you to match your landing page to the specific ad the visitor originated from.
Detailed analytics, heatmaps.
A/B and multivariate testing.
AdMap — a tool to help you to match your ads to landing pages in an easy to grasp, visual way.
Collaboration tools for teamwork.
You can publish landing pages to your own domain name.
Integrations with third-party tools and solutions.
Drag-and-drop builder for landing pages, websites, pop-ups, alerts; fully visual.
Fully hosted solution — Leadpages hosts your landing pages, websites, downloads; everything that's part of the Leadpages experience.
180-plus landing page templates and 25-plus website templates.
Apart from landing pages, Leadpages also lets you build entire websites, pop-ups, alert bars (sit at the top of your site and display a promotional message), opt-in texts (send a text message to your visitors' phones and get them to opt-in directly), and trigger links (allowing people to opt-in without leaving the website they're currently reading).
Real-time tracking and split testing.
Lead Magnets — Leadpages' solution to let you share unique, downloadable gifts to people who opt-in to join your list.
You can publish landing pages to your own domain name.
Integrations with third-party tools and solutions.
🎨 Designs and Templates
In my opinion, the templates you get built-in with your landing page tool of choice is half the value of the entire thing. More or less, we don't want to be forced to have to work on our landing pages from scratch, and would instead just modify a template that's already, say, 85% there.
Neither solution disappoints in this department: Both Instapage and Leadpages give you more than enough landing page templates to choose from. And, in the case of Leadpages, you also get templates for websites and other elements.
Here's what you get from each tool:
Instapage
All landing page templates in Instapage come categorized based on the use case of the page (note: here's a list we've put together showcasing a number of landing pages made with Instapage). You get different designs for landing pages promoting apps, case studies, demo requests, special deals, travel bookings, and so on.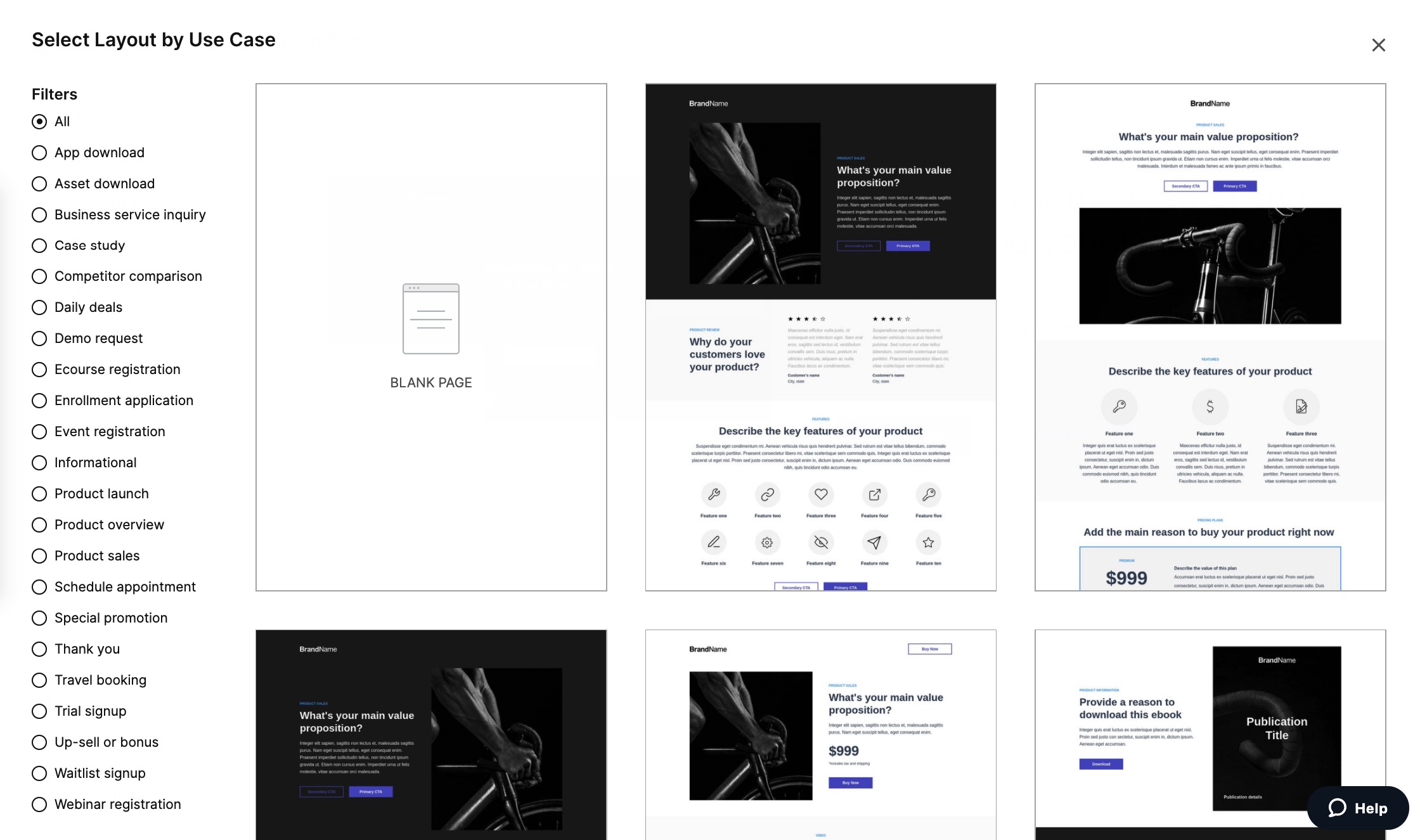 All of these look to be nicely designed and follow modern trends.
The landing pages can also be integrated with analytics, submission forms, and lead notifications. Then, you can also choose whether you want your landing page to be indexed by Google, plus what it should look like when shared on Facebook or Twitter.
Every template is also fully customizable — you can add/remove elements, change images, backgrounds, move text around, add new forms, and much more. You can also set some blocks to be reusable throughout your designs. Plus, Instapage lets you pick from individual blocks, as well as block templates.
Overall, there are more than 500 landing page templates available in Instapage, so you're sure to find something that fits your promotion.
Leadpages
Leadpages is no slouch when it comes to the size of its catalog either, with more than 180 designs to choose from. Many marketers have found their ideal design at Leadpages.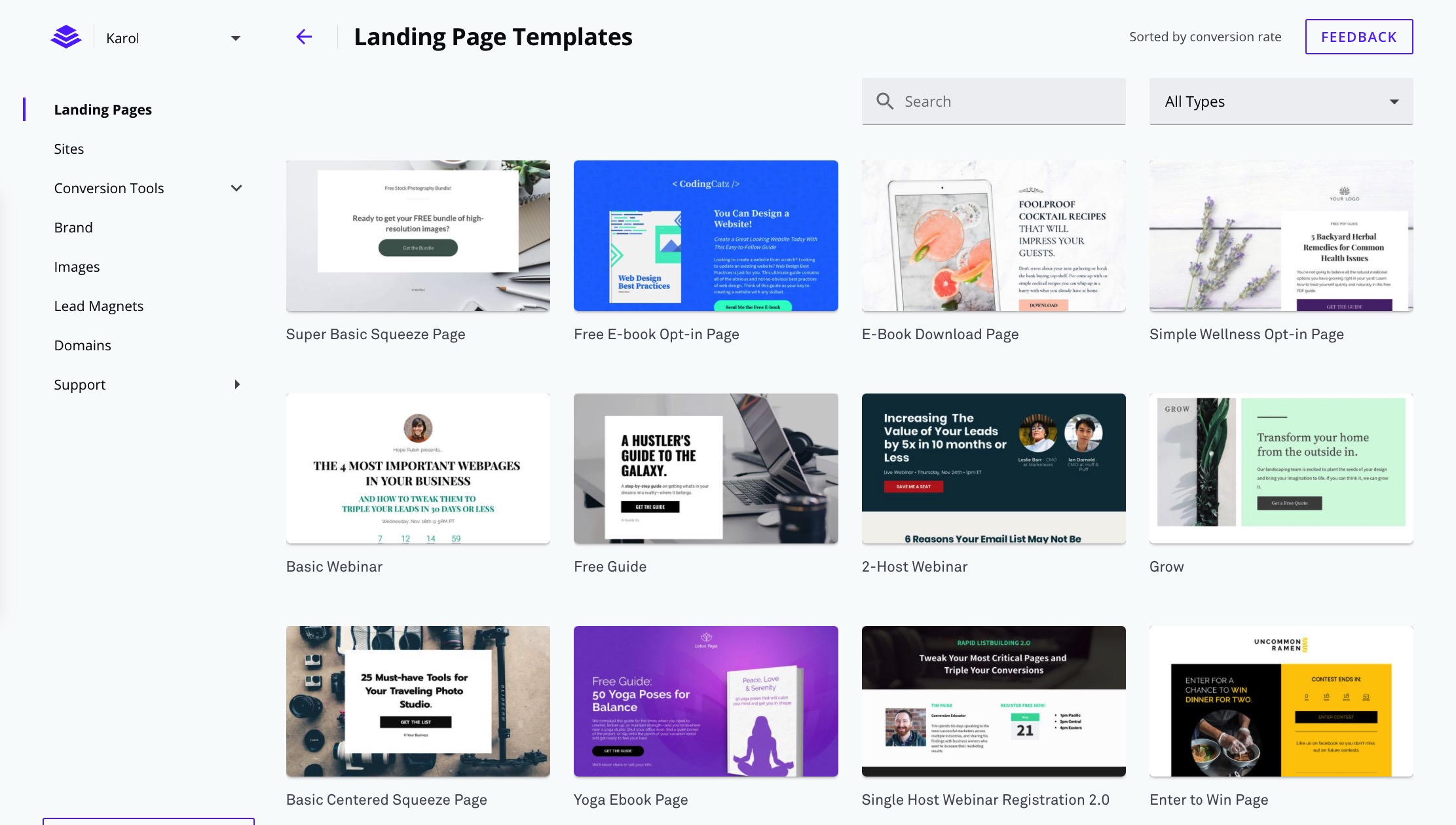 Quality-wise, the new designs are modern and very versatile (perhaps even more than those of Instapage), but there are still a lot of older designs in the catalog that may not be that suitable for 2020 and beyond.
Once you pick a design, you get complete freedom over what you can do with it, including adding new elements, realigning the sections, changing styles/backgrounds, and more.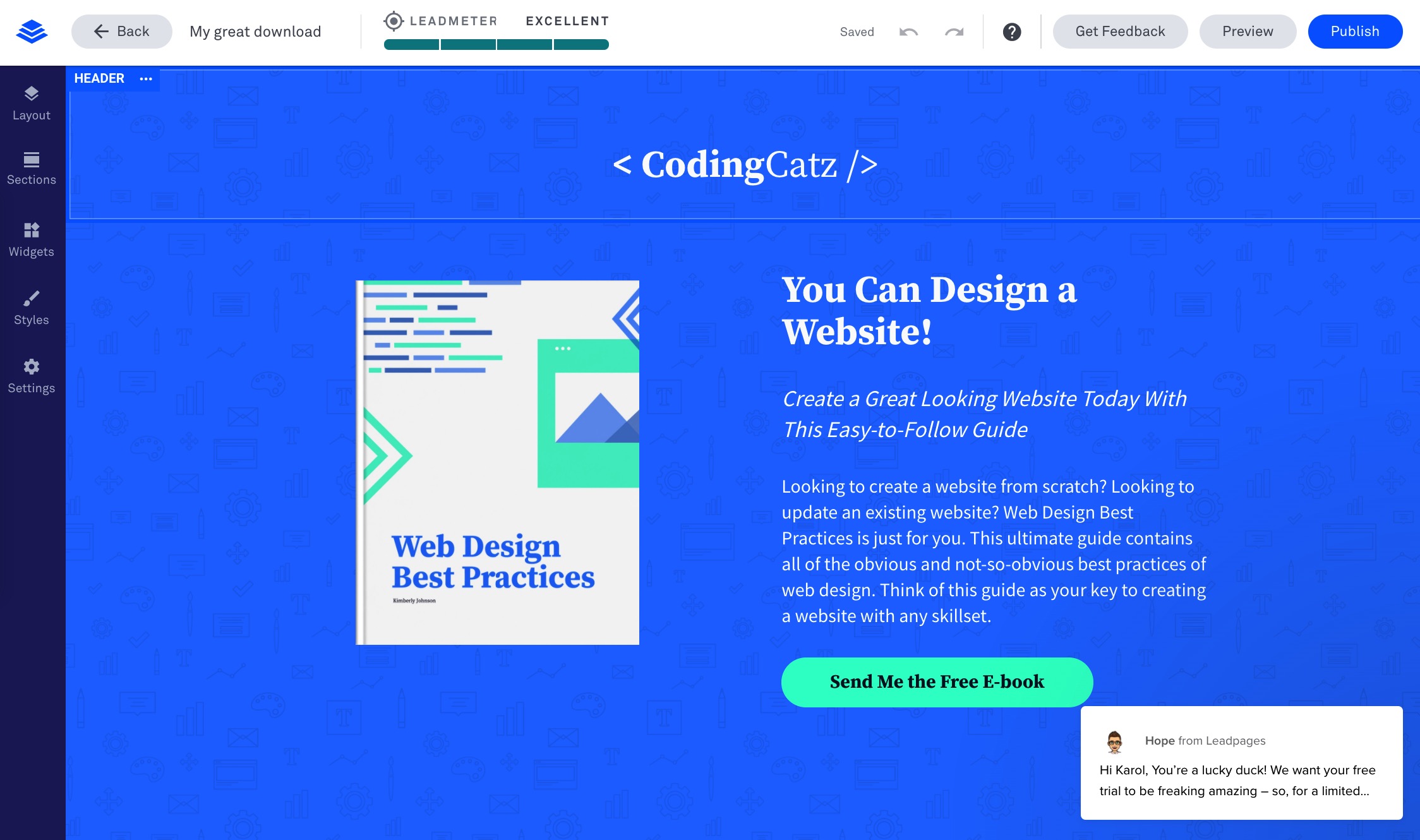 Every landing page also integrates with Leadpages' other features, such as hosted downloads (in case your landing page is meant to promote a downloadable item of some kind).
And, last but not least, apart from landing page templates, Leadpages has a separate catalog of entire website templates (25-plus), too. Those will be really useful, for example, for social-media-based businesses that don't have any other significant online presence other than social media profiles.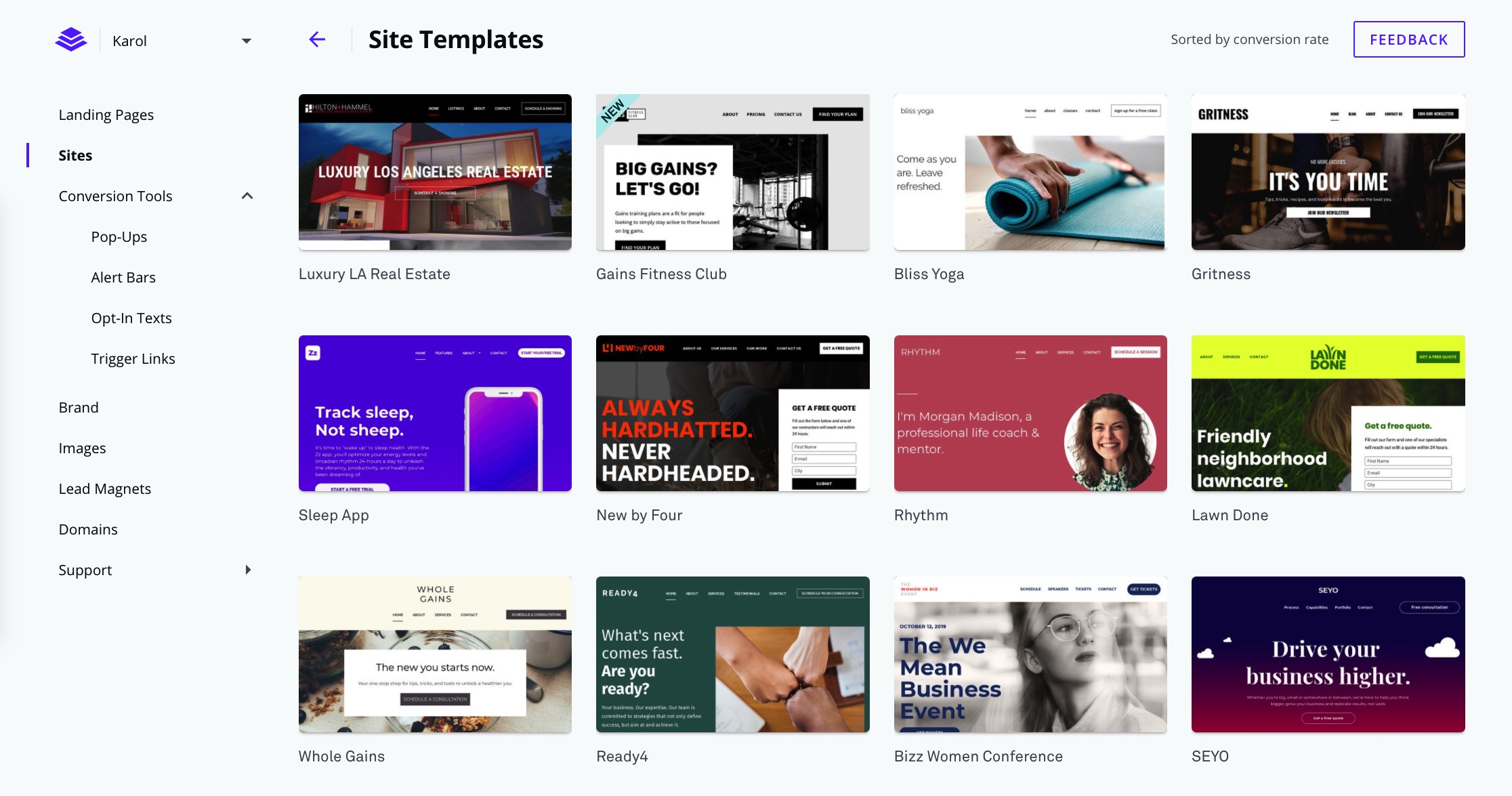 Let's not forget that Leadpages also gives you tools to build pop-ups and other online marketing assets. You can use Leadpages' visual builder for those as well.
⚙️ Ease of Use
Just like with designs, the overall ease of use of both Instapage and Leadpages is on a similar level. Mind you, that level is really high.
Both tools are exceptionally easy to use, considering that they give you access to fairly advanced features in the realm of online marketing. For instance, ten or so years ago, getting this kind of stuff done would cost you thousands of dollars in web development contracts.
Here's what it's like to use either tool:
Working with Instapage
Let's start from the beginning: As soon as you sign up for Instapage, you'll get notified that you can schedule a one-on-one with an Instapage success manager — it's a 30-minute call during which you're shown around everything. There's also a guide available on how to get the most out of your 14-day trial.
After logging in to Instapage, you'll see the main dashboard. Granted, it's not very lively right away, since you don't have any landing pages created at this point, but, soon enough, it'll get populated with data.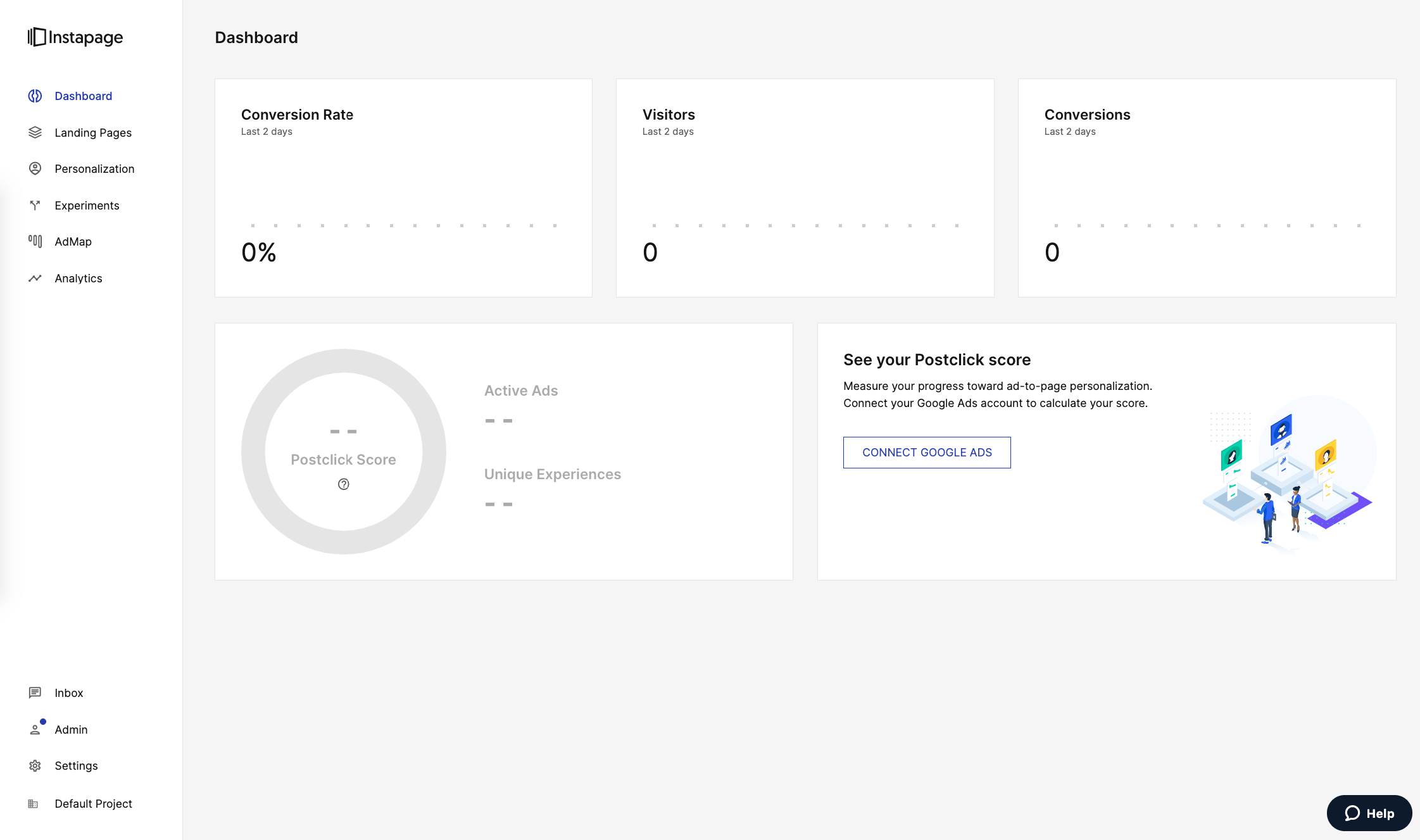 To get started, you can go to Landing Pages, click on Create Page and pick from the designs available. Alternatively, you can also create a landing page from scratch.
Each template can be customized. For that, you get the aforementioned visual (drag-and-drop enabled) builder. Here's what it looks like again: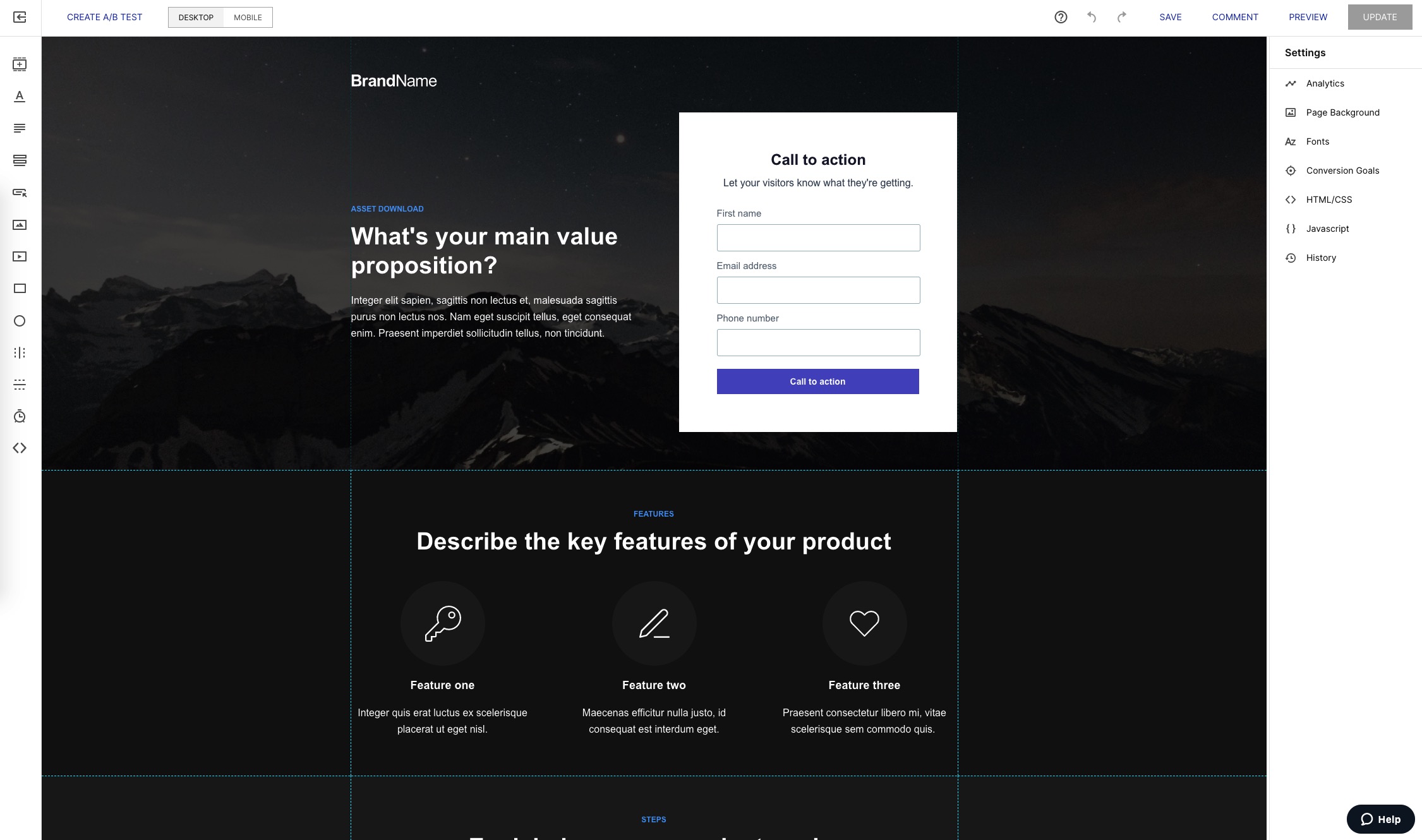 In the left sidebar, there's everything you can add to your page — texts, images, videos, forms, and so on.
The main canvas in the center is where you can move stuff around, edit your texts and tune up the styling.
The right sidebar is where you can go through the main settings of the landing page, such as analytics, background, conversion goals, and more.
You can also set an A/B test by clicking on the button in the top left corner.
Next to the A/B button, there's the switcher between desktop and mobile, which is useful for making sure your landing page will work everywhere.
Once you're done working on the page, you can click on Save or Update in the top right corner.
At this stage, you can launch your landing page to the public by clicking on Publish Experience.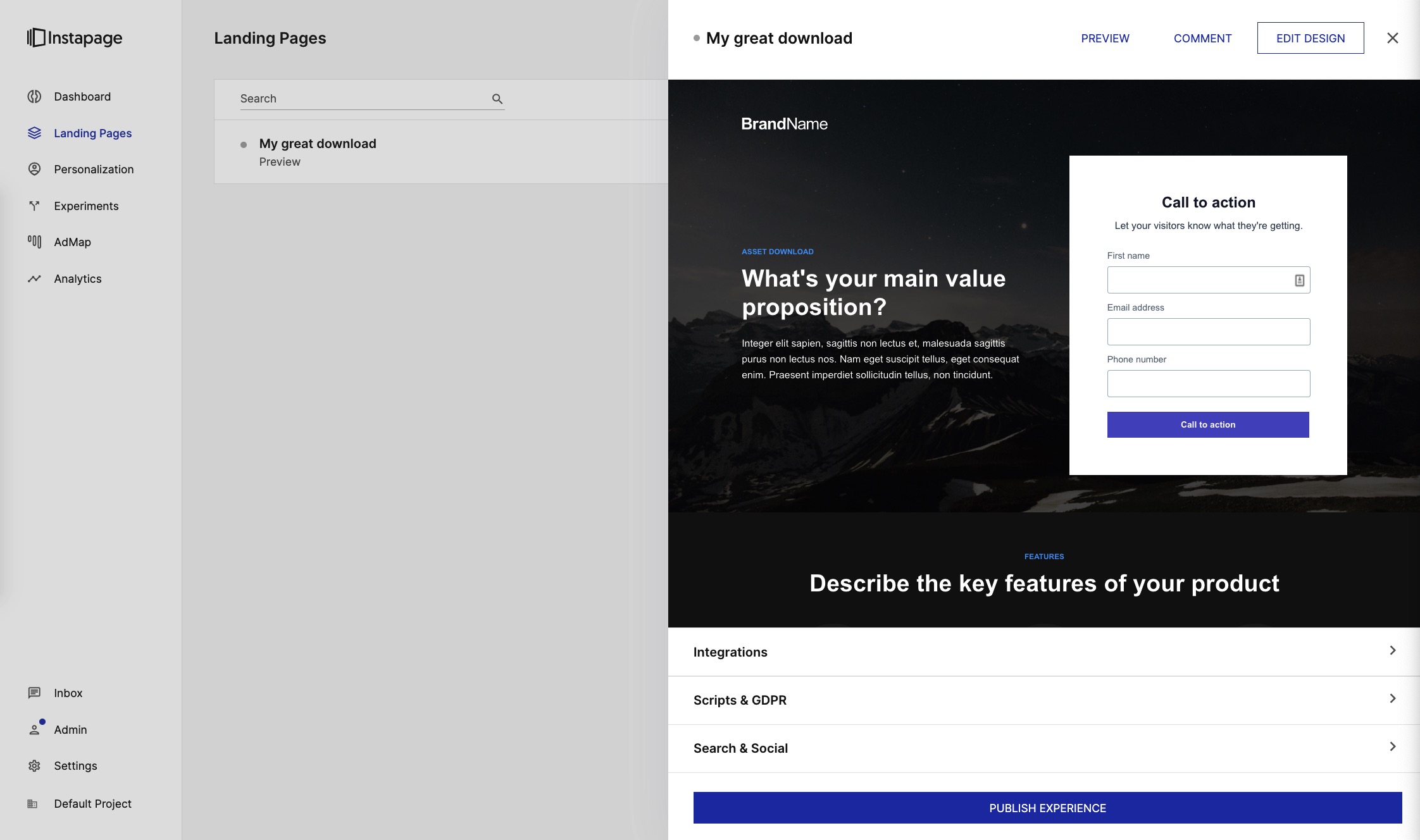 Instapage lets you roll out your landing page to a custom domain, WordPress, Drupal or a demo page for testing purposes.
While Instapage doesn't take you by the hand through everything, it makes sure you're always presented with the 'next thing to do' and get guidance on how to achieve what you want to achieve.
Overall, everyone should be able to craft a good-looking landing page with Instapage and roll it out. Instapage strikes a good balance between being beginner-friendly and also optimized for enterprise users with tens of landing pages in the same panel.
Working with Leadpages
Leadpages is very similar to Instapage when it comes to onboarding new users. You get to book a free 30-minute coaching call and get a guide to help you to get started (a collection of essential articles from Leadpages' knowledge base).
On your first login, Leadpages will ask you to pick a subdomain for your landing pages — the web address under which you want to host your landing pages. Then, you'll get to choose what you want to work on first.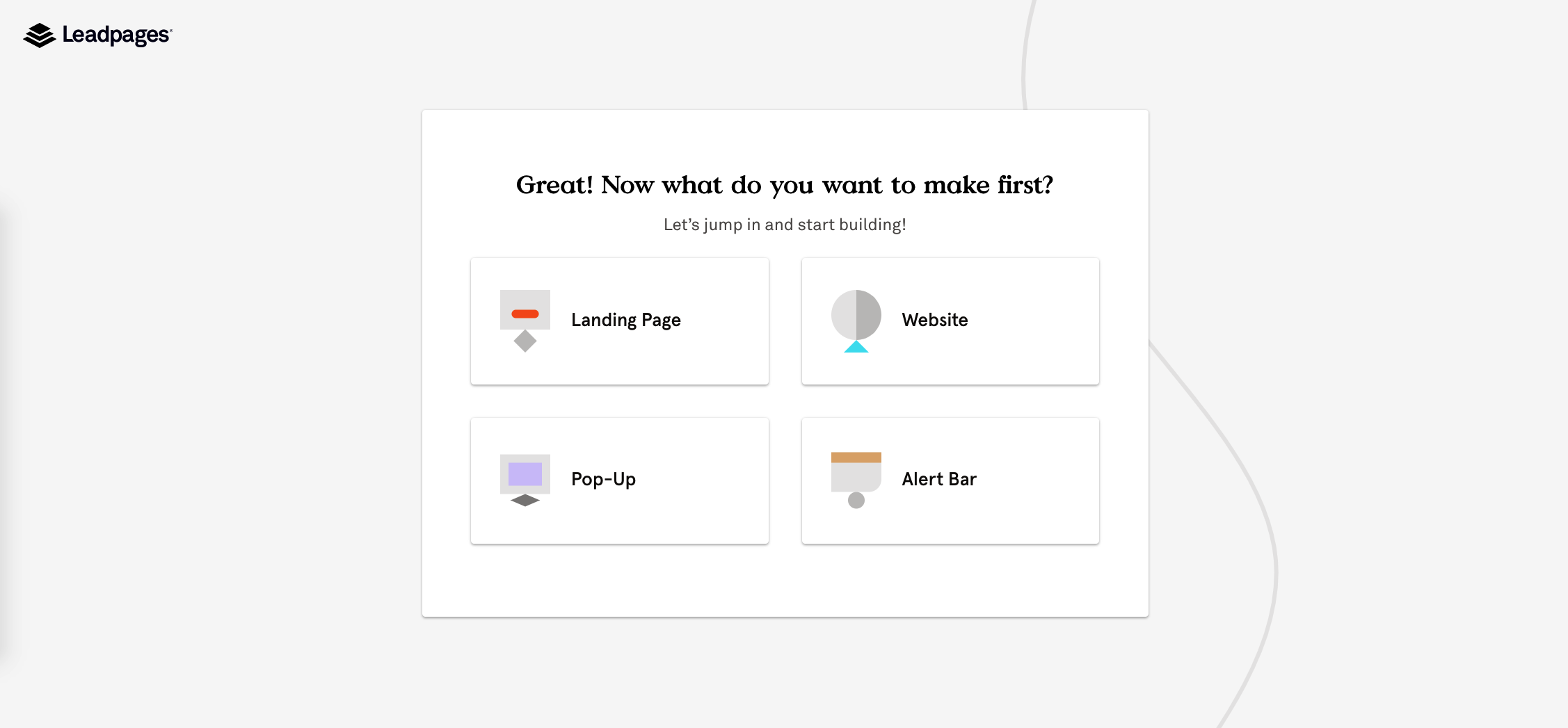 Depending on what you select, you'll see the appropriate builder. If you select Landing Page, you'll see Leadpages' collection of landing page templates. After picking the one you like best, you'll be taken straight to the visual builder. Again, this is what it looks like: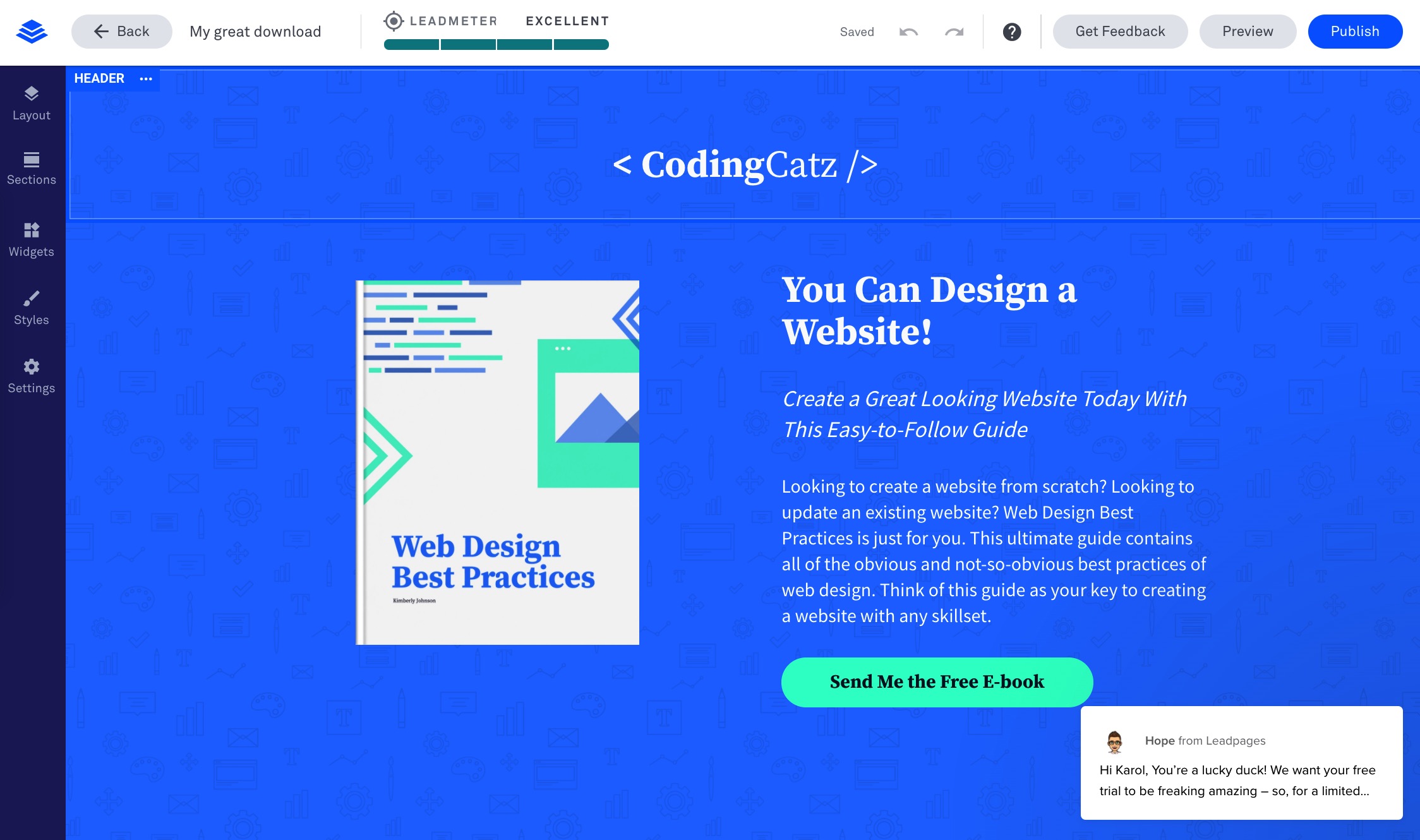 On the left, you can control the layout. For instance, pick the header elements, their styling, add a logo, etc. You can do similar things with the other main sections of the layout. From the same sidebar, you can also add new sections to your landing page, add individual content elements, change styles and set the main settings of the page (SEO, titles, and so on).
The center part is the main canvas where you can realign the elements, edit texts and other content.
When you're done, you can click on the Publish button that's in the top right corner.
If you go back to the main Leadpages dashboard, you'll see even more options and tools.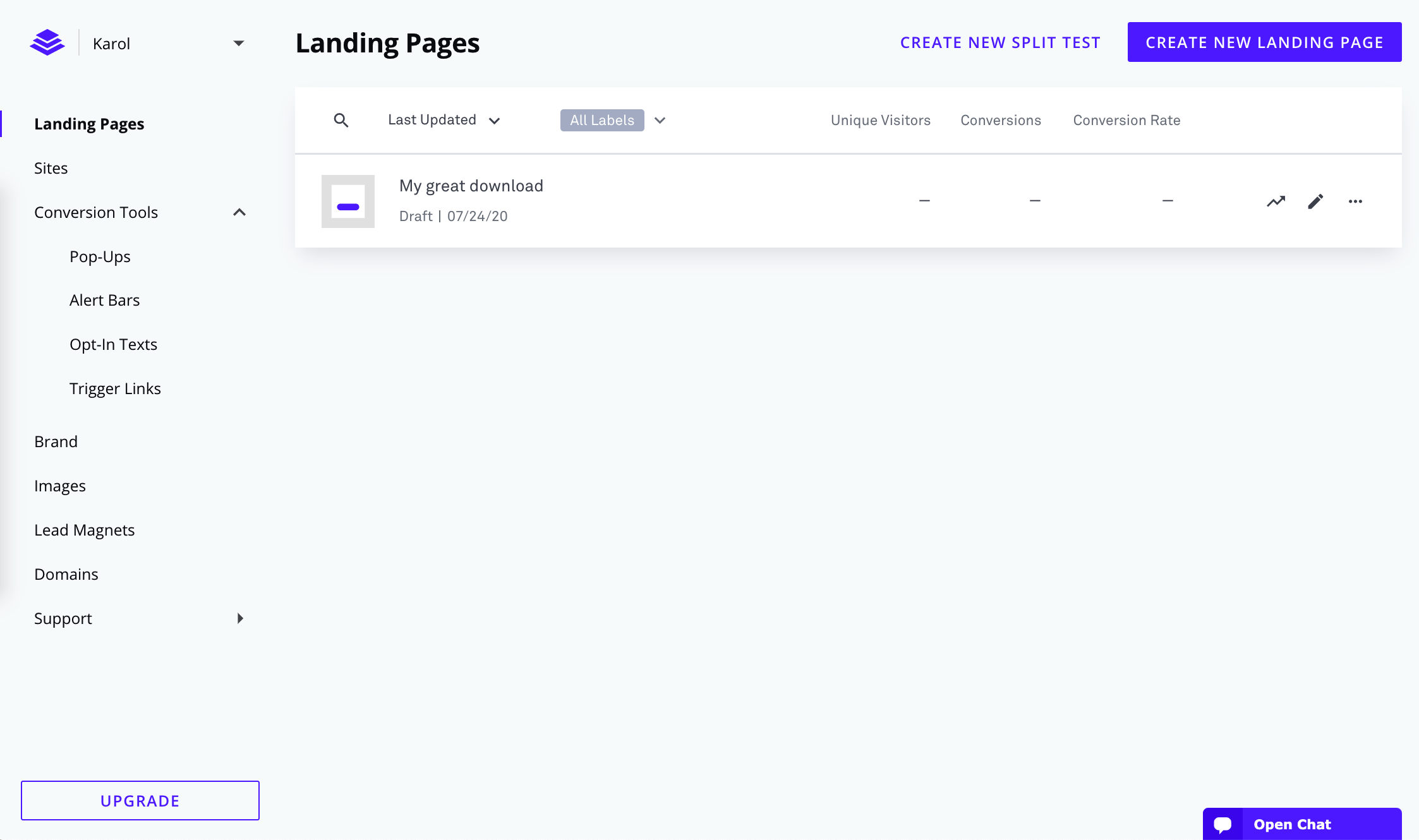 From the sidebar, you can enter Leadpages' tools for pop-up creation, alert bars, opt-in texts, trigger links, your brand settings, Lead Magnets, domains, and a couple of other elements.
Everything you see in the Conversion Tools submenu uses basically the same visual builder. For example, this is the pop-up builder: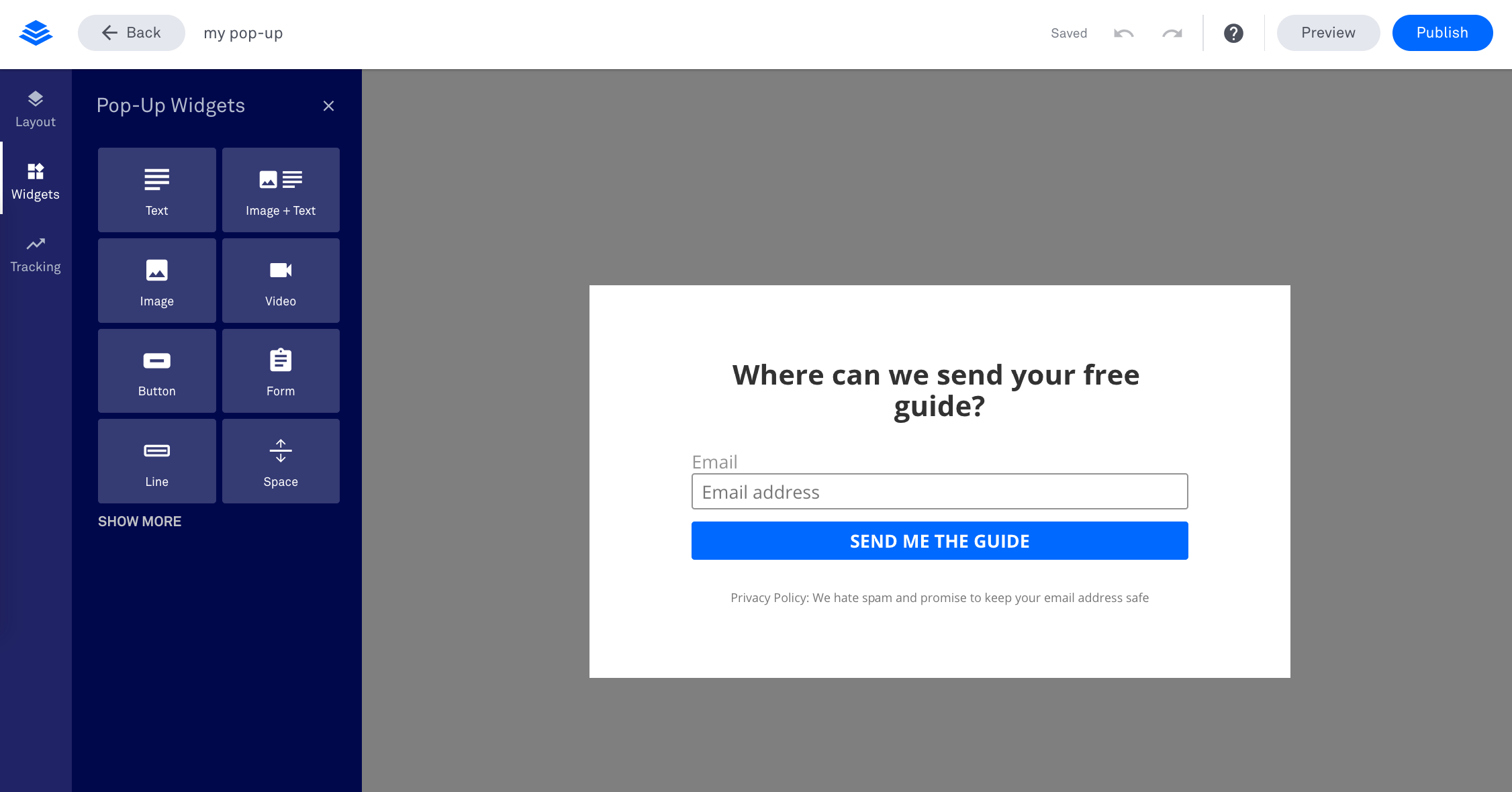 Overall, Leadpages is even a tad bit easier to use than Instapage. The tool is more focused toward beginner users, solo-entrepreneurs, and small online business owners who tend to do most of their stuff themselves. A tool like Leadpages makes these seemingly complex things really easy to grasp and lets you roll out an optimized landing page fast.
💰 Pricing
The best for last, right? It's about time we talk pricing!
Both Instapage and Leadpages have 14-day free trials (though a credit card is required on signup).
Instapage pricing
Instapage has basically only one main plan that's $149 a month, paid annually. If you want to pay monthly, it's $199.
There's also an enterprise tier that's tailor-made both when it comes to features, as well as pricing.
The number of landing pages you can create or visitors you can put through them is not limited.
Instapage is quite expensive as it is, but there are also quite a few features that it advertises heavily that are only available in the enterprise plan. The most notable ones are 1:1 ad-to-page personalization and real-time visual collaboration. If those are what you want, be ready to pay up!
Leadpages Pricing
Leadpages is much more diverse with its pricing, with three main plans at the below (when paid annually):
$25 a month
$48 a month
$199 a month
If you want to pay monthly, the prices grow to:
These three tiers scale up quite sensibly, with each one giving you access to more features than the previous. Here's how it plays out in detail: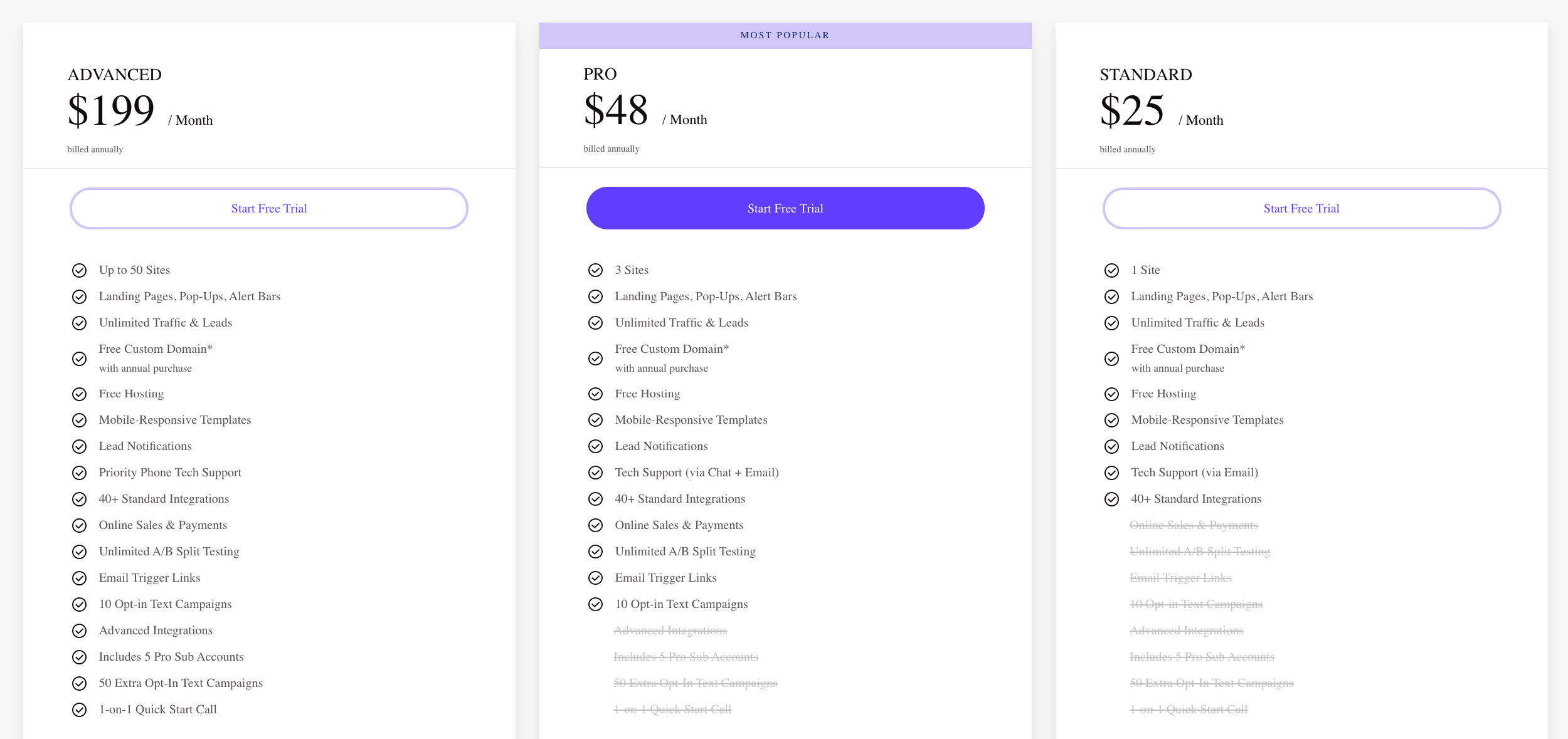 If you just want to use Leadpages on one website, you can go with the cheapest plan at $25 a month. Leadpages doesn't limit your landing pages, leads, or traffic, and you also get a free custom domain name if you need it.
🏆 Instapage vs Leadpages: Which One to Pick
There's no single clear winner here. Both tools come with different strengths and will be more beneficial in some scenarios than others.
Here's my subjective summary:
💰 Leadpages is the clear budget pick. The cheapest plan at Leadpages is $25 vs $149 at Instapage.
🎨 If you need a tool 100% dead-set on landing pages, integrating them with their traffic sources, and making them as effective as possible, you should probably use Instapage.
⚙️ If what you need is not only a tool to build landing pages with, but you'd also like to experiment with other marketing assets, or even build a whole separate website to complement your campaigns (for example, on social media), then Leadpages will work great for you.
Which do you think is the winner between Instapage vs Leadpages? Let us know in the comments.
Related Reading: