Bluehost, DreamHost and SiteGround are the only three web hosts openly endorsed on the official hosting page of WordPress.org. However, there isn't much said about how to choose between the three. 🤷‍♂️
Is any one of these companies better than the other two? Are there specific types of user who are going to have a better experience with one company over the others? Is there really a difference if you end up using Bluehost vs DreamHost vs SiteGround? 🤔
I'm going to answer all of these questions and more in the following guide.
Here's everything you need to know about picking between Bluehost, DreamHost and SiteGround.
Bluehost vs DreamHost vs SiteGround in a Nutshell
Let's start with the similarities first:
Bluehost, DreamHost and SiteGround are all reputable hosting firms that have been on the market for years. To be more specific: Bluehost has been operating since 2003, DreamHost since 1997 and SiteGround since 2004.
All three companies also offer a range of hosting plans for WordPress websites of all shapes and sizes.
Basically, no matter what kind of WordPress site you're planning to launch — be it a standard business site, a WooCommerce store, a membership site or anything else — you're going to be able to do it with Bluehost, DreamHost or SiteGround.
That said, these companies aren't just offering the same service in different packaging.
Bluehost is the biggest company of the three and also one that offers the widest portfolio of services. Apart from hosting for WordPress sites, Bluehost also has classic shared setups for all types of websites, VPS hosting, dedicated servers, domain names, its own website builder tool, and even SEO services and pay-per-click services.
DreamHost is similarly set on servicing other customers apart from WordPress users, and also offers a range of setups, although these are a bit smaller than Bluehost's. DreamHost has shared hosting, VPS hosting, domain names, plus it offers its own website builder as well. (See how DreamHost stacks up against WordPress.com.)
SiteGround is the most boutique of the three, catering primarily to WordPress sites. While technically you can run a different kind of site on SiteGround as well, the platform is most known for its WordPress ability… and it really is serious about this. SiteGround has setups for classic WordPress, WooCommerce stores, cloud setups and servers for resellers.
This is still probably not enough info to help you to decide between Bluehost vs DreamHost vs SiteGround, so let's now look at the specific features these companies have in store:
Features and Pricing of Bluehost vs DreamHost vs SiteGround
ℹ️ In this comparison, I'm going to focus mostly on the WordPress-relevant offering of the hosts, since this is what most readers are interested in.
First, let's cover what it says on the tin and how much you'll have to pay to get basic hosting for WordPress:
$2.95 a month.
One website.
50 GB of disk space.
Unmetered bandwidth.
Free domain name.
Domain privacy for $15 per domain per year.
Daily backups via CodeGuard for $35.88 per year.
Basic email hosting included (five accounts).
Automatic WordPress installation.
24/7 phone and live chat support.
$2.59 a month.
One website.
50 GB of disk space.
Unmetered bandwidth.
Free domain name.
Free domain privacy.
Free automated daily backups.
Email hosting at $1.67 a month.
Automatic WordPress installation.
Free automated WordPress migrations.
Customer support via chat (5.30am to 9.30pm PT) and email.
$3.99 a month.
One website.
10 GB of disk space.
Unmetered traffic, but somehow rated for ~10,000 visits monthly.
Free WordPress installation.
Free site migrator.
WordPress autoupdates.
Domain privacy from $12 per domain per year.
Free daily backups.
Free email hosting.
WP-CLI and SSH.
Unlimited databases.
At first, all these offers look rather similar, because they do deliver the same set of core features:
You can host a single site on each of them.
The disk space is similar — although SiteGround offers a bit less here.
The bandwidth is 'unmetered'.
You get WordPress preinstalled.
However, when you start looking more closely, you'll spot a couple of differences. Particularly, Bluehost vs DreamHost vs SiteGround differ in how they handle email hosting, domain names, domain privacy protections and automatic backups:
| | Bluehost | DreamHost | SiteGround |
| --- | --- | --- | --- |
| Free domain name | ✅ | ✅ | ❌ |
| Free email | ✅ | ❌ | ✅ |
| Free domain privacy | ❌ | ✅ | ❌ |
| Free backups | ❌ | ✅ | ✅ |
Unfortunately, there's no winner here, and none of the platforms bundle all of these things in for free. The closest you can get to that is if you opt for the second tier of DreamHost hosting, which is $3.95 a month. You get email hosting included in this one, which is the only missing element with the cheaper tier of DreamHost's offering.
Also, you don't have to necessarily worry that backups are paid at Bluehost. You can easily ditch Bluehost's paid setup and install a free WordPress backup plugin instead. UpdraftPlus is a great solution for this purpose.
Overall, Bluehost is still going to be the cheapest platform on this list for most users when you consider the most common needs.
That being said, what you're looking at here are only the introductory prices of all three platforms. So, this is what you pay when you first sign up with the platform as a new customer, but, once that initial contract is up and it's time to renew, your bill will grow. Specifically:
Bluehost: Renewal prices from $8.99 a month to $9.99 a month depending on your new contract length. You can also opt to pay month-to-month at $10.99.
DreamHost: Renewal prices from $5.99 a month to $7.99 a month depending on contract length.
SiteGround: Renewal prices from $12.99 a month.
As you can see, these prices look a lot different compared with the intro offers. However, this isn't necessarily something to worry about right now since you can postpone the first renewal until your third year with the host is up.
Ease of Use of Bluehost vs DreamHost vs SiteGround
This is how the hosts compare for ease of use:
Bluehost Ease of Use
Ease of use has been at the core of Bluehost's offering for a while now, particularly when it comes to the WordPress hosting setups in its portfolio.
First off, it will preinstall WordPress for you. This means that as you're walking through the door, you're getting a blank WordPress site that's operational. Alternatively, if you want to be more hands-on with your setup, you can tell Bluehost not to install anything for you.
Bluehost has also refined its interface multiple times over the years in an effort to remove anything that's not essential and could confuse those users who aren't familiar with server software. You don't have to do any server maintenance tasks when you're with Bluehost. It's all done for you.
On top of that, Bluehost aids you in basic site design and setup. You can pick a WordPress theme to be installed automatically right from Bluehost's setup screens. You can still customize that theme or change it altogether later on if you wish.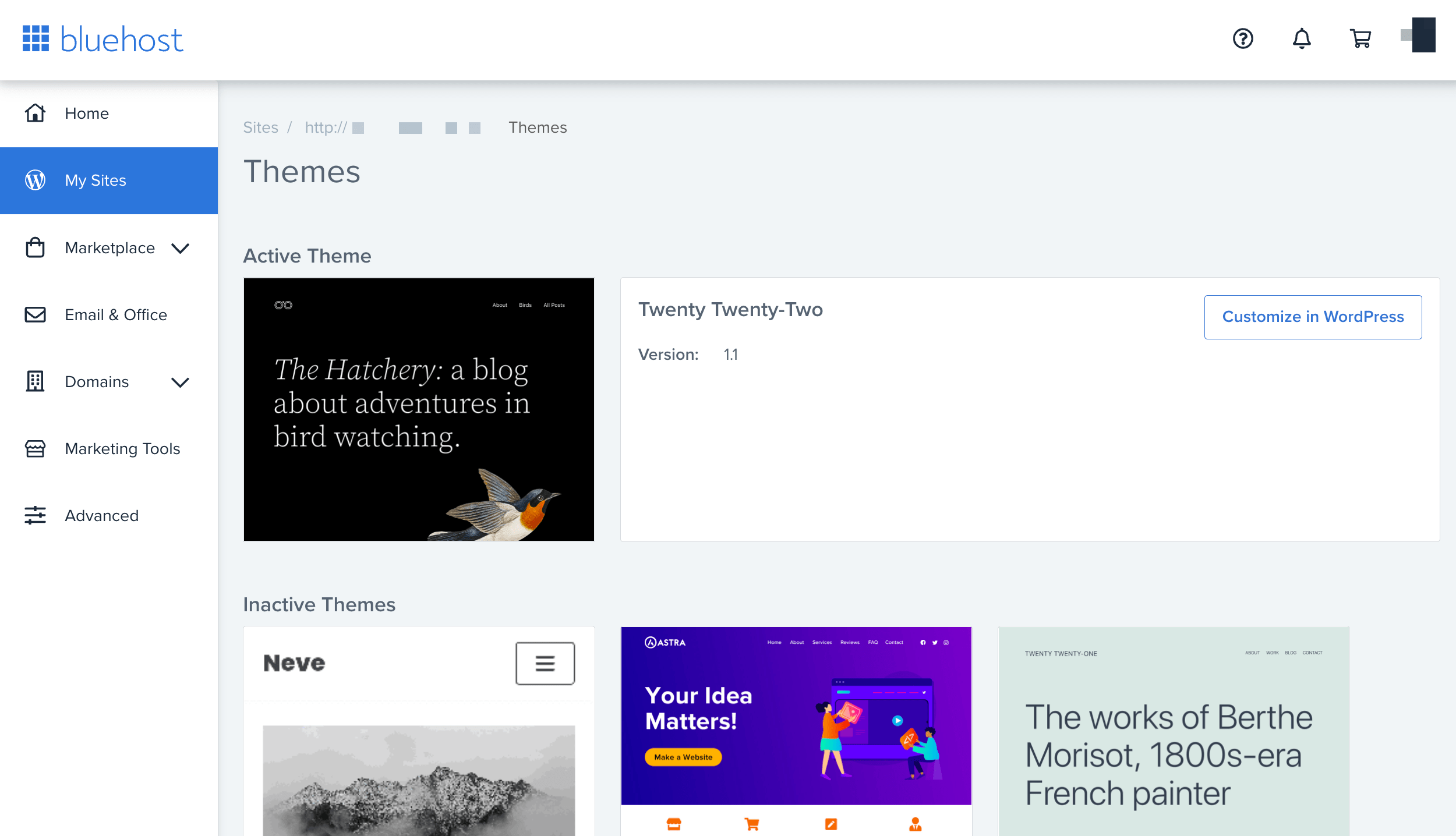 Lastly, if you'd like a more drag-and-drop-like experience, you can use Bluehost's own website builder module. It allows you to put together your site design visually, by picking blocks and elements and aligning them on the page.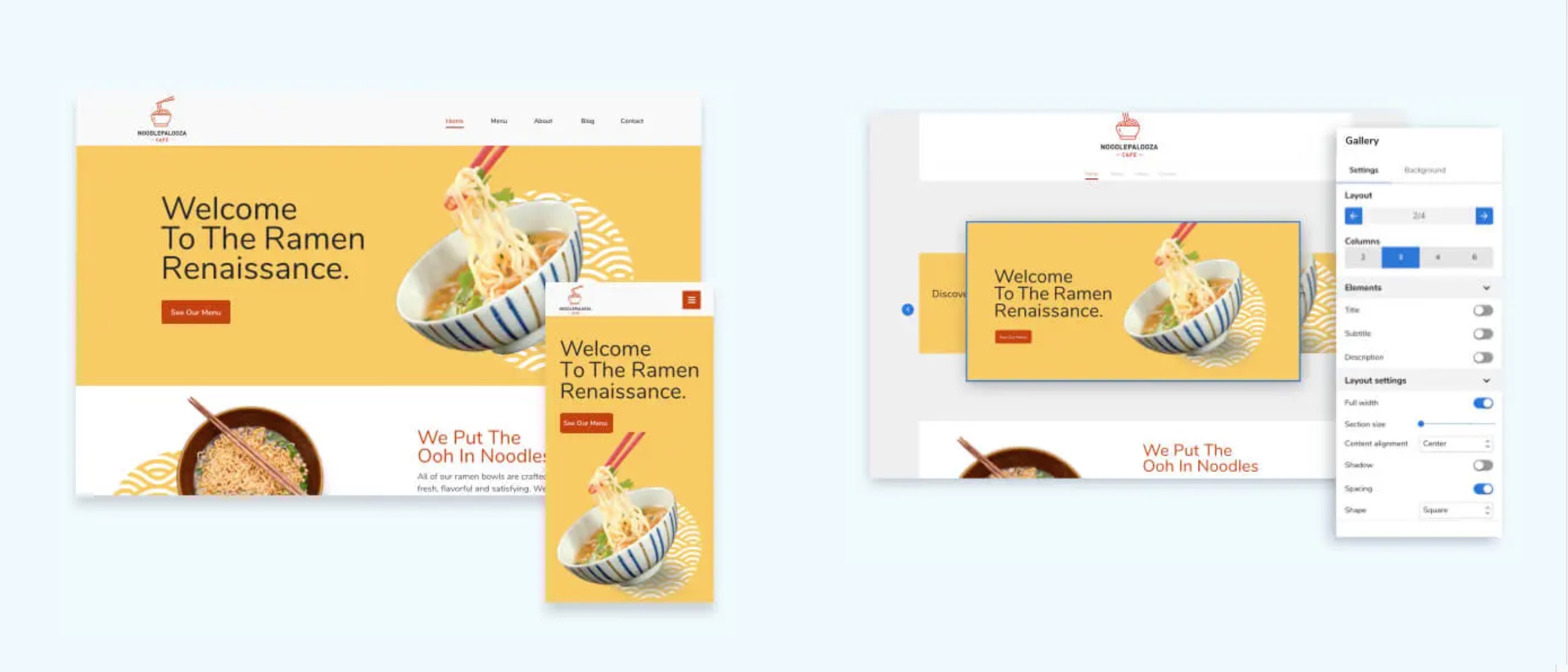 With the setup done, it's time to take a look into the main hosting dashboard.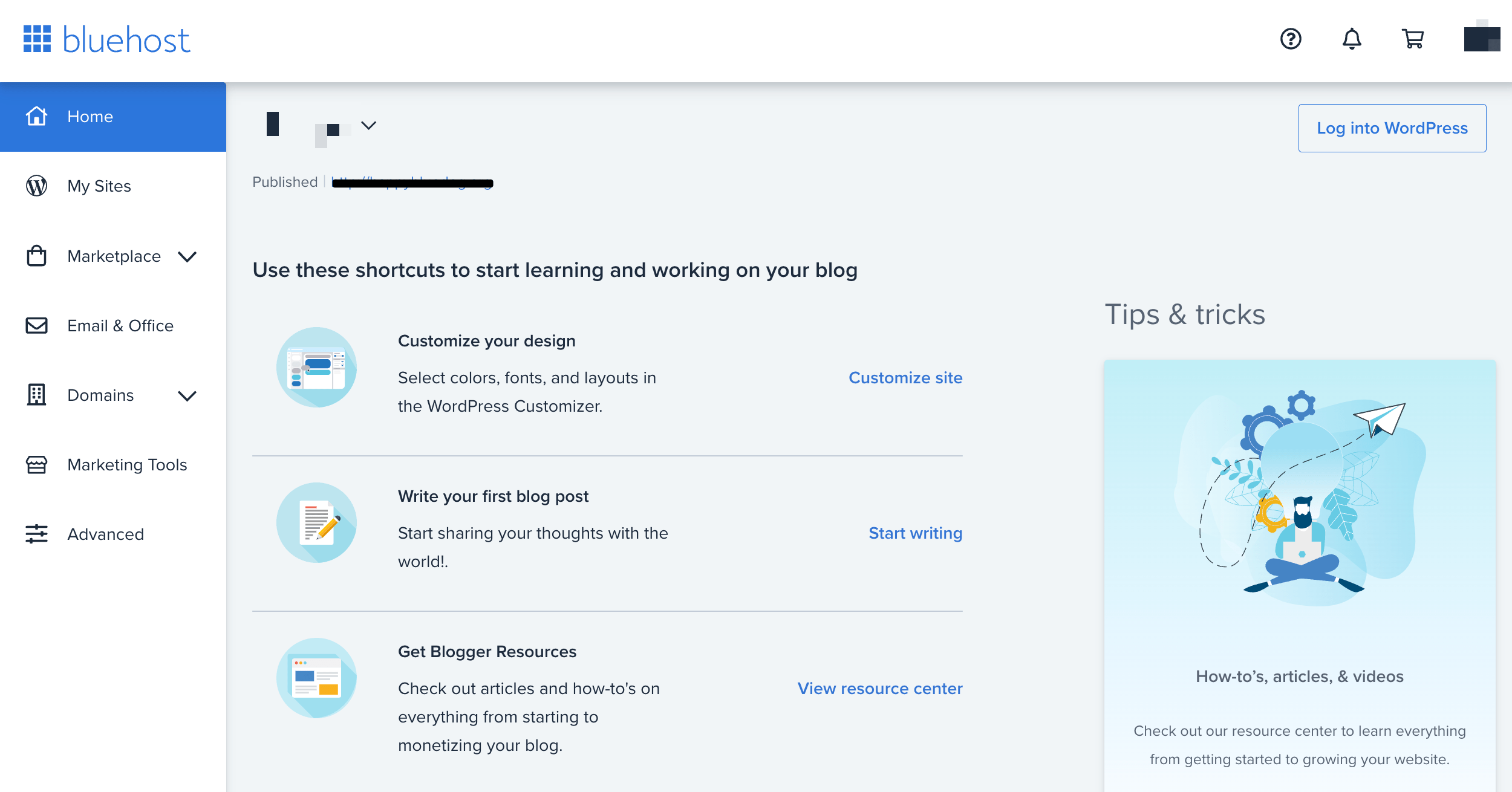 As you can see, there's not that much to do here, and this is actually a good thing! Bluehost doesn't force you to deal with complex server settings, and instead only shows you the areas most users are interested in.
You'll find all of the key options in the sidebar, plus a checklist in the center part to guide you through the stages of completing your site setup.
If you want to perform some optimizations on your site once it's live, you can do that in the My Sites section of the panel.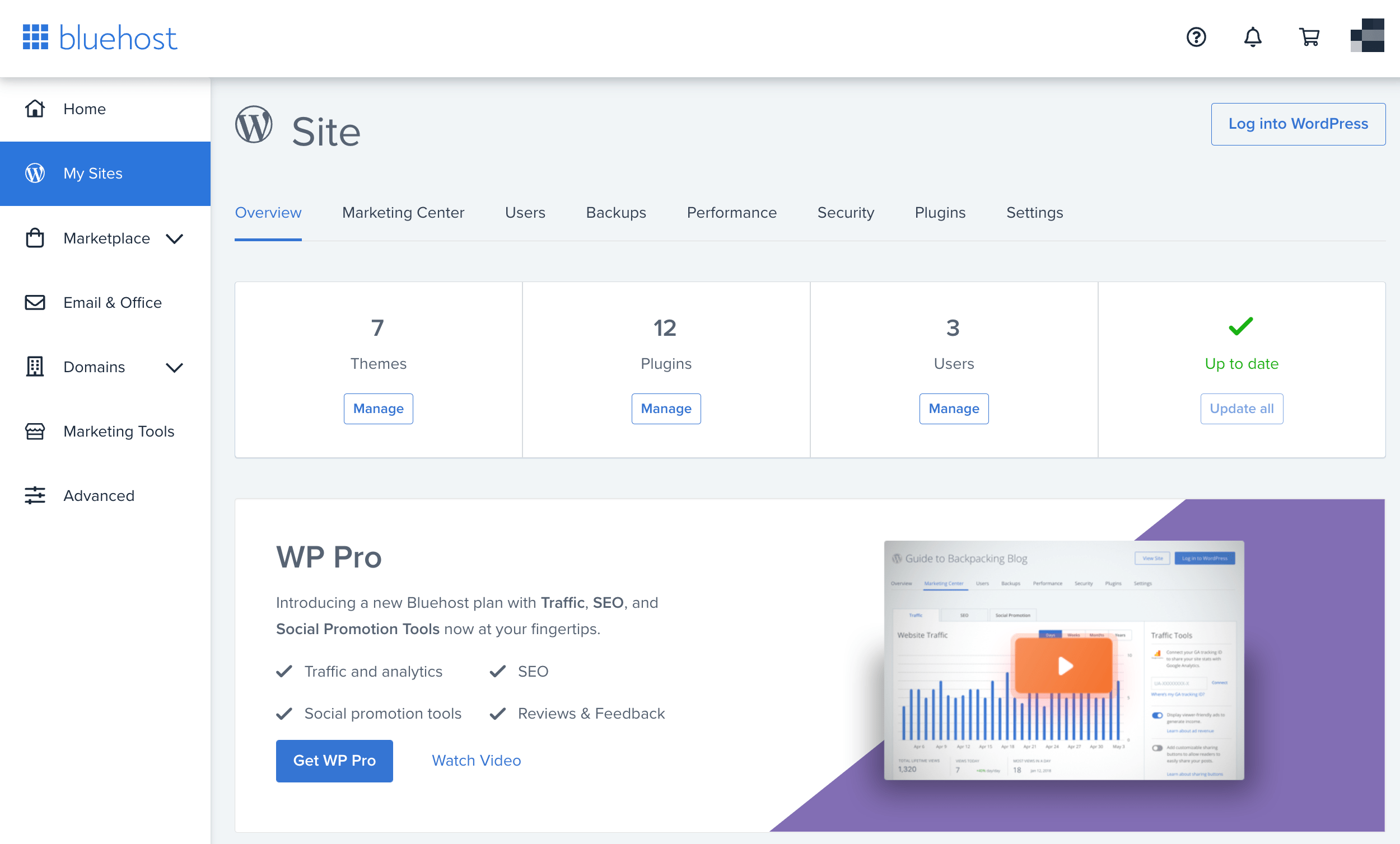 Some of the things you can do here include:
Access the marketing center to integrate your site with Google ads and Google My Business.
Manage the site's user accounts.
Manage the backups.
Tune up the performance and security settings.
See the plugins you've installed on the site and update them.
Overall, Bluehost does a great job of showing you only the essential stuff in the panel while taking care of the rest on its own. This way, you don't have to worry about the technical stuff and can go straight to site building.
Also, the fact you get WordPress preinstalled (plus you can pick a theme as well) speeds up the whole process considerably.
That being said, if you're experienced with sites and servers, you can still access the host's cPanel and do pretty much whatever you wish there.
DreamHost Ease of Use
Similarly to Bluehost, DreamHost also makes the signup and site setup procedure straightforward, so you don't have to deal with the technical stuff for the most part.
You can choose if you want to have WordPress preinstalled on your server or handle it manually later on. You can also ask DreamHost to install WordPress for you at any point in the future — it's not just a feature that's available during the initial signup.
When you're ready with a blank WordPress site, it's a good moment to check what's waiting for you in the main DreamHost dashboard.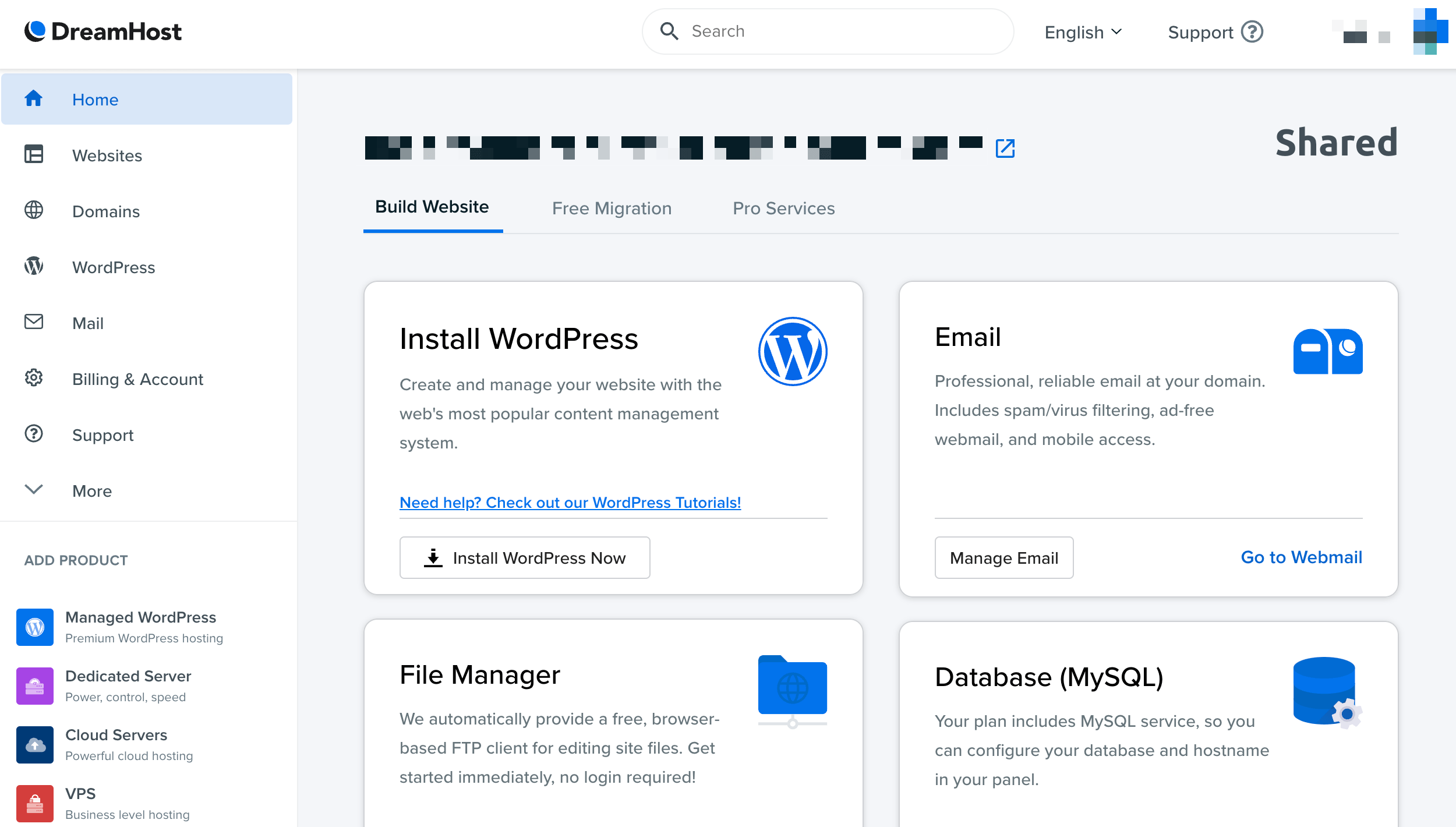 Compared with Bluehost's dashboard, this one is a lot more focused on giving users access to common server features and tools. This is both good and bad. What's good is you can get to those features quickly if you know what you're looking for; on the other hand, this panel can be confusing to less experienced users.
The center part of the dashboard lets you access some site building tools, migrate a site or use some of DreamHost's pro services (such as paid migrations).
The sidebar is where you can find everything else, such as sub-sections for managing specific website settings, domain name, email accounts and other settings.
To see your site's dedicated panel, click on Manage My Websites.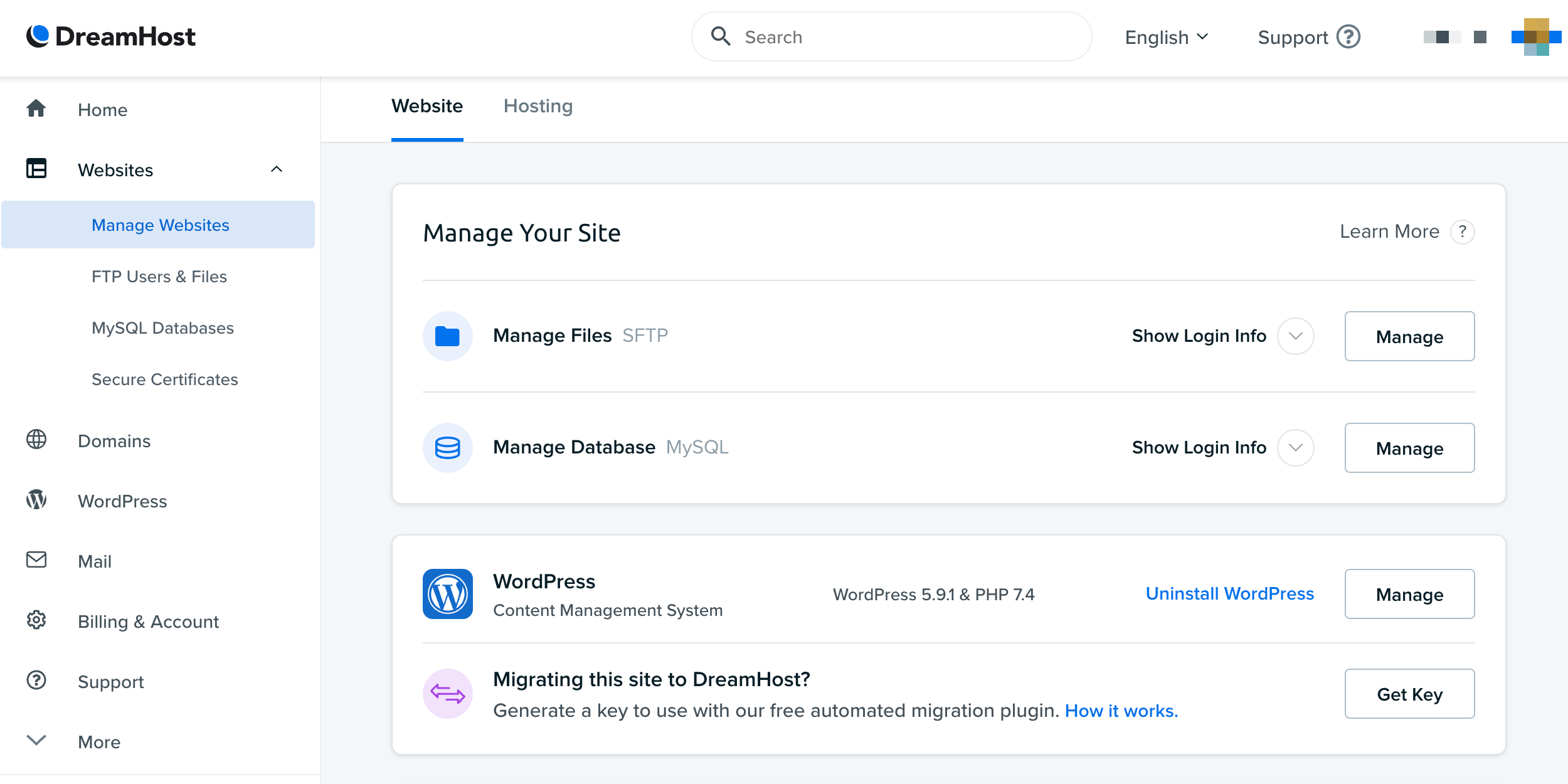 You can see a summary of your metrics and server status here. Then, you also get the FTP details, database info, domain name status and security settings. Plus, there's a link leading to your site's wp-admin as well.
As I said above, this dashboard structure is fine, but it's more catered to the savvy server user. There's also not a lot of focus on parameters that are more WordPress-relevant. For instance, Bluehost tells you about your site's plugins and theme right in the panel. DreamHost chooses to highlight the raw server parameters, such as your databases, PHP version and the software you have installed.
In the end, DreamHost's interface is easy enough to use, but Bluehost's is a step above it. My impression is that finding things is just a tad quicker vs in Bluehost's panel.
SiteGround Ease of Use
Given that SiteGround is a host that's been built with the idea of catering to WordPress sites first and foremost, it should also be pretty solid in the ease-of-use department.
The current version of SiteGround's interface is indeed quite optimized for ease of use, but that wasn't always the case. SiteGround has done a lot in the past couple of years to overhaul its panels and make them easier to grasp for beginners.
The signup procedure is standard enough. When you're done with it, you can access the main SiteGround dashboard and start working on your site. SiteGround has a handful of video tutorials and guides right on the homepage of the client dashboard.
To get working on your site, you can go to the Websites section from the main menu.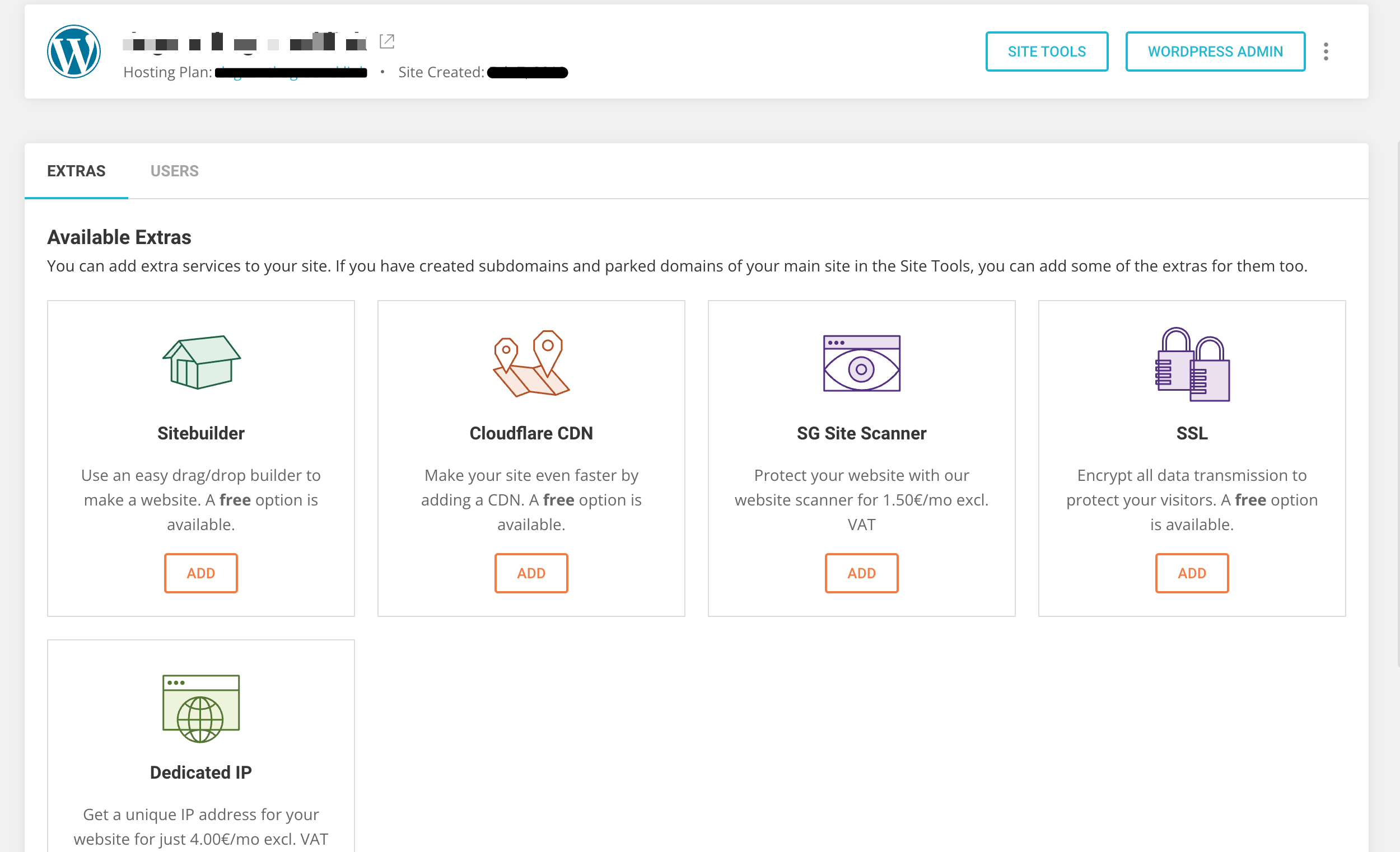 In there, you can either install a new WordPress site by clicking on New Website or work with the one you have installed already (the one SiteGround created for you during signup).
When you click on Site Tools, you'll see the whole range of website features SiteGround has to offer.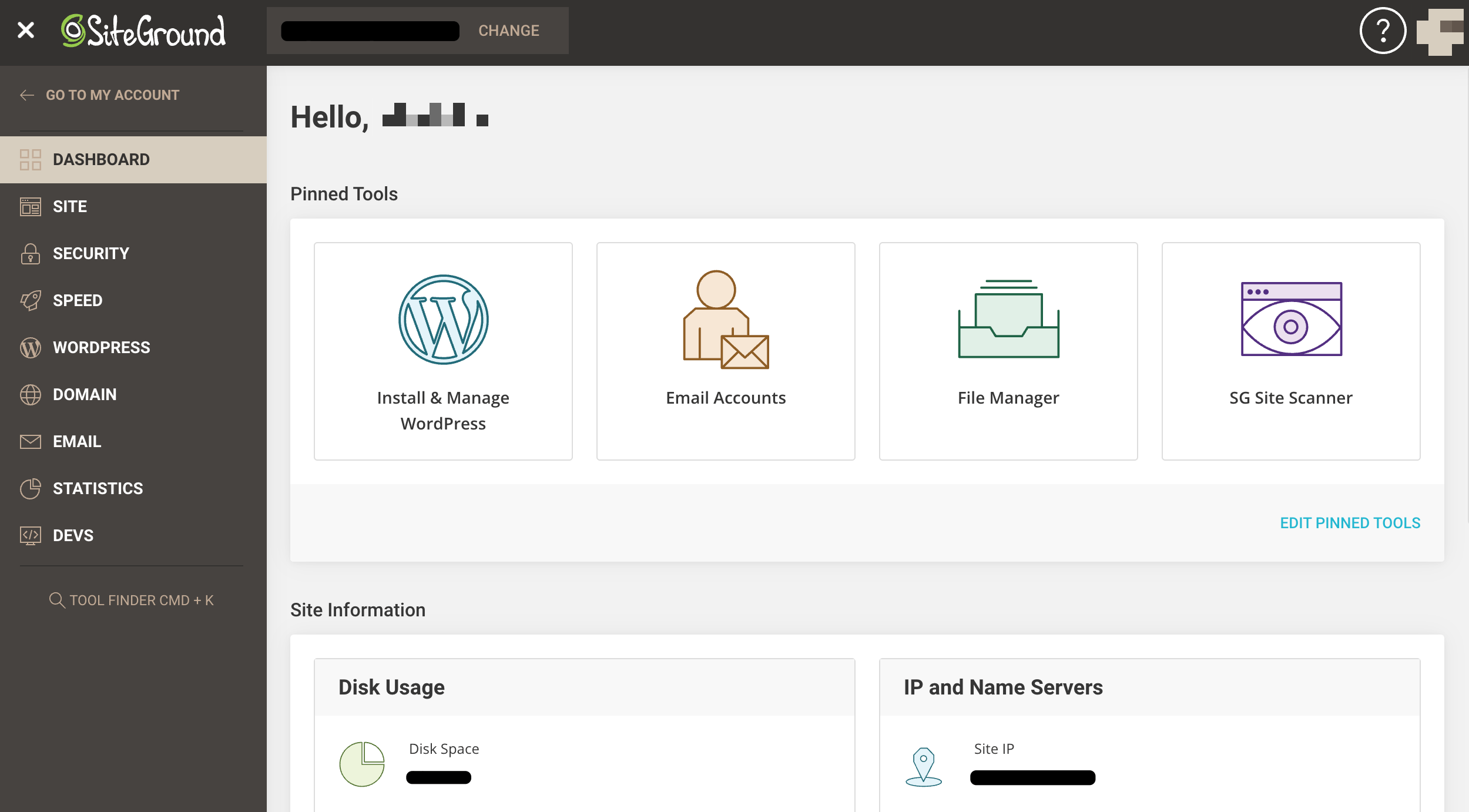 In the central part of the panel, there are some shortcut buttons to get you to the most commonly accessed areas quickly. Then, in the sidebar, you can find everything else.
For example, to access your backups, go into Security → Backups. For your cache settings, into Speed → Caching. And for WordPress-specific settings, go into the WordPress section of the sidebar.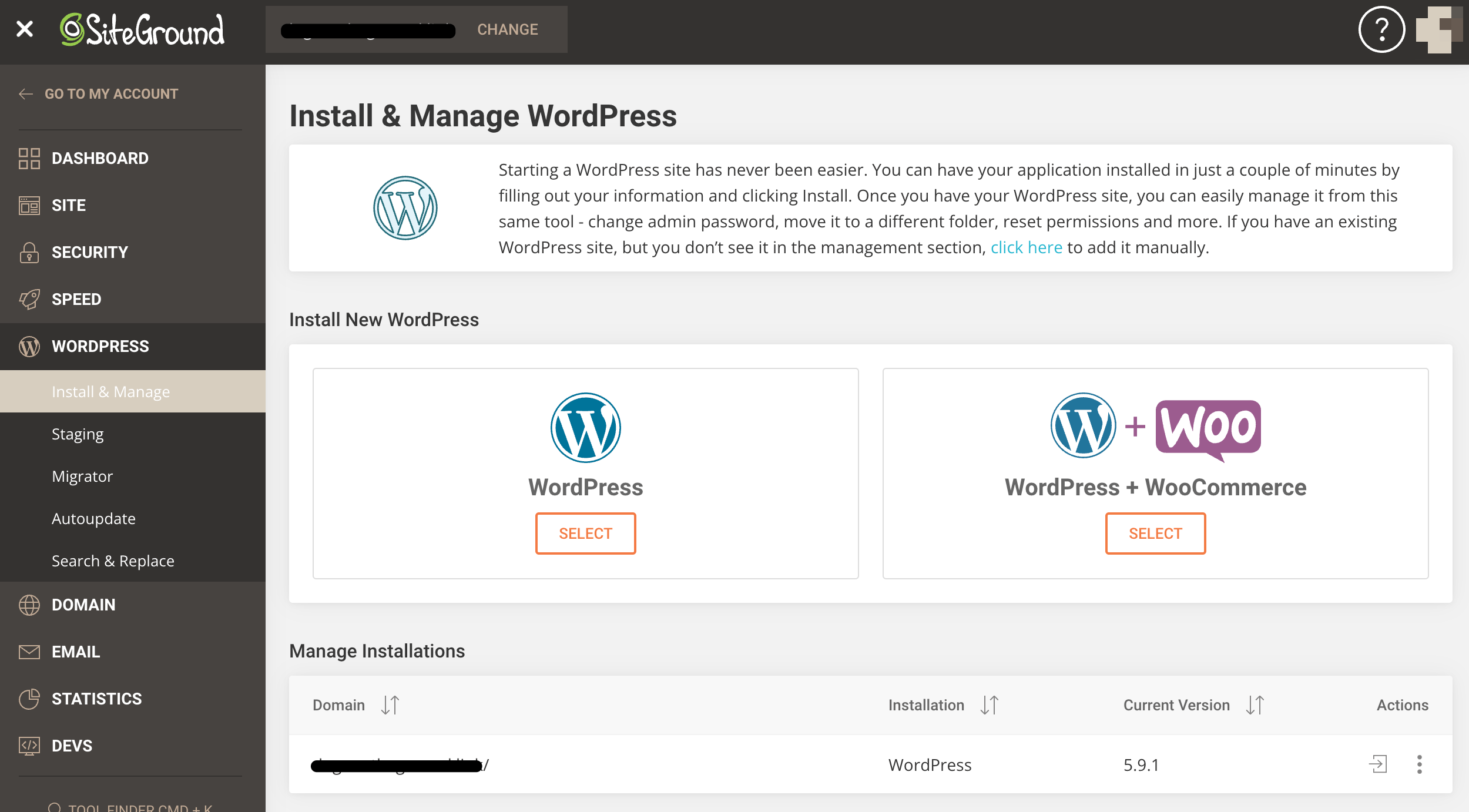 In here, you can find things such as staging sites, begin website migration if you're coming from another host, or set up automatic updates for your WordPress core and plugins. The wp-admin can also be accessed from here.
Overall, the sidebar as a whole — not just the WordPress area — is intuitive and all of the options are easy to find.
SiteGround's interface is somewhere in between Bluehost's and DreamHost's when it comes to its beginner vs advanced user focus. What I mean by this is it strikes a nice balance between making things simple enough so that even beginners can understand what's going on, and also giving you access to more advanced features and settings when you need them. In other words, SiteGround offers its users just enough hand-holding.
Performance and Loading Times
With the pricing, features and ease of use out of the way, let's now answer the last question everyone will want to know before choosing either Bluehost, DreamHost or SiteGround.
Which one is the fastest?
To find out, I bought hosting setups with each company and installed an example WordPress site on them.
The sites were simple, but they did have some example content, plus a couple of plugins to simulate real load (such as Yoast SEO, Contact Form 7, Jetpack and Wordfence). Next, I tested each site three times from multiple locations to see how fast they loaded.
Here are the results:
| Location | First Byte (s) | Start Render (s) | FCP (s) | Speed Index (s) | LCP (s) |
| --- | --- | --- | --- | --- | --- |
| Virginia, USA | 0.445 | 0.8 | 0.701 | 0.804 | 0.796 |
| California, USA | 0.594 | 1 | 0.947 | 1.008 | 1.006 |
| Paris, France | 0.29 | 0.5 | 0.399 | 0.501 | 0.479 |
| Mumbai, India | 0.617 | 1.1 | 1.038 | 1.109 | 1.088 |
SiteGround performance and load times.
| Location | First Byte (s) | Start Render (s) | FCP (s) | Speed Index (s) | LCP (s) |
| --- | --- | --- | --- | --- | --- |
| Virginia, USA | 0.788 | 1 | 0.989 | 1.003 | 1.019 |
| California, USA | 0.732 | 1 | 0.905 | 1 | 0.954 |
| Paris, France | 1.159 | 1.3 | 1.276 | 1.306 | 1.31 |
| Mumbai, India | 1.487 | 2.1 | 2.08 | 2.11 | 2.111 |
Bluehost performance and load times.
| Location | First Byte (s) | Start Render (s) | FCP (s) | Speed Index (s) | LCP (s) |
| --- | --- | --- | --- | --- | --- |
| Virginia, USA | 2.088 | 2.3 | 2.269 | 2.303 | 2.311 |
| California, USA | 2.306 | 2.5 | 2.428 | 2.5 | 2.476 |
| Paris, France | 1.658 | 1.9 | 1.906 | 1.907 | 1.938 |
| Mumbai, India | 1.786 | 2.2 | 2.193 | 2.214 | 2.235 |
DreamHost performance and load times.
These are all acceptable numbers overall. However, SiteGround comes out with a slight edge, so I have to declare it the winner when it comes to load times.
Bluehost isn't far behind, with basically the same results when testing load times from the US, and only slightly lower numbers from Europe and Asia.
DreamHost stays around the two-second mark, which isn't bad by any means, but compared with the other two hosts the difference becomes noticeable.
💪 Note: If you're interested in even better performance, all three platforms offer higher tiers of their hosting service. Yes, those will cost you more, but they generally come with a promise of better performance, too.
Bluehost has a separate lineup of managed WordPress plans starting from $9.95 a month. These plans come with more locations for the global CDN, capability to handle more visitors each month, additional availability optimizations, malware detection, free domain privacy, plus a handful of other perks. Read more here.
DreamHost also has a separate lineup of managed WordPress plans called DreamPress that start from $16.95 a month. These plans also come with capacity for more visitors each month, specialized WordPress support, built-in caching, unlimited email hosting and more. Read about the details here.
If you want to get more from SiteGround, you don't have to look for a different type of plan altogether, but simply get one of the higher tiers of its normal WordPress hosting. Starting from $10.69 a month, you get capacity for more visitors yet again, faster server software and more server resources, plus a range of developer-level features.
Bluehost vs DreamHost vs SiteGround: Which Is Better?
As you've seen above, there's no clear winner among these three excellent WordPress hosts. Each platform has its pros and cons, so making the right choice depends on your individual needs and budget.
Here are some recommendations to help you pick:
💰 If you're simply looking for the cheapest way to host a WordPress site, go with DreamHost. However, keep in mind that you don't get email hosting in this package.
👍 If you're looking for a more well-rounded solution on a budget — with email and domain included — pick Bluehost.
🤕 Is ease of use your top priority? Bluehost is the top choice here in my opinion.
🚑 Lastly, if you value having access to customer support that's knowledgeable about WordPress, SiteGround has the best ratings among users on these grounds.
In all honesty, you can't really go wrong choosing any of these platforms. While there are differences in pricing and the specific features you get, they'll all provide you with quality services for hosting your WordPress website.
What do you think of this lineup? Who's the winner for you between Bluehost vs DreamHost vs SiteGround?
Related Links: