If you're looking to publish a landing page, whether to sell a product, collect emails for a newsletter, promote an event, or for any other situation where you'd like your visitors to perform a certain action, then it's likely you'll be looking for a landing page builder — and this guide will introduce you to the five best options available today!
Not only will it present these powerful landing page builders, but it will also give you all of the information you'll need to decide which is the best one for your project. By the time you've finished reading this, you'll know what each page builder can do, how it works and whether it meets your needs.
Whether or not you're using WordPress, you'll be able to find a landing page builder that can help you to grow your business.
Let's begin…
Features to Consider
When looking for the best landing page builder, there are many features you'll want to think about.
While the best landing page builders share many of the same core features, they're often implemented in different ways.
Because of this, simply reading the feature list of each product isn't enough to make an informed decision on which is best.
So, with that in mind, this guide points out the highlights of each tool, as well as any drawbacks they may have, to help you to find the solution that's right for you.
Before we get to our pick of the top five landing page builders, here's a quick explanation of the most important features to look out for, as well as points to consider about each one.
WordPress-Only or a Hosted Service
Some of the landing page builders in this comparison are WordPress plugins that must be installed on a WordPress website. Others are standalone tools that are provided as a hosted service, and include everything needed to publish your landing pages online.
However, the standalone tools can be used with WordPress, and the landing pages you create can be published on a WordPress website very easily.
Choosing a hosted landing page service often gives you access to more features, such as the ability to integrate your landing pages with more services; additional tools, such as split testing and improved analytics; and more conversion-focused features.
However, while these hosted services are more expensive than a WordPress plugin, if you don't already have a WordPress website, they allow you to publish your landing pages almost as soon as you've signed up.
On the other hand, the WordPress landing page plugins are less expensive compared with the hosted services, but, as you'll need your own WordPress website and hosting account, this cost should be factored in.
One benefit of choosing a WordPress landing page builder plugin over a hosted service is any content you create will be yours to keep, whereas with a hosted service your landing pages will go offline if you cancel your subscription.
There's no one answer to the question of whether a hosted landing page service is better than a WordPress landing page plugin — it's up to you to decide which features are most important to you and what your budget can accommodate.
Landing Page Builder Interface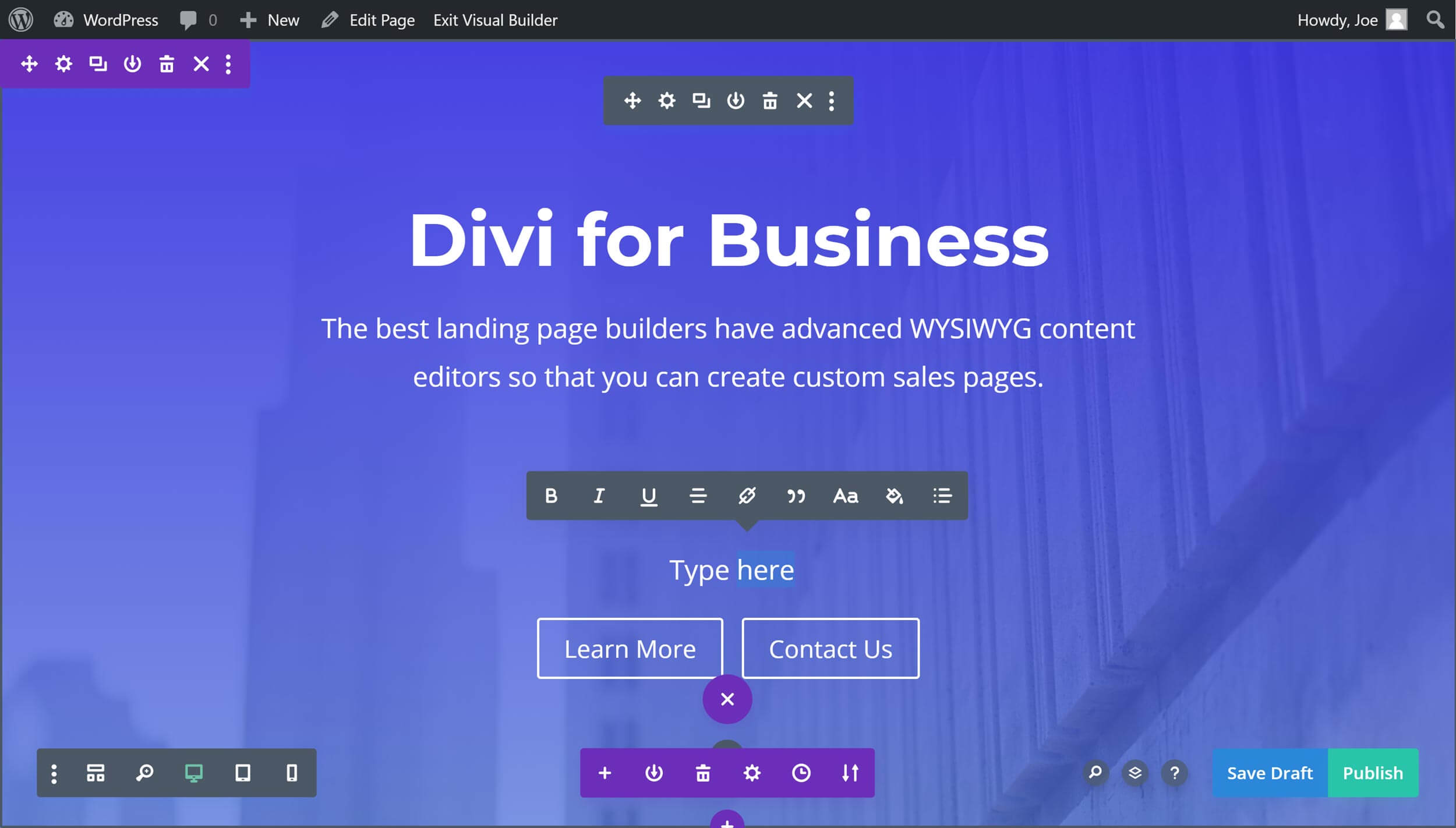 All of the best landing page builders in this comparison have full modern user interfaces, which extends to all aspects of the tools — from how you manage your pages to the page builder editor interfaces.
While all of the landing page interfaces allow you to drag and drop items around the page, customize all aspects of your designs and provide you with a live preview of your content while you work, they do take slightly different approaches to the design of their user interfaces.
As these are the best landing page builders available, they're all as easy to use as each other. However, they each have their own unique way of working that may make one more appealing to you than another. Because of this, you should explore the features of the page build interfaces where possible if you have any particular requirements.
Landing Page Templates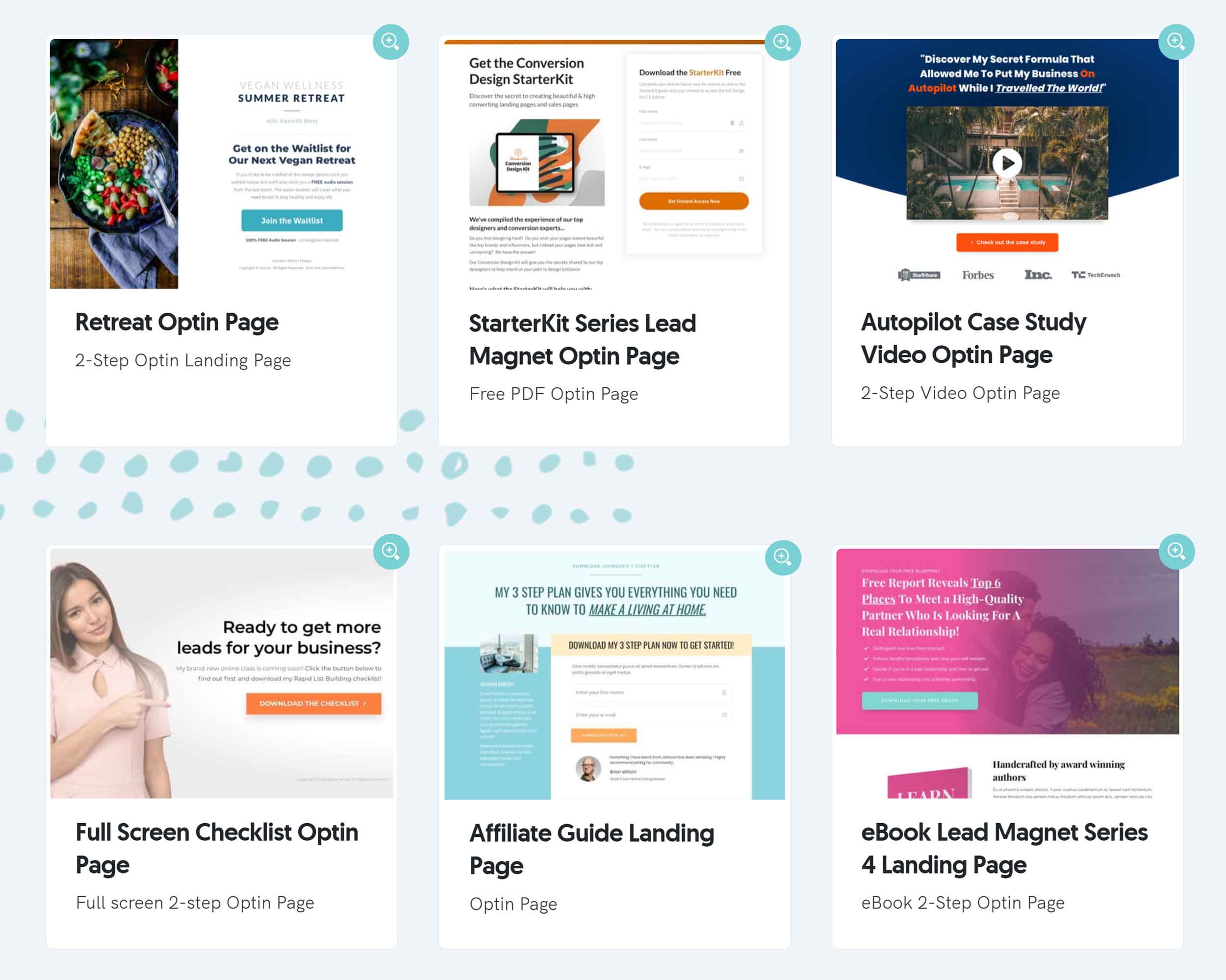 While these tools give you the ability to create your own unique landing page designs from scratch, most readers will get better results from using a professionally designed template as a starting point.
Because of this, it's vital that you check out the templates that come with each tool to ensure they have options that are right for your project — taking into account your audience, goals and the type of offer you want to promote.
Split Testing Tools
To help you to create landing pages that will get the best response from your audience, many of these builders include a split testing tool. Those that don't can be integrated with a third-party service to help you to optimize your content.
While your landing pages may look great, if they aren't optimized for your audience and goals they probably won't deliver the desired results. Therefore, choosing a product that enables you to run tests on your landing pages is highly recommended — which is why all of the options here make this possible.
Integration Options
The integration options of these landing page builders really vary from product to product.
Often, the hosted services integrate with more third-party services — such as payment processors, customer relationship management tools and advertising platforms — but the WordPress plugins aren't short on integration options either.
When it comes to choosing the best landing page builder for your project, be sure to look for the interaction support you actually need, rather than just picking the tool with the most integration options.
The Five Best Landing Page Builders
Now you know what to look for, here are the five best landing page builders for WordPress users and non-WordPress users alike.
Elementor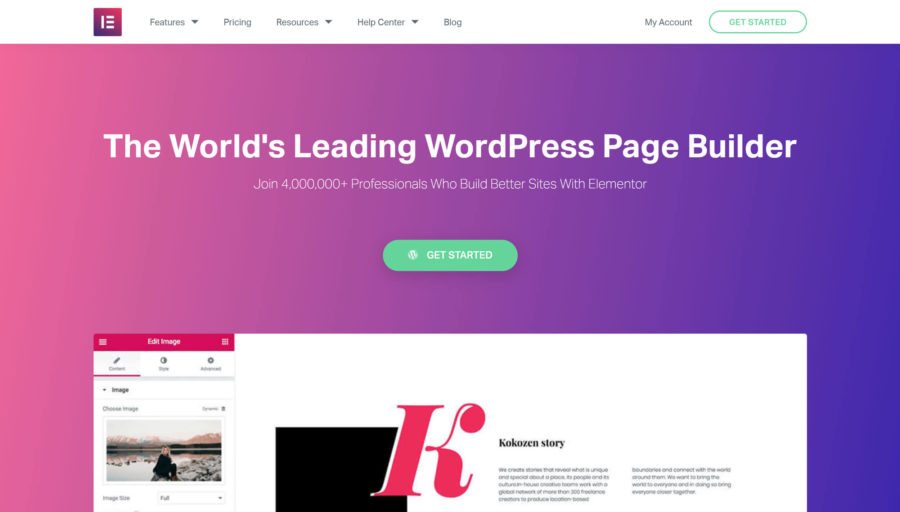 Available in free and paid versions, the Elementor plugin lets you add landing pages — and other types of custom content — to your WordPress website without investing any money.
While both the free and paid versions share the same intuitive landing page builder interface, upgrading to the paid Elementor Pro unlocks more editable landing page templates, gives you access to additional widgets that you can insert into your designs and lets you add pop-ups to your landing pages — plus a lot more.
However, at the time of writing, the free version did include ten editable landing page templates, making it a good option for those on a budget looking for a free way to publish landing pages on a WordPress website.
One of the main downsides of Elementor, compared with most of the other landing page builders on this list, is that it doesn't have its own split testing tool to help you to optimize your designs. You can integrate Elementor with Google Optimize, but it's not as intuitive as having an A/B testing tool as a core feature.
Aside from that, though, it's one of the best page builders for WordPress, and is more than capable of helping you to publish landing pages for a range of products, services and other offers.
Best Features of Elementor:
If you're on a budget, the free version of Elementor is a great way to start experimenting with creating your own landing pages for your WordPress website.
However, with prices starting at just $49 for access to all of the features of Elementor Pro, this is one of the most affordable ways to add a high-quality landing page builder to your WordPress website. So, even though the best features are reserved for paying users, upgrading to Elementor Pro shouldn't break the bank.
Divi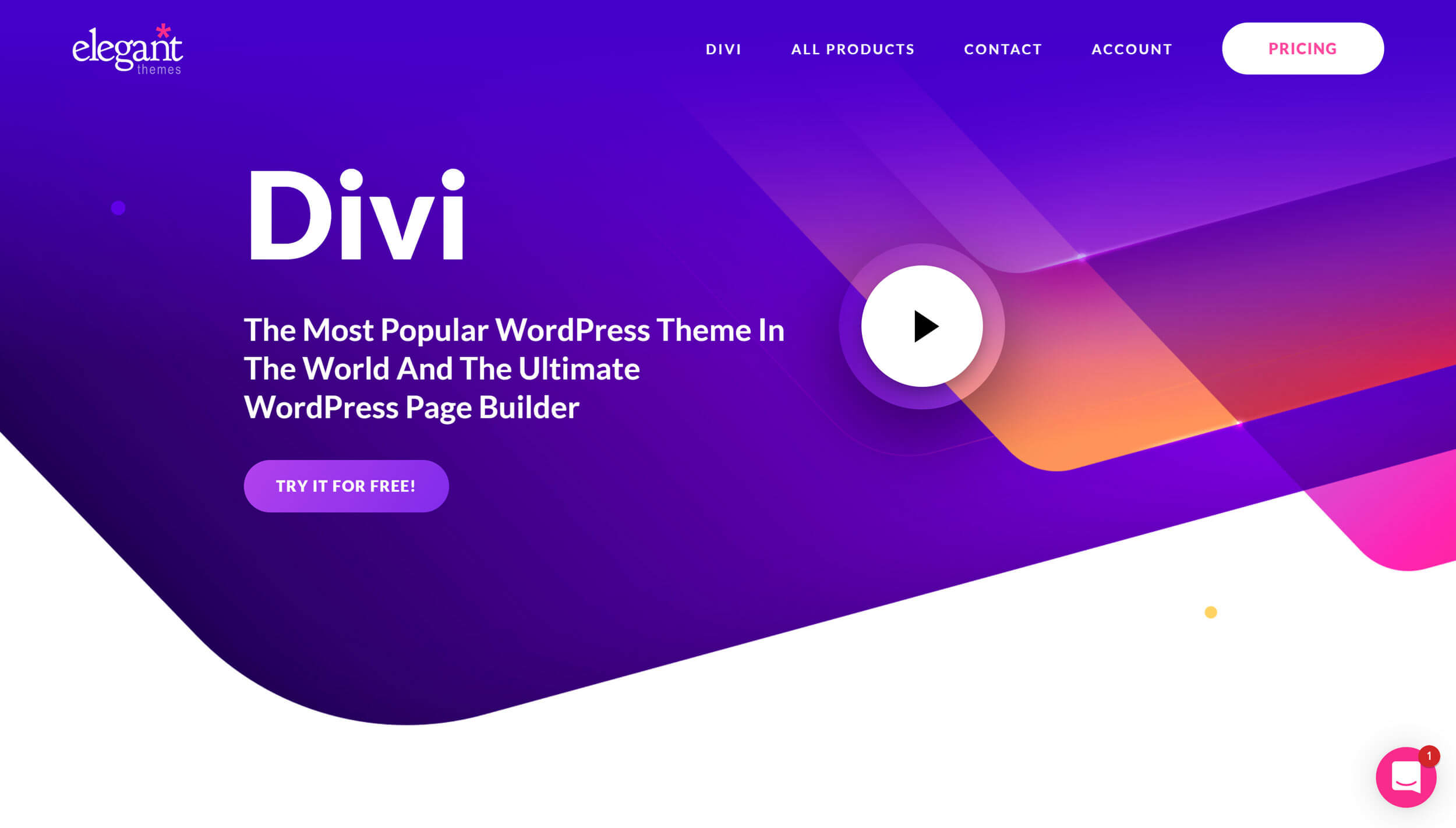 Divi is available as a WordPress theme and plugin, making it ideal for new projects, as well as for adding landing page builder functionality to existing WordPress websites.
The two main reasons to consider Divi as your landing page builder of choice is its powerful drag-and-drop content editor interface and its huge library of templates. While the templates cover all of the different types of pages you'll find on a website, there are lots of landing page designs to choose from.
The landing page templates have all been designed to a high standard, and more are added to the collection on a regular basis. Furthermore, Divi has a useful and varied selection of modules, so any content you create with this tool can include elements such as pricing tables, call-to-action buttons, sliders and more.
Another useful feature that makes Divi an appealing choice for creating conversion-focused landing pages is its split testing tool. The Divi Leads feature lets you compare different versions of your landing pages to find out which one gets the best response from your audience — all within your WordPress dashboard. If you want to take the guesswork out of creating and publishing effective landing pages on your WordPress website, this feature will be invaluable.
Starting at $89, Divi is a bit more expensive than Elementor Pro; there's no free version that lets you try before you buy, either. However, you can use the 30-day money-back guarantee to get a refund if you're not happy with your purchase.
Best Features of Divi: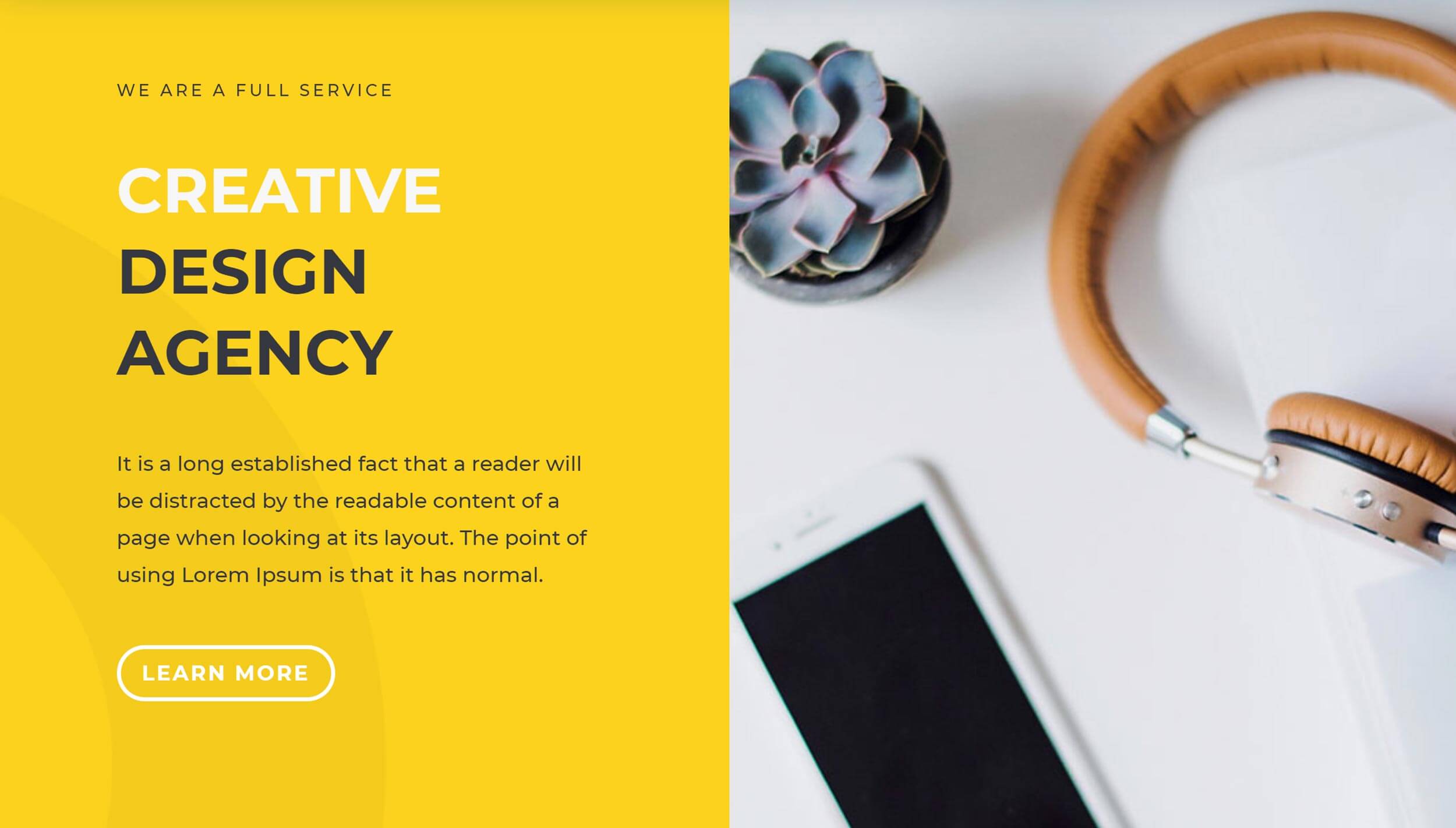 Whether you want to start a new WordPress website or add landing pages to your existing WordPress site, Divi can help.
As this is a page builder, rather than a landing page builder, Divi may not be as tightly focused on creating landing pages as some of the other options in this collection. However, it's more than capable of enabling you to publish stylish lead generation content online.
OptimizePress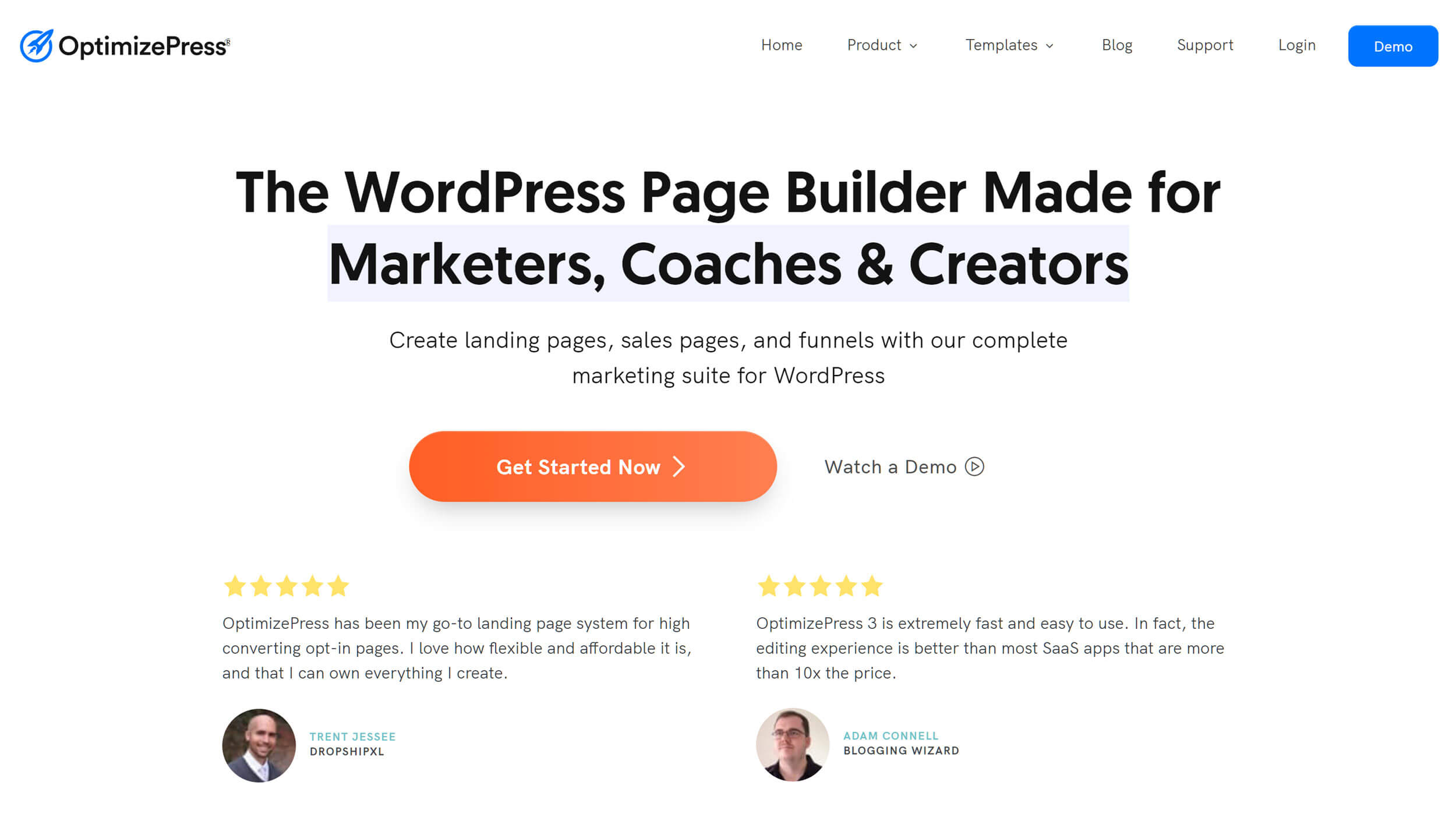 OptimizePress is a WordPress plugin that's been built primarily for marketers, coaches and creators. Because of this, the core features of OptimizePress are focused on helping you to create landing pages for generating leads and sales online.
While this is a plugin that will work with any modern WordPress theme, OptimizePress does come with its own theme if you've yet to choose one for your project.
The landing pages you can publish with OptimizePress can be used to collect emails, deliver files and start a launch list for any ideas you'd like to test out. Thanks to a good range of third-party integration options, you can add the leads you generate with OptimizePress to your email marketing service, customer relationship management system and many other services.
While there's currently no way to collect payments directly with Optimizer — that feature's coming soon — you can integrate your sales pages with your website's ecommerce shopping cart to sell products or charge a fee for access to content.
As the designs of the templates from OptimizePress are varied, this landing page builder should work well for many types of projects. Also, while the landing pages look good, they've all been optimized and tested for the highest conversion rates possible. As well as getting access to full landing page templates, OptimizePress also provides you with landing page sections that you can combine to quickly assemble your own pages.
As this is a landing page builder, you can edit all aspects of the templates that come with OptimizePress, and also create your own custom designs from scratch. After recent updates, the OptimizePress landing page builder interface is up there with the best editors from the other tools in this category.
Features such as full WYSIWYG editing, undo and redo capabilities, and the ability to create global elements for reuse throughout your landing pages help OptimizePress to earn a place in this collection.
However, unlike Instapage and some other hosted services, you get slightly less creative freedom in the OptimizePress editor, because of the use of the row and column-based layout that's popular with WordPress page builders.
Best Features of OptimizePress: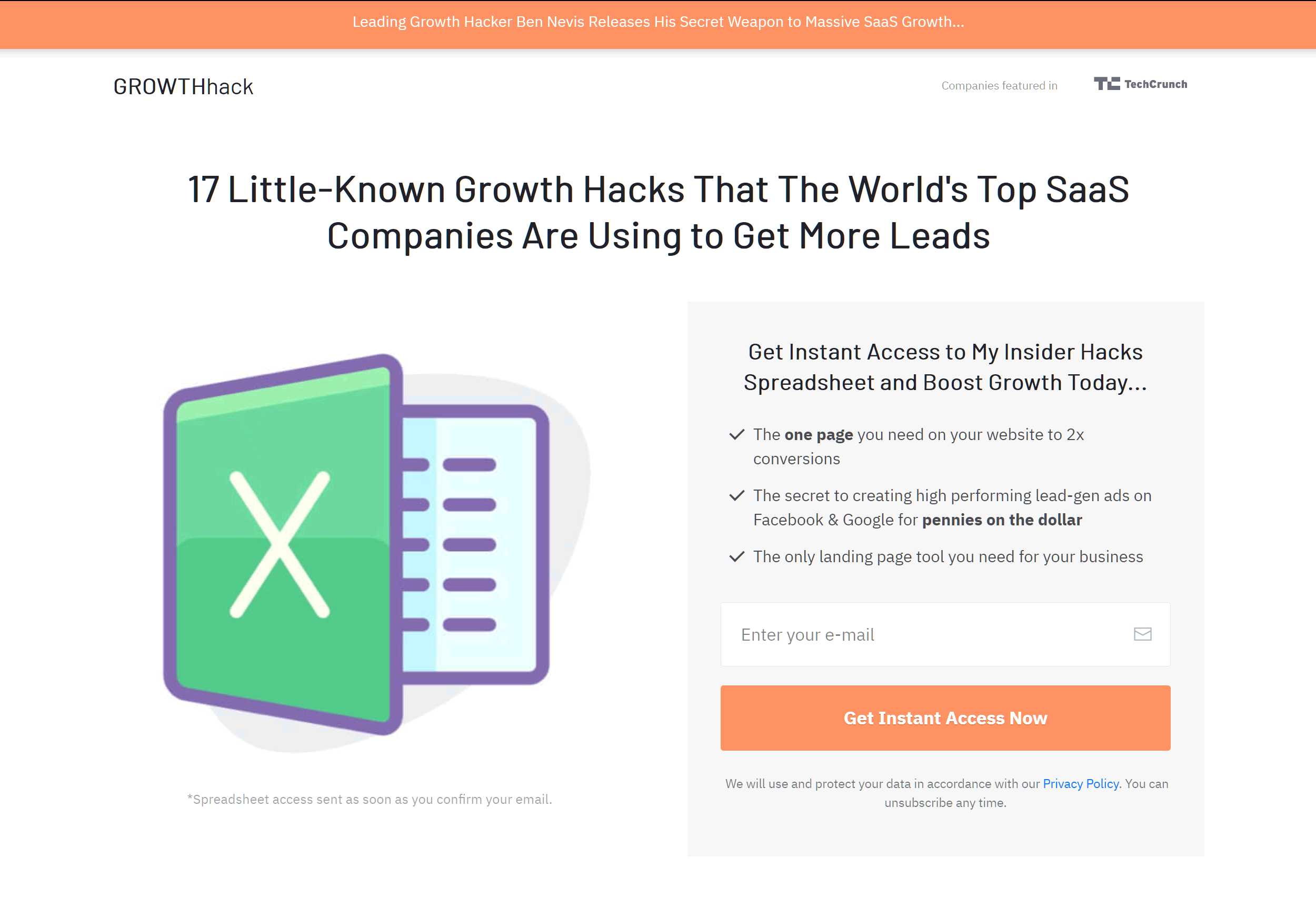 OptimizePress is more expensive than the other WordPress-only landing page builders in this collection, especially if you want access to all of its features, including all of the premium templates.
However, as OptimizePress is more focused on creating landing pages and generating leads, compared with the more general-purpose page builders, such as Divi and Elementor, it will be a good option for anyone who wants a lot of flexibility and features that are focused on helping them to grow their business — including collecting payments, integrating with more third-party services and using popular lead generation tactics.
Find out more about OptimizePress
Leadpages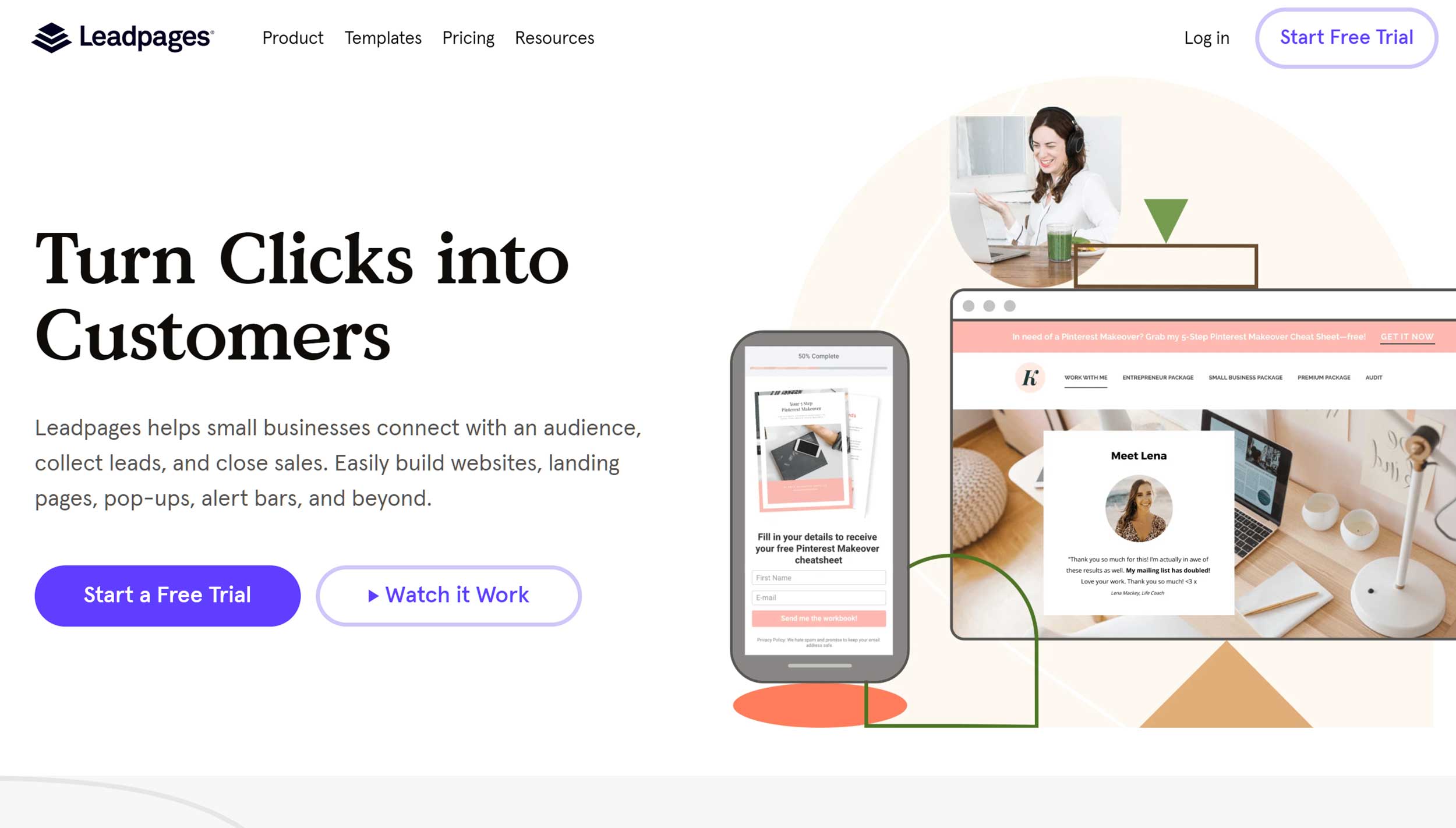 Unlike Divi, Elementor and OptimizePress, Leadpages isn't a WordPress plugin — although it does work with WordPress websites.
Once you've created a Leadpages account — something you can do for free by signing up for a 14-day trial — all of the work takes place inside your dashboard on the Leadpages website. This includes choosing a template, customizing its design through the modern drag-and-drop interface, and running optimization tests to improve conversion rates.
Once you've created a landing page — either by designing one yourself or editing a template — you can publish it on your own domain name (with Leadpages taking care of the hosting) or add it to your WordPress website. There are a few other publishing options, too.
One of the main selling points of Leadpages is its large library of highly optimized landing page templates. Leadpages reportedly optimizes its landing page templates for improved conversion rates based on the data it collects from the content it hosts for its users. When browsing the Leadpages templates, you can sort them by conversion rate to quickly find the most effective designs.
Although the library of templates is large, there's a startup wizard that asks you a few questions about your project to help you to find the most suitable landing page templates. However, you're not limited to using the wizard, and you can just as easily use any of the available landing page templates.
As you don't need a WordPress website to use a landing page builder such as Leadpages, you can get started right away. You don't even need a domain name, as your account includes free use of a Leadpages subdomain.
Best Features of Leadpages: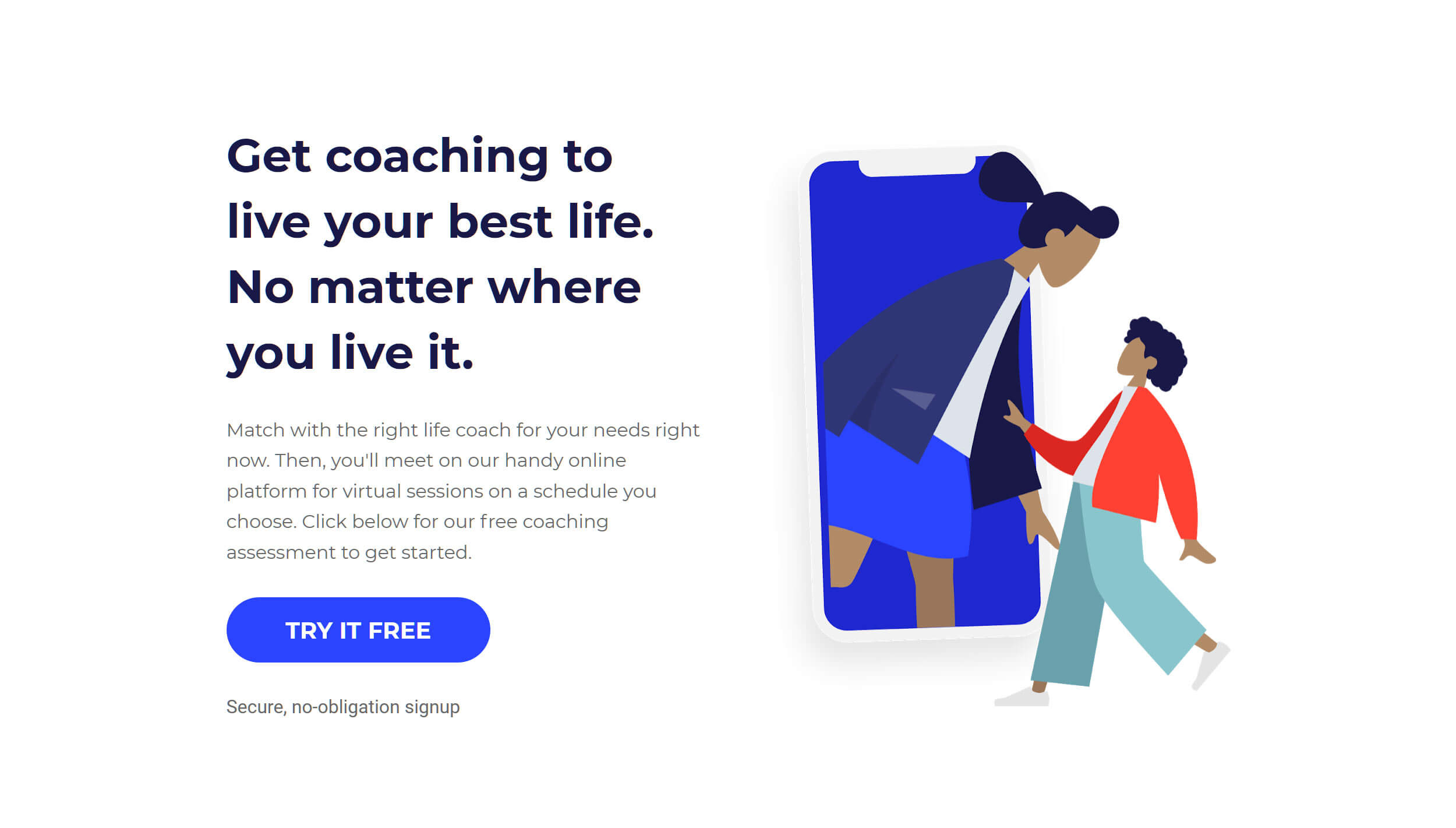 Leadpages is all about helping you to quickly publish effective landing pages to test your ideas, grow your business, and generate leads and sales.
Thanks to the 14-day free trial, you could have your landing pages online and generating leads before you've paid a penny.
However, compared with the price of a WordPress landing page plugin, the cost of a Leadpages subscription isn't cheap, so be sure to check out all of the options before making a decision.
Note: if you're interested in a detailed comparison of LeadPages and Instapage, check out another post of ours – here.
Instapage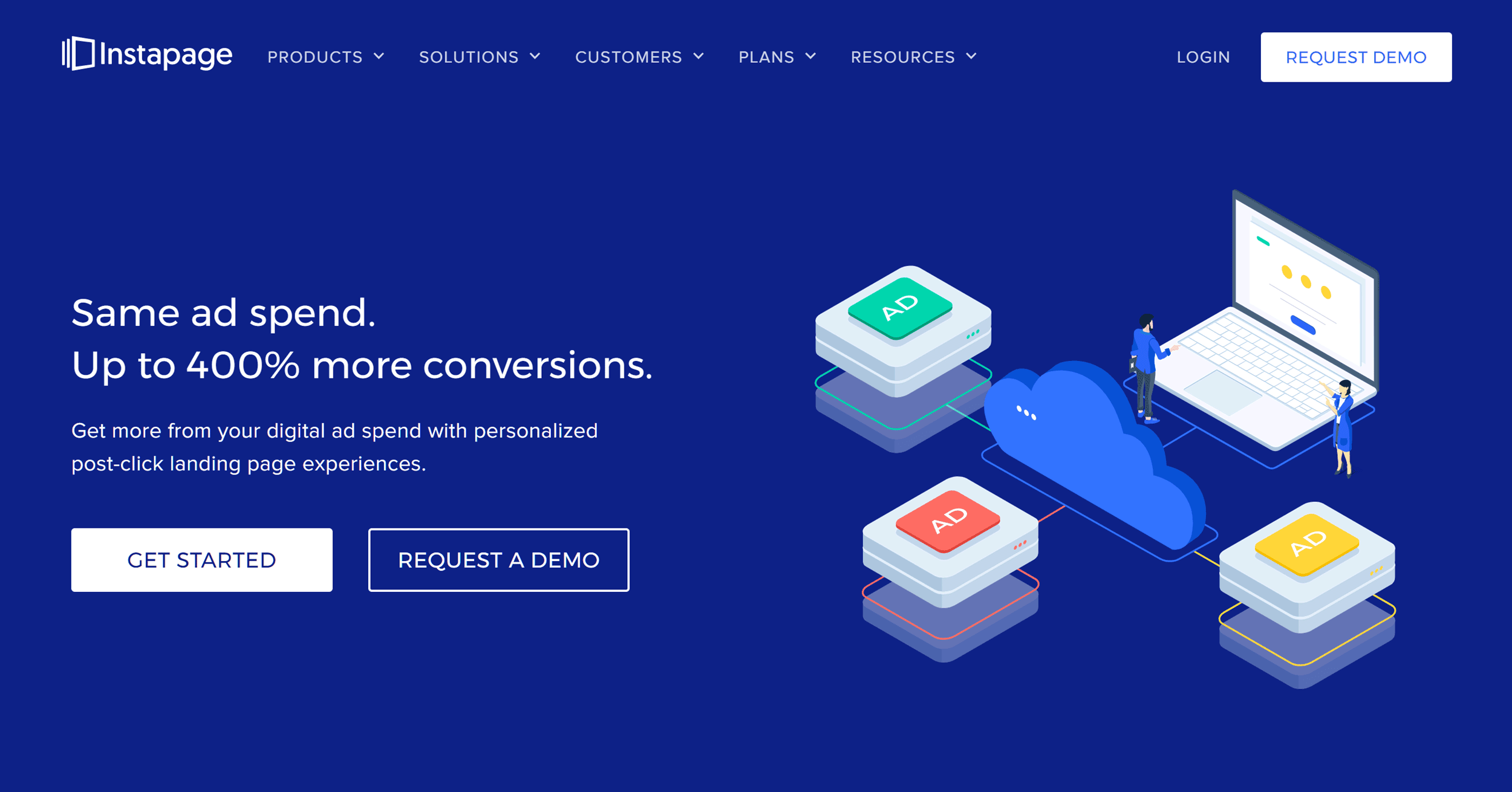 Instapage is also a hosted landing page builder, rather than a WordPress plugin. As with Leadpages, it aims to provide you with everything you need to publish landing pages online, with the ability to connect to many third-party services to handle the leads and sales your pages generate. If you do want to add the landing pages you create to your WordPress website, thanks to an easy-to-use plugin, it's not a problem with Instapage.
With more than 80 landing page templates, you should be able to find a suitable option each time you start a new project. While all of the best landing page builders have modern content editors, the Instapage builder is probably the one that gives you the most creative freedom over your landing pages.
For example, items can be placed anywhere on the page, even stacked on top of each other, while the helpful guides and markers make it easy to get your designs looking just right. If you don't want to be creatively constrained by your choice of landing page builder, Instapage should appeal.
Another area where Instapage goes a step further than the competition is the tools that can help you to optimize your landing pages. Among these features are a heat map tool that has a visual guide that shows how your visitors are interacting with your page, detailed analytics reporting tools and dynamic text replacement, as well as the more widely available split testing functionality.
Best Features of Instapage: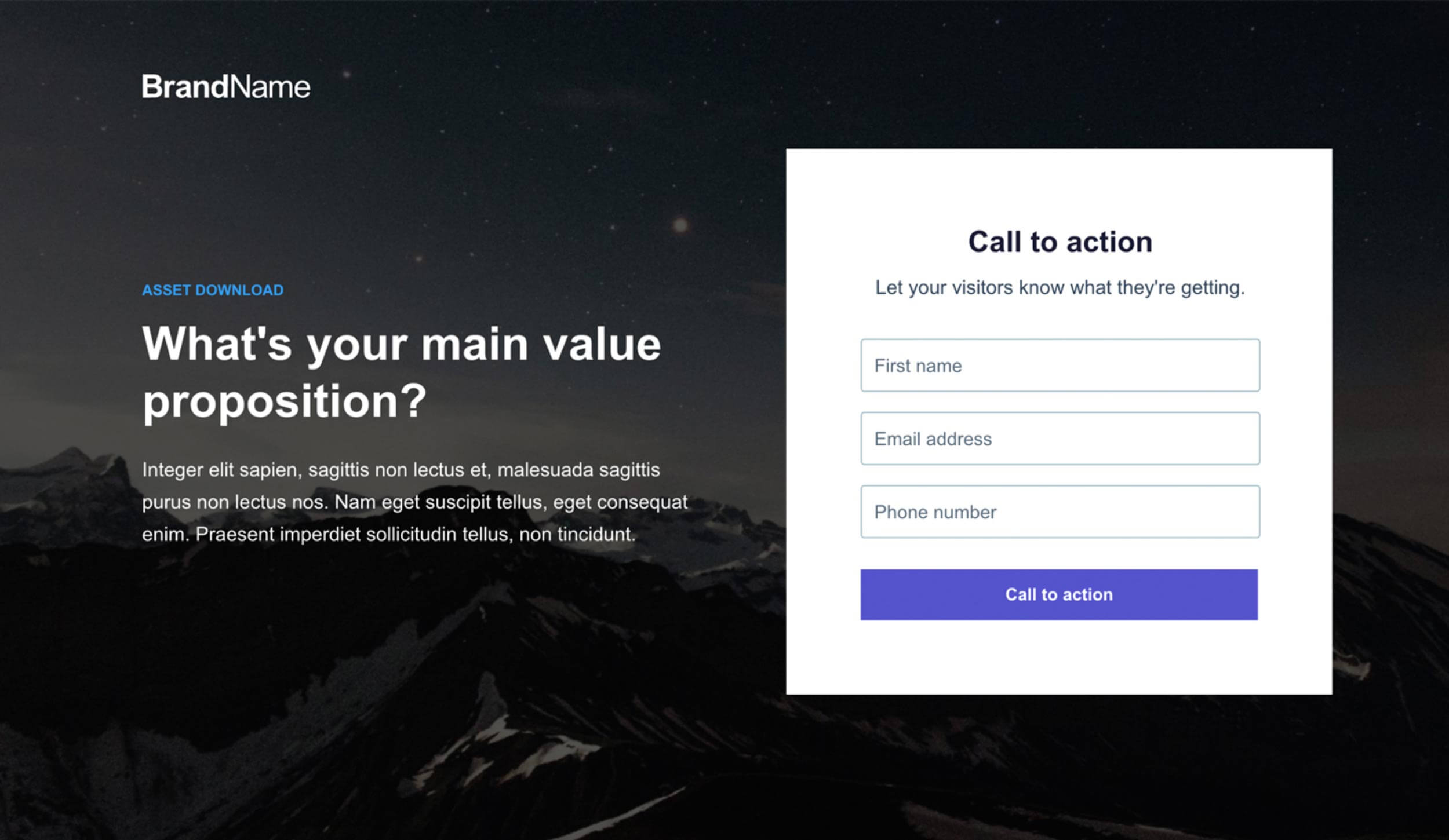 Instapage is definitely a powerful marketing tool with lots of useful features, but it isn't a cheap solution — even compared with Leadpages.
While you do get a lot for your money, the monthly fees may be too much for those who are just starting out, or who aren't operating in a lucrative market.
However, you can see for yourself if Instapage is worth the money by taking advantage of the 14-day free trial.
Note: if you're looking for a detailed comparison of Instapage and LeadPages, check out another post of ours – here.
Final Thoughts
As you can see, there's a good landing page builder for all budgets — from the freemium Elementor plugin to the hosted Instapage service and its relatively high monthly fees.
While all of these tools make it possible to publish professional-looking landing pages online, the hosted services– Leadpages and Instapage — have more features and integration options than the WordPress plugins. Some examples of this include providing greater insight into page performance, help with optimization, the ability to collect payments directly or integrate tightly with a wide range of payment processors, and access to virtual workshops and group coaching sessions.
However, you do have to pay more for Leadpages and Instapage compared with the WordPress-only solutions, so it's up to you to decide which features are most important to you and which product matches your budget.
To confuse things slightly, though, paying more doesn't always get you more, as is the case with Divi and its relatively low price compared with Leadpages and Instapage, but its huge library of high-quality templates.
A quick way to find the right tool for you — especially if you don't want to spend time designing your landing pages from scratch — is to browse the templates to see which product has the ones that will work best for your project. Then, check the features of that product to see if it has everything you need. Hopefully, by doing this, you'll find the best landing page builder for you.
Which tool will you choose?