You've found a beautiful WordPress site and you want to create something similar for your business. But searching theme marketplaces to find the right one could take days. This makes it important to know how to tell what WordPress theme a site is using.
Luckily, there are several ways to figure this out. In this guide, we'll explore:
Whether or not you should use the same WordPress theme as another site
How to tell what WordPress theme a site is using
How to tell if a WordPress theme is suitable for your business
By the end of this article, you'll have all the tools you need to find out what WordPress theme a site is using and install that theme on your site.
Should you really use the same WordPress theme as another site?
Before you try to figure out what WordPress theme a site is using, it's important to consider whether or not using the same theme is your best decision.
The main thing to consider here is branding. You might need all of the same functionality as a competitor's website, but you don't want your site to look too much like theirs. That could lead to people forgetting your site or, worse, confusing you with your competitors.
However, using the same theme as another site doesn't necessarily mean using a similar look. Your unique logo, brand colors, fonts, and imagery can all be used to create something distinct. This means that as long as you customize it to emphasize your brand, most people won't notice that you're using the same theme as somebody else.
Some themes are also incredibly flexible. The Divi theme, for example, has almost unlimited options for customization. We've compiled a list of 110 unique Divi sites and there are thousands more. This makes it an excellent choice for virtually any business.
All in all, you'll usually be all right using the same theme as your competition. Just make sure you're using your brand colors and imagery to turn it into something unique.
How to tell what WordPress theme a site is using
1. Look at the footer
The first thing you should do to determine the WordPress theme a site is using is scroll to the bottom of the site. If the company is using a free theme, the name of the theme will sometimes be displayed at the bottom of the page:

In some cases, the footer even links directly to where you can grab the theme. If not, you can usually find the theme by looking in the WordPress.org theme library or with a quick Google search.
2. Use the WPBeginner Theme Detector
Unfortunately, many sites don't display the theme name in the footer. If this is the case for the site you're looking at, the next thing to do is head over to the WPBeginner Theme Detector. This is a simple page where you can type in the URL of the site you're looking at: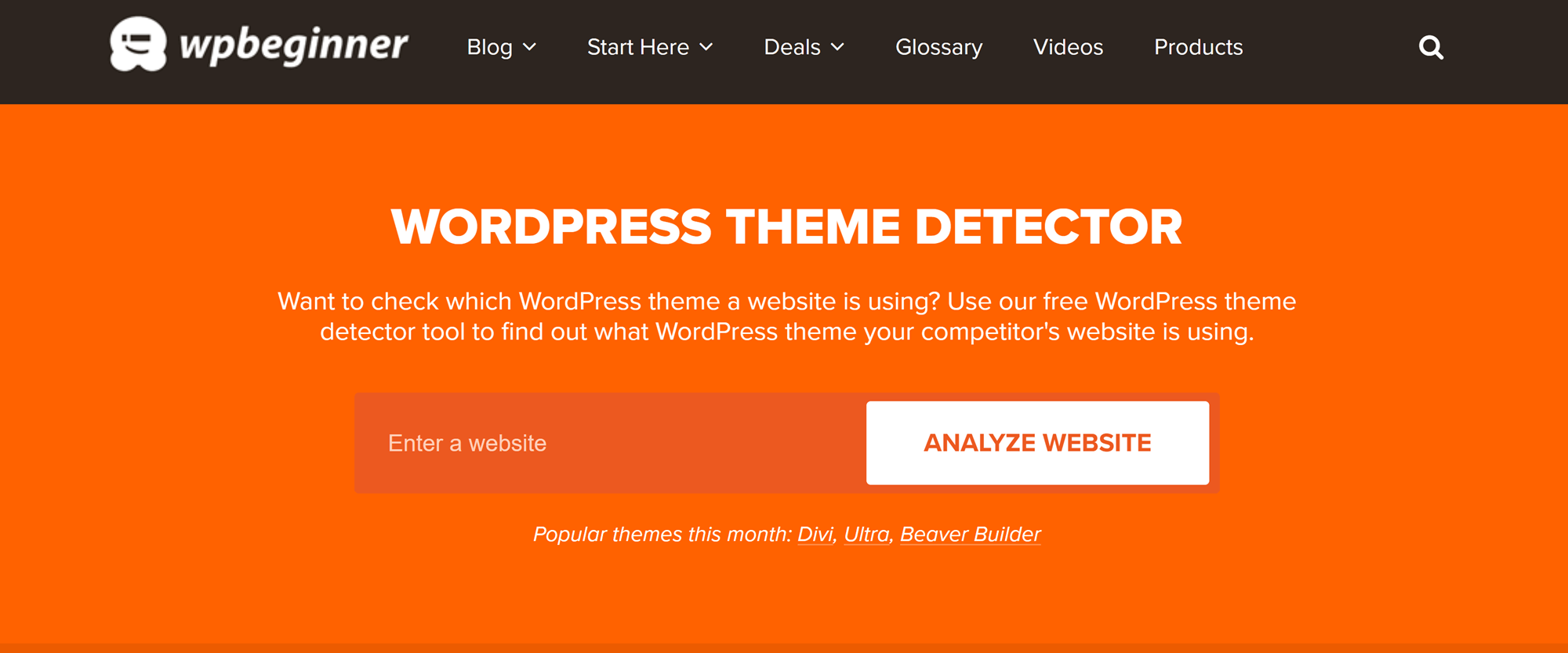 The test will assess the site and give you the following information:
Site title
Hosting provider
WHOIS information
WordPress theme
WPBeginner also maintains a database of popular WordPress themes. If the theme of the site you used the Theme Detector on is listed in this database, WPBeginner will provide a link to where you can acquire the theme.
There are several other WordPress theme detectors available, but they all function in essentially the same way. I recommend sticking with WPBeginner because it's one of the most trusted sites in the WordPress space.
3. Check the source code
Next in our strategies of how to tell what WordPress theme a site is using is to check the source code using your browser tools. To do this, go to the website you're curious about, right-click anywhere on the page, and click "View Page Source". This will open a new tab where you can view the site's source code.

Scroll down the page until you find a section that looks like this:

These links will take you to the source code for various aspects of the theme, but you don't always need to click on one. You can often find the name of the theme by looking at this part of the links:
/wp-content/themes/
The link section that follows "themes" will be where the name of the theme is listed. In the example used above, you can see that the theme is "total".
Of course, this doesn't tell you who created the theme or where to find it. For more information, click on the link that ends with style.css. This will open a page with more details about the WordPress theme of the site you're looking at.

This page will typically display the theme name, creator, and URL. You'll also find a brief description of the theme and its requirements.
4. Email the site owner
If none of the methods listed above work, the site you're looking at might use a custom theme. This is common for brands that want to create a unique experience. If this is the case, you won't be able to get your hands on a copy of the theme even if you figure out what it's called.
However, if you're still determined to find and use this site's WordPress theme, you have one final option for discovering it: asking the owner of the site directly. But how can you find their contact information?
Well, it depends on the type of site you're looking at. On a freelancer's site or a small business site, you might be able to find the owner's name and email address on the "Contact" or "About Us" pages.
If the site owner's information isn't visible on the front end of their site, it's time to do a WHOIS lookup. This will tell you what site the domain is registered with and how long it has been registered. Depending on the owner's privacy settings, it might also show you their name and email address.
Can't find the site owner's information on WHOIS? You might be disappointed to hear it, but this is the final option. There may be other ways to track down this information, but the fact of the matter is, someone who values their privacy enough to avoid having contact information listed in the usual places probably won't respond well to your email.
What if you can't find the theme name?
If you can't find the name of the WordPress theme you're interested in, you'll need to search popular theme directories for something that looks right. You may want to explore the following theme libraries:
Be careful about where you get your themes from, especially premium themes. There are several websites that offer free versions of premium themes, but these versions typically have malicious code that can steal your information or even break your site. You always want to get themes from a trusted source: either from one of the marketplaces listed above, or directly from the creator of the theme.
How to decide if this is the best WordPress theme for you
Once you've found the theme your competition is using, it's time to figure out if that theme is right for your business. You can figure this out by getting clear on the role your website plays in your business.
Here are some of the questions you should ask when you're considering a new theme:
What is this theme optimized to sell? If you're selling products, you'll want a theme that emphasizes ecommerce. If you sell courses, your site should emphasize your course schedule and make it easy to enroll. And if you sell services, your theme should make it easy to contact you and/or book an appointment. In other words, your theme should be optimized to funnel visitors toward your main source of income.
How can this theme improve the customer experience? Some WordPress themes offer specialized functionality for certain industries. This includes things like scheduling tools and modules for displaying a physical location and/or hours.
How does this theme interact with other popular tools? Some themes offer advanced compatibility with tools like Elementor and WooCommerce. This functionality can make it easier to create a unique and pleasant experience for your visitors.
How customizable is this theme? Many themes limit your ability to customize the appearance of your site. Some themes won't even let you change menu colors. This makes it important to test a theme's demo and take a close look at the options available in the theme customizer.
What do the reviews say? Every company will display the best reviews for their theme on their website. To find out how a theme really works, look for reviews on third-party sites. Most theme marketplaces, including the WordPress.org theme database, collect reviews. A good theme will consistently receive four- and five-star reviews.
How does it hold up to a theme test? You can use a plugin like Theme Check to make sure that the theme you're considering matches current WordPress standards.
Of course, these are only the most important things to look at; there's much more to consider when choosing a theme. Check out our sister site, WinningWP, for a full guide on how to choose a WordPress theme.
Final advice on how to tell what WordPress theme a site is using
Looking at the WordPress themes your competitors use is one of the best ways to find a theme for your own website, but you'll usually need to do some sleuthing to figure out what those themes are.
There are four ways to figure out what WordPress theme a site is using:
Look at the footer
Use the WPBeginner Theme Detector
Look at the source code
Email the owner
If none of these tactics work, you'll have to manually search theme directories for something similar. This is a time consuming process, but there are hundreds of high-quality WordPress themes, so you'll find the right one for your site eventually.