🥜 Basic Information
Both LearnPress and LearnDash can give you a similar final result: Your WordPress website turned into a fully fledged e-learning platform.
In plain English, what this means is you'll be able to create courses, lessons and student accounts, and enroll people to take part in your courses.
At the same time, WordPress doesn't lose any of its native functionality, such as the ability to build normal web pages and blog posts, and gives you the overall space to share anything from detailed content to random snippets and ideas.
Under the hood, both LearnPress and LearnDash are WordPress plugins. They install like any other plugin, and, to an extent, behave like any other, although they're a bit bigger and more complex than your run-of-the-mill plugin.
That said, there are some specific differences between LearnPress vs LearnDash you should know:
LearnPress is a freemium plugin. It allows you to create an unlimited number of courses and make them available to the public for free. However, if you want to start selling access to your courses or use any of the more advanced features, you'll need to upgrade to one of the paid plans.
LearnDash is a premium-only plugin. There isn't even a free trial, which means you'll need to pull out your wallet before you can try it. There's a 30-day money-back guarantee, though, so you're not risking anything if you end up not liking the tool.
Both LearnPress and LearnDash come with loads of built-in features, and also offer add-ons on top of that, so let's take a look inside to see which is going to be better for your needs.
🧰 Features of LearnPress vs LearnDash
First off, here's what's similar about these tools:
✔️ They'll both let you build an e-learning website on top of WordPress.
✔️ You won't have to change your current WordPress theme if you don't want to. Both tools work with any WordPress theme.
✔️ You'll be able to create an unlimited number of courses.
✔️ Both allow you to enroll an unlimited number of students.
✔️ Both support quizzes and multimedia content in courses.
✔️ You'll be able to issue certificates, badges or other forms of course completion diplomas.
✔️ You can also sell access to your courses (paid feature).
With all that said, the difference between LearnPress vs LearnDash comes down to how these tools deliver those features. I'll talk more on that below:
Both LearnPress and LearnDash are great tools for anyone who wants to build anything from a hobby-LMS to a full professional-level LMS platform. However, looking at what's in the box, LearnDash seems to be offering more overall. Granted, all of it comes at a price, while LearnPress is actually usable for free. However, when looking just at the scope of what's available, LearnDash is getting ahead here.
👐 Ease of Use
Let's now have a walkthrough of how using each of these platforms pans out in practice.
Ease of use is a hugely important factor when picking between LearnPress vs LearnDash. That's because not every user will be familiar with how building a website is done or have experience with this type of software. Therefore, the more user-friendly your LMS tool is, the more you'll be able to use it to its full potential.
Here's what each platform offers:
Working With LearnPress
The core version of LearnPress is a free WordPress plugin. This means you can install it straight from your WordPress dashboard after going to Plugins → Add New.
Just put the name of the plugin in the search box and then install and activate it.
After doing so, you'll see a helpful onboarding wizard that will take you through all of the steps of setting up your new LMS and adding your first course.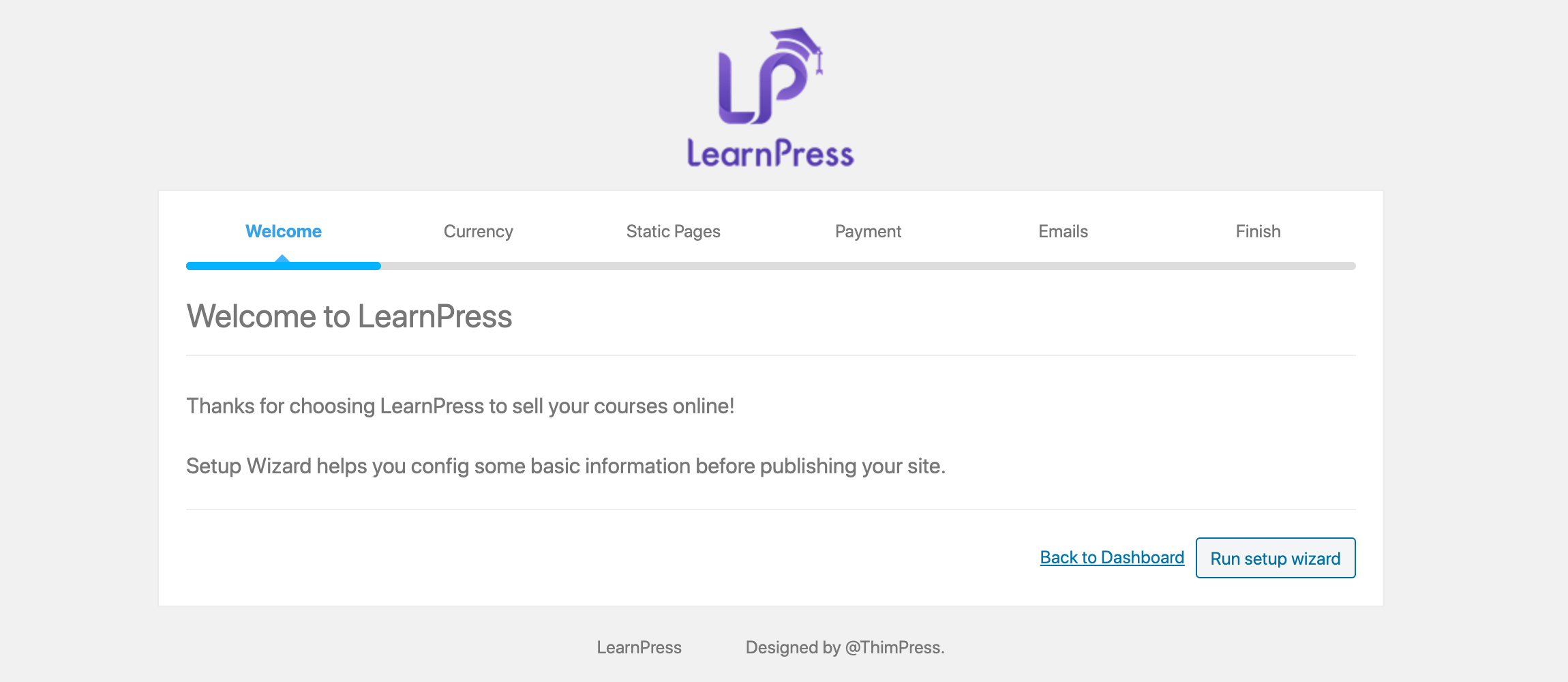 First, you'll enter your locale and currency settings, and set a couple of essential static pages for the e-learning module. These pages will serve as the main courses page, the student profile and checkout. You can also enable PayPal and email notifications based on various triggers.
When done with the wizard, you'll be able to create your first course from scratch or add a sample course and modify that instead. The latter is the recommended approach, since that way you can see how LearnPress structures the course and how to best work with it.
LearnPress adds a new section to your WordPress dashboard where you can see all of your courses, lessons, quizzes and all of the remaining course data.

Clicking on a course will take you to what appears to be a standard WordPress page editing interface — the old one, not the block-based one.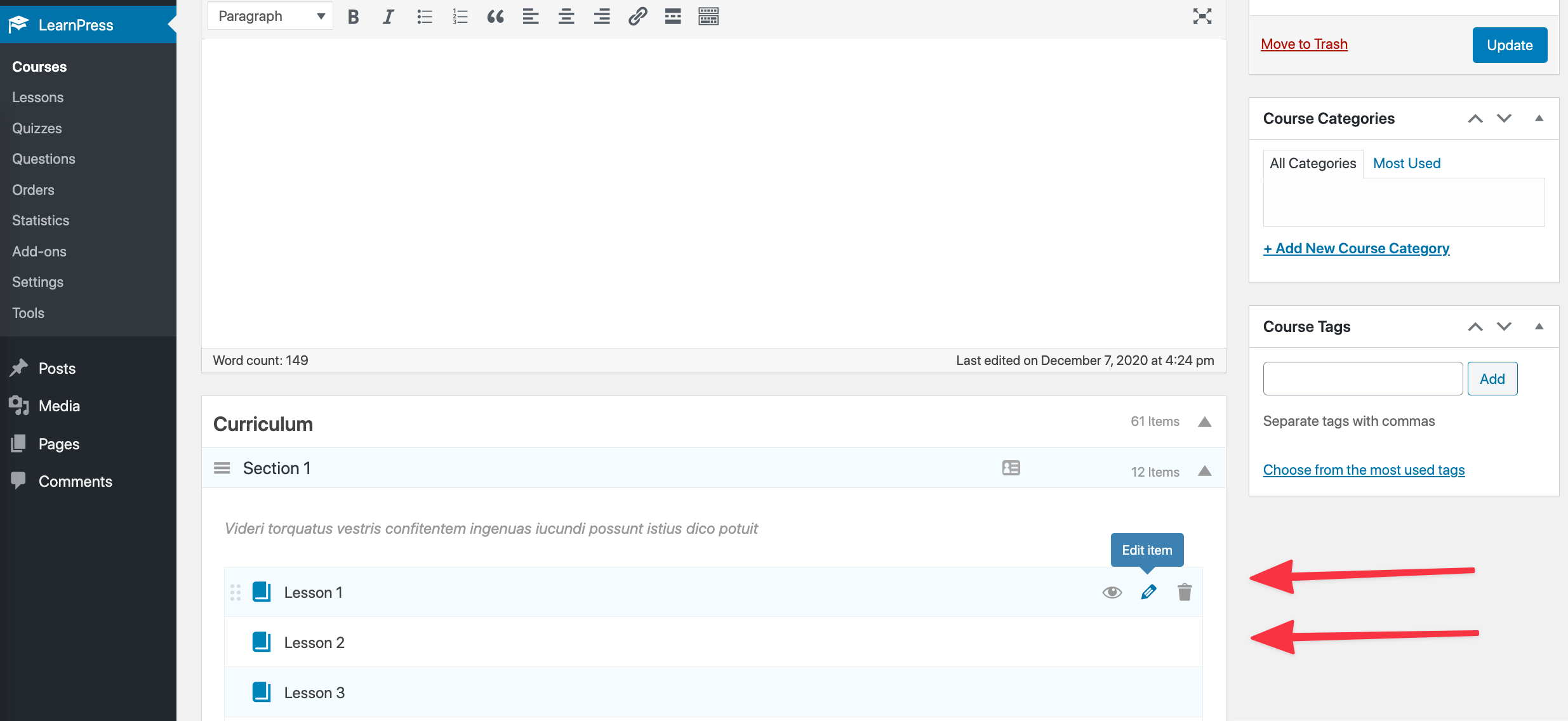 What you're actually editing here is your course welcome page. This is the one your students see before they enroll. It's also where you can set some key course details, such as the duration, max students allowed, pricing (if any), assessment rules, and so on.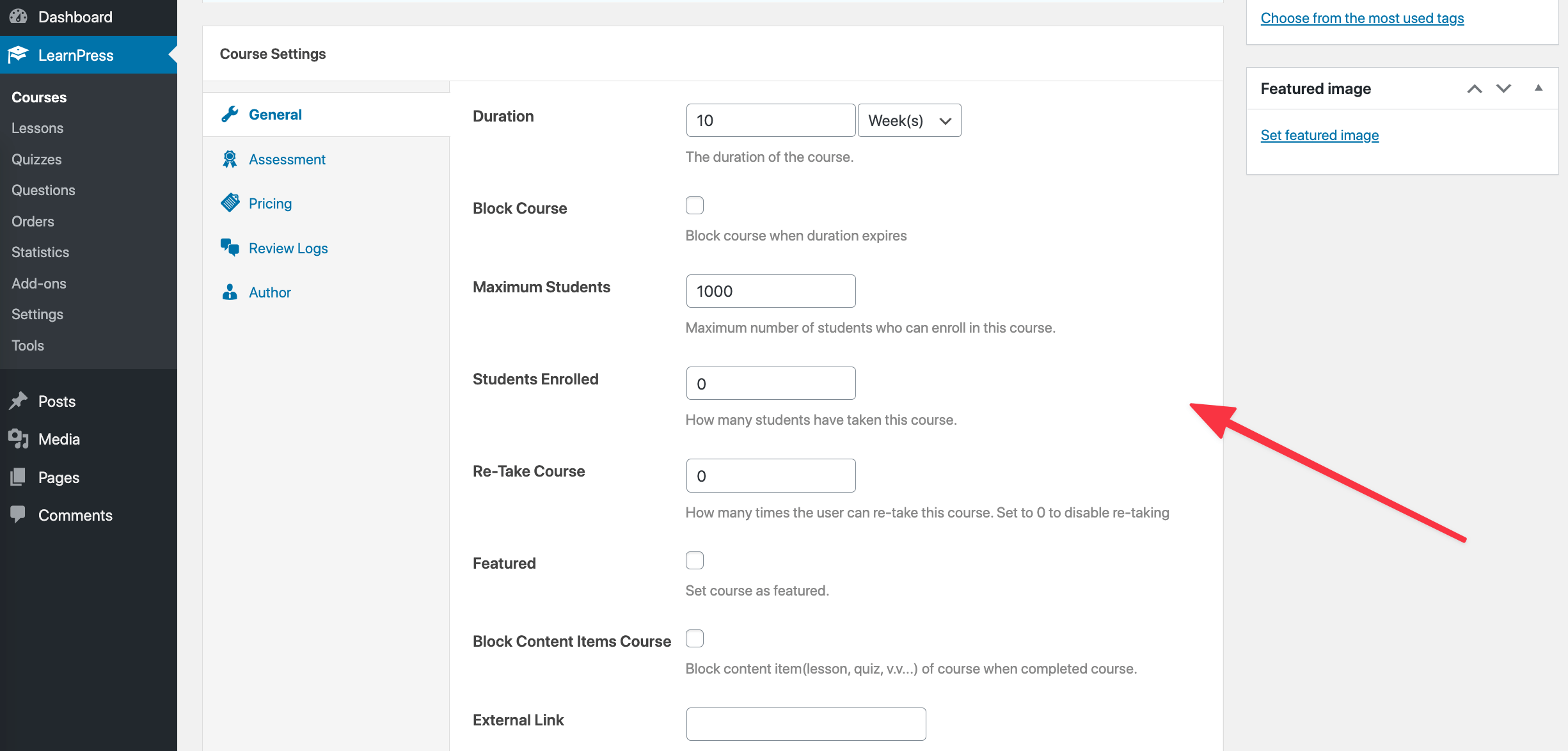 As for adding lessons or quizzes to your course and editing your course content, you can do that in the Curriculum section.

To add a new lesson, just start typing its title in. You can then edit the lesson's content by clicking on the pencil icon.

Each lesson comes in the form of another standard WordPress page that can be edited normally. You can add text content, images, embed videos or anything else you'd add to any other WordPress page.
That said, a course doesn't comprise only content pages. You'll probably also want to set quizzes to test your students' progress. Each quiz can contain multiple questions, and you can pick the exact spot in the course in which you want the quiz to take place (not only at the end).
To add a quiz, just click on the clock icon instead of the book icon (the one for lessons).

This will launch the quiz wizard interface. Your quizzes can have multiple questions and have whatever content you like in them. It's up to you.
Building a new course from scratch is fairly straightforward after you get a grasp on how LearnPress structures its courses. Since constructing an e-learning platform can be a fairly complex process in general, it's hard to expect any LMS tool to be without a learning curve.
Working with LearnDash
Getting LearnDash installed on your site is a tad different since it's a premium-only plugin. This means you won't find it in the Plugins section of your WordPress dashboard.
Instead, you have to go to the official website of LearnDash and purchase one of the available licenses. In return, you'll get access to a download link. After getting the plugin archive, you can install it via your WordPress dashboard in Plugins → Add New → Upload Plugin.
LearnDash is also quite good when it comes to onboarding new users. Its wizard is called the LearnDash Bootcamp, and, just like in LearnPress's case, this wizard will show you around and take you through the steps for getting your course set up and your first lessons created. However, this bootcamp is a bit more in-depth than what you get from LearnPress, and most of it is based on video tutorials, which always makes onboarding easier to get through.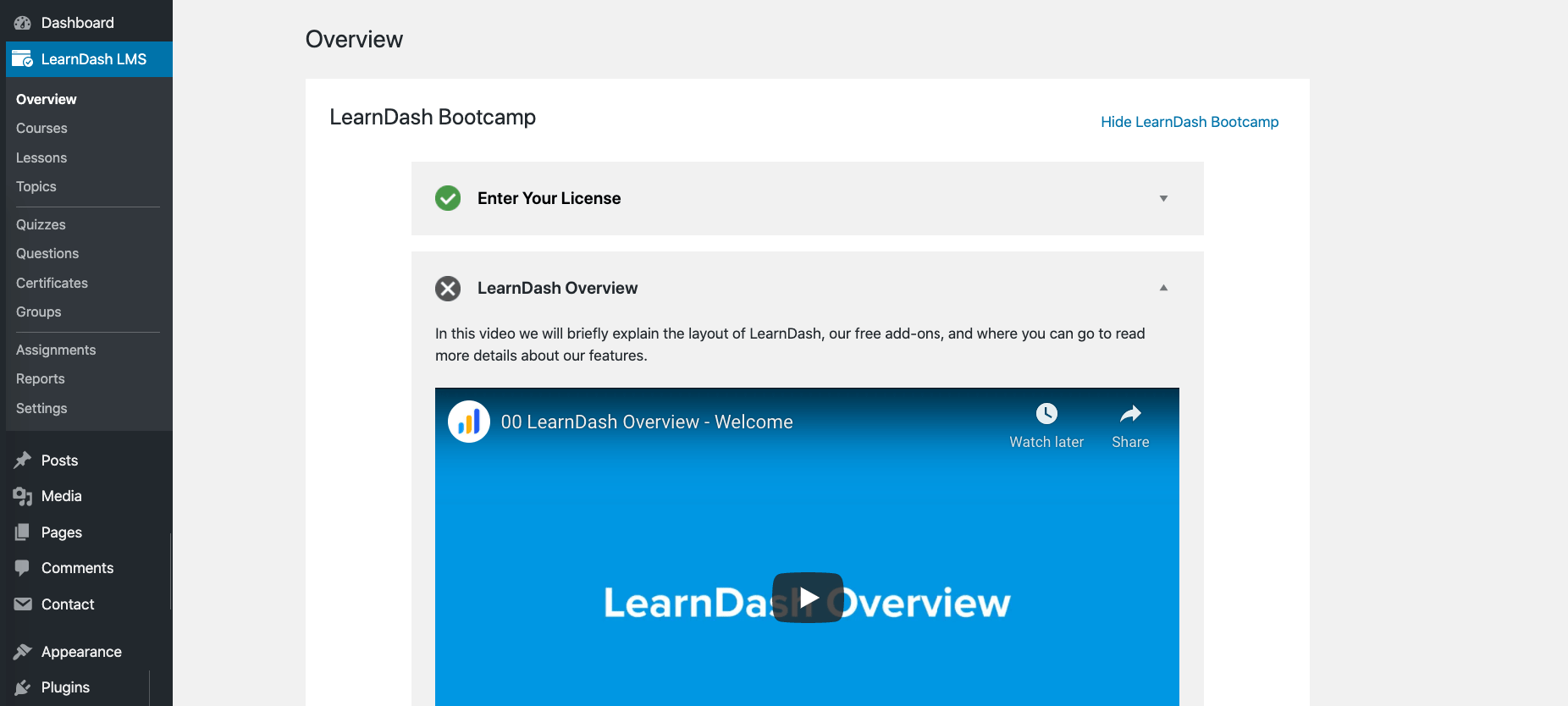 To add your first course, go to LearnDash LMS → Courses. Again, this interface makes your job as clear as it can be since there's basically only one action available there.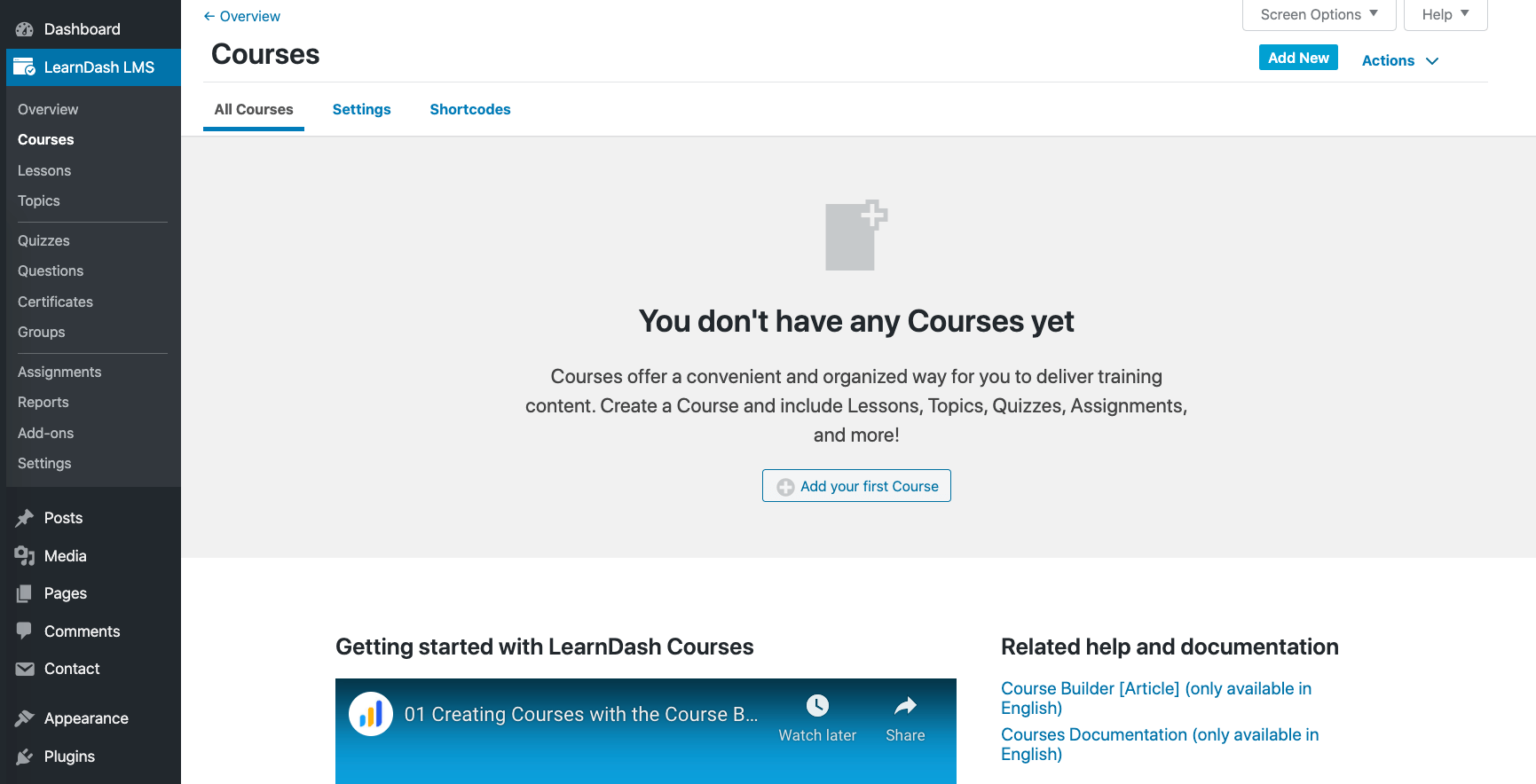 You can start working on a new course by clicking on the Add your first course button. What you'll see next is the familiar WordPress interface for page creation. However, this time it's the new block-based interface as opposed to the classic interface used by LearnPress.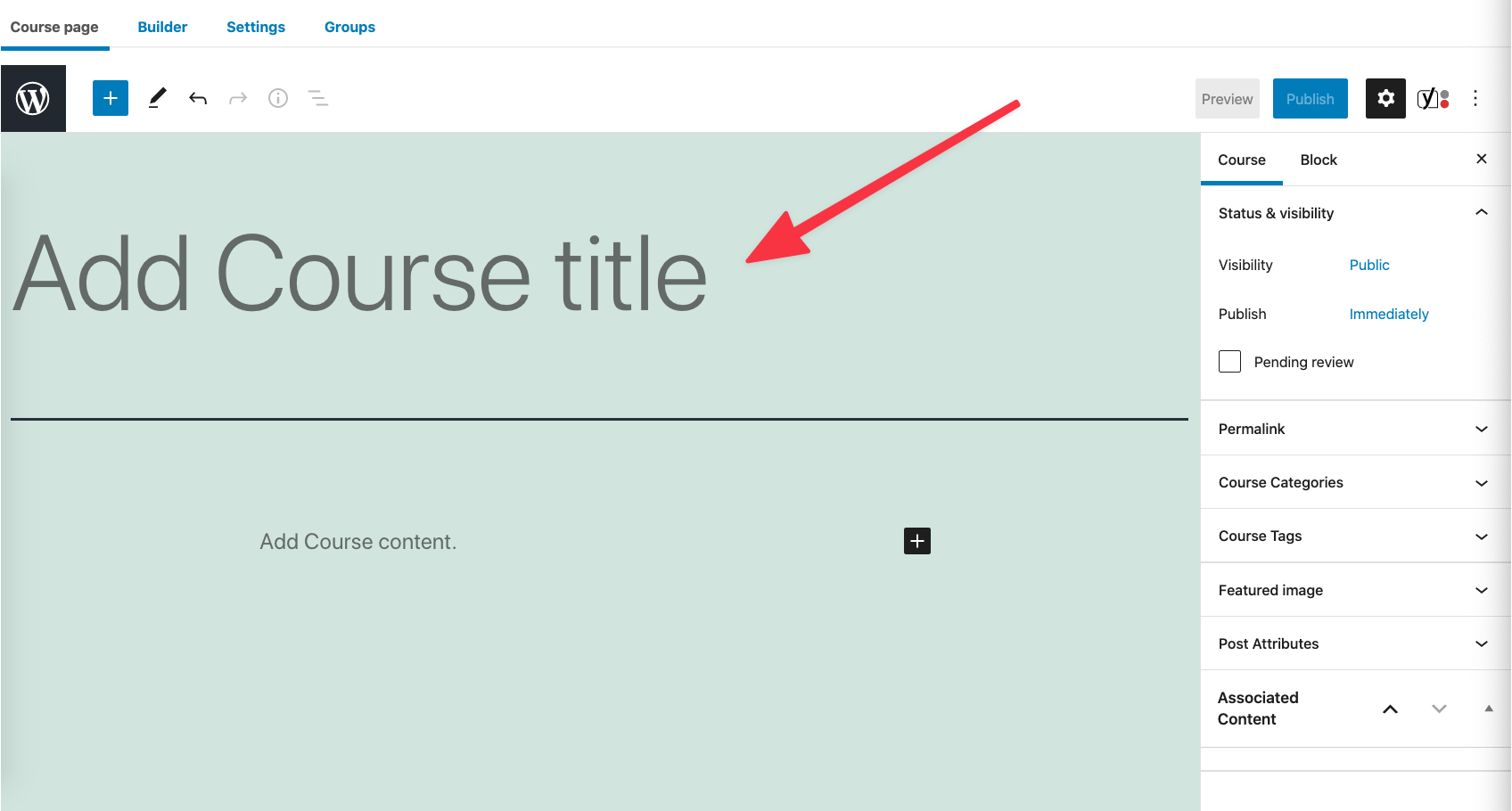 Just like in LearnPress's case, each course in LearnDash has its settings panel where you can set things such as course availability or free vs paid, plus you can also control access to the course on a more granular level. For instance, you can make courses available publicly without registration required, or make the registration mandatory but free, and so on.
To add lessons and other elements to your course, switch to the Builder tab of the interface. To begin, click on either + New Lesson or + New Section Heading. Those Sections provide a nice way of grouping certain parts of your course together. After you add a couple of lesson titles, the interface will start looking something like this: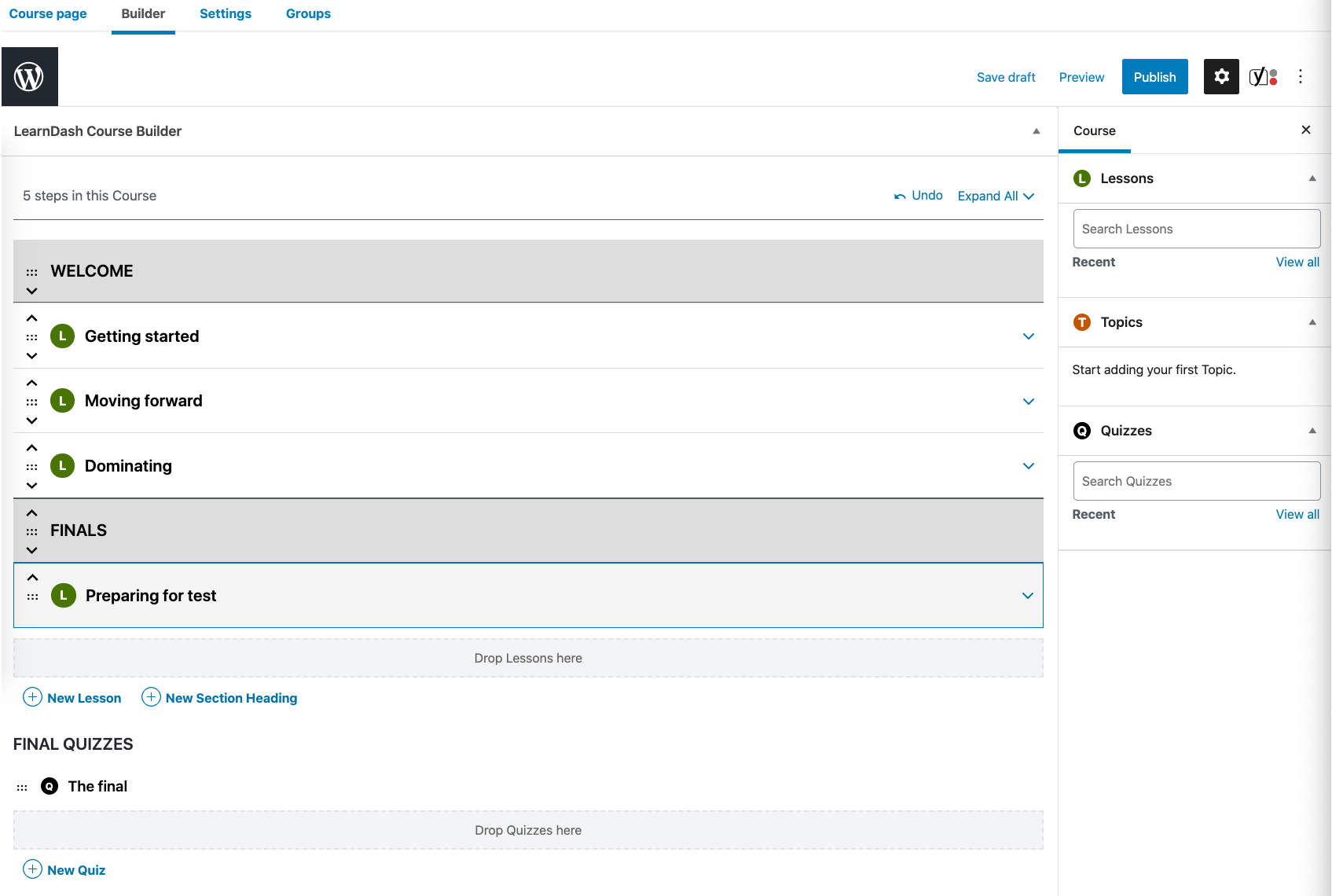 The way LearnDash works is you first create those lesson titles, and you can then edit each lesson by clicking on the Edit button next to the title.
Again, each lesson is a standard WordPress page. This means you can add any amount of text and any number of images, videos or any other type of content you think is suitable for the lesson.
The other thing you'll want to do is create some quizzes after certain stages of the course. This works in a very similar way to adding lessons. There's a section called the Quiz Builder below your lessons.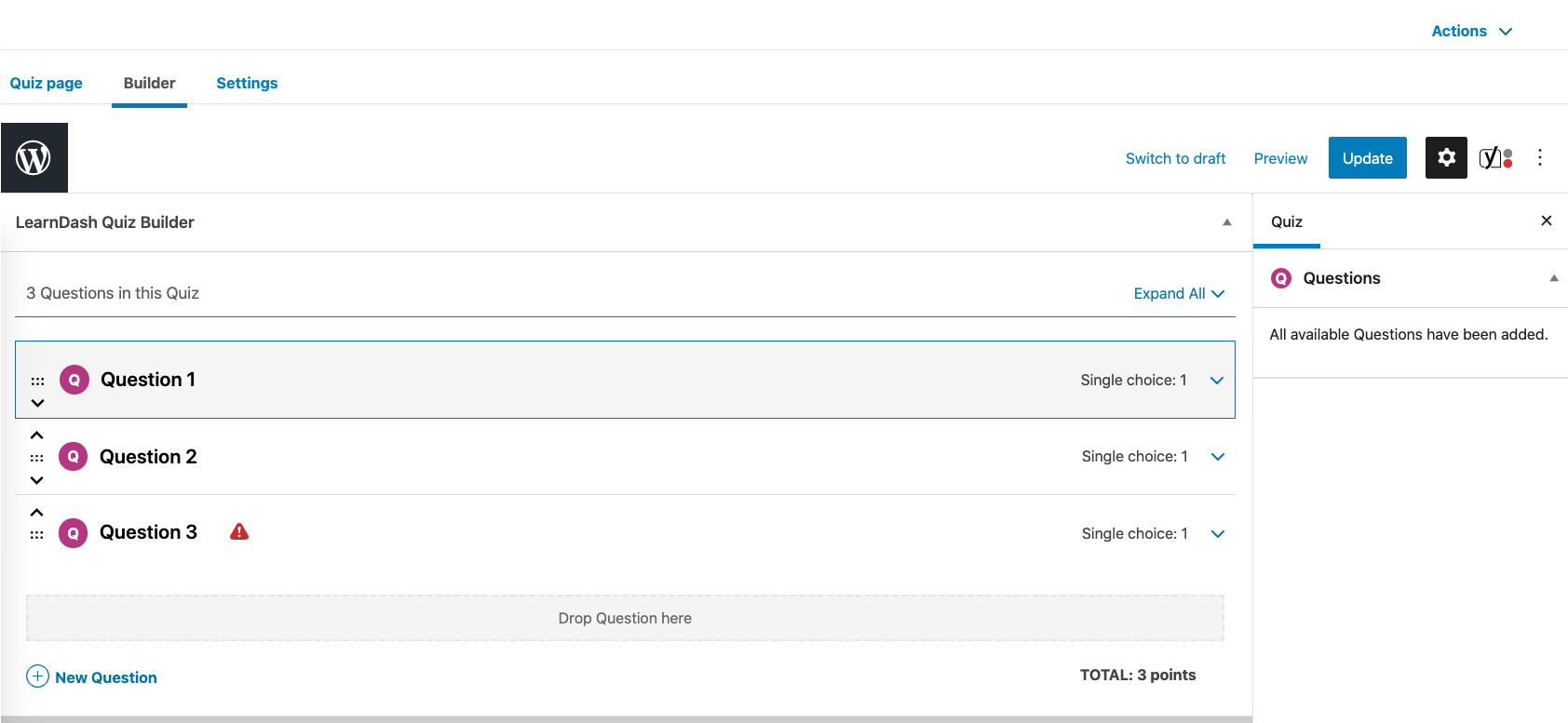 Finally, LearnDash also lets you install add-ons that extend the out-the-box capabilities of your e-learning platform. Think of these add-ons as your LearnDash plugins. You can see what's available when you go to LearnDash LMS → Add-ons.
Just to name a few of those add-ons, LearnDash lets you integrate your LMS with:
Plus, there are also some original LearnDash add-ons such as:
Certificate Builder, Achievements, Course Grid, Content Cloner, and more.
Overall, LearnDash is great when it comes to onboarding new users and showing them through every part of the interface. Getting started with LearnDash, albeit different, is no less difficult than getting started with LearnPress.
While each platform has its own spin on ease of use, it would be hard to prove that either of them is better at it.
🎨 Design of LearnPress vs LearnDash
First things first, as I said above, both plugins work with all WordPress themes. This means two things, basically:
You don't have to worry about your course content looking outright bad. Which is great!
However, this also means there aren't any specific great-looking elements that either plugin outputs.
What both plugins focus on in terms of design is making sure the core content elements that make up your courses have the correct structure and markup. Then, it's up to your current active theme itself to make those elements look great.
This approach isn't bad at all on its own. Even though the out-of-the-box appearance of course content is plain, this allows you to do some pretty advanced customizations and tweaks to the final design of the course, while still ensuring the lessons will work and will be accessible to students.
That being said, you can still do a couple of things to get a more refined presence from either LMS solution:
LearnPress:
If you go for the premium tier called 'LearnPress Theme Bundle' (from $49), you'll be able to pick a theme from LearnPress's official bundle. There were six themes in there at the time of writing, and they're pretty optimized and use LearnPress course structures very well.
You can also get either of those themes from ThemeForest directly.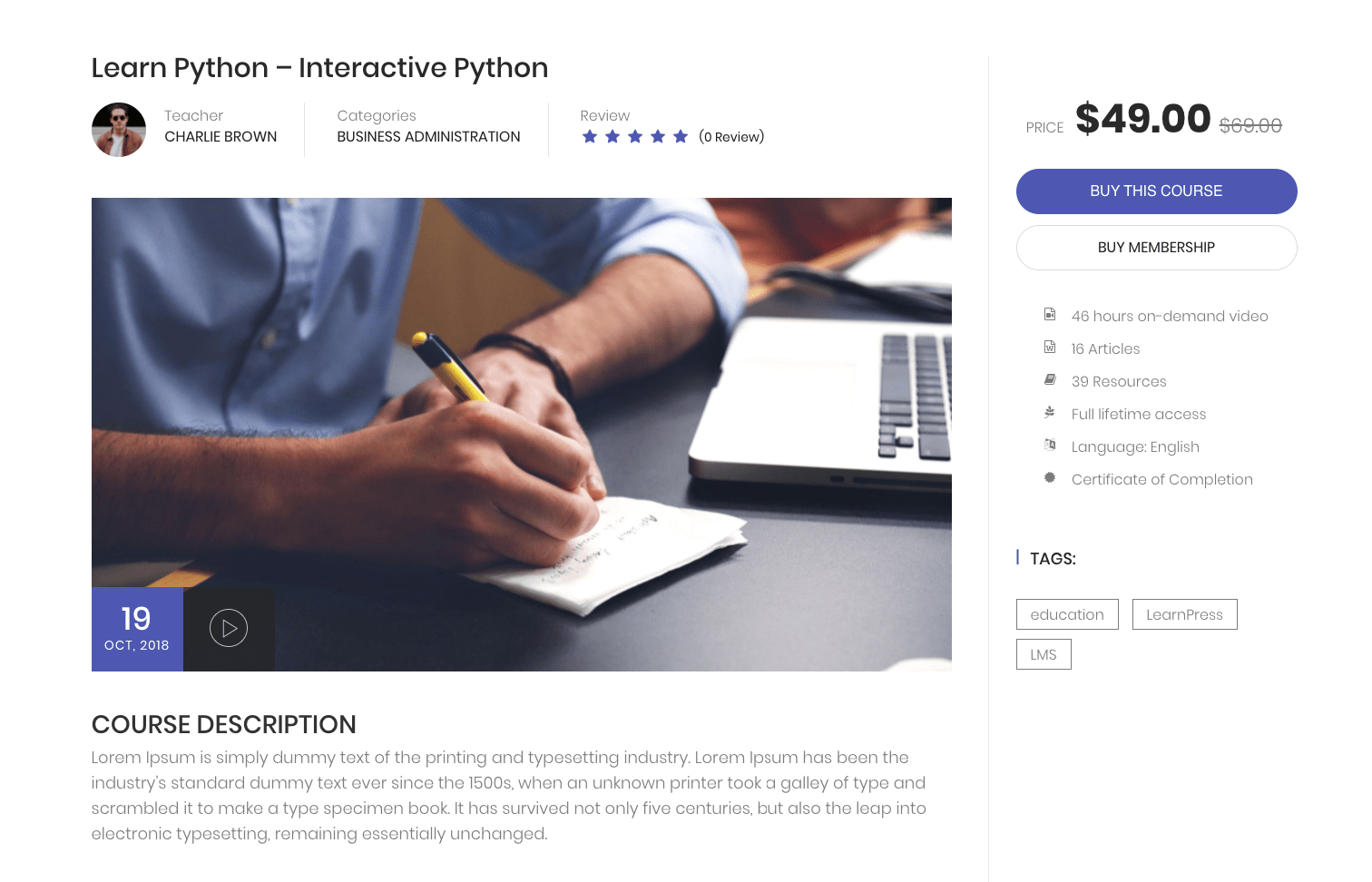 LearnDash:
LearnDash does a little more out the gate when it comes to attention to detail in terms of design. Elements such as course headings, content blocks and progress bars look a lot better than in LearnPress, even on the default WordPress theme.
LearnDash doesn't offer any official themes of its own, so it's understandable why it's decided to polish the plugin's main output a bit more.
That said, you'll find multiple third-party themes out there that come with built-in optimizations for LearnDash. Probably the most well-known of those is Astra. That theme offers a couple of ready-made starter designs that use LearnDash's abilities quite well. One of them is even called LearnDash Academy.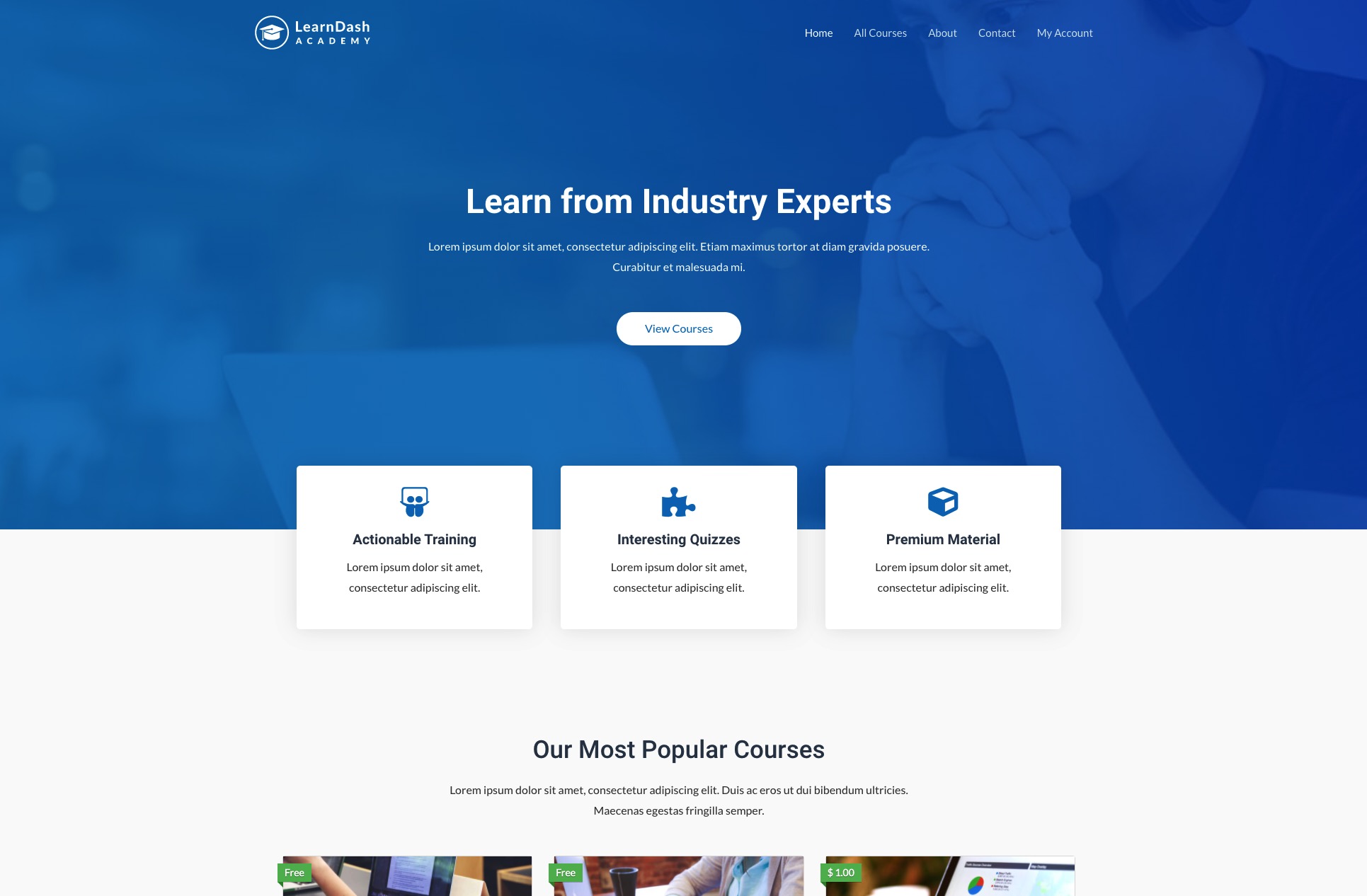 Overall, I have to say both plugins are about as good when it comes to design. However, they do approach the topic a bit differently:
LearnPress focuses more on delivering its own themes that are beautiful and optimized to display the plugin's elements in an attractive way.
LearnDash doesn't have its own themes, but it does more to refine the main plugin output.
💰 Pricing
Pricing is very often the deciding factor when picking any software solution, theme or plugin. This is no different for LMS platforms.
Let's start with the most significant detail:
LearnPress can be used for free; LearnDash can't.
This means if your budget is $0, then you can pretty much stop reading here and just get LearnPress. If you do have more than $0 to invest in your e-learning website, then you should look into the extra features both plugins have to offer:
As you can see, it's rather hard to tell which of these solutions is more cost-efficient. It all comes down to your individual needs and what specific features are must-haves for the project you're working on.
Still, we can share some recommendations just based on the price:
If you want to get started as cheaply as possible with only the essential features, LearnPress is going to be your solution. After all, it's free.
If you want to get the 'whole package' plus the kitchen sink, LearnDash looks to be cheaper in that case.
🏆 LearnPress vs LearnDash: Which One to Pick
Both LearnPress and LearnDash are top-of-the-line solutions for anyone who's building an e-learning platform on WordPress.
Both will handle the job equally well, and both can bring you to nearly the same final result. The only difference is in the path each plugin takes to get you there.
As you've seen in this comparison, there are some differences between them, and, depending on your needs, one of these plugins is going to be better for you than the other.
Generally speaking, as I've pointed out above, there are a couple of ways you can go about choosing between LearnPress vs LearnDash:
Need a free tool? There's no comparison, you should go with LearnPress.
If you need a tool that gives you all of the features an e-learning platform may need and at a single understandable price, then go with LearnDash.
Are your needs a bit more complex? You'll need to go through the list of features vs pricing and pick your tool based on that. However, even with that, you can still begin by testing out LearnPress (since it's free), and then move over to LearnDash if needed.
Here's a quick summary of all of the individual ratings I gave to each plugin along the way:
Which of these LMS plugins is your ideal tool? LearnPress or LearnDash? Let us know in the comments below.