When it comes to running a successful WordPress website, building a bigger email list is one of the best ways achieve your goals. Whether you want to boost sales or just forge stronger relationships with people once they leave your site, getting people to subscribe to your newsletter gives you a way to push ahead of the competition.
With the right email newsletter plugin in hand, you can easily distribute your site's content, understand which type of content or products your target audience are after and even run exclusive promotions for those who have proven loyal to your brand.
But which email newsletter plugin is best for your WordPress website?
This guide is here to save you from having to wade through the endless options of WordPress email newsletter plugins. By the time you've finished reading this, you'll know what the top newsletter plugins around have to offer and be able to choose the one that best suits your needs.
Let's get started…
Why You Need a Newsletter
You may be thinking to yourself that the only reason your WordPress website needs a newsletter is to sell, sell, sell.
While this may be true — newsletter campaigns are often used to sell a company's products — there are many other benefits that come with building a bigger email list.
Before we jump in, here's a quick look at why your WordPress website needs a newsletter in the first place:
You can use it to stay connected with people showing interest in your brand long after they leave your website.
It can help to boost customer retention rates, meaning you make more money in the long run.
They're easy to manage and are very cost effective when compared with other marketing strategies.
It gives you a chance to boost your brand's visibility and stay at the forefront of your subscribers' minds.
You can use it to share news about your company, run exclusive deals, announce new products or services, promote recently published blog content, and so much more.
It gives you a simple way to segment your target audience and deliver personalized messages to the right people at the right time.
Data gleaned from your email campaigns can be used to make data-driven improvements to your company.
In the end, building a bigger email list offers you a lot more than just a chance to increase sales. While every online business looks to increase their profits, a newsletter for your WordPress site adds another layer of connection with your audience.
The Five Top Email Newsletter Plugins
When you're looking to start building your email list using a newsletter plugin, there are certain features you'll want to have.
Though each of the top email newsletter plugins for WordPress do come with the same standard features — after all, this is what makes them great — there are some minor differences to be aware of.
Because of this, our guide aims to point out not only what core features each solution offers website owners such as yourself, but also some of the drawbacks they may have, so you can make an informed decision.
1. OptinMonster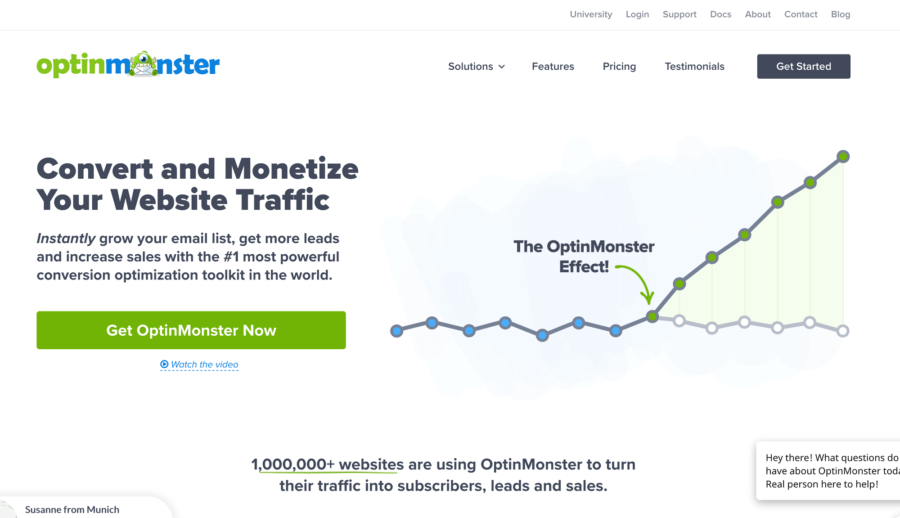 OptinMonster is a premium lead generation plugin that aims to help you grow your email list and increase sales. Packed with tons of highly effective and very unique features, designed to help you maximize conversions on your WordPress website, this email newsletter plugin is ideal for those in need of a solution that packs a powerful punch.
Whether you want to customize an opt-in form from scratch, or use one of more than 75 pre-made templates, trust us when we say it's simple to do. The drag-and-drop interface gives you complete control over every element of your opt-in form. Plus, you can create multiple form types, such as the popular lightbox popup, floating bar, fullscreen overlay or opt-in slide-in. One of its best options is to create a coupon wheel, which no site visitor can turn down once they've landed on your site.
Thanks to OptinMonster's exclusive Exit Intent® technology, which targets people the moment they're about to abandon your website, you can offer something extra enticing to get people to subscribe and hopefully return later.
Another useful feature comes in the form of personalized thank-you, confirmation and opt-in success messages. Delivering a personalized experience to anyone willing to sign up, this feature creates new opportunities for you. For example, ask subscribers to follow you on social media, whitelist your email address, or even click on an affiliate offer in the hopes they'll buy, and you'll earn more.
As you should expect from any of the top email newsletter plugins on the market, OptinMonster integrates seamlessly with all major email marketing platforms. In fact, it claims to work with more email marketing services than any competition. More than that, though, OptinMonster works out of the box with a ton of content management systems and eCommerce platforms.
Best Features of OptinMonster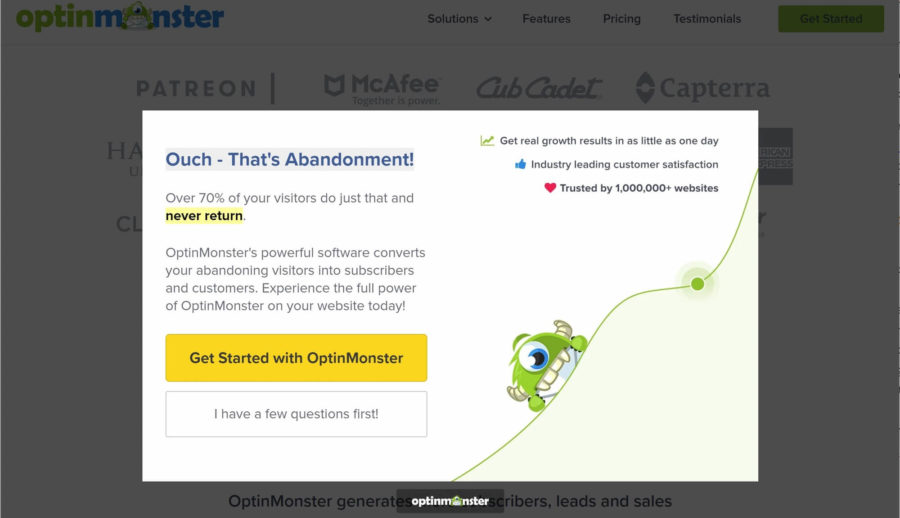 A/B testing capability for testing headlines, content and layouts, and discovering what converts the best.
OnSite Retargeting® that delivers new offers to those who have visited your site in the past.
Multi-step campaigns that include Yes/No language and make it easier for you to collect more information about subscribers.
Campaign triggers such as scroll triggers, InactivitySensor™, and time display controls give you added opportunities to land a conversion.
Segmentation and targeting rules defined by you, so you deliver the right message to the right people at the right time.
MonsterEffects that add animations and sound effects to your campaigns — both of which are attention grabbing and convincing all at once.
Free access to OptinMonster University when you purchase any OptinMonster plan, so you can improve your digital marketing skills.
OptinMonster is available for those on any size budget, though the more features you want to tap into, the more you'll have to pay each month. Ranging from under $10 a month to nearly $50 a month, this lead generation plugin's plans includes a lot of value, no matter which one you choose.
Not sure you want to invest that kind of dough into a WordPress plugin? OptinMonster comes with a 100% 14-day money-back guarantee that gives you a chance to try before you buy.
Find out more about OptinMonster
2. Bloom by Elegant Themes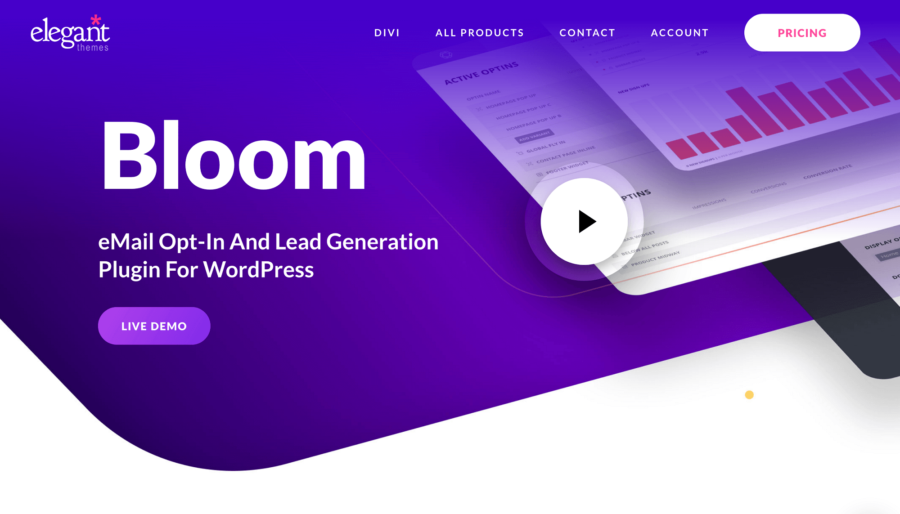 Bloom is an email opt-in plugin for WordPress that happens to be part of Elegant Themes' theme membership, which includes a small, though high-quality, suite of WordPress themes and plugins.
Unlike OptinMonster, Bloom comes with many more templates to choose from.
Pick from more than a hundred pre-designed templates that are completely customizable thanks to the extensive design settings found in the form editing interface. These settings are so extensive, in fact, that you have the option to globally display your opt-in forms on the post or page types of your choosing. This unique feature makes it possible for you to create specific campaigns for content throughout your site and increases your chances of boosting conversions — and even sales!
When it comes to opt-in form display types, Bloom doesn't disappoint. Pick from automatic popups, fly-ins, inline forms, below content forms, and even widget area forms and ensure your site visitors see your offers no matter where on your site they are. Take it one step further by requiring an opt-in to access exclusive content and turn causal readers into loyal followers.
Bloom integrates with some of the top email marketing providers on the market. But, on top of that, the Bloom dashboard organizes your accounts based on provider, should you use more than one. The dashboard also gives you a visually appealing way to get a glimpse into important data such as account information, opt-in forms, conversion rates and more.
Best Features of Bloom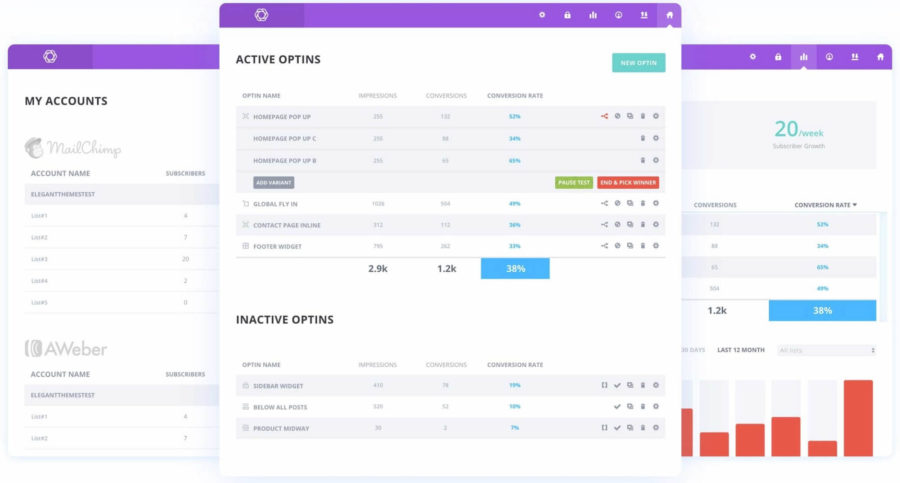 Integration with 19 email marketing service providers, making subscriber management a cinch.
Built-in import and export function for transferring Bloom data to additional websites.
24/7 premium support including live chat for instant access to a Bloom expert.
Both Bloom opt-in forms and the dashboard are fully responsive, making on-the-go subscribing and account management simple.
Intuitive split testing that allows you to identify which forms are converting the highest among your target audience.
Multiple trigger options, such as bottom of the post, after purchasing, inactivity and even after commenting.
As we mentioned above, Bloom is part of a bigger package offered by Elegant Themes. That said, the downside is you can't buy Bloom individually, even if you want to. This means you'll have to invest in the theme membership, which will cost you $89 a year or a one-time fee of $249.
For those who love Elegant Themes products, this will be an easy decision — for those who aren't sure, or only need an email newsletter plugin, the decision to buy may not be so obvious. Luckily, there is a generous 30-day money-back guarantee if you buy it and change your mind.
3. Newsletter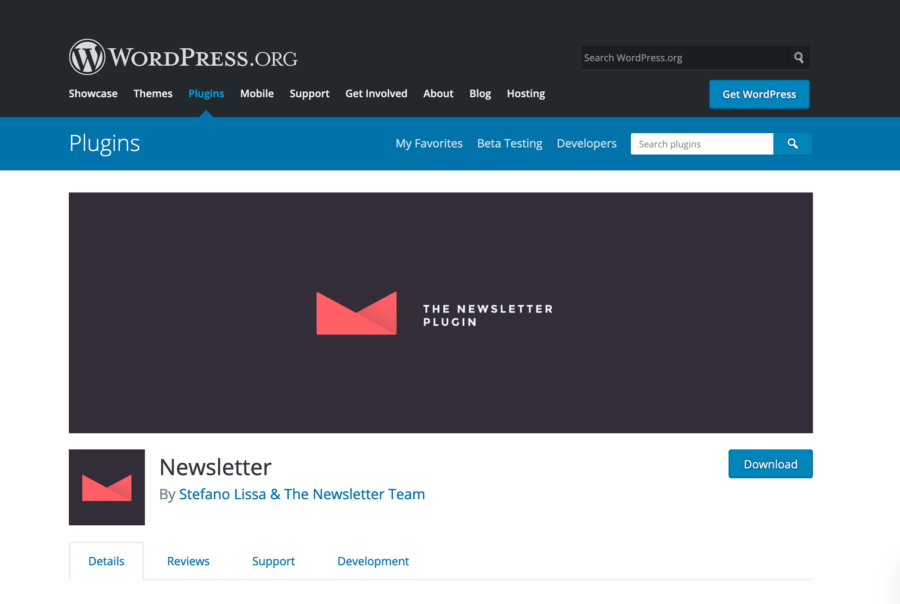 Newsletter is one of the few free email newsletter plugins we recommend. With more than 300,000 active installations, and an impressive 4.6 stars out of 5, we couldn't help but mention it. So, if you're on a tight budget, or don't quite need everything some of the more robust solutions offer, Newsletter may be just what you need.
The neat thing about Newsletter is that the drag-and-drop composer won't just help you to create subscription forms or popups on your site to build a bigger email list — it will also give you the means to create and send out newsletter campaigns, rather than having to consult another solution.
With it, you can collect an unlimited number of subscribers and create an unlimited number of newsletters. And the best part is, you get data for both so you can make informed decisions about your marketing efforts.
For those who are worried about GDPR compliance, there's no need to be when you choose to use Newsletter. Thanks to the single and double opt-in options, as well as the built-in privacy checkbox that goes straight on each form, you'll never have to wonder whether you're violating EU privacy laws.
Though Newsletter can be considered lightweight when compared with other solutions, know that it does come with a fair amount of free addons to extend its functionality. For example, archive all of your campaigns in one organized list, lock up premium content and require a subscription to access it, or even add a subscription option on your BuddyPress signup forms.
Best Features of Newsletter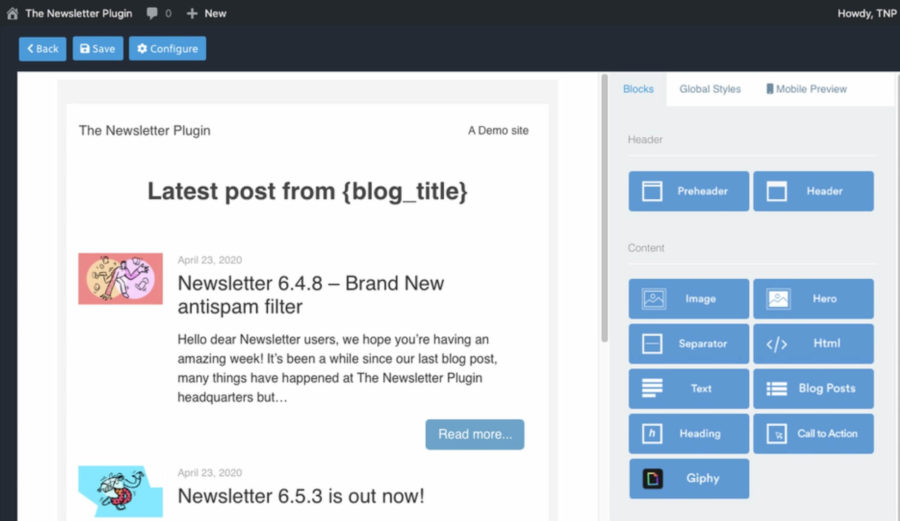 Segmentation using multi-list targeting to deliver ultra-specific content to your subscribers based on what they want more of from you.
Automated newsletter delivery, so you can focus on other important business matters.
Fully translatable for reaching a global audience and growing an international presence.
Customizable themes available for styling your forms and newsletters to match your brand.
Form placement on pages or widget areas for maximum visibility.
Compatibility with all major SMPT plugins, so you know your email campaigns are always being delivered.
Newsletter also comes in a premium version and offers marketers a little more than what the free version does. When you invest in a premium plugin plan, you get access to all of the 20-plus premium Newsletter extensions.
For instance, integrate Newsletter with your WooCommerce shop, automatically add Google Analytics UTM campaign tracking to links, or check out data such as the number of opens, clicks and bounces your campaigns are receiving.
Most notably, though, is the fact that with the premium version, you can let Newsletter automatically create periodic newsletters, complete with your latest blog content, and send it to all of your subscribers so they are always in the know.
4. Thrive Leads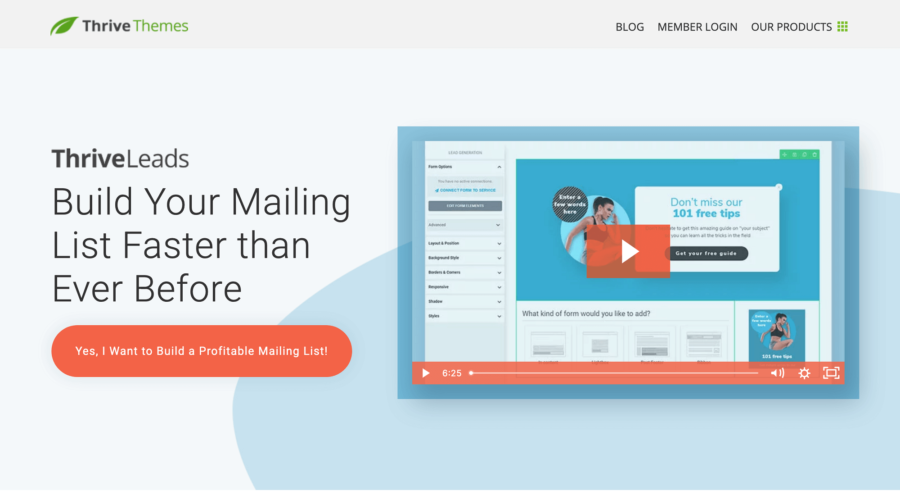 Thrive Leads, brought to you by Thrive Themes, is one of the most feature-intensive email newsletter plugins on the market. Claiming to help you to build your email list faster than ever, this solution is aimed at those who love to optimize everything on their websites — even their opt-in forms.
Just like most plugins on this list, Thrive Leads comes with plenty of pre-designed templates to help you to get started. And if you fancy yourself a designer and want to create something truly one-of-a-kind, you have that option too.
With the easy-to-use drag-and-drop interface, you can build uncommon opt-in forms such as sticky ribbons, two-step opt-ins, scroll mats, and even Yes/No multiple choice forms. And don't worry, this plugin integrates with all of the popular email marketing service providers too.
One of the most standout features of this email plugin has to be the three levels of mobile customization it offers. For example, show or hide specific opt-ins, show or hide elements on individual opt-in forms, and customize the way your form looks on certain devices. This way, no matter the screen size or device type, your visitors see what you have to offer.
Best Features of Thrive Leads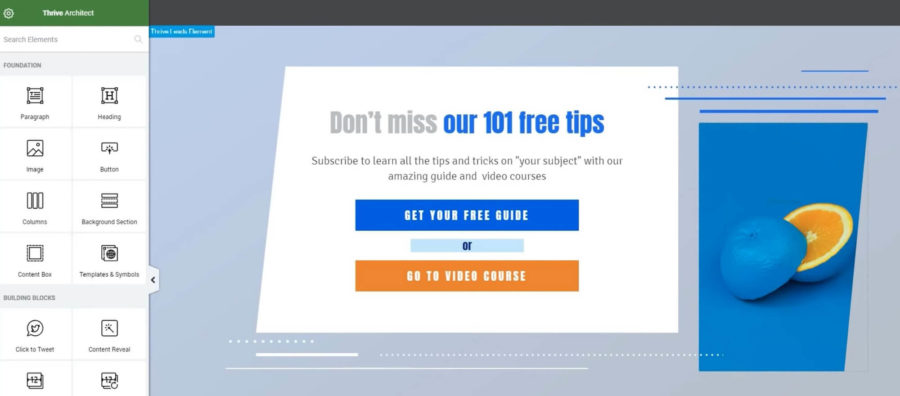 Support for nearly all email service providers, as well as custom HTML signup forms for those that aren't supported.
SmartLinks feature for controlling what content site visitors see and when, which increases your chances of landing a conversion.
Built-in A/B testing options for comparing form variations and determining a winner in terms of conversion rate.
Advanced reporting for discovering where your most valuable traffic comes from.
Targeting rules that involve displaying opt-ins on specific posts, categories, tags and even custom post types.
Unlimited form creation and subscriber collection.
Multiple trigger options such as time spent on site, exit-intent, click and scroll depth.
Thirty-day money-back guarantee if you're not satisfied for any reason.
In addition to the standard 30-day money-back guarantee, it's worth noting that Thrive Leads comes with a 'Best Solution' Guarantee as well. If you can prove that Thrive Leads didn't produce better results than another plugin or lead generation solution, you'll get a full refund, you'll get to keep Thrive Leads, and Thrive Themes will pay for the solution that worked better for you so long as it's not a recurring plan. I don't know about you, but we have yet to see a guarantee like this with other email newsletter solutions.
Starting at $67 for a single site license, Thrive Leads is a great option for those wanting to take their marketing efforts to the next level without breaking the bank. Or, if you want access to all of Thrive Themes' products, you can invest in a Thrive Themes Membership, which will cost a mere $19 a month.
5. WP Subscribe Pro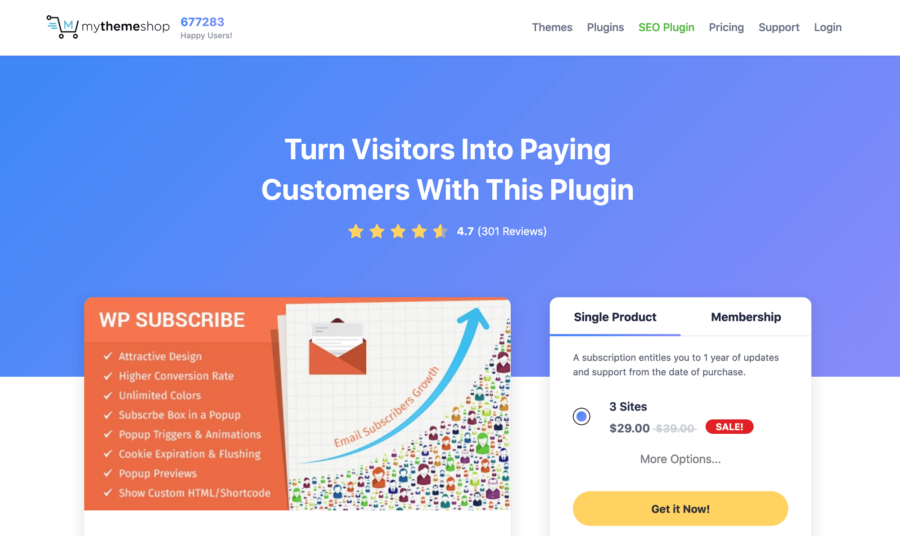 WP Subscribe is another freemium email newsletter plugin for WordPress that we feel deserves to be mentioned as one of the best. Perfect for those who need a straightforward solution without all of the bells and whistles, WP Subscribe has what it takes.
If you use the free version, all you have to do is install the code-optimized plugin on your WordPress site and add the opt-in widget wherever your site allows. From there, you can integrate with AWeber, Mailchimp, or Feedburner to manage your subscribers and any newsletters you want to send out. However, keep in mind that the free version won't work with any other email service providers, making it limited for some.
If you choose to invest some cash in the pro version of WP Subscribe, you can expect to access a ton more features. To start, it comes with all of the standard features you'd expect, such as popup triggers, responsive design, time delays and, of course, exit intent. It also comes with unlimited color options, popup animations, and even the ability to add custom HTML — further extending the design and appeal of your opt-in forms.
Best Features of WP Subscribe Pro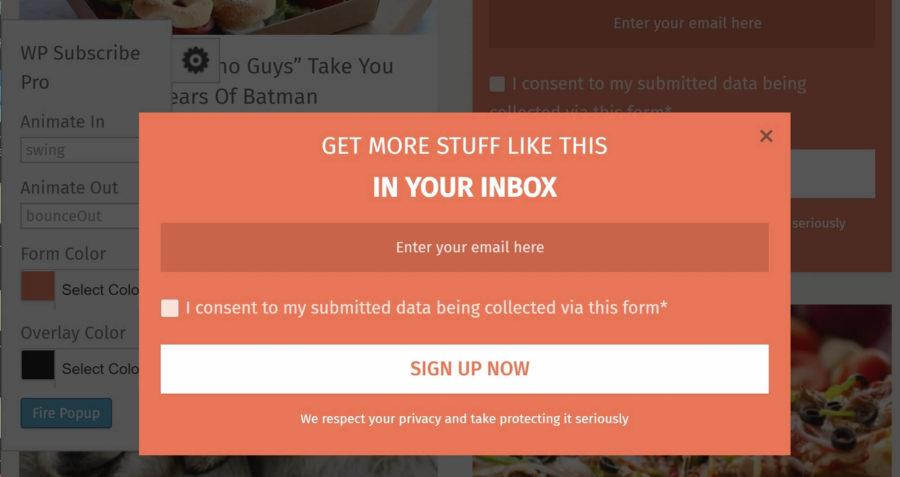 Cookie expiration settings for controlling how often site visitors see your popups.
Integration with additional email service providers such as MailerLite, GetResponse, Drip and SendinBlue.
Tested with all caching plugins, so you never have to worry about performance issues or your site crashing.
Theme customization panel that matches the design of your form with your overall theme for brand consistency.
Above or below opt-in newsletter box placement for maximum visibility.
Translation-ready for reaching a global audience and growing your business.
Double opt-in option for services that support it, such as Mailchimp and MailPoet.
The best part about WP Subscribe is that the free version is, well, free and the premium version is very affordable at just $19 for a single site license. In other words, it doesn't matter what your budget or your needs are, this plugin comes with just enough to get the job done, minus the hefty price tag other solutions come with.
You can also opt for a MyThemeShop membership for $99 and access all premium themes and plugins so long as the plan is active.
Final Thoughts
And there you have it! The top email newsletter plugins for WordPress. And, as you can see, there's a solution for everyone — no matter your budget, required feature set, or type of WordPress website you have.
When it comes to having the most features, OptinMonster and Thrive Leads reign supreme over the other WordPress plugins, with Bloom tailing closely behind. In fact, when comparing all three, it really comes down to the specific features you need to be successful with your email marketing efforts.
Want to display personalized messages to subscribers after they sign up, and make the most of this budding relationship? Then use the more expensive, though highly effective, OptinMonster and customize all thank-you, confirmation and success messages. If you need to go a little easy on the wallet, but still need tons of great features that encourage conversions, both Thrive Themes and Bloom have you covered.
For those wanting to take a more basic approach to email marketing, there's always WP Subscribe — both the free and premium versions. With highly optimized code designed to speed things up and limited opt-in form placements, you can start building your email list right away with this WordPress plugin.
And, lastly, for those who don't have time to decide whether to invest money into an email newsletter plugin or not, there's the trusted Newsletter plugin. Not only can it manage to keep up with the more robust solutions — as only a free WordPress plugin can — Newsletter also makes building your email list and sending the newsletters convenient.
So, before you jump into any one solution we've mentioned, take a look at what you need from an email newsletter plugin. Deciding whether features or price matter most will direct you to the perfect plugin.
Used/using any of the above plugins? Thoughts and experiences?