Kinsta has a great reputation, and if you're looking for a premium managed WordPress host its bound to be on your shortlist. But just how good is it? Is it worth paying a starting price of $30 a month (when paid annually — $35 a month when paid on a per-month basis)?
These are the questions I'm aiming to answer with this review!
Plus, to really put this host through its paces, I've also done some extensive performance testing, including site speed testing, load time testing* and uptime monitoring (more on these below).
*Essentially, how many users your site can handle at the same time before it slows right down and/or crashes.
And, of course, I'll be doing a full overview of Kinsta's features, and assessing how easy it is to set up and host a WordPress site with its custom hosting dashboard and services. Additionally, I'll also be comparing Kinsta with its main competitors.
Let's start with the pros and cons of Kinsta managed WordPress hosting…
Kinsta Review Quick Facts:
🚀 Kinsta is a fast host that's easy to use.

💸 Prices start at $30 a month, meaning it isn't the cheapest managed host, but it does provide a great service.

➡️ View the Kinsta plans
Kinsta Pros and Cons
Pros:
✅ Fast load times (especially for complex sites)
✅ Ability to handle multiple simultaneous visitors
✅ Impressive uptime
✅ Good set of tools and features
✅ Easy-to-use account dashboard
✅ Excellent global data center coverage
✅ CDN locations all over the world
✅ Daily automatic backups
✅ Google Cloud Platform-powered hosting
Cons:
❌ More expensive than some other premium WordPress hosts
❌ No premium themes included
❌ No telephone support (but 24/7 live chat support)
As you can see, Kinsta does everything right when it comes to providing a premium managed WordPress hosting service. The only downside really comes down to price and value for money. WP Engine (here's our in-depth WPEngine review) provides a comparable service, but is a bit cheaper and gives you some premium themes to help you to save a bit more money.
However, if you don't want a premium theme from StudioPress (they're starting to look a bit dated now) and don't mind paying a few dollars extra a month, Kinsta is highly recommended.
To find out how I reached that conclusion, keep reading, or, if you're already convinced, click here to sign up with Kinsta.
Kinsta Summary
Summary: Kinsta is fast, reliable and very user-friendly. If you're looking to use a heavyweight multipurpose theme (such as Divi, Avada or Astra, for example) or build more than just a basic WordPress website, you'll definitely benefit from its high levels of performance. However, it's not quite as cheap as some of its rivals, such as WP Engine.
Read on for everything you need to know about Kinsta WordPress hosting…
Here's a quick summary of the key details of Kinsta. You can find out more by reading the rest of this review or visiting the Kinsta website.
| | |
| --- | --- |
| Starting Price: | $30 a month (if paid yearly, $35 a month if paid monthly). |
| Entry-Level Starter Plan Allowance: | One WordPress site, 10 GB storage, 100 GB CDN, 25,000 visits. |
| Lightweight Theme Average Load Time:* | 394 ms. |
| Heavyweight Theme Average Load Time:* | 889 ms. |
| Speed Compared with Rivals: | Good, especially for complex sites or sites using heavyweight themes. |
| Uptime Test Results:* | 100% (99.9% uptime guarantee). |
| One-click WordPress Installation: | Yes. |
| Free Premium Themes: | No. |
| Support: | 24/7 live chat only. |
| My Thoughts on Kinsta: | Fast, reliable and easy to use, with excellent global coverage via the integration with the Google Cloud Platform and CDN. For faster load times, Kinsta's hard to beat. |
*You can find out more about these tests in the performance section of this Kinsta review.
Plans and Pricing
| | Starter Plan | Pro Plan | Business 1 Plan |
| --- | --- | --- | --- |
| Price: | $350 a year or $35 a month | $700 a year or $70 a month | $1,150 a year or $115 a month |
| WordPress Installs: | 1 | 2 | 5 |
| Monthly Visits: | 25,000 | 50,000 | 100,000 |
| Storage: | 10 GB | 20 GB | 30 GB |
| CDN: | 100 GB | 200 GB | 400 GB |
| PHP Workers: | 2 | 2 | 4 |
If you choose to pay yearly, you effectively get two months free.
The Business 2 plan and above are for you if you want to host more than five WordPress websites on one account.
Kinsta vs the Competition: Entry-Level Plans Comparison
If you'd like to know how Kinsta shapes up next to the competition, here's what you get from the entry-level plans of other popular WordPress hosts and how much they cost.
| Feature | Kinsta | Flywheel | Nexcess | SiteGround* | WordPress.com† | WP Engine |
| --- | --- | --- | --- | --- | --- | --- |
| Price: | From $29 a month | From $13 a month | From $15.83 a month | From $2.99 a month†† | From $25 a month | From $20 a month |
| WP Sites: | 1 | 1 | 1 | 1 | 1 | 1 |
| Storage: | 10 GB | 5 GB | 15 GB | 10 GB | 200 GB | 10 GB |
| Bandwidth: | 100 GB a month | 20 GB a month | 2 TB a month | Unmetered | Unrestricted | 50 GB a month |
| Visits: | 25,000 a month | 5,000 a month | Unrestricted | ~ 10,000 ¶ | Unrestricted | 25,000 a month |
| CDN Access: | Yes | Yes | Yes | Yes | Yes | Yes |
| Staging Sites: | Yes | Yes | Yes | No | No | Yes |
| Included Themes: | No | Yes | No | No | Yes | Yes |
| | More Info | More Info | More Info | More Info | More Info | More Info |
The prices listed were the lowest prices available at the time of writing, and are usually available by paying yearly instead of monthly.
* SiteGround StartUp plan.
† WordPress.com Business plan (which supports plugin and theme installs).
†† $2.99 a month is an introductory price, and renewals cost $19.99 a month.
¶ Not a limit, but what SiteGround recommends this plan is suitable for.
Features
If you're still not sure if it's worth investing in premium managed hosting, and Kinsta in particular, here are some of the features you get access to on its plans.
Fast Load Times
Kinsta is a fast web host; the results from my tests show it delivers fast loading times and can handle spikes in traffic without suffering any noticeable slowdown.
Whether you're creating a simple site or one with a complex design, Kinsta should be up to the job, even during busy periods.
Jump to the performance section to find out more.
User-Friendly Customer Experience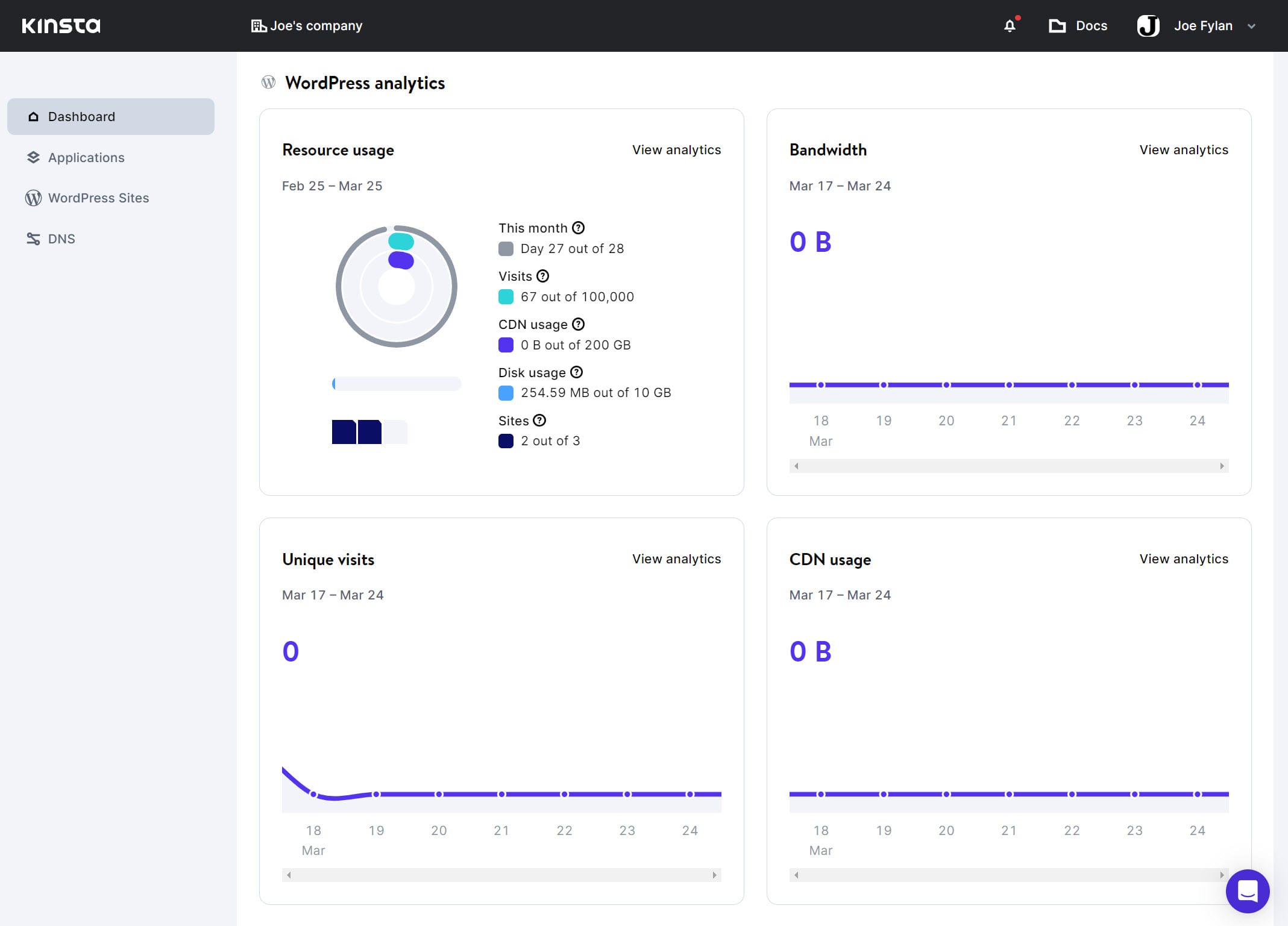 Creating a new WordPress website with Kinsta couldn't be easier. It only takes a few clicks, and all of the steps take place through a well-designed dashboard.
Monitoring and managing your site and account — including keeping an eye on your allowance usage — is just as easy. Using features such as the staging tool and the backup system is very straightforward, as is applying (free and paid) SSL certificates.
Competitive Plan Allowances
The Kinsta plans have similar specifications to those of their main rival in the managed WordPress hosting space, WP Engine.
You'll have to choose a plan with the right storage, monthly visits and CDN bandwidth limits, or end up paying overage fees. However, this is normal with managed WordPress hosting.
Site Migrations
Kinsta will migrate your WordPress website to its servers for you. Alternatively, you can use a supported migration plugin and do it yourself.
Tools & Features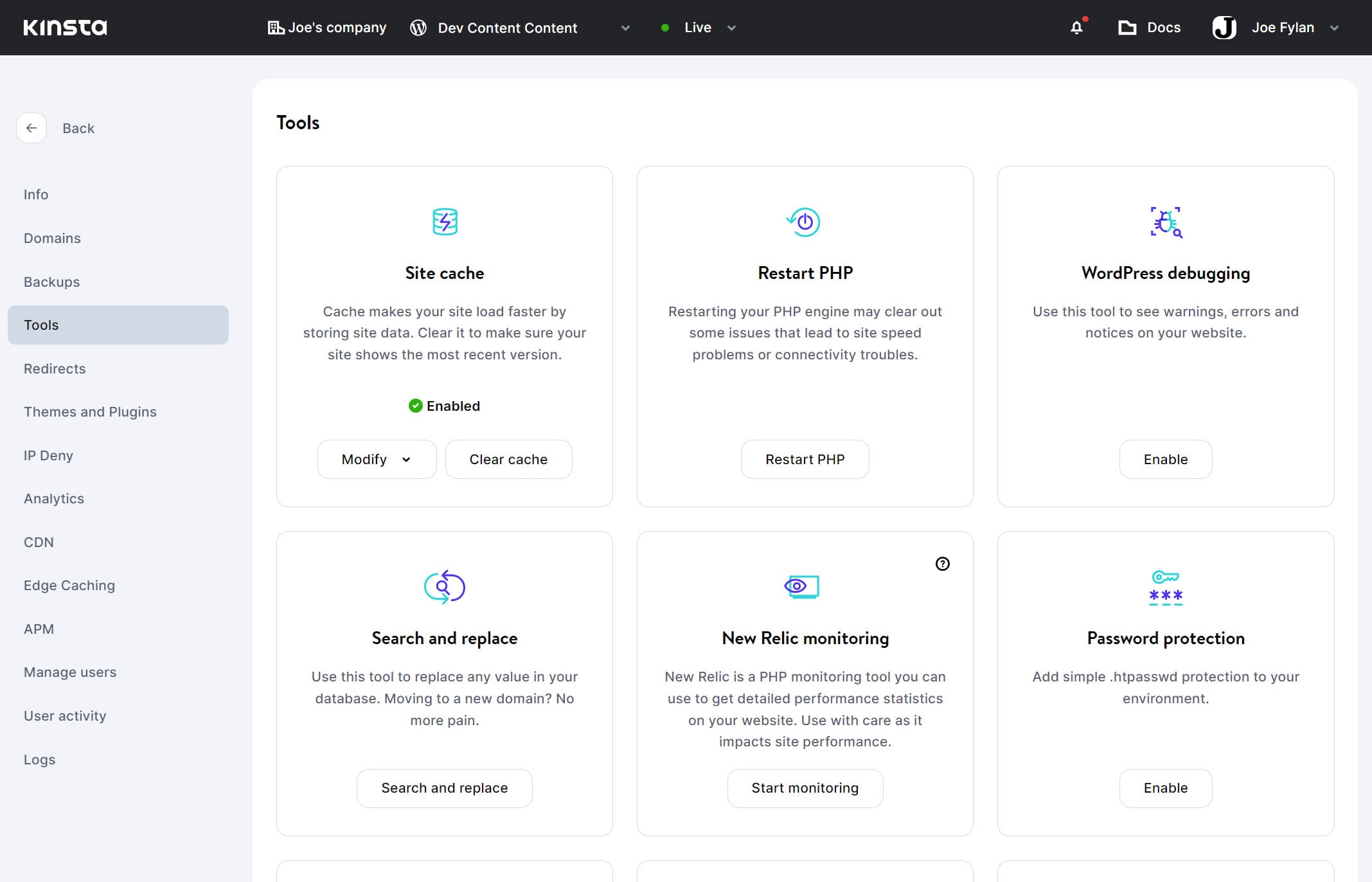 Kinsta provides users with a number of tools and features to help them to work on their site and keep everything running smoothly.
Site Backups
The most important feature is the backup service, and, as part of this, Kinsta will automatically back up your site once a day.
For extra peace of mind, you can also pay for automatic hourly and six-hour backups. Automatic external backups are available as a paid add-on too.
Restoring a full site backup is very easy, thanks to the well-designed Kinsta dashboard.
You can also do a partial restoration of a backup, such as manually restoring individual files or database tables, although this is a more hands-on process than restoring a full-site backup.
Developer Tools
Kinsta has a number of features and tools aimed at developers, including staging site functionality, a site cloning tool and site optimization features. There's also a performance monitoring tool to help you to identify any issues that could be slowing down your site.
If you'd like to build your site locally on your computer, then transfer it to your Kinsta hosting plan, the DevKinsta tool makes this very easy to do.
The DevKinsta tool is also ideal for setting up local testing and development environments where you try out new plugins and work on your site safely before pushing those changes to your live site.
Support
Kinsta doesn't provide telephone support. However, the live chat/ticketing system works really well and is probably more convenient than phoning in for most people.
English language support is available 24/7, with other languages available Monday to Friday at various times. Thanks to this, if anything goes wrong and you speak English, there will be someone around to resolve the issue no matter the time of day or night.
Kinsta claims its support team is made up of highly skilled WordPress developers, and, after contacting them via the live chat system, I found them to be very helpful and quick to respond.
Performance
Fast load times are one of the main reasons, if not the main reason, to choose premium managed hosting over cheaper alternatives.
To find out if Kinsta is fast enough to justify its price, I set up some test sites and used Pingdom to measure its load times for seven days.
For one site, I installed a lightweight theme, and for the other a heavyweight theme. Here are the results…
Lightweight Theme Load Time Test Result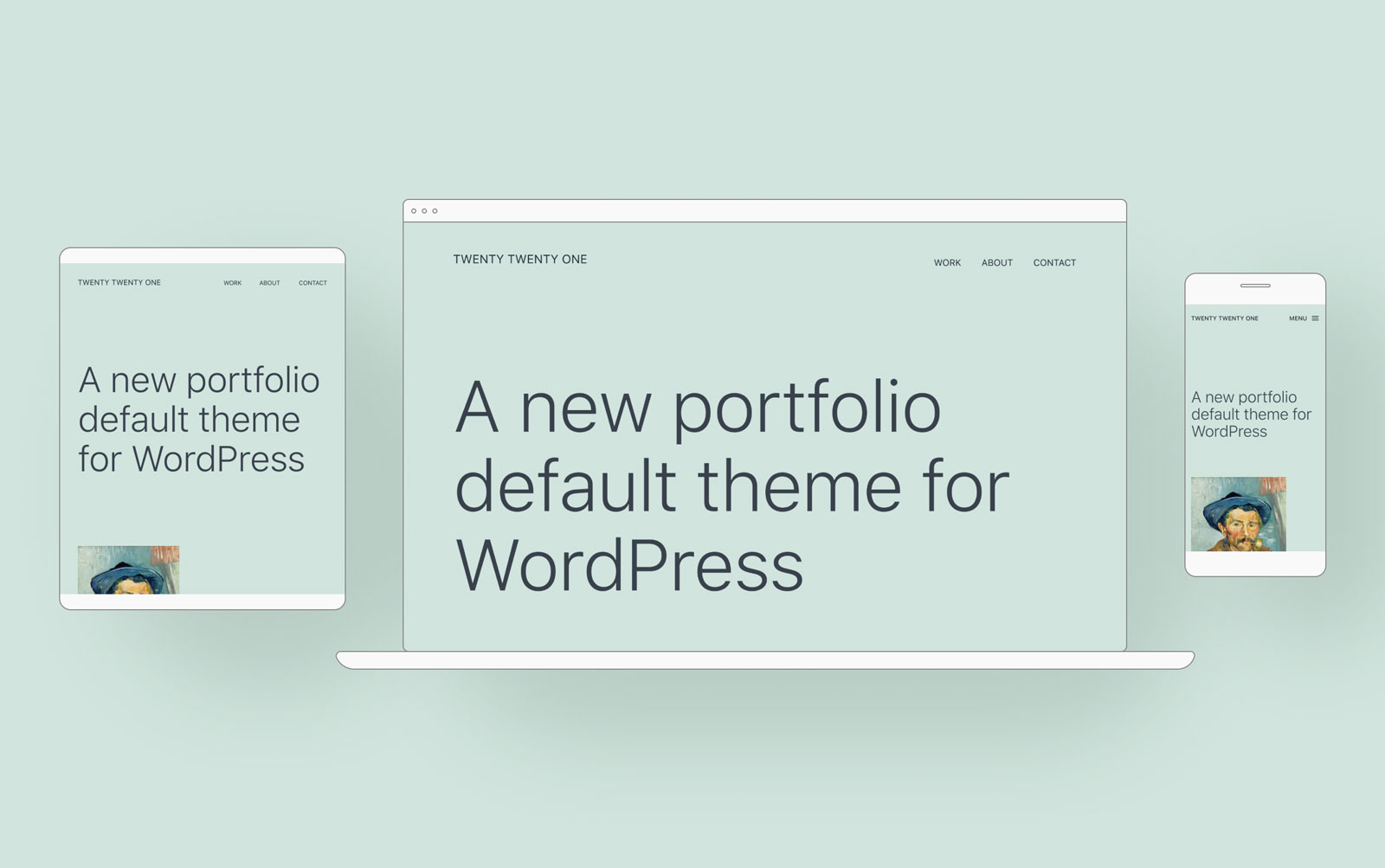 After seven days of monitoring, Pingdom recorded an average load time of 394 ms for the site using the lightweight Twenty Twenty-One theme.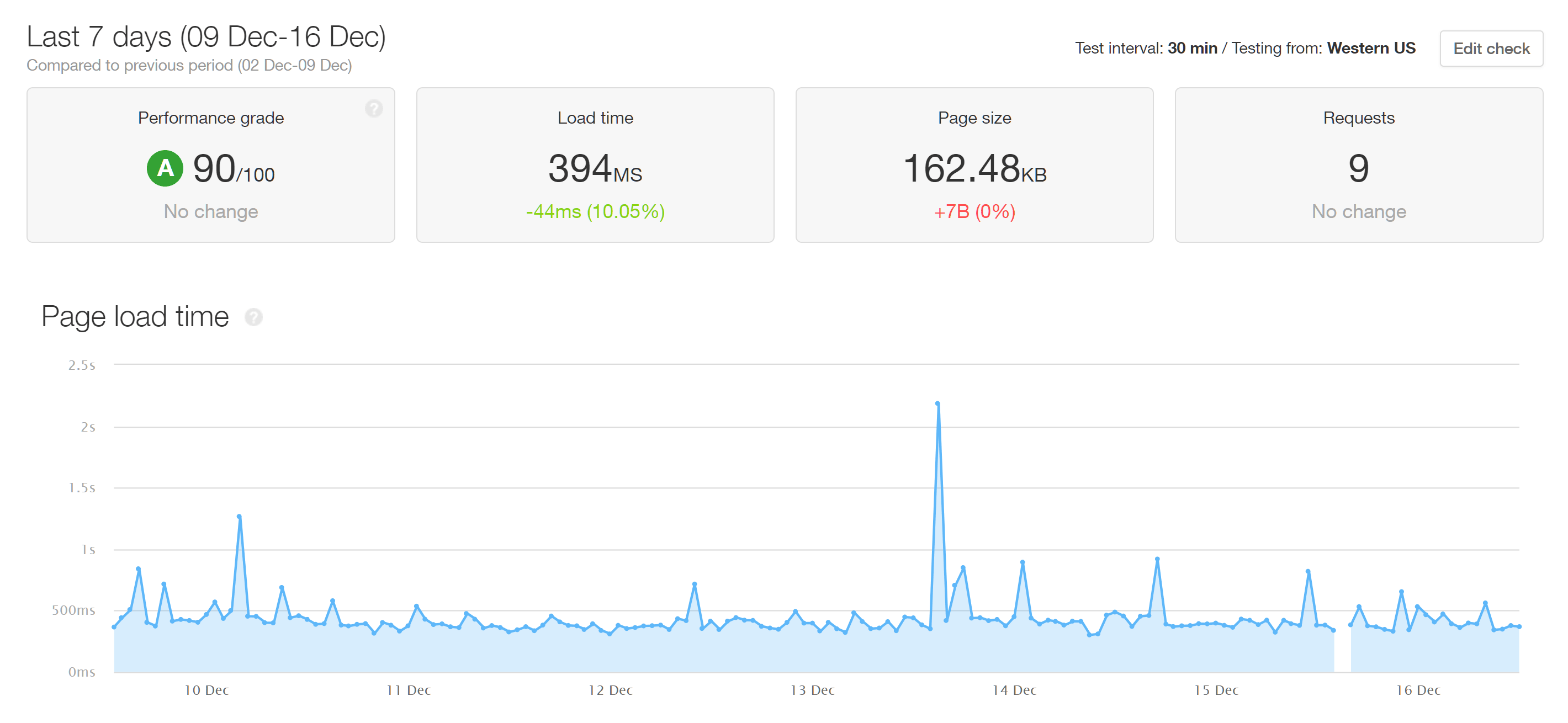 Heavyweight Theme Load Time Test Results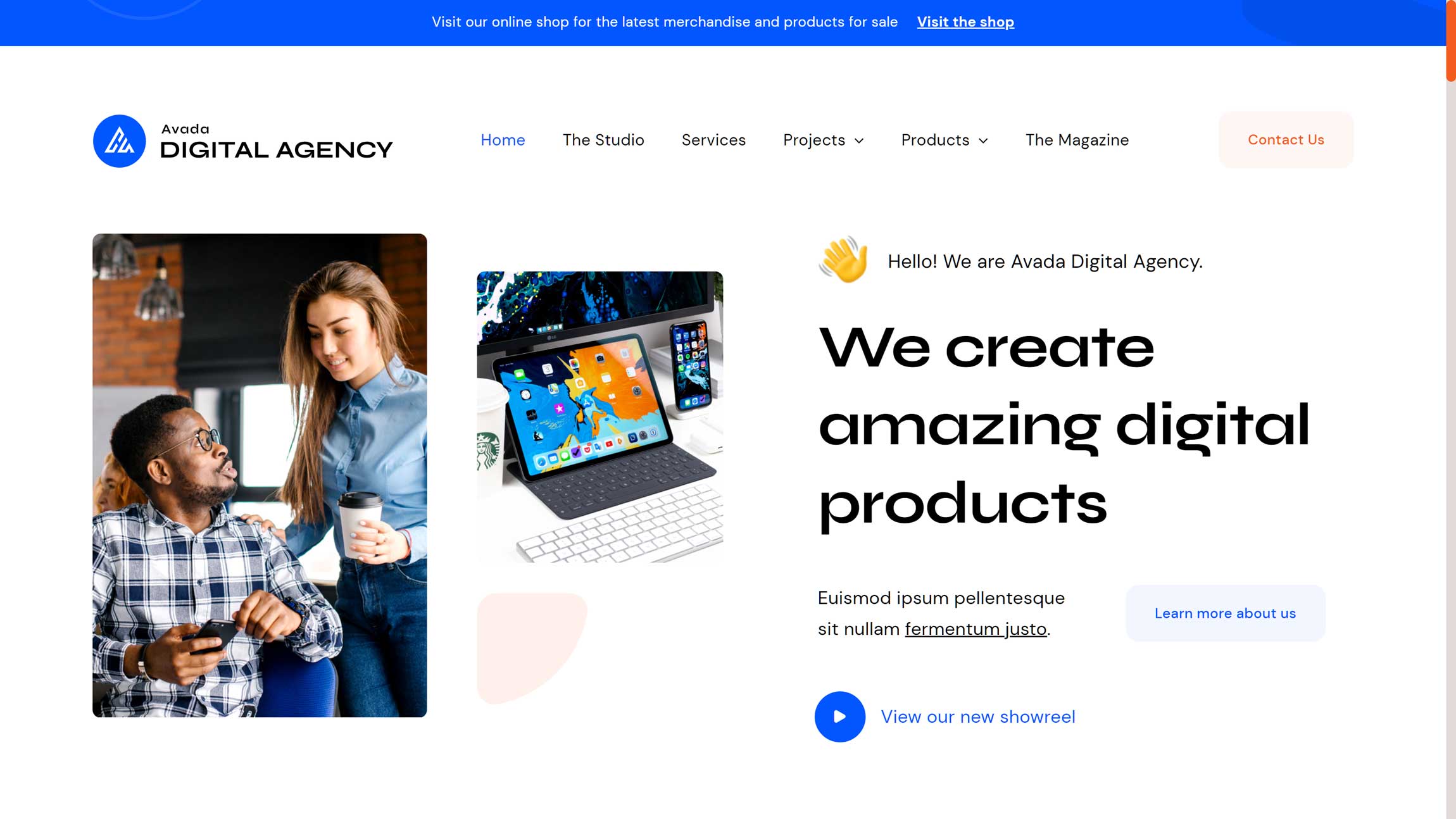 Pingdom recorded an average load time of 889 ms for the homepage of the site using the popular heavyweight Avada theme and its Digital Agency demo.
For a blog post on the same site, Pingdom recorded an average load time of 756 ms.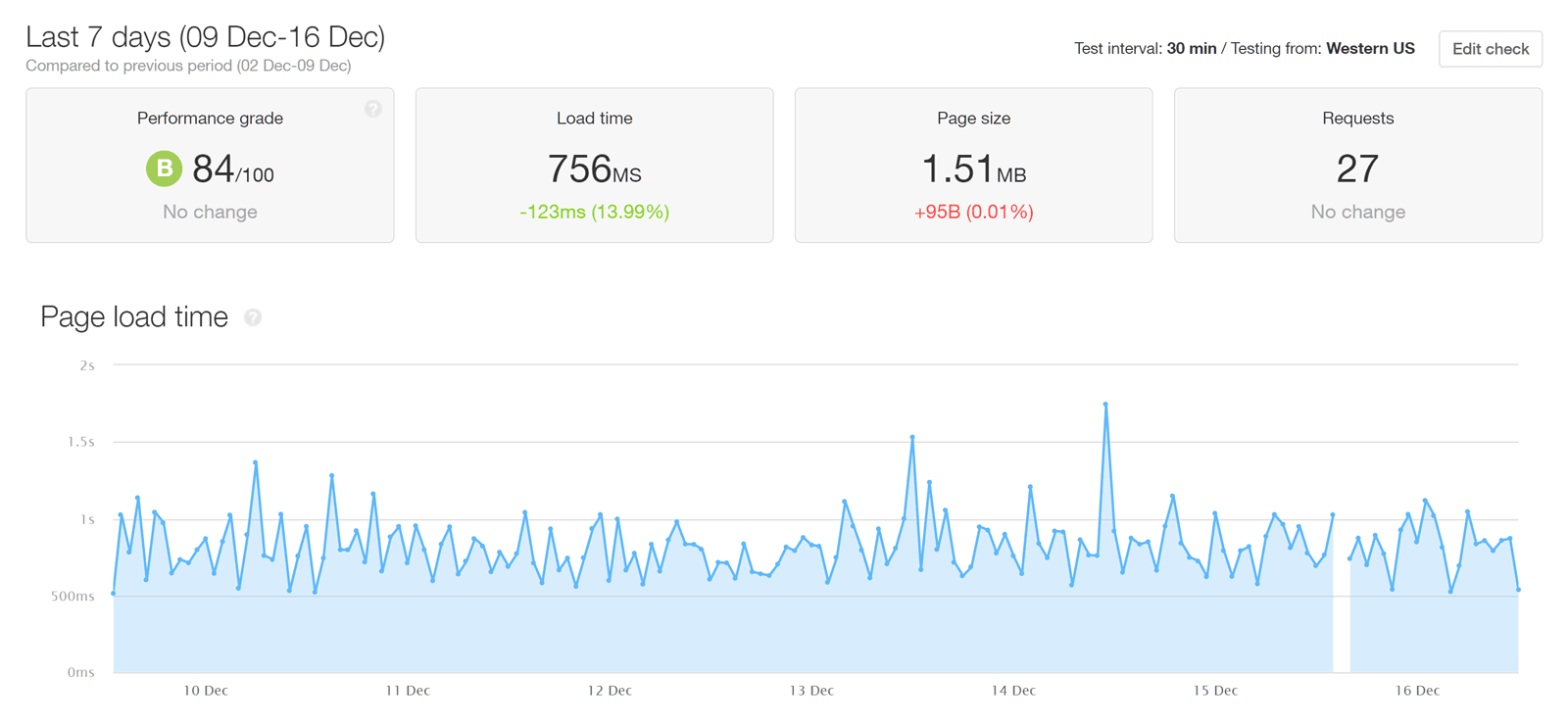 Load Time Test Results Summary

Here's a summary of the average load times of the test sites hosted by Kinsta:
| Theme | Page Size | Average Load Time |
| --- | --- | --- |
| Lightweight Theme | 162. 48 KB | 394 ms |
| Heavyweight Theme Homepage | 4.17 MB | 889 ms |
| Heavyweight Theme Blog Post | 1.51 MB | 756 ms |
Kinsta vs the Competition
When it comes to load times, Kinsta compares well with most of the competition. Kinsta wasn't the fastest (or slowest) when hosting a lightweight theme, but it was the fastest in the heavyweight theme tests.
Here's how it compared with other popular premium managed WordPress hosts, based on the data from our own speed tests from our other hosting reviews:
| | Kinsta | Nexcess/Liquid Web | WordPress.com | WP Engine |
| --- | --- | --- | --- | --- |
| Lightweight Theme | 394 ms | 358 ms | 603 ms | 246 ms |
| Heavyweight Theme | 889 ms | 959 ms | 1.02 s | 929 ms |
Kinsta was also much faster than the low-cost shared hosting plans we tested from companies including Bluehost, GoDaddy and HostGator. So, you'll have to pay more than the cost of the plans available from budget-shared hosting providers if you want the fastest load times.
Load Handling Test
To find out how well sites hosted by Kinsta handled multiple simultaneous visitors, I used K6 to simulate an increasing number of users accessing the test sites at the same time.
K6 monitored the response times of the sites during the test to see if there was any slowdown as more virtual users were accessing them. The test was set to simulate up to 198 virtual users to the sites over a five-minute period.
For the site using the lightweight theme, the response time (blue line on the chart below) remained stable as the number of simultaneous virtual users increased.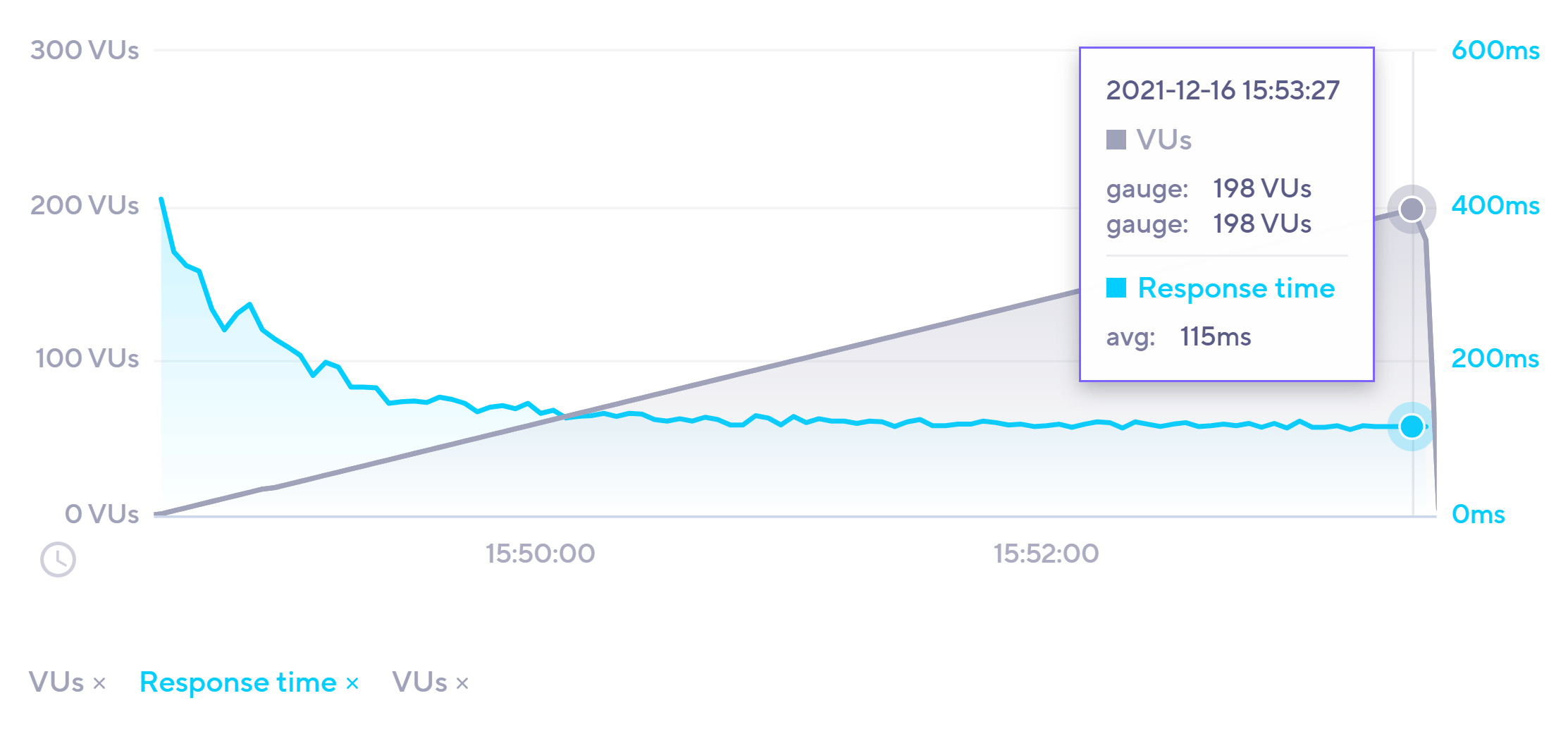 The results of the same test but on the site using the heavyweight theme were very similar, with a stable response time recorded throughout.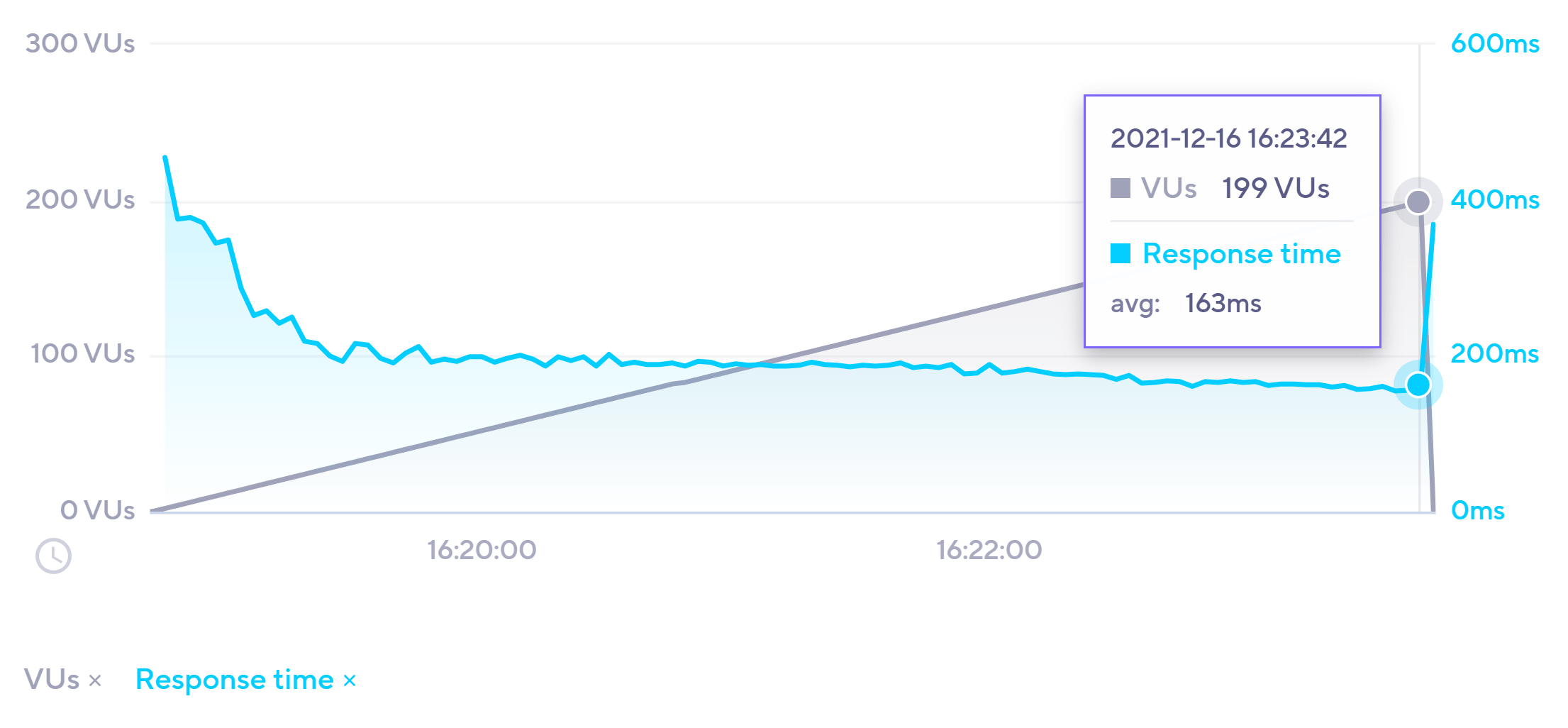 The ability to accommodate multiple simultaneous visitors without any slowdown is another of the main reasons to choose premium managed hosting over cheaper shared hosts.
In the past, when testing popular low-cost shared hosts, such as Bluehost, GoDaddy and HostGator, the test sites struggled with up to 50 simultaneous virtual users.
Kinsta Uptime
Kinsta guarantees 99.9% uptime, which is about standard for most WordPress hosts. However, in my tests, Pingdom recorded 100% uptime over a seven-day period.

Kinsta Review Summary
I've been very impressed by Kinsta, both in terms of user experience and performance.
It's fast, has many useful features and is very easy to use. The support staff is very responsive, too.
I've actually been using Kinsta for many years without any problems, and have always been happy with its hosting service. However, it was useful to write this review and collect some quantifiable data from K6 and Pingdom to see just how well Kinsta performed when it came to load times, load handling and uptime.
Kinsta is very easy to recommend for anyone looking for fast, reliable and easy-to-use managed WordPress hosting. However, there are cheaper comparable options out there, including the slightly cheaper Flywheel, Nexcess from Liquid Web and WP Engine.
If you don't mind paying a bit extra, go with Kinsta; if not, check out some of its cheaper rivals.
Used/using Kinsta WordPress hosting? Feel free to share any thoughts/experiences in the comments below!
---
Related Reading: