Very often, people looking for their ultimate do-it-all WordPress theme end up narrowing things down to Divi vs Astra.
And rightly so! Both Divi and Astra are excellent multipurpose themes that deliver incredible customizability paired with exceptional ease of use. Picking between them isn't easy.
But that's what we're here for! What follows is a head-to-head comparison of two of the most popular and best WordPress themes on the market. This is Divi vs Astra! 🤼‍♂️
Note: here's Divi's Pricing, and here's Astra's Pricing.
🦅 Divi vs Astra: The Bird's Eye View
Here's what you should know first about Divi and Astra:
| Divi | Astra |
| --- | --- |
| A multi-purpose WordPress theme that lets you customize every detail of its appearance and function via a visual user interface. | A multipurpose WordPress theme that's performance-oriented and minimal, while also offering good integrations with Astra's own add-ons, as well as third-party page builders and tools. |
| Complete package — everything you need is already there in the theme out of the box. | Minimal — you get a bare theme and can then pick what elements you want to add to it. |
| Comes with: Its own page builder (Divi Builder), pre-made page templates and whole starter site packages, user-friendly UI, theme settings panel, role editor, onboarding tutorials, two extra plugins (Bloom, Monarch). | Comes with: Compatibility with third-party page builders (most prominently with Elementor, Beaver Builder, Brizy), pre-designed starter sites, user-friendly UI, theme settings panel, installable extensions. |
💰 Pricing
Pricing is often the first thing users are interested in — and here things get really interesting right off the bat…
Divi and Astra have very different approaches when it comes to pricing. In short:
Divi
Astra
– No free version available and no free trial.
– Free version available.
– $89 a year gets you product updates and support for the duration of your subscription.
– $249 as a one-time payment gets you lifetime updates and support.
– Both pricing options give you access to Divi and hundreds of ready-made website packs.
– Astra Pro per year: $59, $169, $249.
– Astra Pro one-time payment: $249, $499, $699.
– All pro plans give you access to features such as new nav menus, white labeling, extra layouts, WooCommerce integrations, more color options, headers, footers, better typography control and more.
– You also get a package of starter sites, the size of which depends on the pricing tier you choose.
– There are support and updates for the duration of your subscription.
– 30-day money-back guarantee.
– 14-day money-back guarantee.
– Unlimited website usage.
– Unlimited website usage.
– You also get Extra (another theme), and the Bloom and Monarch plugins bundled in.
– The higher-tier plans also give you access to extra plugins such as WP Portfolio, Ultimate Addons for Beaver Builder, Ultimate Addons for Elementor, Convert Pro, Schema Pro.
On the one hand, Divi has a much more straightforward pricing model — if you want it, it's going to be $89.
On the other, Astra is available for free and is actually usable on that free version. From there, upgrading to pro is cheaper (from $59).
🧰 Features
Comparing the features of each theme head to head is rather tough — mainly because they're two completely different WordPress themes. Let me explain:
Divi is all about giving you the whole package — everything you could ever need — right out of the gate. You can create your ideal site without having to use any other tool or install anything else other than the Divi theme itself.
Astra is all about performance and simplicity, and thus also about minimalism. What you get out of the box is only a simple theme that requires some configuration, and a couple of extra modules from Astra and third parties before it starts looking like you want it to.
Neither of the approaches is worse, nor better. They're just different. And they have their pros and cons:
The main pro 👍 of Divi is that you get everything right there out of the gate. The main con 👎 is that you may not need most of that stuff, and it can have an impact on your site's performance.
The main pro 👍 of Astra is that it's fast and optimized; the con 👎 is that you have to pick each element of the site on your own (by activating individual modules). Another pro 👍 is that you're not forced to keep modules you're not using, which makes your site faster.
With that said, you can reach pretty much the same destination with both themes — the main difference is the route you're going to take.
Here's a rough list of each theme's key features:
Divi:
Built-in drag and drop page builder.
True visual editing in real-time.
Custom CSS control.
Responsive editing — make your pages fit any device.
Countless design options to choose from for your page elements.
You can save and manage designs.
Global elements and styles — reuse them on new pages.
Undo, redo and revisions.
40-plus website elements for calls to action, blogs, sliders, galleries, testimonials, forms and more.
100-plus full website packs and 700-plus individual page designs — you can import them to fast-track your site building.
Customization options for every element you see on the page, including shadows, borders, typography, hover states, animation, backgrounds and more.
Transform your images and add effects.
Filters and effects you can put over the whole design.
Searchable settings — no need to browse through menus, you can just type in the name of the option you want.
WooCommerce integrations — customize your product pages.
Many of the features listed above are the features of the Divi Builder specifically — the main engine behind Divi's page building ability.
Astra doesn't have a page builder engine built-in. Instead, it integrates very well with Elementor, Beaver Builder and Brizy. I'm mentioning this here because taking Astra's list of features at face value may give you the impression that there's less there.
While this is technically correct, you're not actually missing out on any of the page builder features because you get them from your third-party builder of choice. Astra expects you to use one of the popular builders together with your theme.
With that out of the way, here's what you get with Astra:
Great WordPress Customizer integration — change any detail of your design via the Customizer.
'Made for page builders' — compatible with Elementor, Beaver Builder, Brizy and other popular builders.
Super fast performance (the stock theme needs only 50KB of resources and loads in 0.5 seconds).
100-plus starter sites available.
Layout settings for entire page templates, plus settings for page elements such as headers, sidebars and footers.
Pre-made header layouts.
Color and typography control.
Customize your blog and archive pages.
WooCommerce integration.
Accessible and follows WCAG 2.0 standards.
SEO-friendly markup.
Here's how all of these features translate to using Divi and Astra:
⚙️ Using the Themes
In this section, we'll look at the user interface that each theme delivers, and their overall ease of use — that is, how difficult it is to get these themes to do what you want them to do.
First things first, these are classic WordPress themes in the way they install: Just get the ZIP (in Divi's case) or find it via the WordPress directory (in Astra's case), and install it like any other theme. Additionally, if you want to use Astra Pro, then that one actually installs as an add-on plugin on top of the theme.
Probably the first thing you'll notice after activating either theme is that they don't look like much in their out-of-the-box versions. The magic happens only after you've spent a while either importing a ready-made design or building one from scratch. Here's how each theme achieves that:
Working with Divi
The first place you can look into after installing Divi is the settings panel. There's quite a lot of options there, letting you really dig in to what the different elements of the theme look like.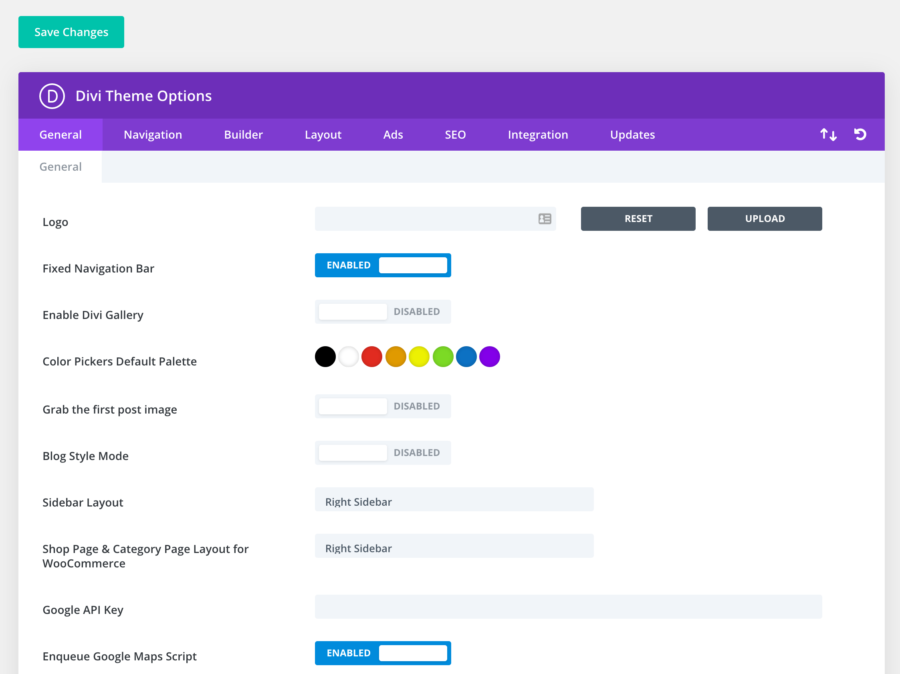 You can adjust nearly anything, from colors and sidebars to date formats, post archives, navigation menus, layouts, ad settings, SEO, custom code and more.
Apart from that, you can also configure the likes of custom global headers, body sections and footers.
Moreover, there's an extensive role editor, which is particularly useful if you have more people working on the site.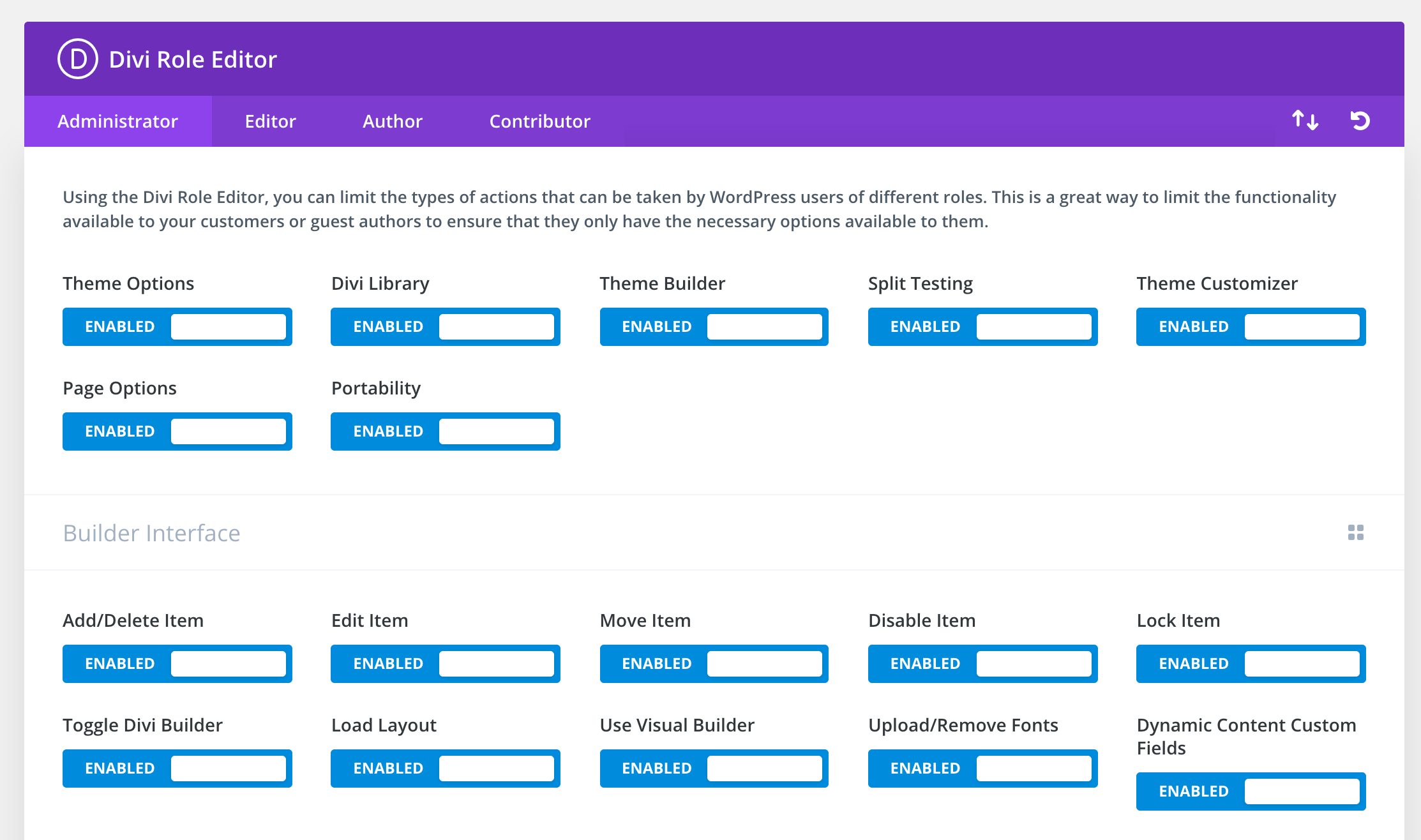 Now, the good news is that all of those settings are optional — Divi is perfectly functional with its out-of-the-box presets. (If you like the designs from the Divi demos, you'll want to stay with those default presets anyway.)
The true power of Divi is in the ability to either import ready-made page designs or build your own custom designs. You can do all of that with the drag-and-drop builder tool.
Just go to Pages → Add New and click on the Use Divi Builder button to launch the main UI.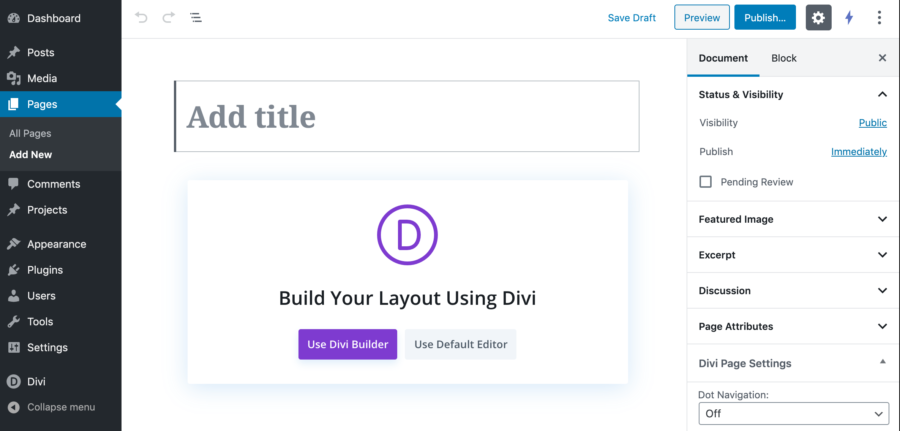 Divi will ask you whether you want to start from scratch or import a pre-made design.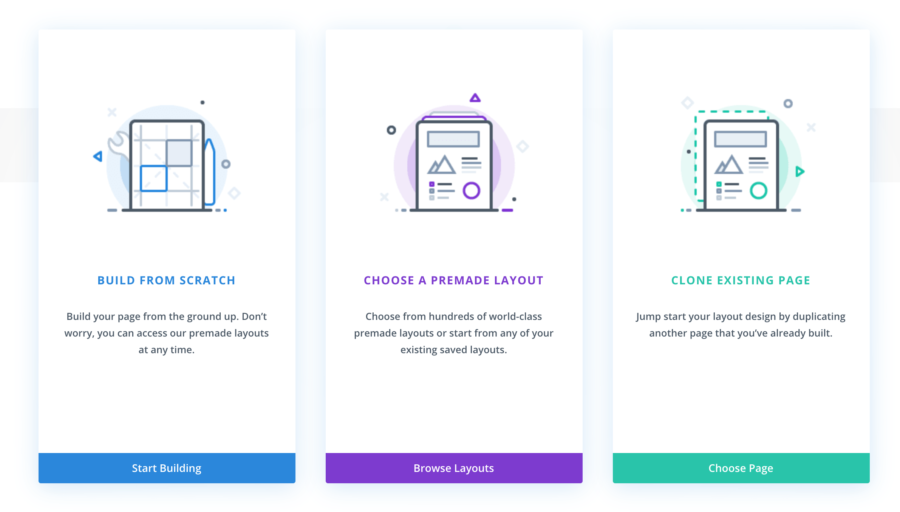 The available website packs are versatile and cover most of the standard niches, such as restaurants, agencies, fashion, business, travel and a lot more.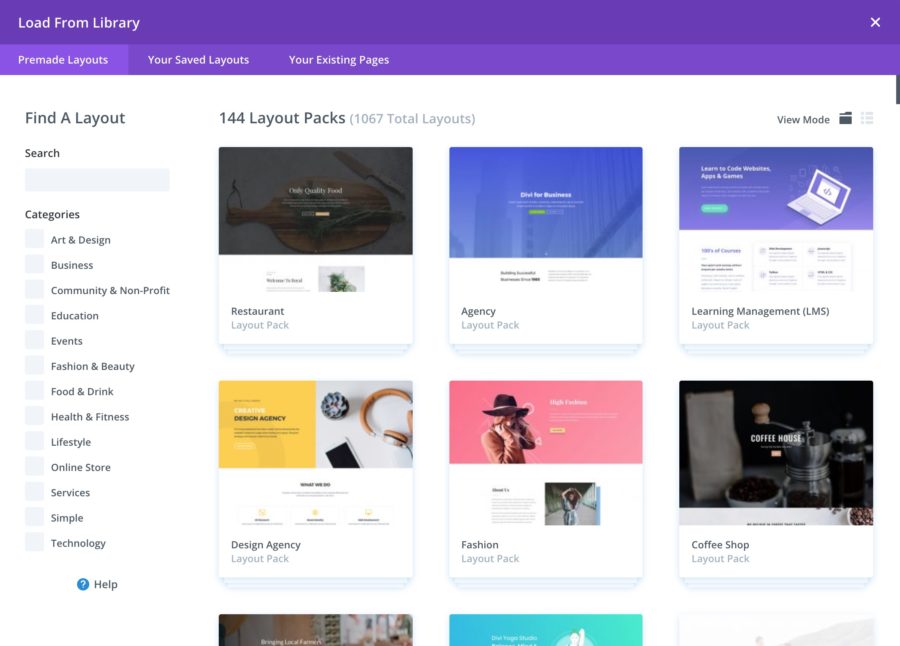 The great thing about those website packs is that they're not just single pages, but complete collections of pages that all follow the same aesthetic. For example, you get templates for a homepage, an about page, contact, portfolio, pricing, landing page and blog.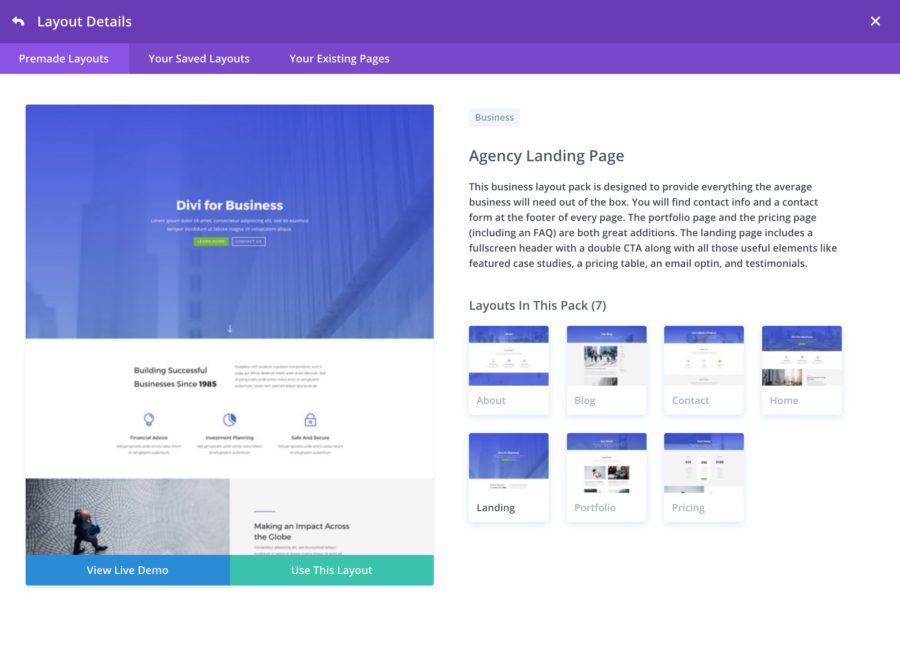 Once you import a design you like, you can customize it using Divi's builder interface. It's quite intuitive and lets you add new elements easily (or edit the existing ones).
However, you'll need to spend a while getting used to how the page is being organized. Luckily, there's a nice onboarding guide that pops up the first time you open the builder.
Another huge benefit when working with Divi is that you don't have to wonder what the page you're working on is going to look like when you're done. When customizing a page, you're looking at it through the user's eyes already — it's a true WYSIWYG experience. Everything is available through the visual builder interface, along with all of the fine-tuning options and dials.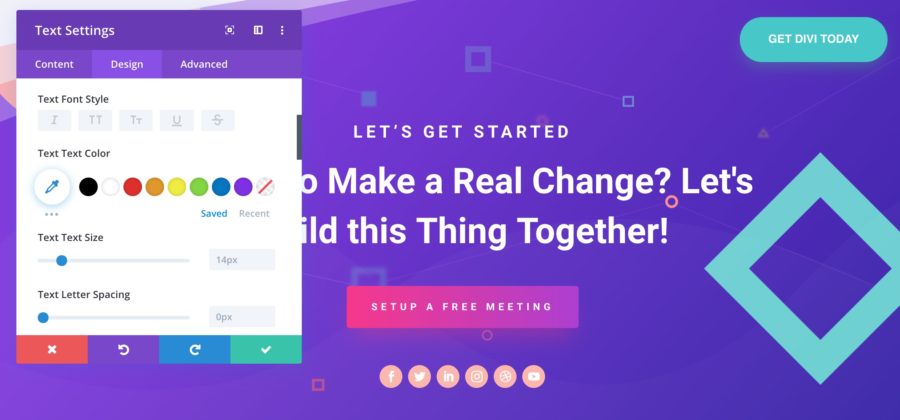 👉 Overall, working with the design and adding new elements to it is straightforward once you get the hang of it. Most importantly, you don't need any coding skills to use Divi effectively. This makes it a great beginner-friendly WordPress theme — as long as you're not intimidated by all of the options available in the builder.
Working with Astra
Astra approaches the topic of website building a bit differently. While Divi can be called your all-in-one builder theme, Astra is more of a minimalist performance-oriented theme. And it shows.
For instance, when you activate Astra, you must first choose which modules you want to enable on your site.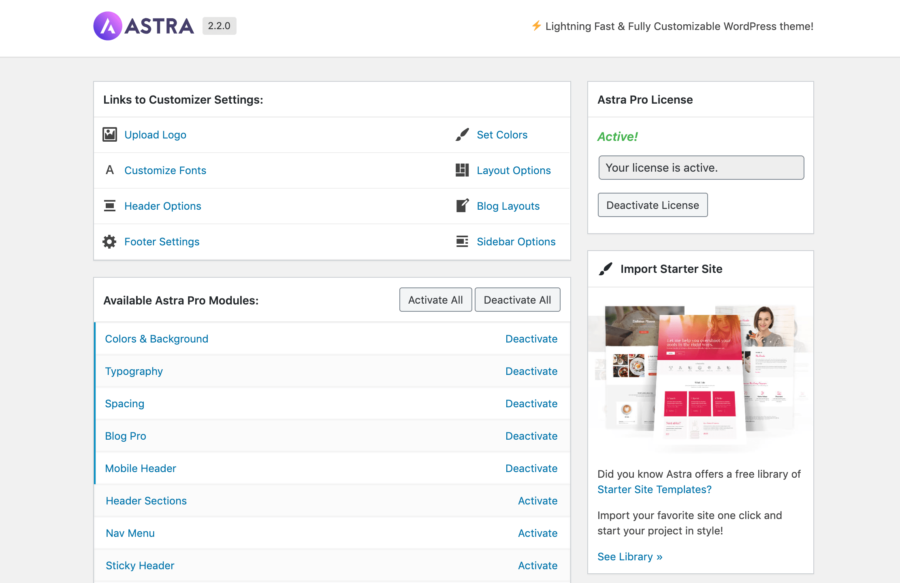 On the one hand, this makes getting started with the theme a bit tougher for beginners, but it also gives users much more control.
Each module's name links to a documentation page on Astra's website, so you can read through what the module does, and even watch a demo video for most of them. Based on that, you can decide whether you want the module or not.
Apart from that, there's also something called Astra Starter Sites. This is similar to Divi's website packs — as in, you get a whole website package consisting of multiple pages that all follow the same aesthetic.
To get a starter site installed, you first have to install a plugin aptly named Astra Starter Sites. Find it normally via WordPress' Plugins → Add New panel. With the plugin installed, you can pick from more than a hundred great-looking designs (on the Pro version; not as many are available on the free version).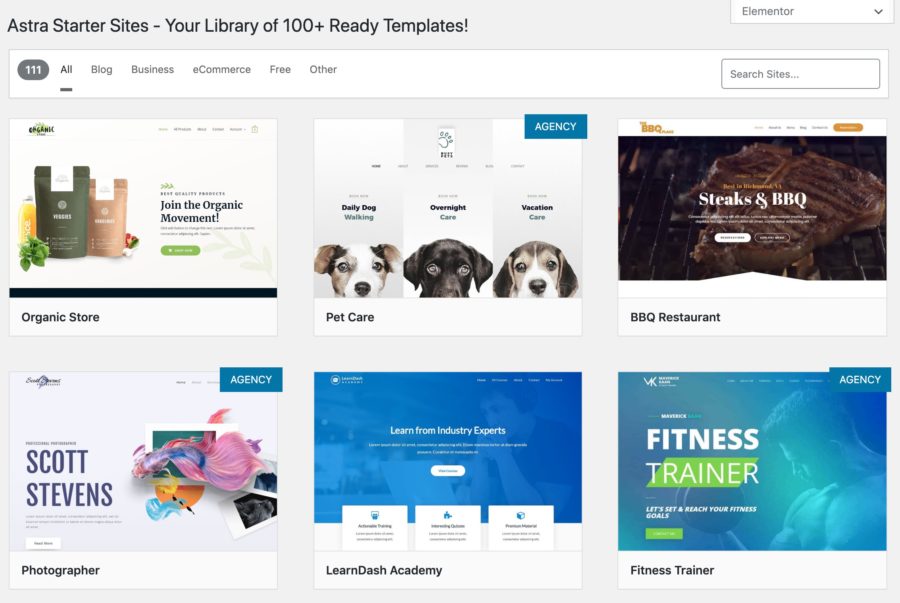 Now, here's the kicker: Those starter sites haven't been built with Astra's own builder (as is the case with Divi). Instead, it delivers pages created using the most popular builder plugins — and lets you choose which one is your preferred solution when you install the theme.
When you attempt to install a starter site that you like, Astra will take care of installing all of the third-party plugins that are required to make everything work.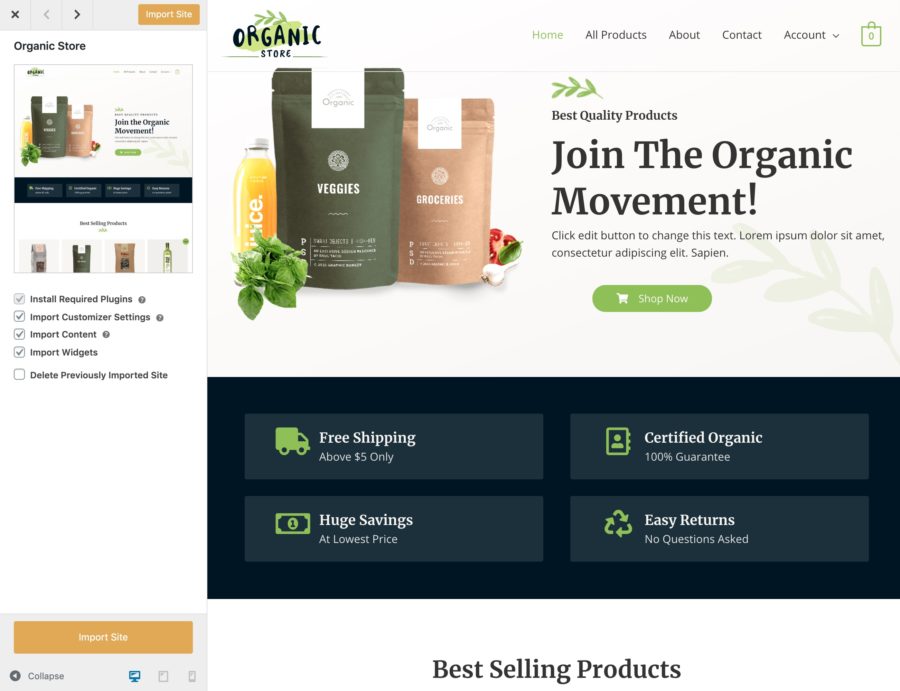 When you're done importing a site, you can then proceed to customize it using your builder of choice. The user experience is going to be very similar to that of Divi's builder in many ways.
Apart from the visual page editing aspect, Astra also gives you very detailed customization options via the WordPress Customizer. You can adjust your site's typography, colors, layout and sidebar settings, plus there are other options available based on the modules you selected when configuring Astra.
👉 Overall, Astra is straightforward to use once you get through the initial configuration. You may find that the blank version of Astra lacks some features, so you can't really skip the extra modules. Luckily, you only have to go through the config once, and using Astra on a daily basis is a breeze. Just like with Divi, there are no coding skills needed.
🎨 Designs
As we mentioned above, both themes deliver roughly the same number of ready-made website designs — around a hundred or more — and these aren't just single page designs, but whole website packages/starter sites. Best of all, you can import them with a couple of clicks and without having to know any coding or design.
When it comes to the quality of the designs, neither theme disappoints. The starter sites in both Divi and Astra are modern, look great, cover popular niches and are optimized for mobile viewing.
An example Divi website pack: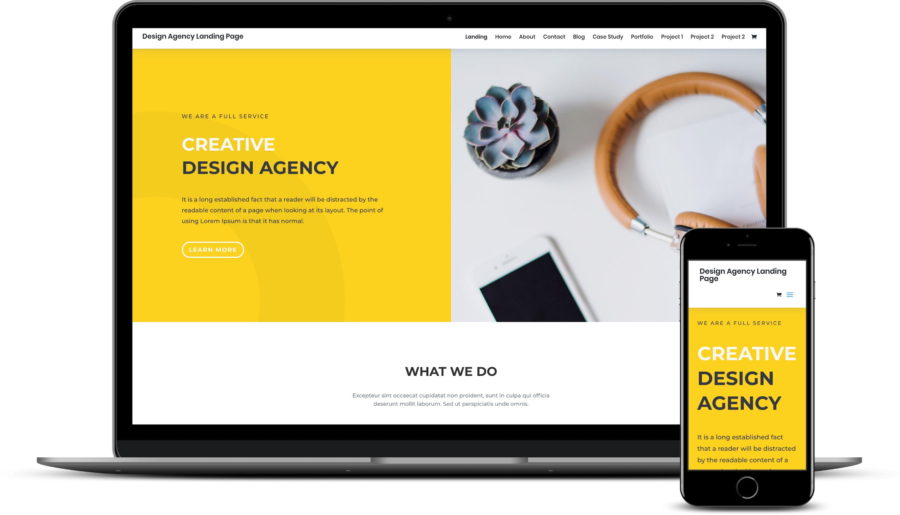 An example Astra starter site: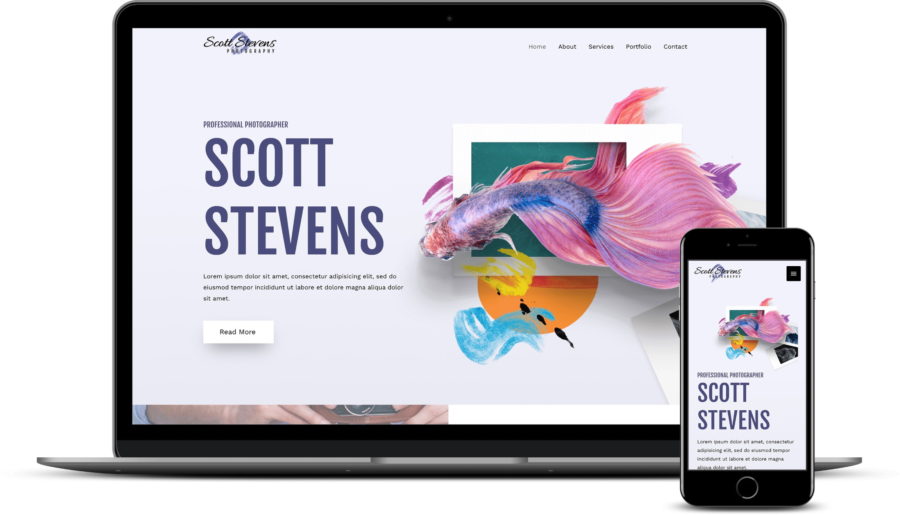 Here are the full design catalogs of Divi vs Astra:
Also, here are more examples of excellent websites built using the themes:
🏁 Verdict
In principle, these two themes are very different when it comes to their structure and general approach. However, actually using them is remarkably similar.
Both Divi and Astra let you choose from a range of starter sites.
Both give you access to visual page building. Divi does this with its own Divi Builder; Astra integrates with the most popular builders, such as Elementor, Beaver Builder and Brizy.
Both deliver countless options and customizations.
Neither expects you to have coding or design skills.
Basically, the theme that's going to be better for you depends on your personal preference in how you'd like to have your website features delivered.
Consider the following:
Divi is your all-in-one WordPress theme. It has all of the features, modules, options and so on already in the box. Some may say it makes your site a bit bloated, but the benefit is you don't have to worry about installing any third-party add-ons and making sure they work well with the theme.
Astra is a performance-oriented minimal theme that comes with installable modules for various extra features. What's great about this is that you can remove all of the things you're not planning on using. The downside is there are some additional steps during the initial setup.
In the end, if you're more of a 'get-things-done-quickly' person, you may enjoy Divi more; if you're more of a 'do-it-yourself/tinker-under-the-hood' person, then give Astra a shot first.
And, of course, if you don't want to spend a dime on your theme, then Astra is the only free option of the two.
Used/using either Divi or Astra? Opinions on each?
Related Posts: