Wondering which platform to pick between WordPress.com and DreamHost?
This is a very common question among users new to WordPress, especially those who've been to the official website of the WordPress project and tried figuring out how to get started with the platform.
In this post, I'll explain the differences between the two, what to consider when making your pick and which of these solutions is likely going to be better for most users.
🥜 WordPress.com vs DreamHost in a Nutshell
At their cores, WordPress.com and DreamHost are two completely different products, which is actually a great thing from your perspective, since it's going to make it easier to decide which is the one you need!
WordPress.com is a commercial project built by part of the team behind the open-source WordPress software. While WordPress.com lets users build websites using a version of the WordPress software, it's not open-source itself and does put some limitations on what you can and can't do with your website.
DreamHost are a web hosting company. They'll rent you server space, which you can then use to build a website, and that website can then run on the open-source version of WordPress (or some other platform).
👉 The core difference between WordPress.com and DreamHost is the former will let you build a WordPress website and then give you access to manage it, while the latter will give you access to a web server first, which you can then use however you want.
Both solutions have their pros and cons. The decision on whether you should use WordPress.com or DreamHost will come down to your individual needs, budget and what your plans are for your new WordPress website.
But first, there's one basic concept you should get a grasp of before making a decision between WordPress.com vs DreamHost:
🤔 How Is WordPress.com Different from WordPress.org?
Although this doesn't make any sense at first, WordPress.org and WordPress.com are two completely different products.
This makes it really confusing for new users who just want to get into WordPress and go to what seems like the first logical place to do it — WordPress.com.
They soon find out something isn't right, or, at least, that there seems to be a piece of info missing.
In a nutshell, this is what you need to know about WordPress.com and WordPress.org:
WordPress.org is the home of the open-source WordPress software. It's where you can go to download the software, and then you can have it installed on a web server under your control.
WordPress.com is an entirely commercial project that runs on the WordPress software. You can go to WordPress.com and buy a pre-configured WordPress website that you can then customize and make your own.
If you want to learn more about the world of WordPress and all of its key components, we have a whole in-depth resource on that.
With that out the way, let's now look at how WordPress.com compares with DreamHost based on key features and characteristics:
⚙️ Features and Pricing of WordPress.com vs DreamHost
Since WordPress.com was built as a platform to make starting with WordPress as simple as possible (at least on the surface), most of the features the .com offers are the features of the main WordPress software itself.
The number one benefit of using WordPress.com is how easy it is to get off the ground and start working on your site (more on that in a minute).
Let me emphasize this again, since it's a key detail when it comes to using WordPress.com: When you sign up to WordPress.com, you can start working on your website right away, without the need to install any piece of software anywhere or take care of any tasks that deal with maintaining the web server itself. You just sign up and get a blank website right there and then.
WordPress.com comes in a couple of flavors, depending on the purpose of the website you want to build and the specific features you require.
A huge benefit of WordPress.com is there's a 100% free plan available. The limitations it puts on the actual product you get are a bit severe, but it's still a great option for testing out the platform, building casual blogs, or for students.
Then, there are four paid tiers, each one offering progressively more features, plus one more high-end tier for enterprise websites.
DreamHost, on the other hand, are a web hosting company. This means their pricing model and the features they offer are presented based on what the server itself is capable of, rather than what the website software (such as WordPress) can do.
That being said, DreamHost are fully compatible with WordPress, which means you can get pretty much the same end-features you get from WordPress.com and, often, at a more affordable price.
While the early stages of the setup may be slightly more challenging, most users will get more bang for their buck with DreamHost at the end of the day.
Here's a head-to-head comparison of the features and pricing of WordPress.com and DreamHost.
To make this comparison useful for most readers, instead of describing each possible plan with WordPress.com and DreamHost in detail, I've decided to feature only the specific plans that highlight the key differences between the platforms. These are also the plans most users will find useful for running WordPress websites.
WordPress.com
DreamHost
Free
Personal
Business
WordPress Starter
WordPress Unlimited
$0
$4 a month
$25 a month
$2.59 a month
$3.95 a month
One website
One website
One website
One website
Unlimited websites
3 GB of disk space
6 GB of disk space
200 GB of disk space
50 GB of disk space
Unlimited disk space
Unmetered bandwidth/traffic
Unmetered bandwidth/traffic
Unmetered bandwidth/traffic
Unmetered bandwidth/traffic
Unmetered bandwidth/traffic
Free subdomain under wordpress.com, no possibility to connect a custom domain name
Free domain for one year
Free domain for one year
Free domain for one year
Free domain for one year
No customer support
Customer support via email
24/7 priority live chat support
Customer support via chat (5.30am to 9.30pm PT) and email
Customer support via chat (5.30am to 9.30pm PT) and email
Free SSL certificate
Free SSL certificate
Free SSL certificate
Free SSL certificate
Free SSL certificate
WordPress.com's own branding and ads on your site
Email hosting at $3.50 a month
Email hosting at $3.50 a month
Email hosting at $1.67 a month
Free email hosting
Limited WordPress functionality
Limited WordPress functionality
Limited WordPress functionality
Unlimited WordPress functionality
Unlimited WordPress functionality
Tools for accepting payments on your website
Tools for accepting payments on your website (including PayPal), tools for advertising, SEO tools
Free automated daily backups
Free automated daily backups
An option to remove WordPress.com branding completely, premium themes (designs) and advanced customization options
Free automated WordPress migrations (if you're coming from another host)
Free automated WordPress migrations (if you're coming from another host)
The table above reveals a couple of interesting details. First off, you really can use WordPress.com for free, and there are no strings attached, which means you won't be forced into paying for anything if you don't want to.
That being said, using WordPress.com is nearly always more expensive than using DreamHost:
If you only want to run a single site, then the prices are comparable — still in DreamHost's favor.
If you want to build two or more sites, the comparison of WordPress.com vs DreamHost becomes almost a no-contest. DreamHost's $3.95-a-month plan allows you to have unlimited sites on the same hosting account.
Next, the features. In the table above, you'll notice that all WordPress.com plans are labeled 'limited WordPress functionality', while DreamHost has 'unlimited WordPress functionality'. What does that mean exactly?
The way WordPress.com works is by taking the main WordPress software and, get ready, limiting some of its native features to (a) make it all easier to use for newbies and (b) make it a more optimized commercial project.
For instance, with the cheaper plans at WordPress.com, you can't install third-party themes or plugins on your site. Themes and plugins are one of the main things that make WordPress — the software — awesome. What you get is a limited catalog of built-in themes and a limited scope of built-in features that try to emulate what's out there in the realm of WordPress plugins.
DreamHost, on the other hand, let you install the main WordPress software in their native state with no features limited in any way. Later on, you can come in and install third-party themes and plugins, or even hire someone to build a custom theme or plugin for you.
In this sense, DreamHost give you a more versatile platform to work with and build your website on top of.
Then, you also have to factor in the additional costs you may have to swallow:
The first thing that comes to mind is email hosting. We don't usually think of it right out of the gate, but most websites running on custom domains will also want to have one or more email accounts to work alongside.
For example, if your site and domain is johnspizza.com, then you'll probably also want an email such as john@johnspizza.com. If you're on any of the WordPress.com plans, that email is $3.50 a month additionally. If you're on DreamHost's WordPress Starter plan, then such email is $1.67 a month. On DreamHost's WordPress Unlimited plan, it's free.
Not to be all in DreamHost's favor, there are a couple of quirks about their pricing model as well:
First, the price you pay depends on the contract length you sign up for on day one. To get the low price of $2.59 a month, you need to sign up for three years upfront. Signing up for just one year will raise the price tag to $3.95 a month.
Second, renewal prices are higher than day-one prices. What this means is when your initial contract is up and it's time to pay again, the price increases. For example, your next three-year contract will cost you $5.99 a month. If you renew for just one year, that's $6.99 a month.
With WordPress.com, the pricing model is easier to grasp. Whatever price you sign up for is the price you'll pay from now on. Still, that price will depend on your contract length as well. For example, if you're on the Personal plan, getting it for one year is $4 a month, but paying month-to-month is $7.
At the end of the day, DreamHost still come on top when it comes to the features you get and the price you have to pay to get them.
🙌 Ease of Use of WordPress.com vs DreamHost
Here's how easy each platform is to use:
WordPress.com Ease of Use
Getting started with WordPress.com is as easy as can be. All you have to do is go to the WordPress.com homepage and click on the Start your website button.

What you'll see is a classic signup form asking for your email and password for the new account.
In the next step, WordPress.com will ask you about the domain name you want to use for the new site.

If you're going to be signing up for any of WordPress.com's paid plans, you'll get a free domain name. In that case, it's best to click on Review our plans to get started and pick the specific plan you want to go with.

When you finalize the purchase, you'll be redirected to your main user panel. This is what it looks like: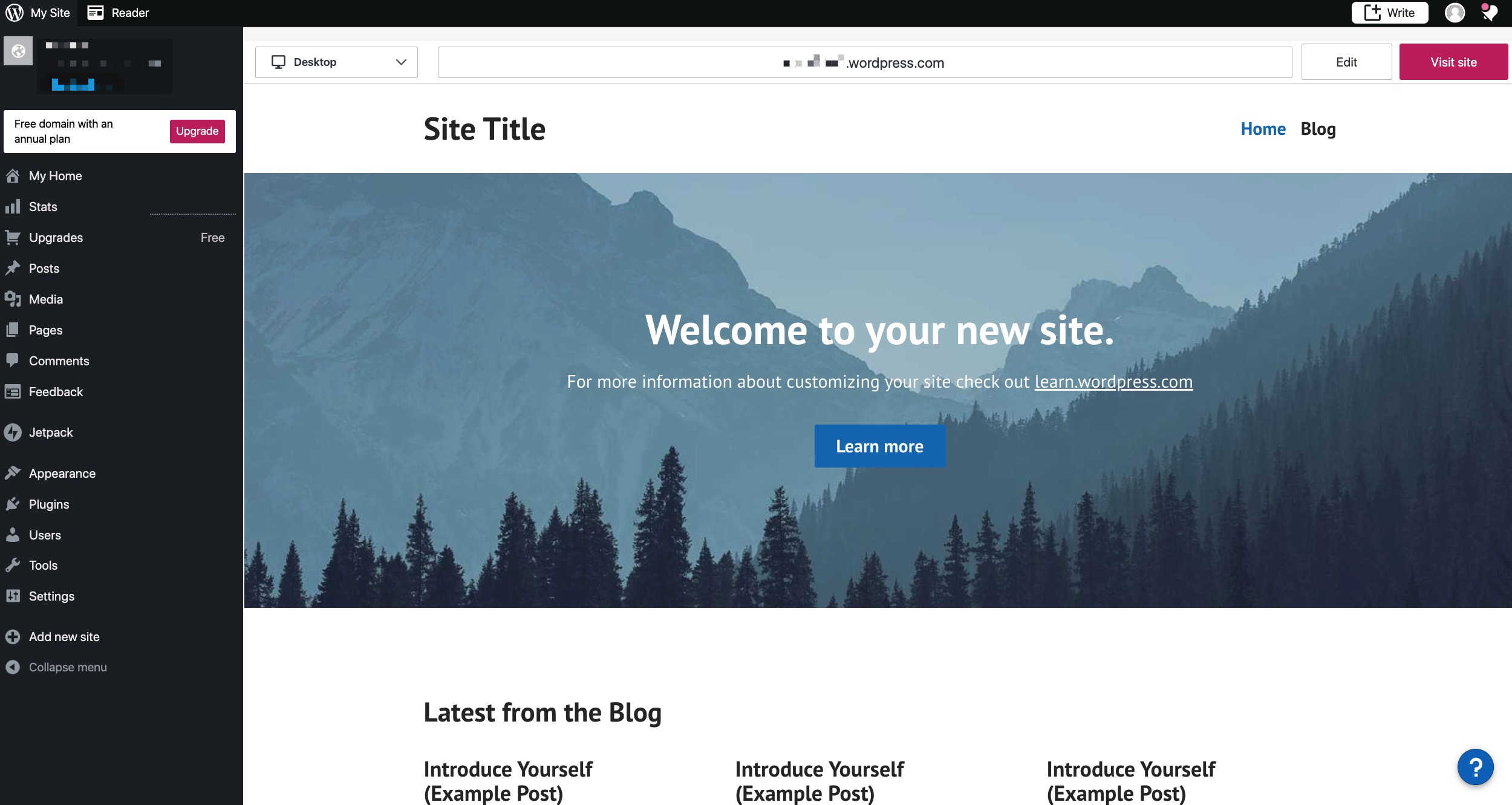 You can see what your website looks like currently in the center, plus there's a sidebar with all of the available options on the left.
If you go to My Home, you'll see a nice onboarding sequence and some tips on what to do with your site next.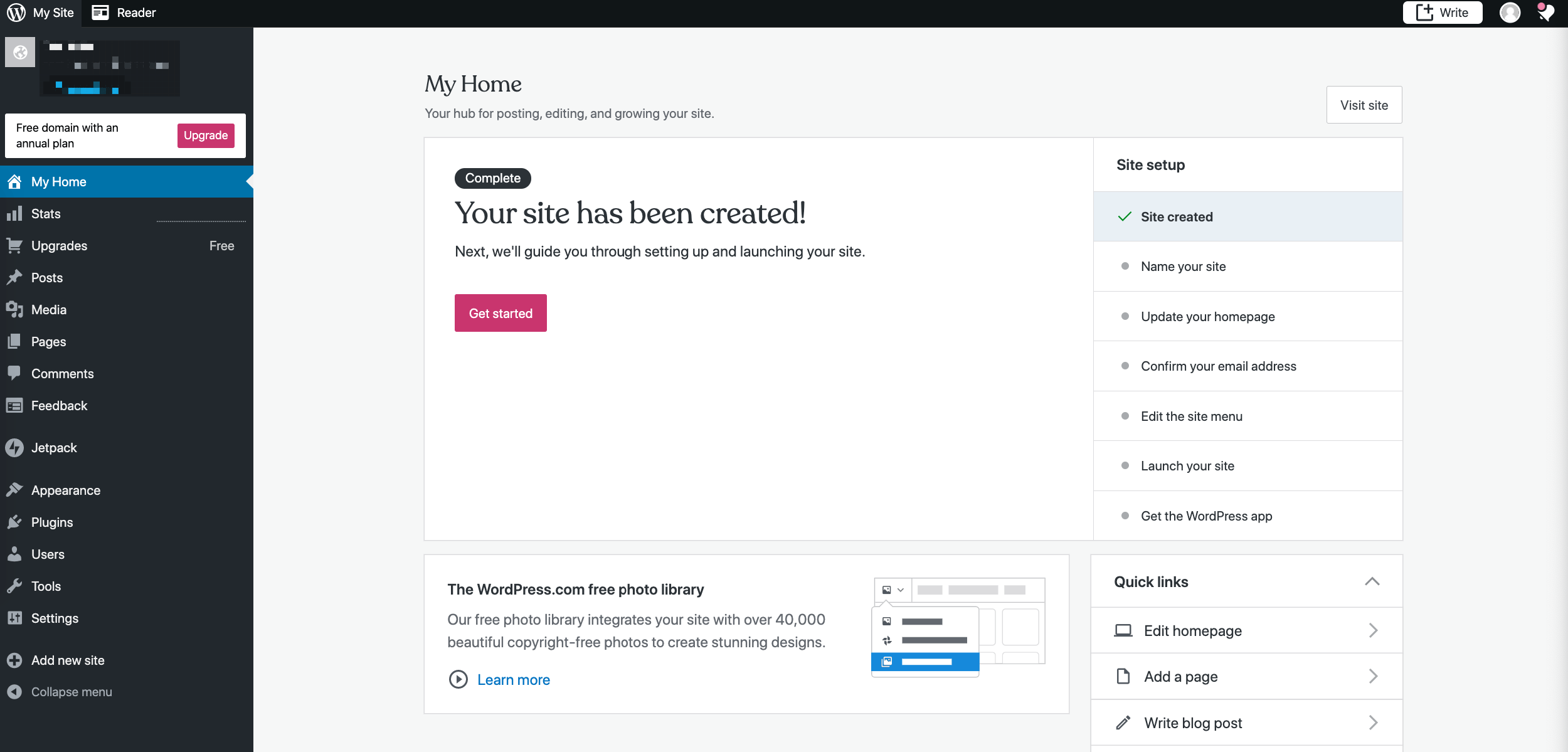 The menu in the sidebar is a version of WordPress's native sidebar menu. Since it's a limited version of WordPress that we're dealing with here (as explained earlier), it doesn't unlock all of WordPress's abilities. It gives you access to what you've paid for when picking your WordPress.com plan.
DreamHost Ease of Use
The way DreamHost approach things is similar, but there are some key differences on your way from nothing to a working website.
First, the signup. This is standard: Just pick your plan, click on Sign Up Now and finalize the purchase. Along the way, you'll be asked to pick your domain name.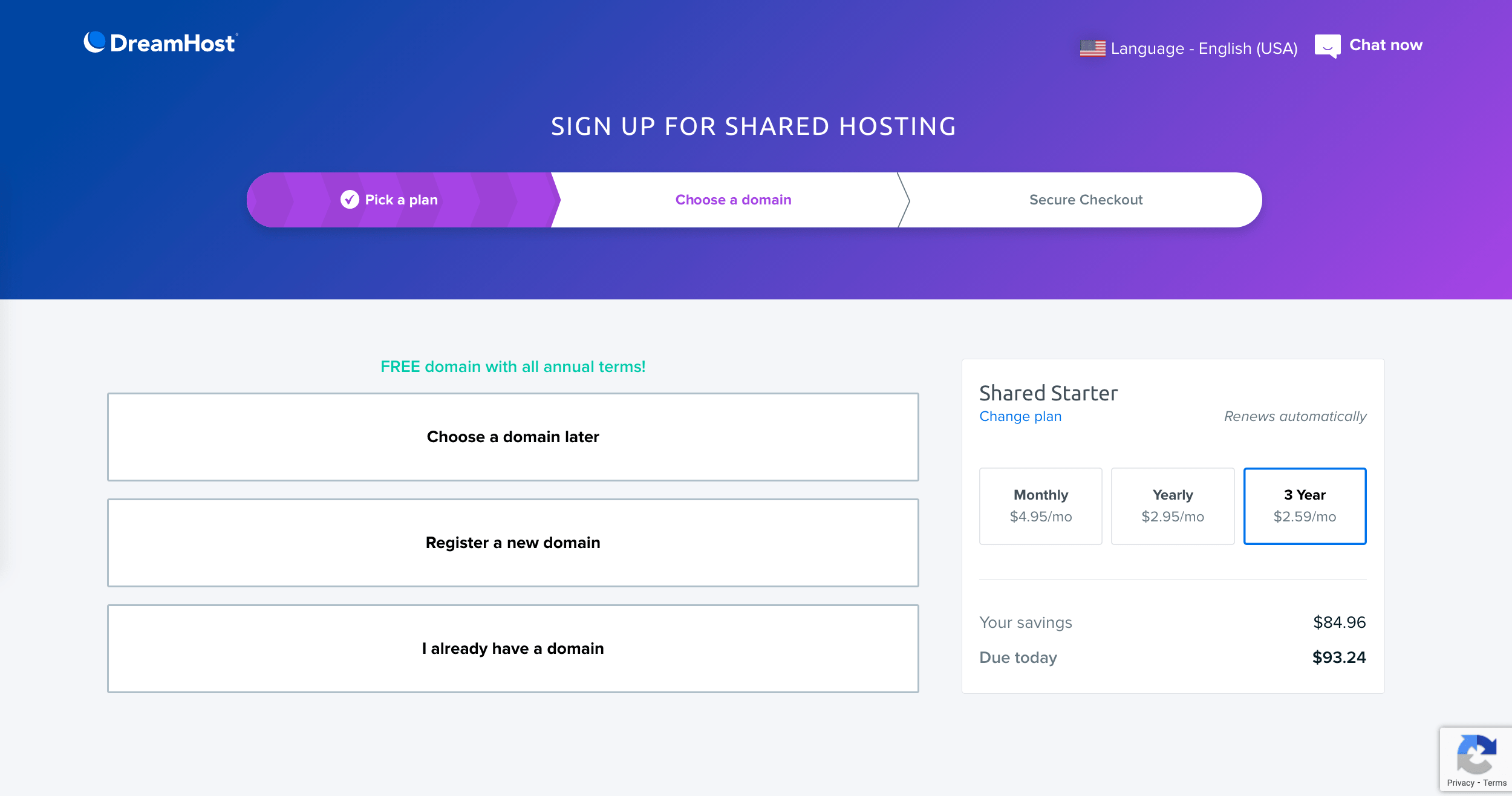 During checkout, you'll also see a couple of add-ons in the shopping cart. Some of them will improve your experience, but some are not needed at this stage.
If you want to have WordPress installed on your setup automatically, which makes the final product similar to WordPress.com, select the following boxes: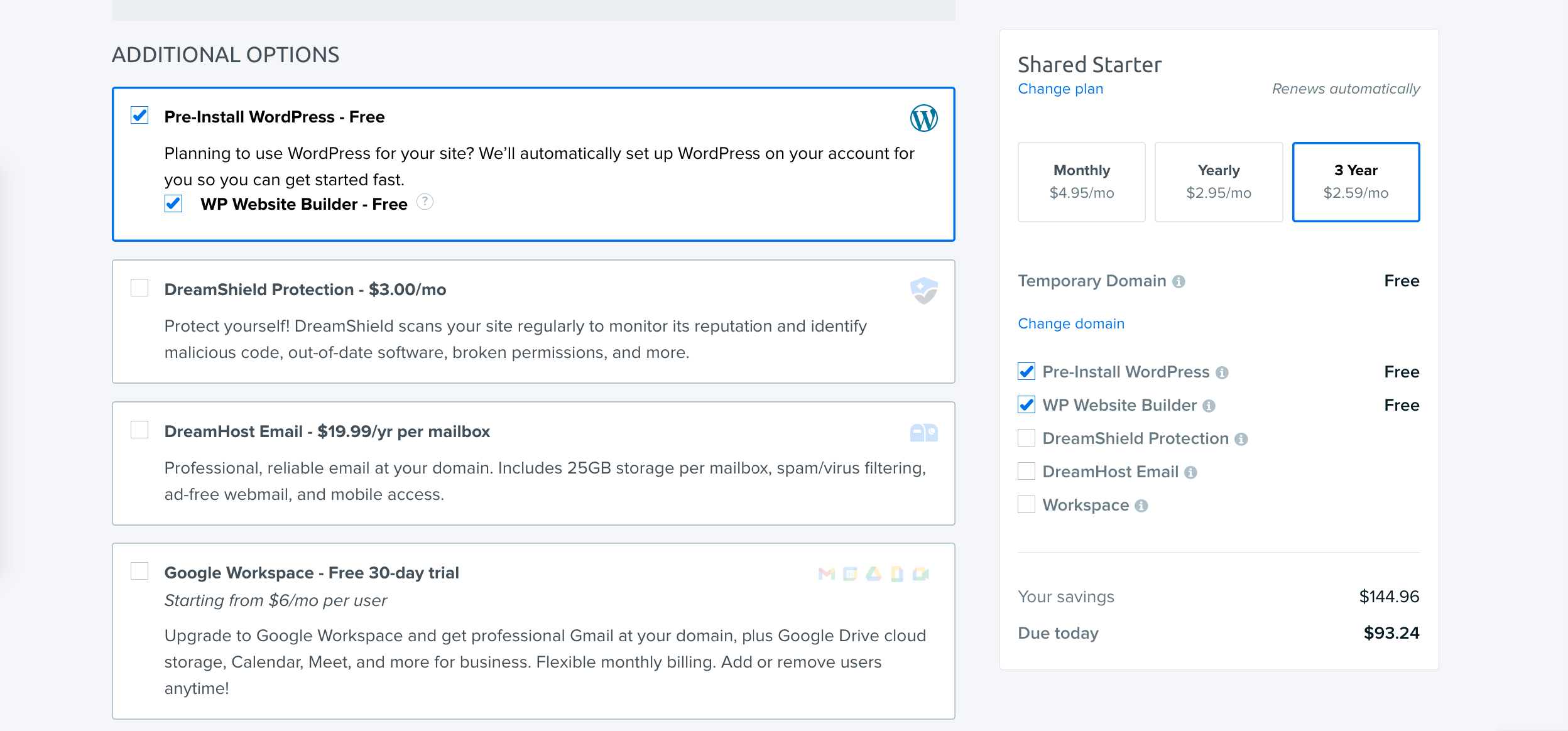 As you can see, I've selected the option to Pre-Install WordPress.
If you want to host your email on this setup as well, then select the box where it says DreamHost Email.
Once you finalize everything, you'll be taken to the main dashboard.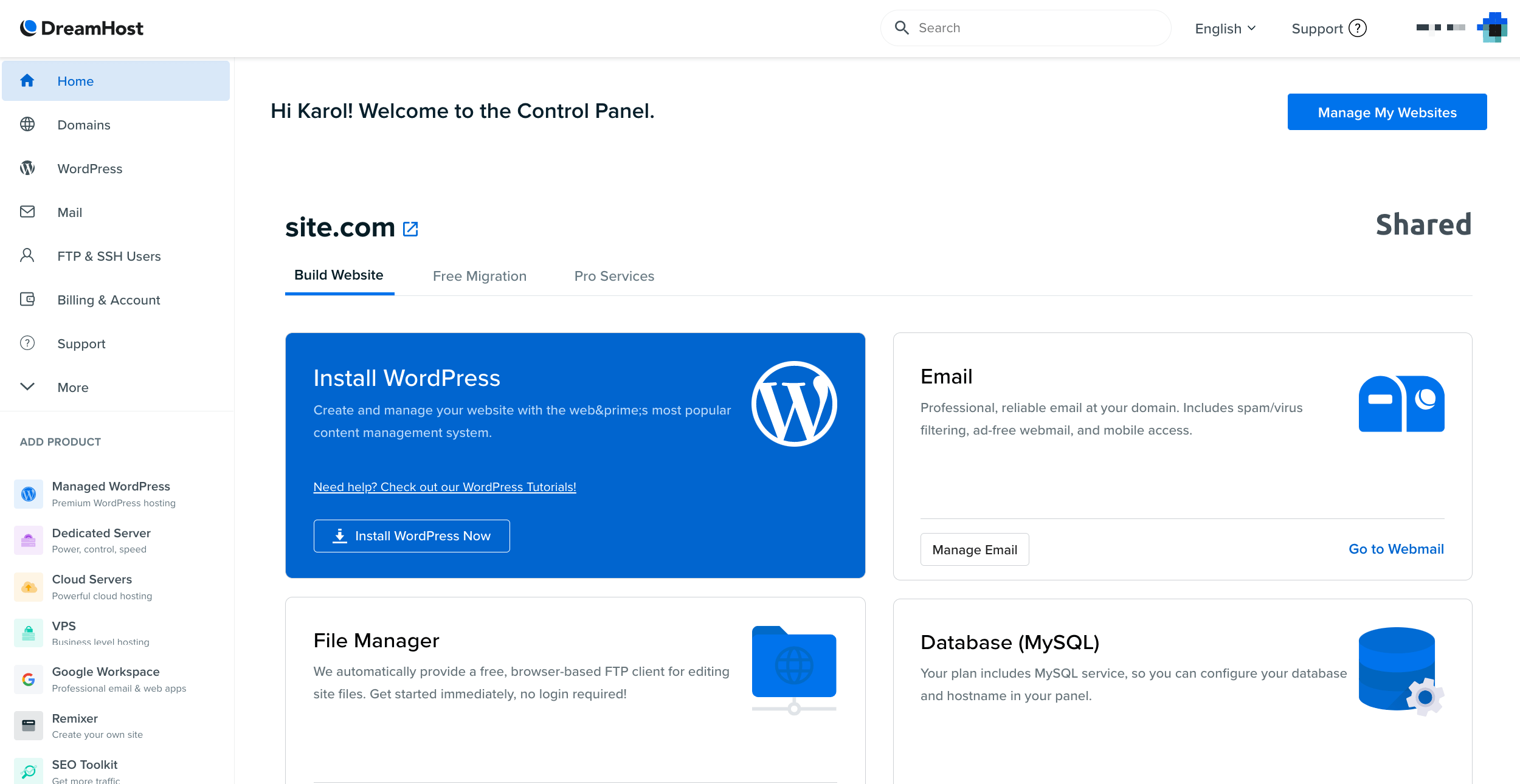 While DreamHost do give you quick access to all of the WordPress-based features, they also let you perform some standard server maintenance tasks. However, keep in mind that those are optional and not required to make your website operational in the first place. If you told DreamHost to install WordPress for you and got a domain name from them as well, then there's nothing more you need to do.
When it comes to working with WordPress itself, you can get to that in DreamHost by clicking on Manage My Websites in the top right corner. You'll see another panel with all of your site's vitals and current status. To access the WordPress dashboard directly, click on Manage next to the WordPress logo.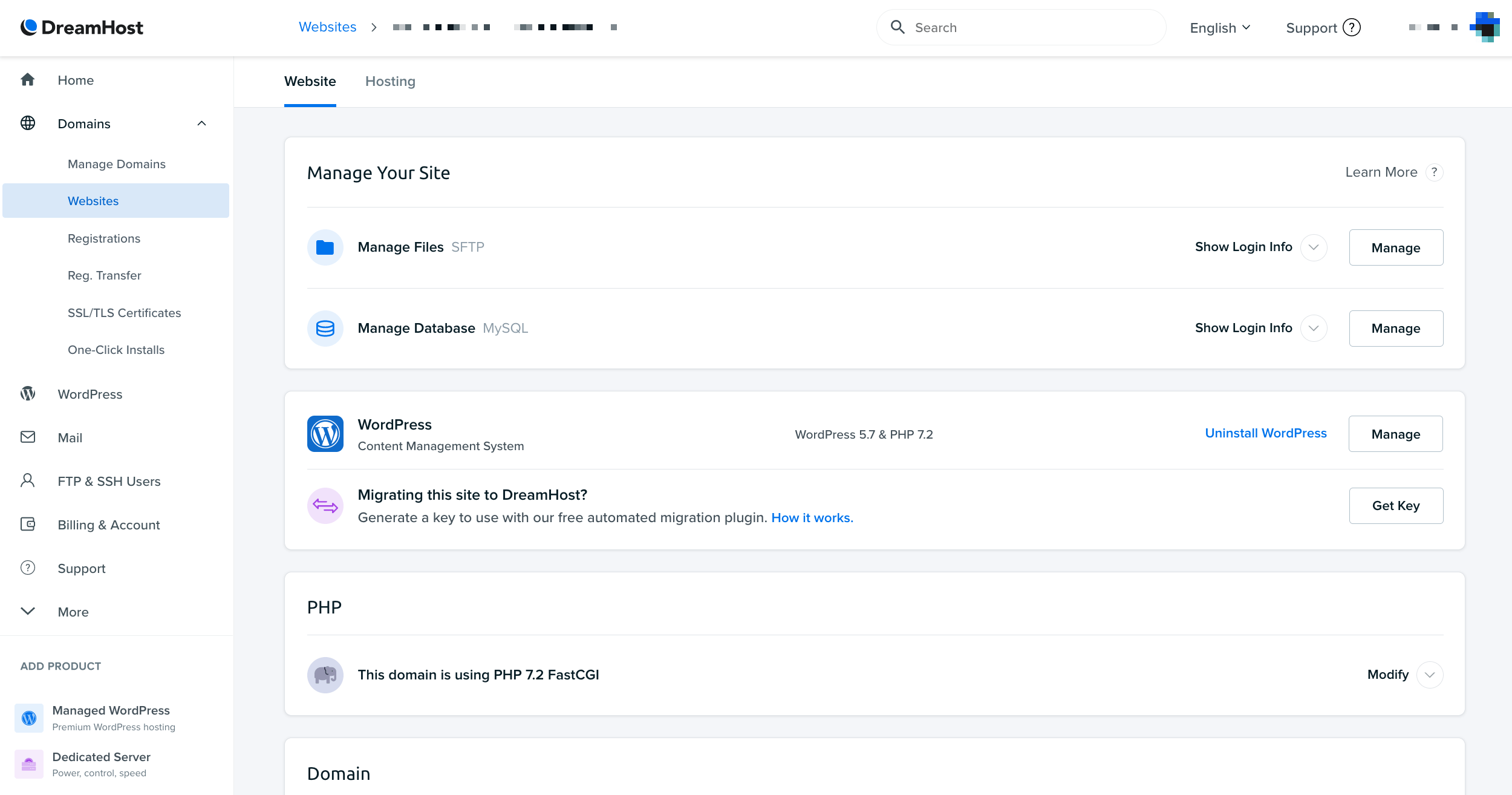 What you'll see as a result of this is the full, unrestricted WordPress dashboard. Here, you can install any theme or plugin, and perform any other operation WordPress allows.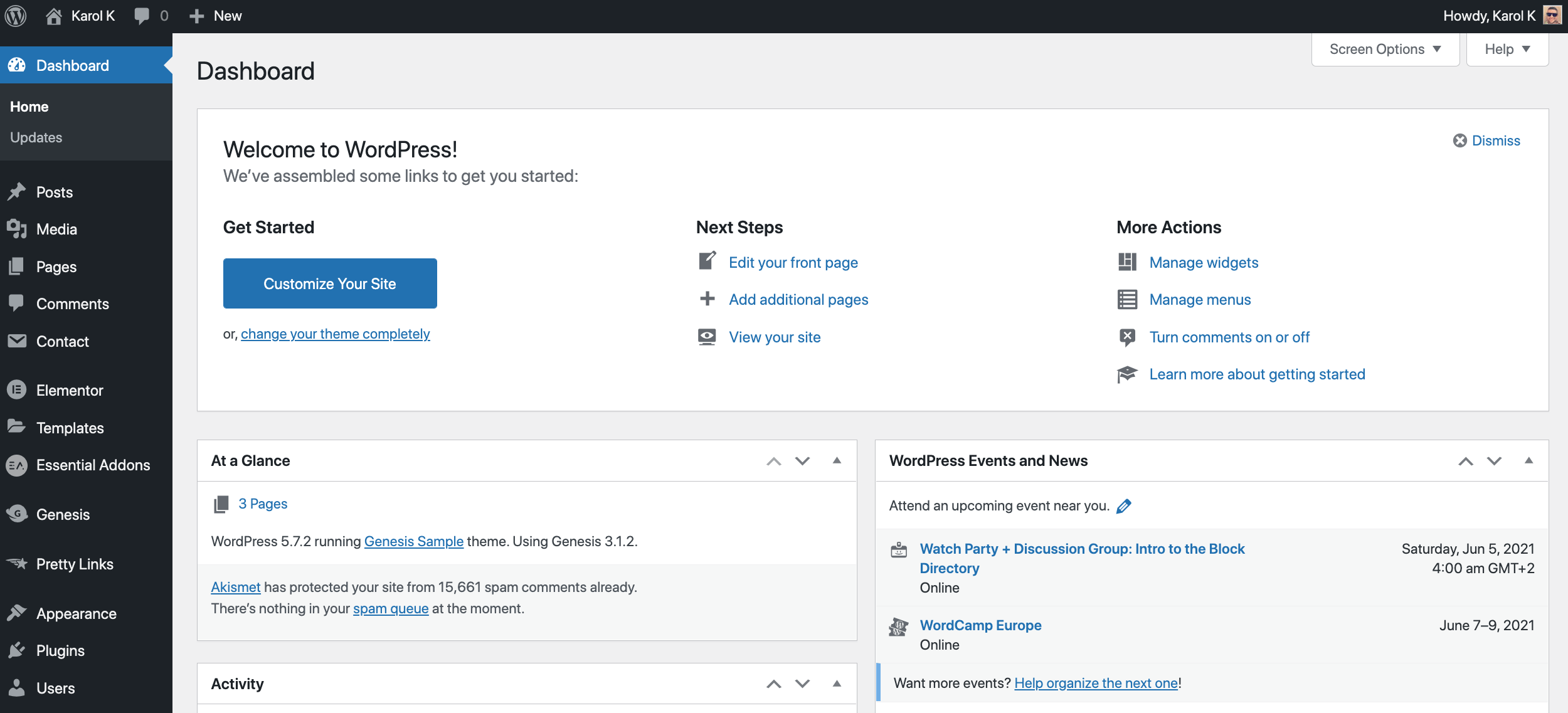 🎨 Designs of WordPress.com vs DreamHost
Since WordPress.com does put some limitations on the themes and designs you can add on your site, we have to cover this aspect of the deal separately.
WordPress.com gives you access to dozens of free themes in the main dashboard; you can see them by going to Appearance → Themes.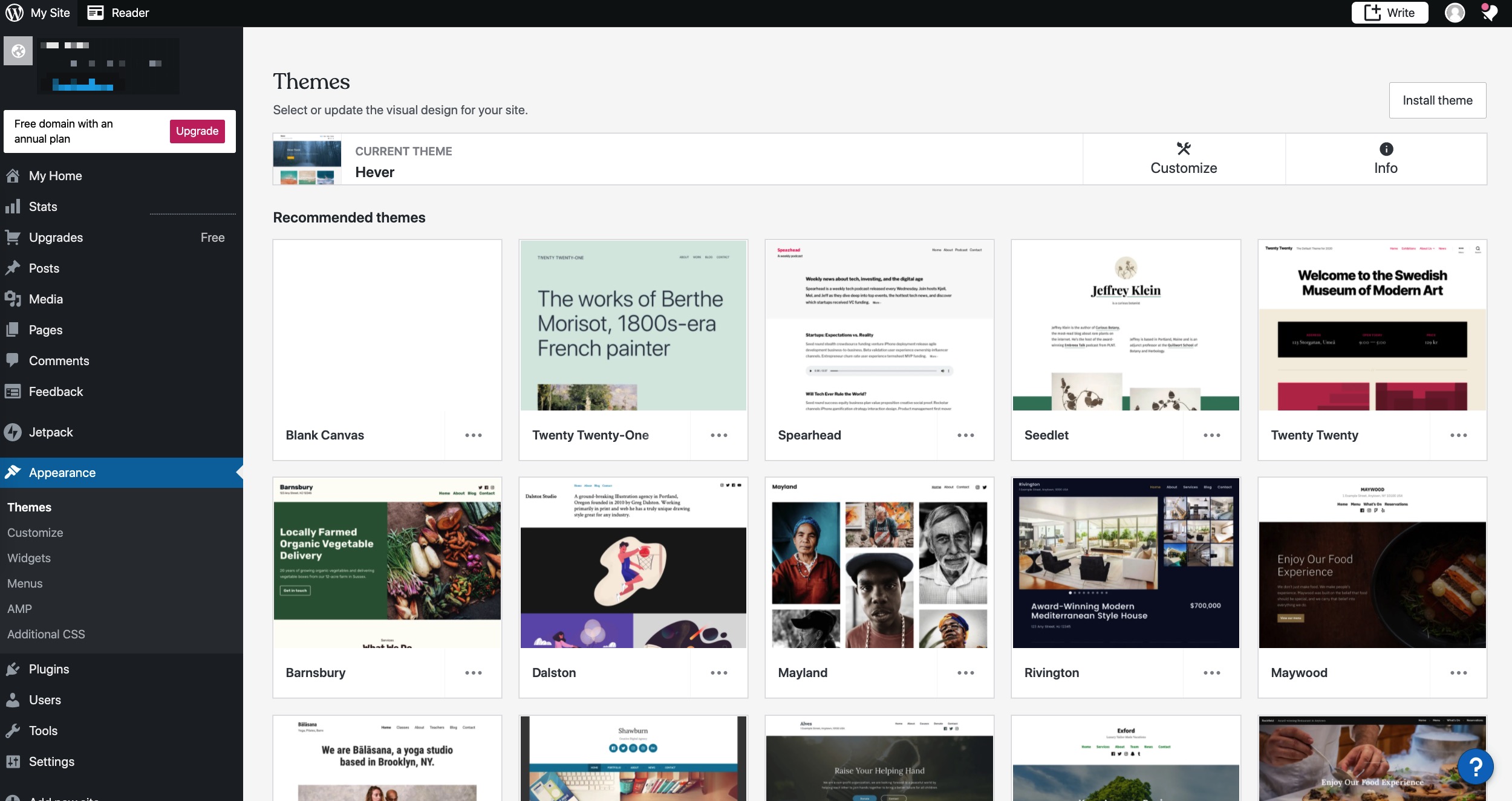 The themes are optimized for different devices and look modern. Some customization is possible, but only to the extent allowed by the developer.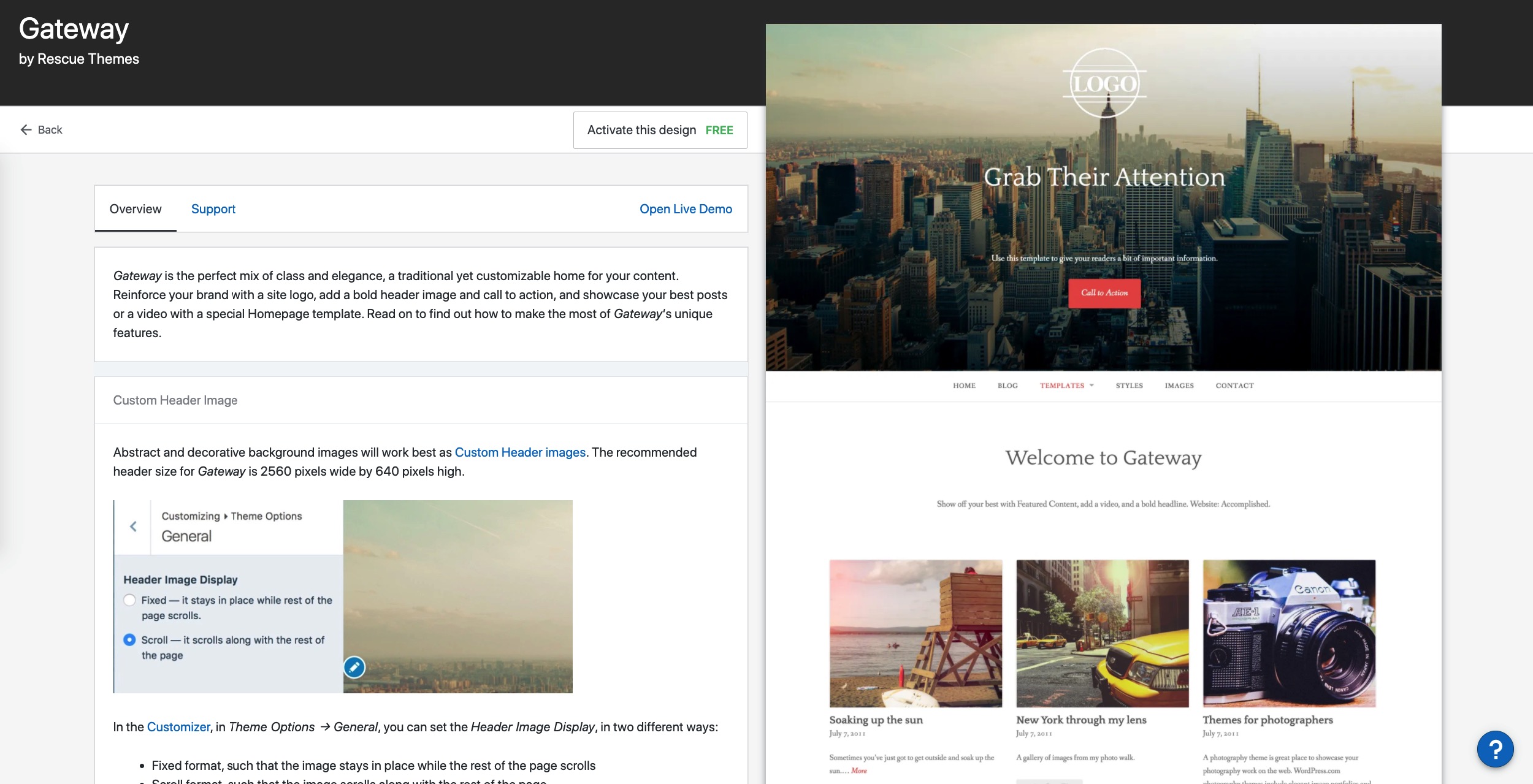 If you can't find anything you fall in love with among these free themes, there are also hundreds of paid options available, usually in the range of $59 to $125 apiece.
DreamHost, on the other hand, don't limit the catalog of available themes in any way. When you go to your WordPress dashboard, and then into Appearance → Themes, you'll be able to pick a free theme from ~4,000 themes available in the official WordPress theme directory (including some ultra-popular themes such as Astra or OceanWP).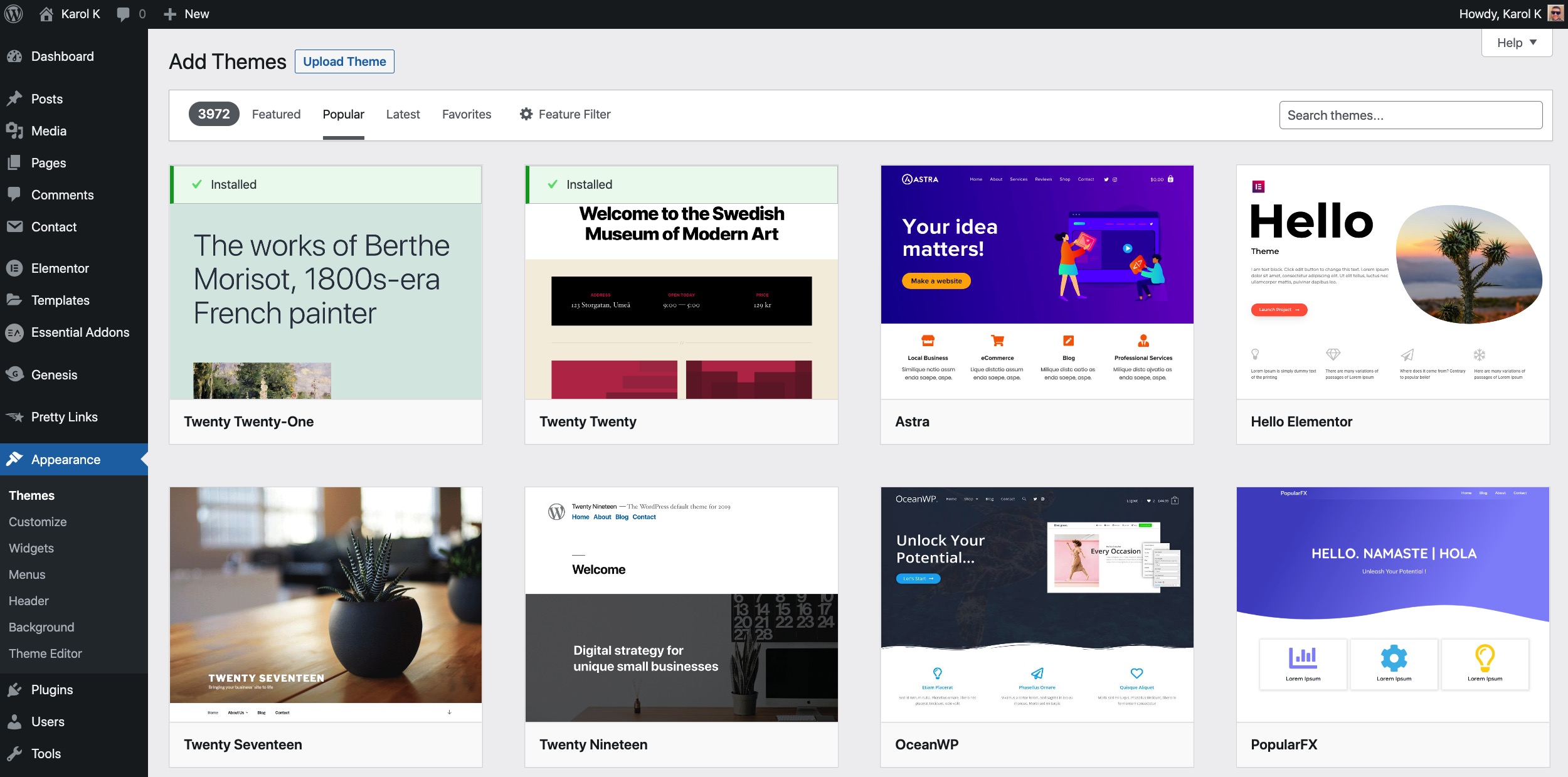 You can also customize those themes nearly endlessly. First, there are the customizations made available by the theme developer (similar to how it works with WordPress.com), but you can also customize your theme via third-party plugins and even hand-written code.
Lastly, you can add a completely custom theme to your DreamHost site as well. You can either get it made by a developer, or you can buy a premium theme from an online marketplace.
Overall, DreamHost give you a lot more in terms of the number of themes you have access to and the customizations available.
🏆 WordPress.com vs DreamHost: Which Is Better?
I wish I could just point you to one platform or the other and say, 'this one is better!', but I'm afraid things aren't that simple. The final choice will depend on what you need the site for, how much money you want to spend on it and how you're going to use it.
Here are some recommendations:
That's it! Have you used either of these platforms? Which one do you like better?