DreamHost vs Bluehost — which of these excellent web hosts (both recommended on the official WordPress.org web hosting page) is the right solution for your next WordPress website?
This is the question I'll be answering below. In this comparison, I'll cover what each of these web hosts has to offer, what the prices are, which one has a more impressive list of features, which is faster, and, ultimately, which one is the best choice!
🥜 Bluehost vs DreamHost in a nutshell
It's not without reason that Bluehost and DreamHost are considered leaders of the WordPress hosting space.
First of all, the WordPress.org official website openly endorses only three hosting companies, and Bluehost and DreamHost are two of them.
Then, there's everything each of these hosts brings to the table. Or, rather, the relation of price to value you get when choosing to work with them.
Basically, no matter whether you go with Bluehost or DreamHost, you'll find no significant features are missing, while the packages stay affordable overall.
Moreover, Bluehost and DreamHost are hosting companies you can grow with. ✈️ Apart from the entry-level plans, they also offer more advanced or high-traffic-ready setups that can withstand anything.
Last but not least, both hosts have managed to keep their interfaces easy to use. They offer a handful of helper tools to get you on track quickly, and then expansion tools to take better care of your site later on.
Popularity-wise, Bluehost are the more established player in the game. Even though DreamHost have been around for a couple more years (established in 1997, versus 2003 in Bluehost's case), Bluehost have built a bigger customer base over the years.
At first glance, it's quite difficult to make up your mind and decide which of these hosts is going to be better for you. I'll try to solve that by examining the specific elements of their offers versus your individual needs.
🧰 Features and Pricing of Bluehost vs DreamHost
First, let's look at all of the web hosting plans each company offer. As you'll see, both Bluehost and DreamHost go way above and beyond entry-level hosting or even WordPress hosting.
While you may need only one specific type of hosting right now, it's good to see what else each company has, so you know if you can grow with them over time.
Bluehost
DreamHost

✅

Shared web hosting

✅

Shared web hosting

✅

Basic WordPress hosting

✅

Basic WordPress hosting

✅

Managed WordPress hosting

✅

Managed WordPress hosting (DreamPress)

✅

WooCommerce hosting

✅

WooCommerce hosting

✅

VPS hosting

✅

VPS hosting

❌

✅

VPS WordPress hosting

❌

✅

Cloud hosting

✅

Dedicated servers

✅

Dedicated servers

✅

Reseller hosting

❌

✅

Email hosting (via Microsoft 365)

✅

Email hosting (in house and via Google Workspace)

✅

Domain registration

✅

Domain registration
WordPress support/maintenance service called Blue Sky, and marketing services
Pro services (design, marketing, website management, web development, SEO marketing, social media marketing)
As you can see, this is quite a lot from both companies! No matter whether you want to build a simple site or a more demanding web application, both Bluehost and DreamHost will be able to handle the task.
But let's not get into too much detail on the different types of hosting available, and instead focus on what most users will be looking for: Entry-level WordPress hosting plans.
💰 Entry-level WordPress Hosting with Bluehost and DreamHost
Going forward, I'll be talking about the entry-level offerings from each company. 'Budget friendly' is the theme we're going for here, but this doesn't mean that we'll be sacrificing quality. As you'll see, both Bluehost and DreamHost give you quite a lot for a very modest sub-$3 price tag.
Here are the features you get with Bluehost and DreamHost, and what they're going to cost you:
| Bluehost | DreamHost |
| --- | --- |
| $2.95 a month | $2.59 a month |
| One website | One website |
| 50 GB of disk space | 50 GB of disk space |
| Unmetered bandwidth | Unmetered bandwidth |
| Free domain name | Free domain name |
| Domain privacy for $15 per domain per year | Free domain privacy |
| Daily backups via CodeGuard for $35.88 per year | Free automated daily backups |
| Basic email hosting included (five accounts) | Email hosting at $1.67 a month |
| Automatic WordPress installation | Automatic WordPress installation |
| Free SSL | Free SSL |
| Free CDN | Free automated WordPress migrations (if you're coming from another host) |
| 24/7 phone and live chat support | Customer support via chat (5.30am to 9.30pm PT) and email |
At first glance, the packages from both companies are very similar; the only key differences are backups, domain privacy, and email hosting.
Let's start with email hosting:
Bluehost offer email hosting bundled in for free. Although the feature is a little hidden in the Advanced tab of the account settings, new email inboxes can be set up on even the cheapest hosting plan at no cost.
DreamHost offer free email hosting only on their higher-tier WordPress Unlimited plans that are $3.95 a month. If you're on the Starter plan at $2.59, adding email is going to cost you $1.67 a month per inbox. So, if you want to host email alongside your website, you're better off with DreamHost's Unlimited plan right from the get-go.
The fact that Bluehost charge a comparatively large amount for domain privacy and backups is unfortunate, but it's also something that's not mandatory for you to have. You can still get backups free of charge if you use a third-party solution such as UpdraftPlus, for instance.
All things considered, Bluehost are still going to be cheaper for most users in most scenarios (mainly because of the email hosting being included).
However, there's one more thing you should know about this pricing from both Bluehost and DreamHost: What you're seeing here are introductory prices. This means two things:
The prices depend on the contract length you're willing to sign.
The prices are only valid for the initial period you signed the contract for.
Here's how the price changes based on the period:
36-month contract — $2.95 a month.
24 months — $3.95 a month.
12 months — $4.95 a month.
The renewal prices also depend on the new contract length:
36-month contract renewal — $8.99 a month.
24-month renewal — $9.49 a month.
12-month renewal — $9.99 a month.
Month-to-month payments — $10.99.
36-month contract — $2.59 a month.
12 months — $3.95 a month.
One month — $4.95.
Renewals:
36-month contract renewal — $5.99 a month.
12-month renewal — $6.99 a month.
Month-to-month payments — $7.99.
This starts painting quite an interesting picture. While Bluehost is cheaper initially (considering you're also getting email hosting included), hosting your site with them for longer than three years will be more expensive than with DreamHost.
Granted, this may not be something you're going to concern yourself with right now, but you should still be aware of the expenses that are potentially coming down the road.
Note on Bluehost pricing: The prices you see above — $2.95 a month — are only available if you go to Bluehost.com through one of the links on this page. These are our affiliate links. If you were to visit Bluehost.com directly, you'd get a higher price of $3.95 a month.
'Okay, but what specific server features do I get from Bluehost and DreamHost?' I can hear you asking.
There are no significant differences between Bluehost vs DreamHost. Both come with the latest PHP version support, optimized databases, SFTP, shell access, WP-CLI, and more. And when it comes to how easy it actually is to run WordPress on these hosts, that's what we're going to cover next:
🙌 Ease of Use of Bluehost vs DreamHost
Let's see how each company compares for ease of use:
Bluehost Ease of Use
Bluehost have been doing a lot to position themselves as one of the easiest-to-use hosts on the market. They're focusing on three main aspects to achieve this:
Pre-installing WordPress, so most users get a working site right out of the gate.
Providing a simple interface that's easy to grasp and navigate for performing standard website management tasks.
Removing the need to take care of any so-called server maintenance on your own.
For instance, when you first sign up with Bluehost, you'll be able to pick if you want Bluehost to install WordPress for you or if you want to handle everything by hand.
Bluehost also let you choose a WordPress theme right from the main interface and have it installed automatically. You can then step in and customize that theme to your liking. Alternatively, Bluehost have a whole site builder module of their own where they walk you through a guided drag-and-drop website creation with curated color palettes and fonts.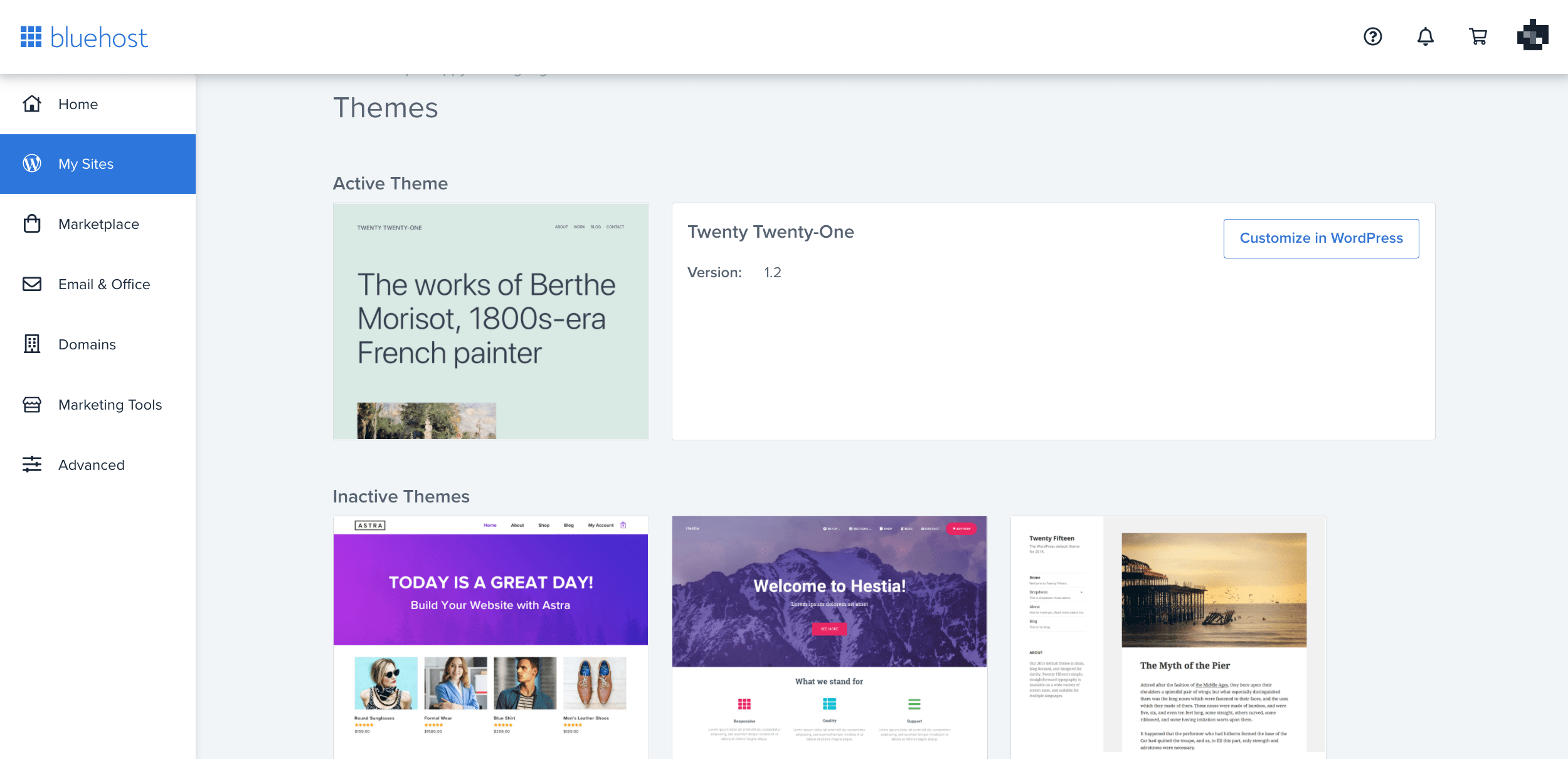 What this effectively does is lets you pick the exact amount of hand-holding you require based on your skills and experience. This model is super-friendly toward beginners in particular!
Your main hosting dashboard is also very clear, and it has every crucial element of the interface neatly laid out in the sidebar.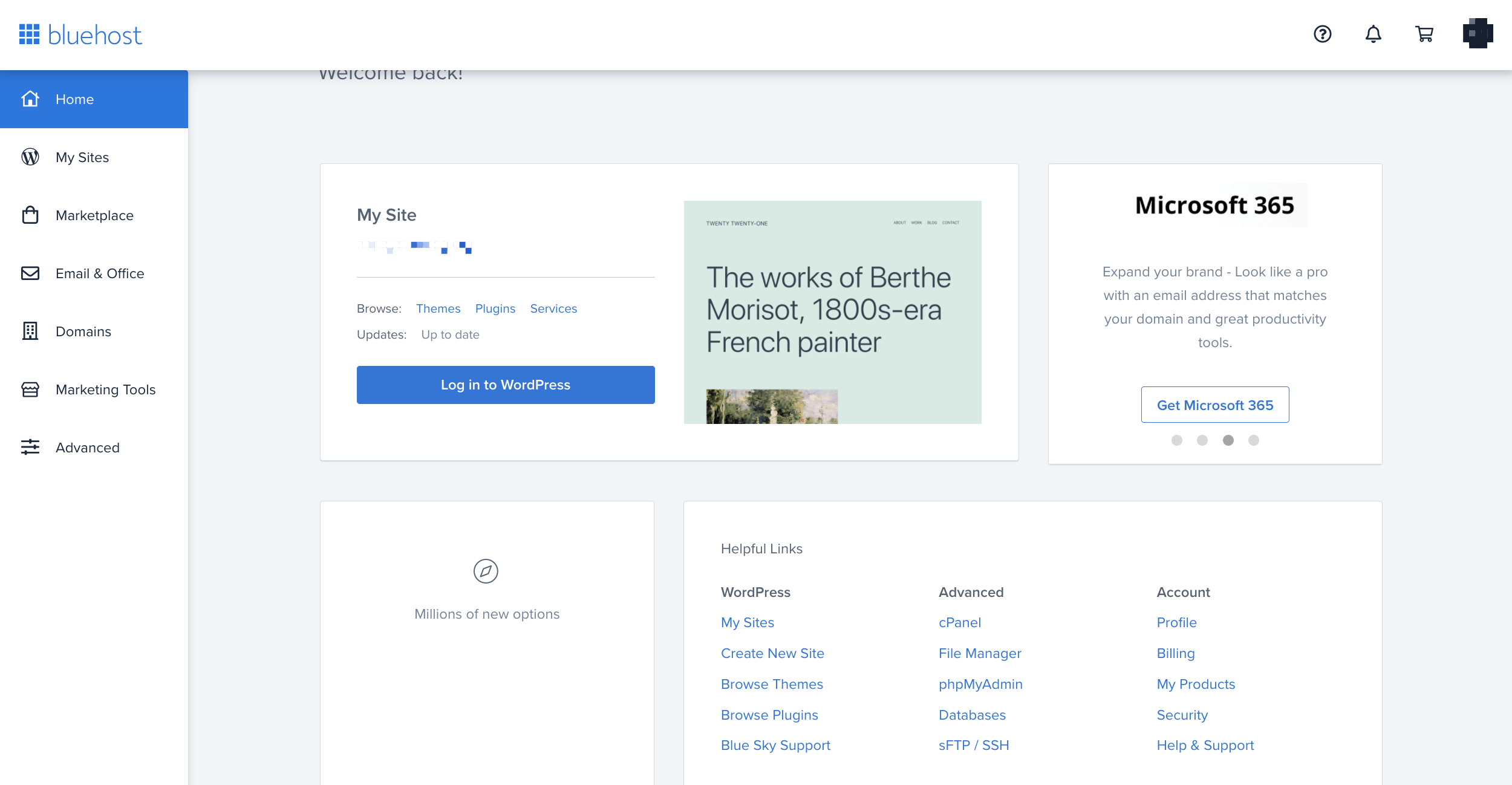 Bluehost tries to limit the interface bloat that's common with other web hosts. It only highlights the actions most users will want to do, and then there's a checklist in the center part to guide you through the essential steps when launching a website.
The My Sites section is where you can find the websites that are part of your account (for most users, it's going to be one website only). That sub-section of the user panel focuses, again, only on the most crucial tasks most users will be looking for.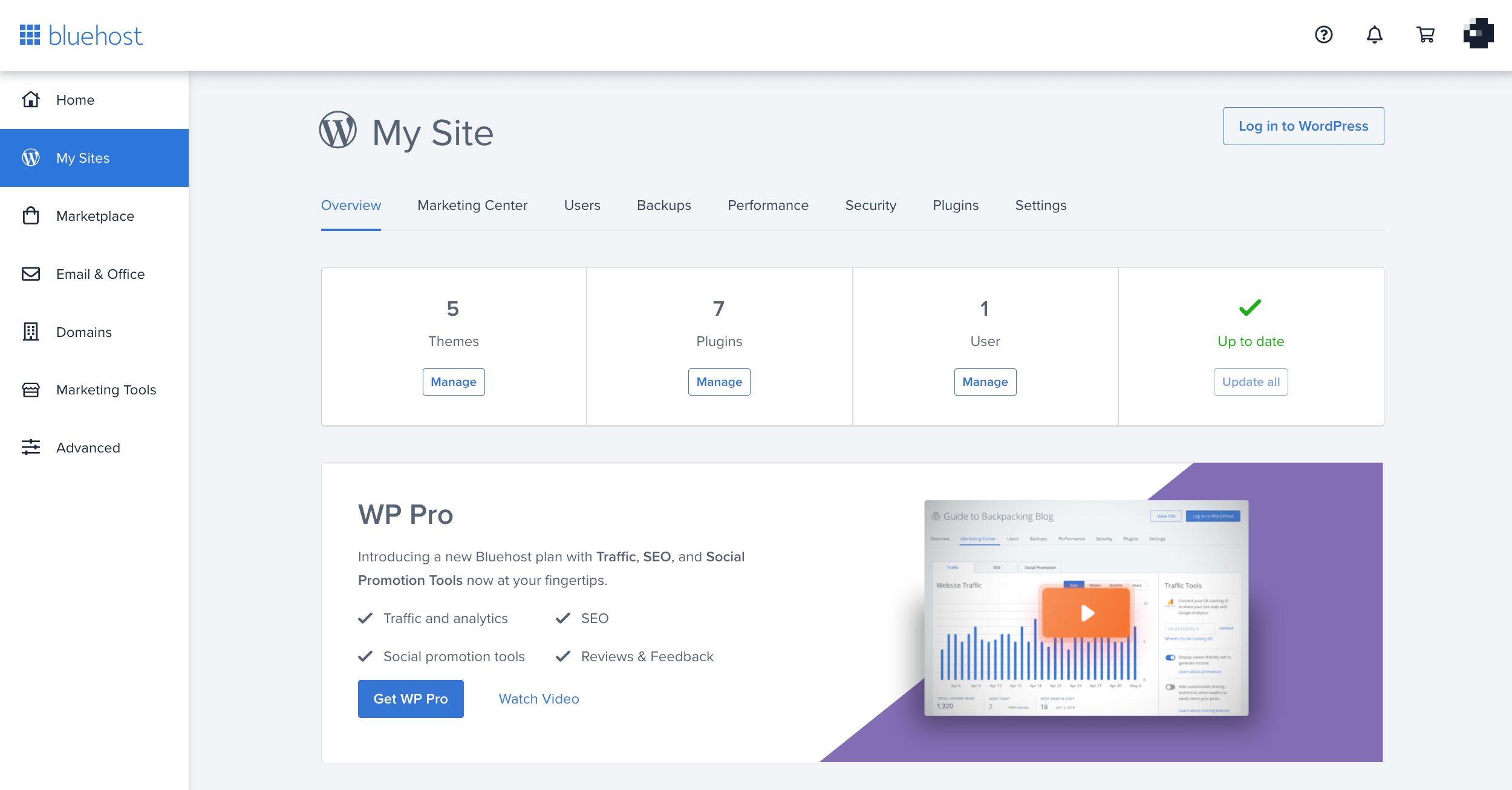 Marketing center (Google Ads and Google My Business integrations).
User accounts on the site.
Backups.
Performance data.
Security.
WordPress plugins.
General site settings (the most commonly accessed settings for things such as comments, automatic updates, and so on).
You can also log in to the wp-admin directly from there.
Overall, Bluehost do a lot to bring the most important WordPress settings to the forefront and make them easily accessible without having to hunt for them in the native WordPress dashboard interface.
Plus, the fact that you can get WordPress pre-installed and set up with a theme right from the get-go makes things much more hassle-free altogether.
On the other end of the spectrum, if you're an advanced user, you can still access the full cPanel interface by going to the Advanced section of the dashboard.
DreamHost Ease of Use
Getting started with DreamHost is similarly straightforward, at least when it comes to the signup process itself.
Right during checkout, you can pick whether you want to have WordPress pre-installed on your setup.

No worries if you forget to check that box, as you can always add a WordPress site to your profile later.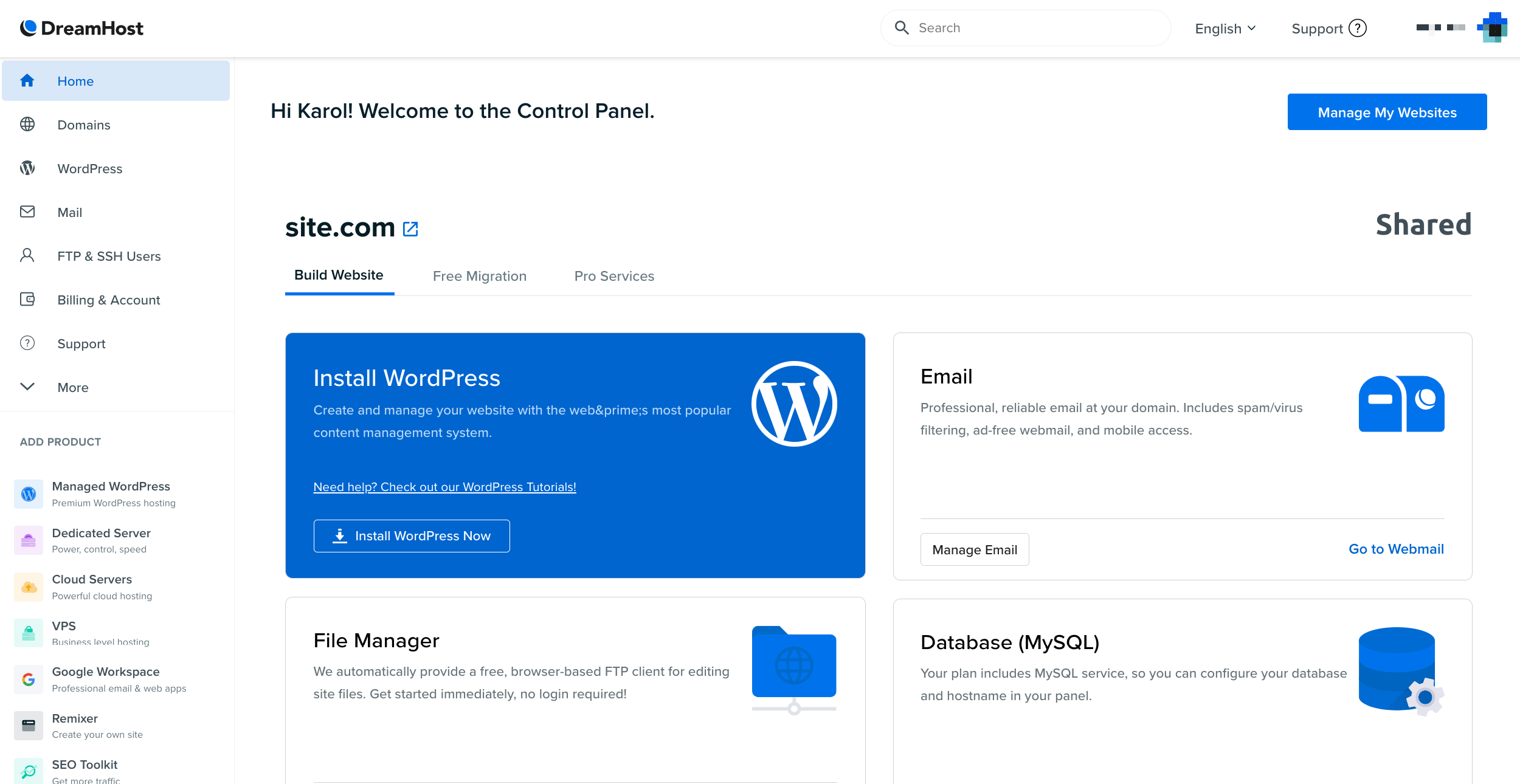 As you can see in the screenshot above, apart from site building tools, you can also migrate an existing site to DreamHost or take advantage of some of the pro services (basically a paid migration service for more elaborate setups).
Then, in the sidebar, DreamHost have sections for managing your other web assets, such as your domain name, other server setups (if you have more than one with DreamHost), your email inboxes and related settings (anti-spam, autoresponders, and so on), FTP accounts, and more.
When it comes to managing your WordPress site, you can do that by clicking on the Manage My Websites button in the main dashboard (visible in the screenshot above).
This part of the panel gives you an overview of the key parameters of your server, and gives you direct access to your FTP, databases, PHP version, domain and security settings. You can also access the WordPress dashboard directly by clicking on one of the Manage buttons.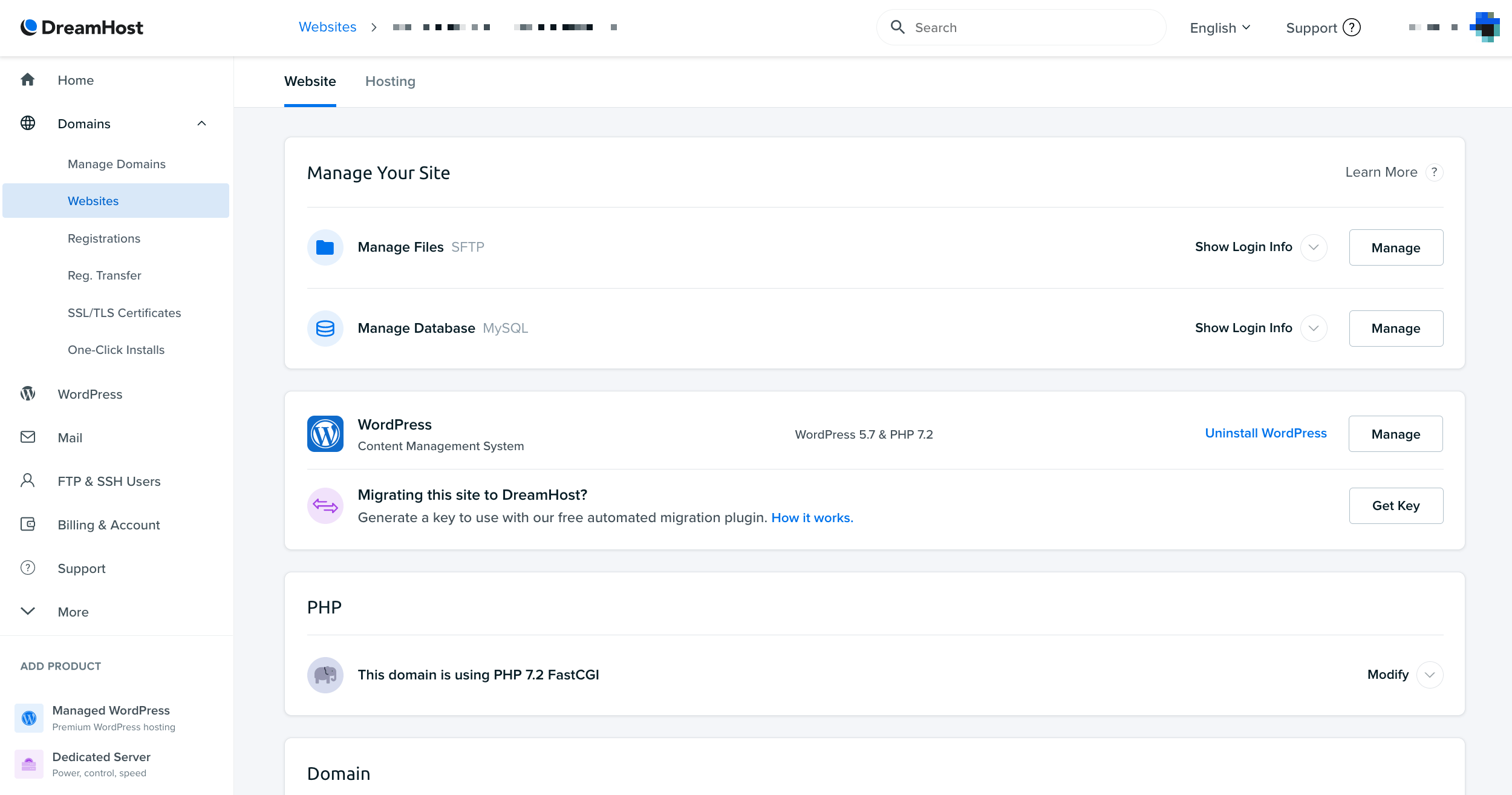 It's fairly apparent that DreamHost went for a more server-centered look for their user dashboard than Bluehost, which is more WordPress-centered.
What I mean is Bluehost presents more WordPress-specific parameters of your setup and also gives you direct access to managing your plugins, themes and other elements of a standard WordPress site, whereas DreamHost puts more focus on direct access to your databases and server settings themselves. What this comes down to is DreamHost's interface is nearly as easy to use as Bluehost's… but not quite there.
I still have to give Bluehost a slight edge in the ease-of-use department. Their interface seems a bit more thought-through — especially for beginners. You can get to the thing you're looking for quicker, and you're spared all of the advanced stuff if you're not interested in it.
📈 Performance and Loading Times
Now we know how easy both platforms are to use, and how much it's going to cost you to use them, let's see how fast they really are in an actual use case.
I set up two websites (one each on Bluehost and DreamHost), imported some example data on them, installed a couple of commonly used plugins (such as Yoast SEO, Contact Form 7, Jetpack, Wordfence), and then did performance tests to see how fast each of these sites managed to load (from several locations).
I did three individual tests for each site. The numbers you see below are the averages. Here are the results:
Bluehost:
| Location | Load Time | TTFB | First Paint | Interactive |
| --- | --- | --- | --- | --- |
| Ohio, US | 1.76 s | 1234 ms | 1.97 s | 2.26 s |
| California, US | 1.39 s | 1274 ms | 1.67 s | 1.93 s |
| Frankfurt | 1.65 s | 1536 ms | 1.96 s | 2.22 s |
| London | 1.75 s | 1633 ms | 2.03 s | 2.31 s |
| Mumbai | 1.89 s | 1746 ms | 2.19 s | 2.47 s |
| Sydney | 1.75 s | 1642 ms | 2.04 s | 2.36 s |
Bluehost Load Times
DreamHost:
| Location | Load Time | TTFB | First Paint | Interactive |
| --- | --- | --- | --- | --- |
| Ohio, US | 1.50 s | 984 ms | 1.59 s | 1.90 s |
| California, US | 1.28 s | 1013 ms | 1.39 s | 1.68 s |
| Frankfurt | 2.48 s | 1392 ms | 2.20 s | 2.55 s |
| London | 2.41 s | 1381 ms | 2.17 s | 2.50 s |
| Mumbai | 3.52 s | 1751 ms | 2.89 s | 3.54 s |
| Sydney | 2.41 s | 1388 ms | 1.99 s | 2.39 s |
DreamHost Load Times
Note: "TTB" = Time to First Byte = the time between the browser requesting a page and when it receives the first byte of information from the server.
As you can see, the results are quite similar between Bluehost vs DreamHost, and neither platform has built up a significant lead.
Hovering around the two-second mark is what you'd expect at this price point, and the fact that both platforms maintain good results across the globe is more than you could ask for. Plus, if you're hoping to attract visitors from the US, then you basically have nothing to worry about from either web host.
Since we're talking about performance, it's probably a good moment to mention the higher tier of managed WordPress hosting at both Bluehost and DreamHost. As mentioned earlier, the plans I'm comparing are the entry-level offerings (on the cheaper side). However, both companies also offer setups that are capable of handling more load.
Bluehost have their line of managed WordPress hosting starting at $9.95 a month. Compared with the entry-level, you get additional locations for the global CDN, built-in high availability optimizations, staging environments, Jetpack Personal, daily scheduled backups, malware detection and removal, and free domain privacy. Recommended for ~50k monthly visitors.
DreamHost have their 'DreamPress' line of hosting options starting at $16.95 a month. You get one-click staging, on-demand and daily backups, unlimited email hosting, built-in caching, Jetpack Personal, and WordPress specialized support. Recommended for ~100k monthly visitors.
Both solutions are meant to be your next step up when you start outgrowing your entry-level WordPress hosting. These setups are arguably more optimized and can handle more visitors coming to your site simultaneously. The additional tools, such as staging, also make it easier to work on website improvements or add new elements without potential crashes. This is surely something to think of once you have a site that attracts more than ~10k visitors a month.
🏆 Bluehost vs DreamHost: Which Is Better?
Neither of these hosting platforms emerges as the clear winner; both Bluehost and DreamHost have their strong points, and each will be better tailored to specific types of users.
Here are some final recommendations:
Used/using either DreamHost or Bluehost? Thoughts and experiences?
Related Posts: