If you're in the market for a customizable, functional WordPress theme that'll also be able to handle whatever you throw at it, looking into OceanWP vs Avada is a very good start.
Both themes are highly capable, and feature-rich enough that they can be the foundation of most types of website or web project. However, while the final effect achieved with either theme may appear similar, they differ significantly in how they go about executing it.
Avada is the best-selling theme in the whole ThemeForest marketplace.
OceanWP is the fastest growing theme in the WordPress.org directory.
But which is better?
🦅 OceanWP vs Avada: The Bird's Eye View
This is what you should know about OceanWP and Avada, in a nutshell:
| OceanWP | Avada |
| --- | --- |
| It's a customizable multipurpose WordPress theme. The bulk of the customization can be done via WordPress's native Customizer interface. | It's a theme that's often called the 'Swiss Army knife' of WordPress themes. It's highly multipurpose and comes with a huge range of features out of the box. |
| The theme allows you to build a basic functional website, and also gives you access to add-ons for more advanced functionality. | The theme is a full package, containing all of the standard features that any given website may need, plus an exceptional customization potential. There are also integrations with some premium plugins built-in. |
| Comes with: Compatibility with popular page builder plugins (Elementor, Brizy, Beaver Builder, Divi Builder), SEO features, fully responsive structure, original features for WooCommerce, a structure that's lightweight and optimized for performance. | Comes with: Its own page builder, called Fusion Builder Live, a functional theme options panel, pre-designed starter sites, Theme Builder functionality (for creating new layouts on a per-page basis). |
💰 Pricing
OceanWP and Avada go about their pricing strategies a bit differently. Here's what's up:
OceanWP
Avada
100% free version available.
No free version available.
Three pro licenses available:
– Agency — $103 a year, use on 25 sites.
– Business — $63 a year, use on three sites.
– Personal — $31 a year, use on one site.

All licenses come with the same features: Two months of updates and support, 13 premium extensions, 60 pro demos included.

All licenses available as one-time 'lifetime' deals as well, respectively at $415, $255, $127.
Regular License: $60.

Comes with future updates (unlimited), six months of customer support (you can extend support to 12 months for an additional $18).
Fourteen-day money-back guarantee.
No money-back guarantee.
Use on one to 25 sites, depending on the license.
Use on one website.
Premium extensions included: Sticky Anything, Full Screen, Cookie Notice, Popup Login, Instagram, White Label, Portfolio, Woo Popup, Sticky Footer, Modal Window, Posts Slider, Custom Sidebar, Elementor Widgets.
You get integrations with five premium plugins: Fusion White Label Branding, Convert Plus, Advanced Custom Fields Pro, LayerSlider WP, Slider Revolution. The trick here is that you're required to issue a separate payment (buying each plugin's license) to be able to use them.
A quick comment on the pricing of OceanWP vs Avada:
OceanWP has a perfectly usable free version. This will be enough for most users, especially the casual ones who just want to build a basic website. The extra extensions then let you build more advanced websites with custom features. Using OceanWP on a single website is half the price of Avada, and using it on multiple websites can be as much as 15 times cheaper.
Avada has a very straightforward pricing model. If you want to use it, it's going to be $60 apiece. Need it on two sites? That's $120, and so on. You also can't test it out for free, which can be a huge downside for some people.
🧰 Features
Even though both themes say they're multipurpose, they have different ways of making that vision a reality:
OceanWP is an effective tool to build any type of website. However, you won't be able to do so without a lot of tinkering under the hood, installing extensions and picking the elements to be used on the site.
Overall, this approach gives you more control over your website. You end up with the exact set of features you need, and you don't need to worry about having to keep the modules you're not using. However, this also requires you to go through several different settings on your way to the final result.
Avada is, again, a Swiss Army knife. You get all of the features already built in and don't have to do anything in terms of add-ons or extensions (at least not for the basic stuff). The sheer power and capability of the default theme package is impressive.
However, you'll still have to configure all of that stuff to make it work. Granted, the theme options panel looks to be well suited to handling this volume of settings, but you don't get as much freedom to remove the features you don't need.
Here are some of the features each theme offers:
Made to work with third-party page builder plugins.
Lightweight and optimized for site performance.
Thirteen free website demos and 60 pro demos for different niches.
In-depth integration with WordPress Customizer — basically, every little detail of your site's appearance can be tweaked via the Customizer.
Custom WooCommerce integration features, including a native cart popup, a floating add-to-cart bar, off-canvas filters, a product quick view, and more.
Headers and footers are fully customizable.
SEO features built in.
Translation-ready and supports RTL scripts.
Fully responsive output.
Eight free extensions (add-ons) and 13 premium extensions.
The different JavaScript and CSS scripts that control various aspects of your site can be enabled/disabled individually.
Comes with Avada's own page builder — Fusion Builder Live, featuring 70-plus design elements you can use when building your pages.
A massive theme options panel allowing you to adjust every detail of the theme and its appearance.
Sixty-plus starter designs available.
Theme Builder module allowing you to modify the designs and layouts on a per-page basis, as well as for the whole site.
WooCommerce integrations.
Customizations available for single post listings, portfolios and post archives.
SEO-friendly markup.
Translation-ready, supports RTL scripts and comes already translated into 30-plus languages.
Fully responsive output.
There's nothing obvious that's missing from either WordPress theme, but one of the key differences is in each theme's approach toward page builders.
OceanWP expects you to use your favorite builder, so there's no learning curve and no additional pain of changing your ways.
Avada has its own builder — Fusion Builder Live. While you can technically still use Elementor, Beaver Builder, and so on, Fusion Builder Live will probably integrate with the theme on a deeper level. The builder isn't bad in any apparent way, but I'd bet that tools such as Elementor will prove to be of higher quality over the long term.
With the features covered, here's how putting them to good use turns out in practice for OceanWP and Avada:
⚙️ Using the Themes
Here are some of the things I'm going to look at:
The interfaces of both themes.
The customizations available.
The steps to take you from a blank canvas to a finished website.
First, installing the themes:
With OceanWP, it's a straightforward process. Just go to the WordPress dashboard and find the theme through Themes → Add New.
Avada is a premium-only theme, which means you first have to get your hands on the ZIP archive of the theme (after completing your purchase on ThemeForest). Then, you can add and activate it through Appearance → Themes → Add New → Upload Theme.
The thing is, highly customizable themes such as these two don't look like much out of the box. To get the full benefit of using them, you first have to either import a starter site or build your design using the tools that come with the theme.
Here's how this process works with each:
Working with OceanWP
The first thing you'll want to see after activating OceanWP is the theme's settings panel. OceanWP will suggest installing some additional plugins to unlock its full potential. The suggested plugins are Ocean Extra (includes additional settings and features for the theme), Elementor and WPForms.
OceanWP doesn't make these installations mandatory, but you'll miss out on a lot of stuff if you decide not to go through with this.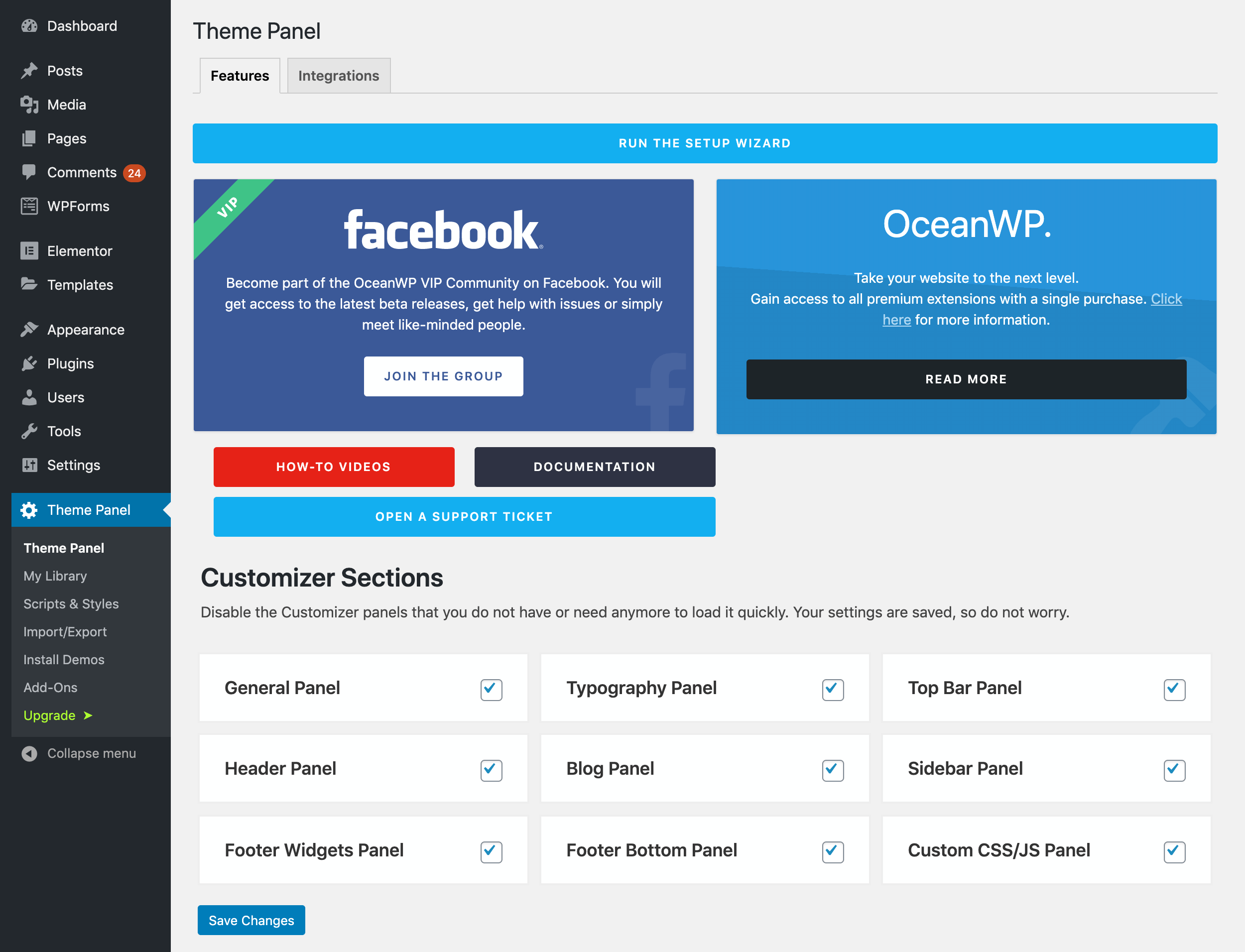 Next, OceanWP has a setup wizard that will take you through the main settings of the theme. You can enter it by clicking on the RUN THE SETUP WIZARD button visible in the screenshot above.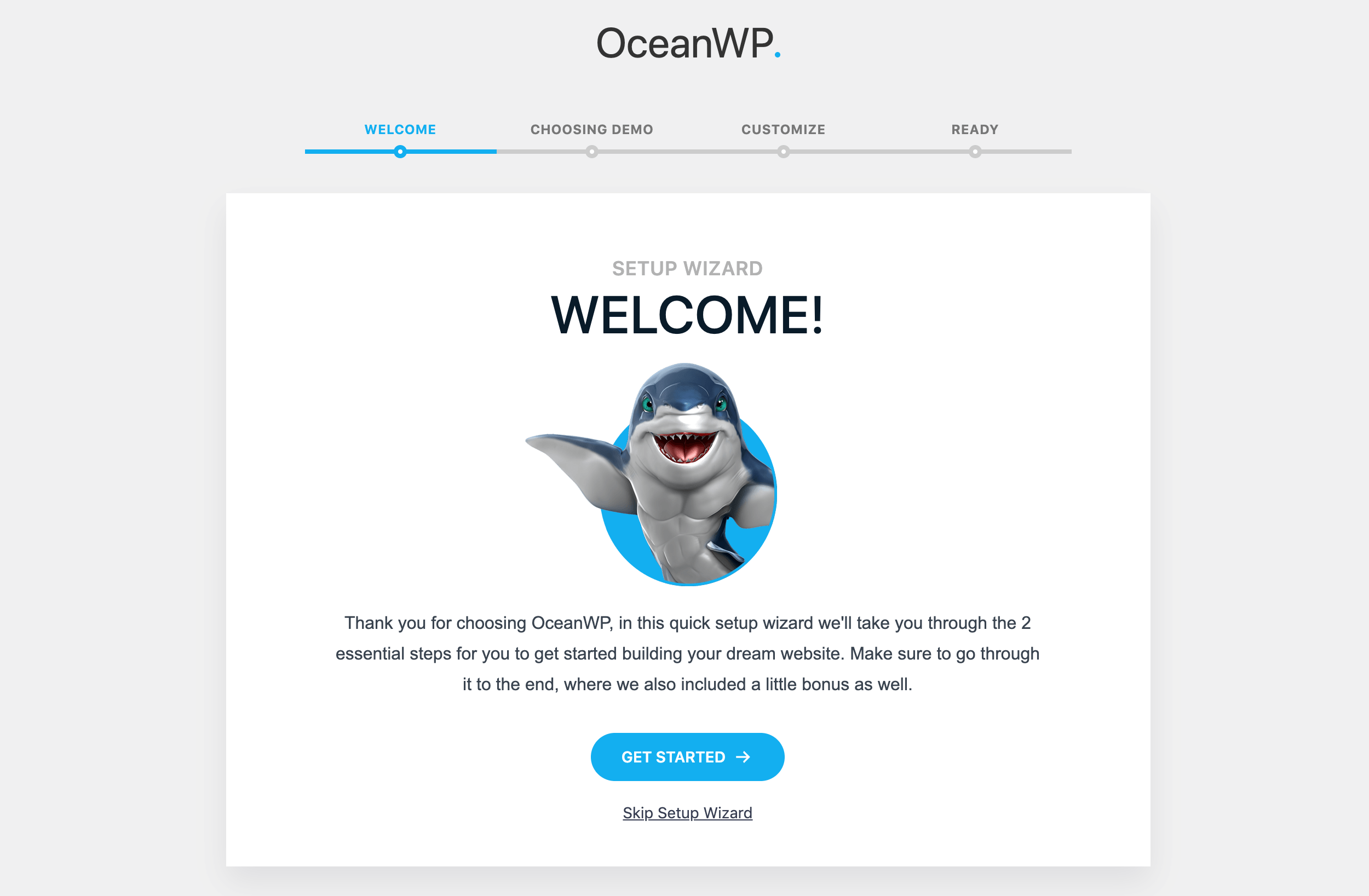 The first step is the most impactful one: Selecting a starter site design. There are a dozen free designs available, plus 60 more in the pro version.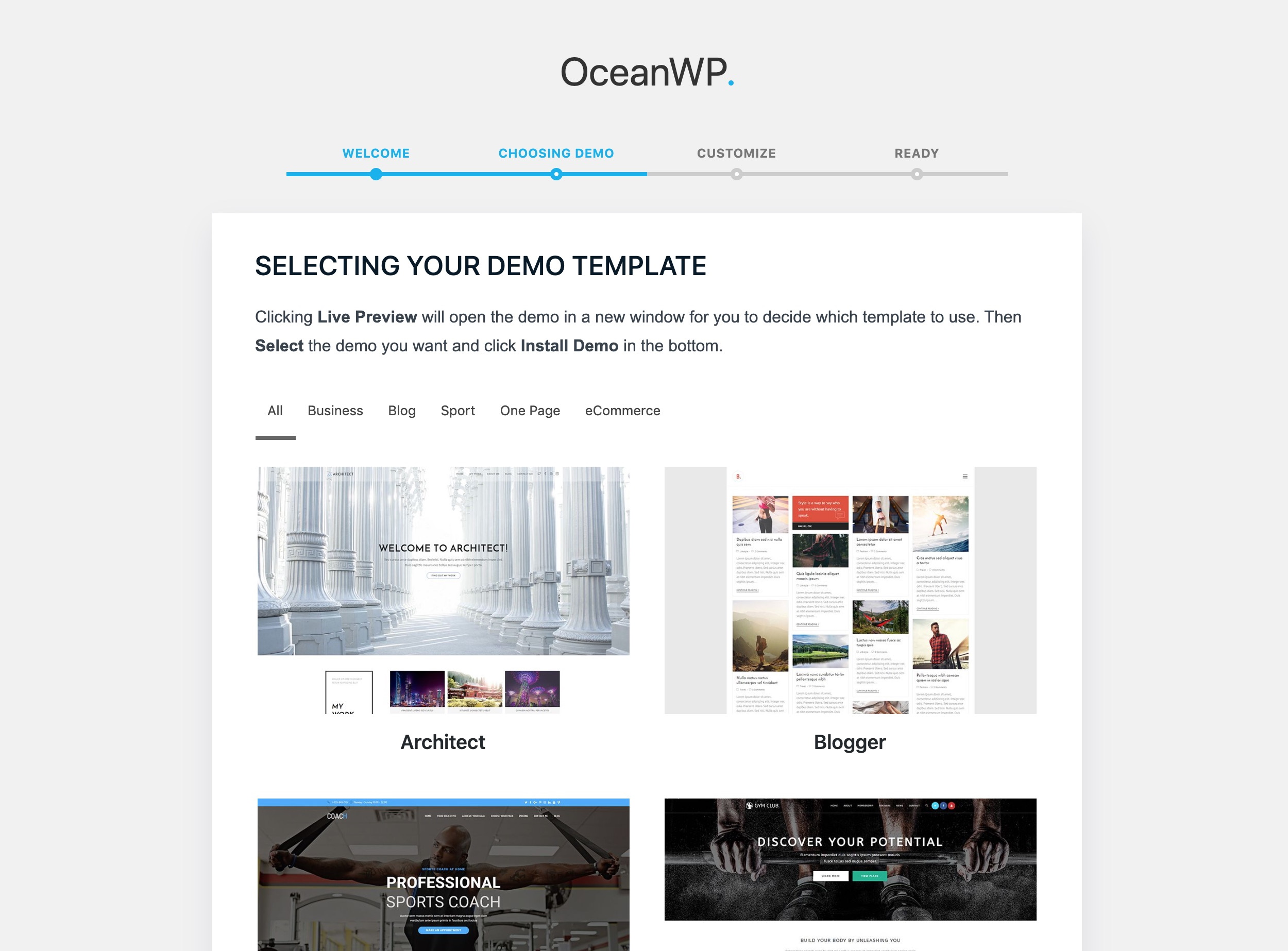 Getting a design installed is done very quickly — just pick what you like and OceanWP will fetch the design for you in seconds. You'll also get to enable/disable some of the individual components of the starter site.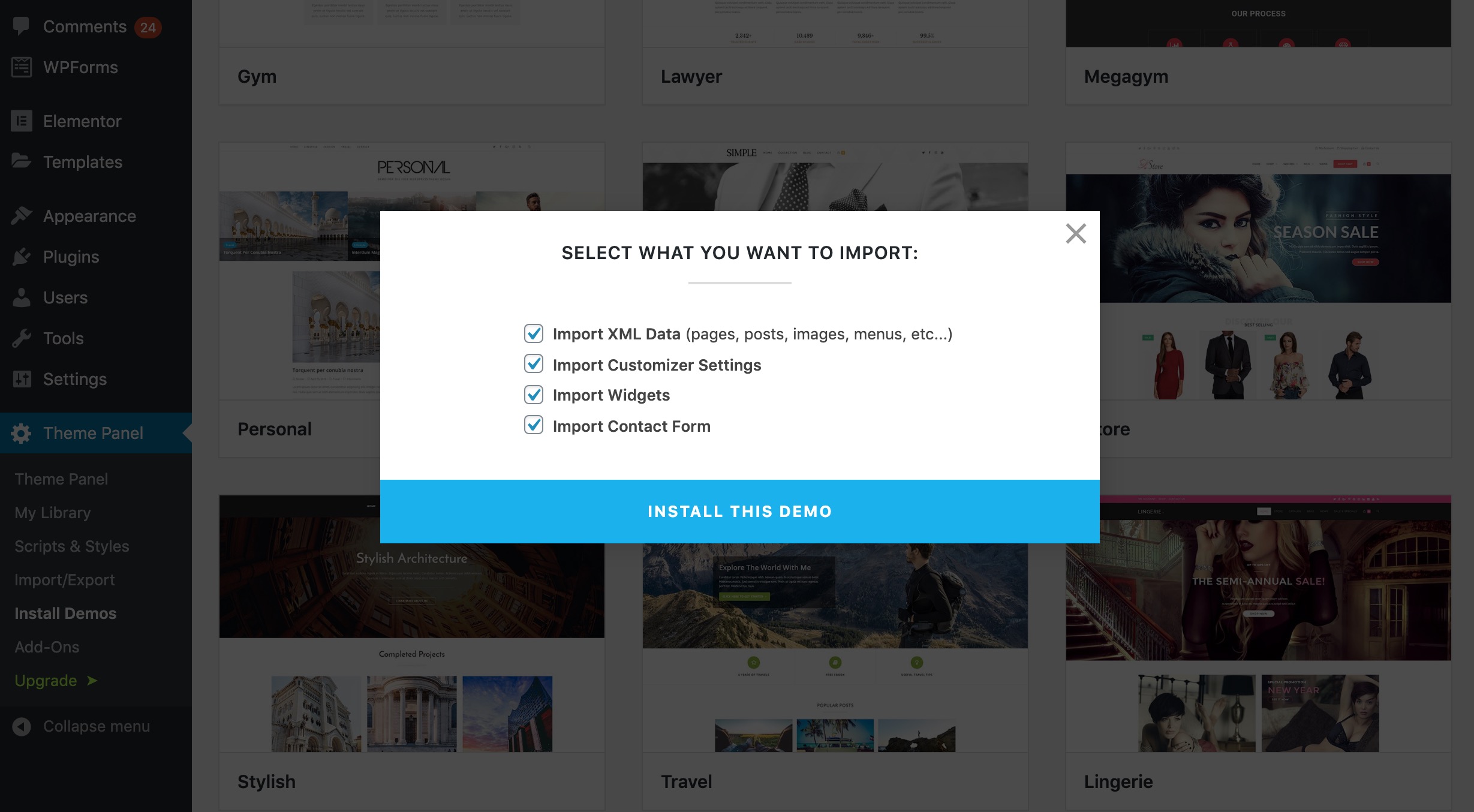 When it comes to other customizations, OceanWP handles those via the theme's own settings panel and the aforementioned deep integration with the WordPress Customizer.
Clicking on any of the links you see in the screenshot above will take you straight to WordPress Customizer.
For example, clicking on Typography will take you to the typography section in the Customizer. In there, you can adjust your headings, body texts, footer texts and a lot more. A similar level of customization is available in any other section of the Customizer with OceanWP.
What's truly impressive here is that you can do all of these customizations in the free version of the theme. For example, competing themes such as Astra ask you to buy extra extensions before they give you a similar scope of customization.
Speaking of extensions, OceanWP has those as well, and encourages you to install them to get more features on your site (some are part of the pro license).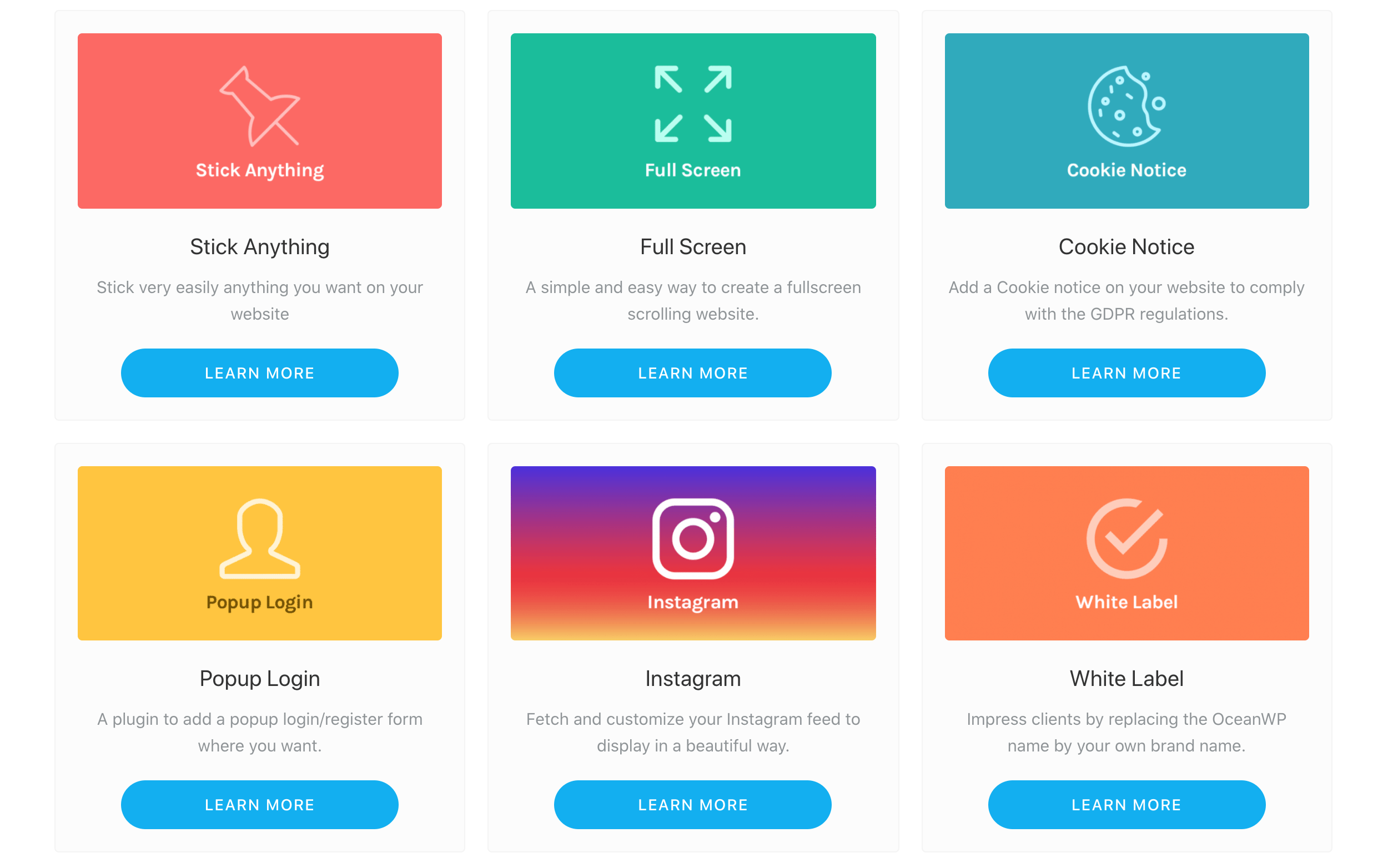 One more aspect of OceanWP that's really original is the possibility to enable/disable various individual scripts handling things such as drop-down search, header replace search, fixed footers and more. This is how uninstalling a feature you don't need should be done!
👉 Overall, building a website with OceanWP is about going through the main settings of the theme, importing a starter site, and then tweaking it to fit your needs. Those ready-made designs are built with Elementor and can be customized freely after you import them. This is particularly beneficial if you've already been using Elementor with your previous site design.
Working with Avada
Avada welcomes you with a short intro video and an invitation to install some helper plugins to unlock its full feature set. Two of these helper plugins are required.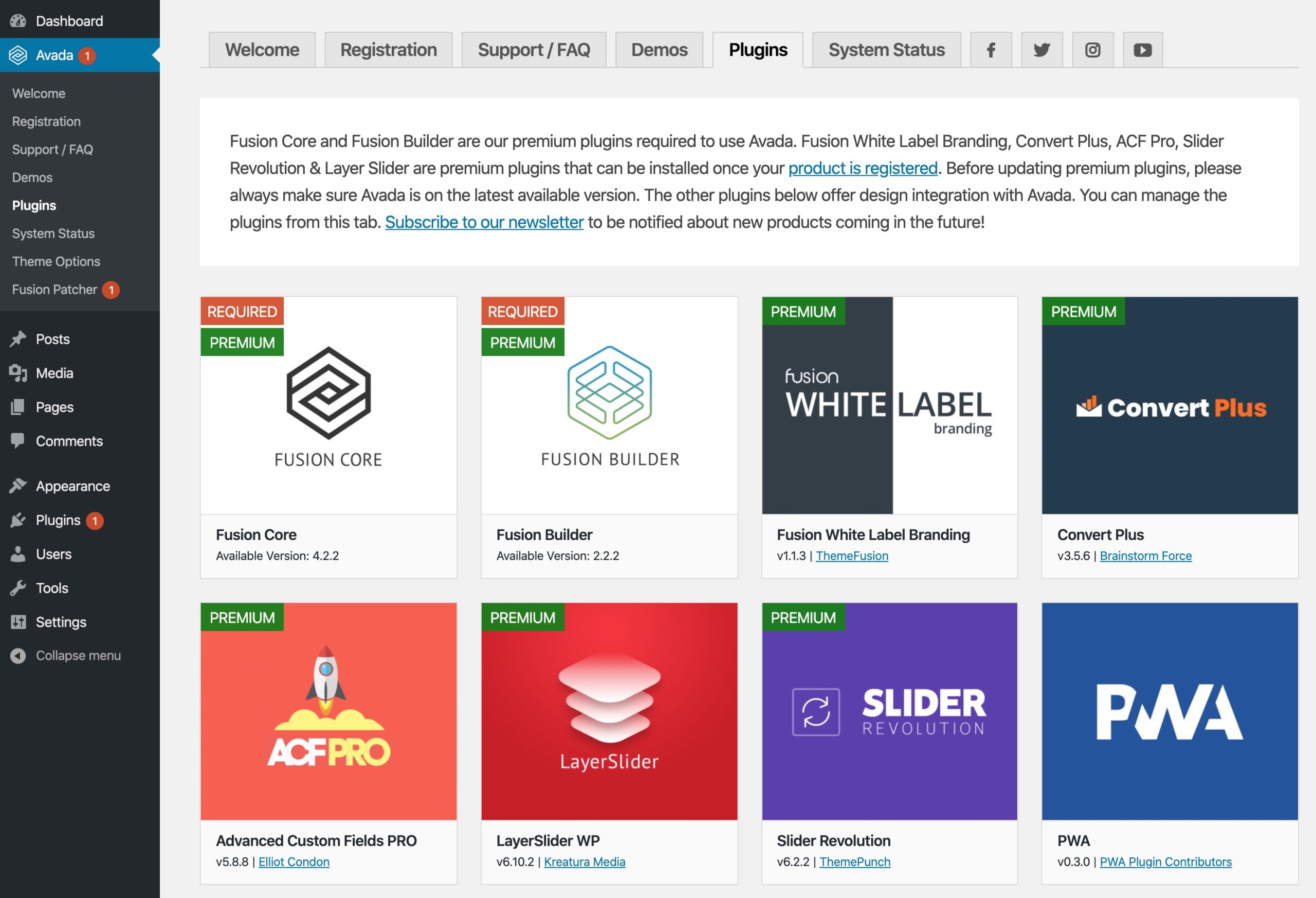 Importing a starter site design is quick (most of the time), just like with OceanWP. To get one installed, go to the Demos tab.
You'll get to choose from 60-plus ready-made website designs; none of them cost extra, which is great!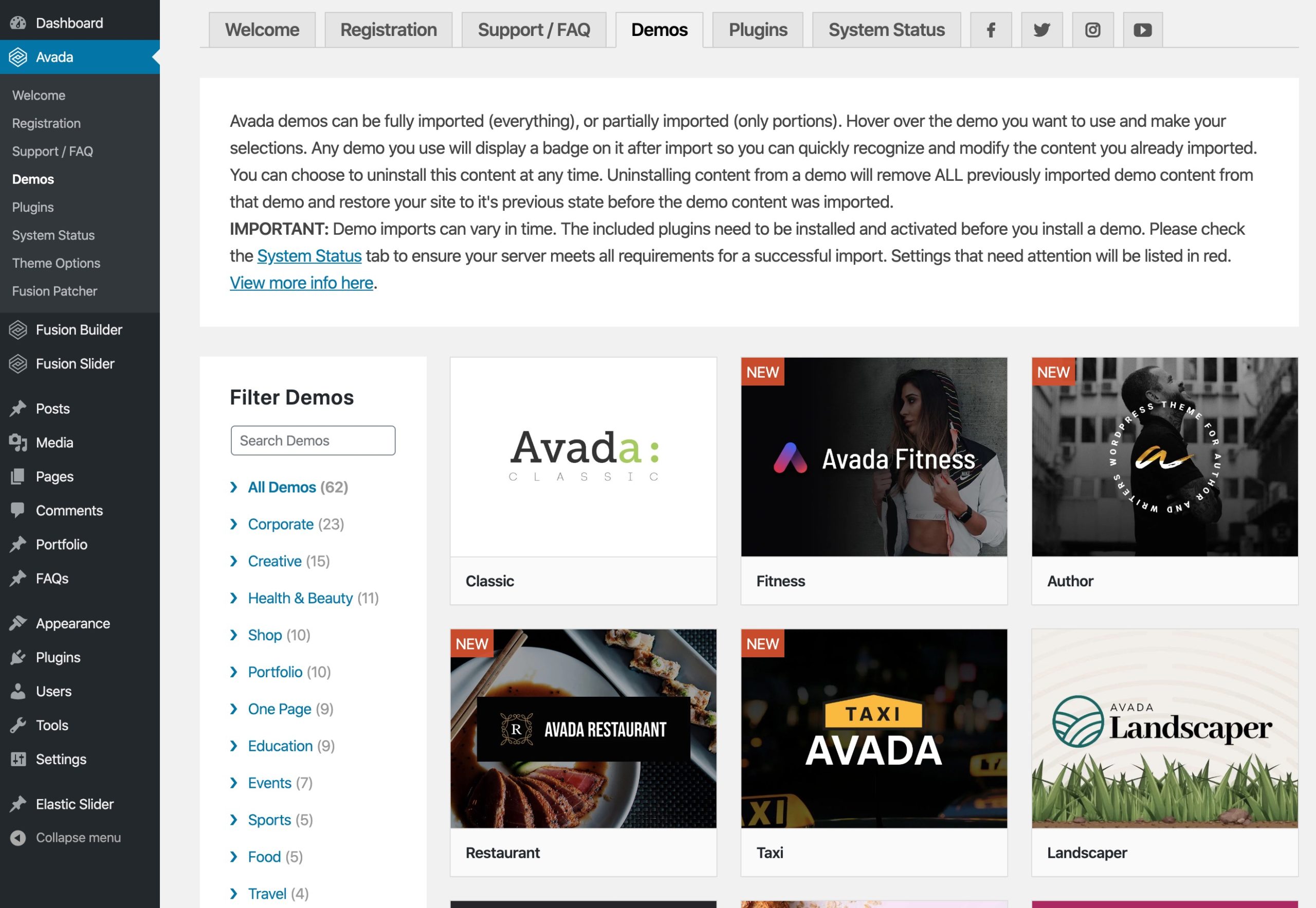 Each design has a preview, and gives you detailed options in terms of picking the elements you want to fetch with the starter site. Avada gives you more room to decide here than OceanWP does.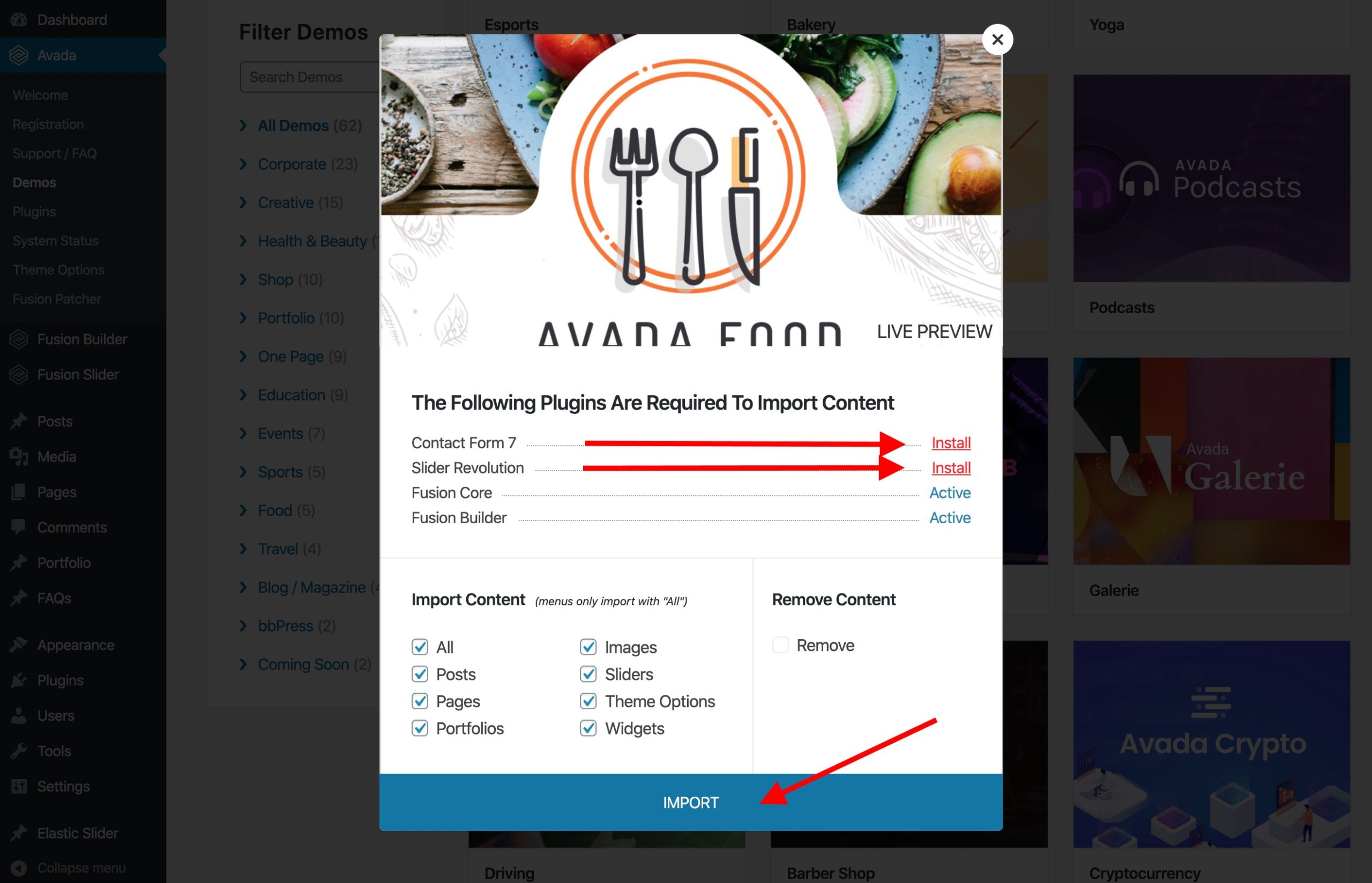 The only confusing part of the import procedure is that you should install the missing plugins before importing the design (there can be reliability issues with the import if you don't do that). Any required plugin can be installed via its own Install link (visible in the screenshot above).
Every once in a while, you may face general issues doing the import. Avada says the issues are caused by server configuration, but I find that hard to believe, considering that no other theme seems to be having similar problems with imports.
With the import done, your site is ready! Now is a good time to enter Fusion Builder Live and see what sort of visual customizations are available.

Here's what the builder's interface looks like: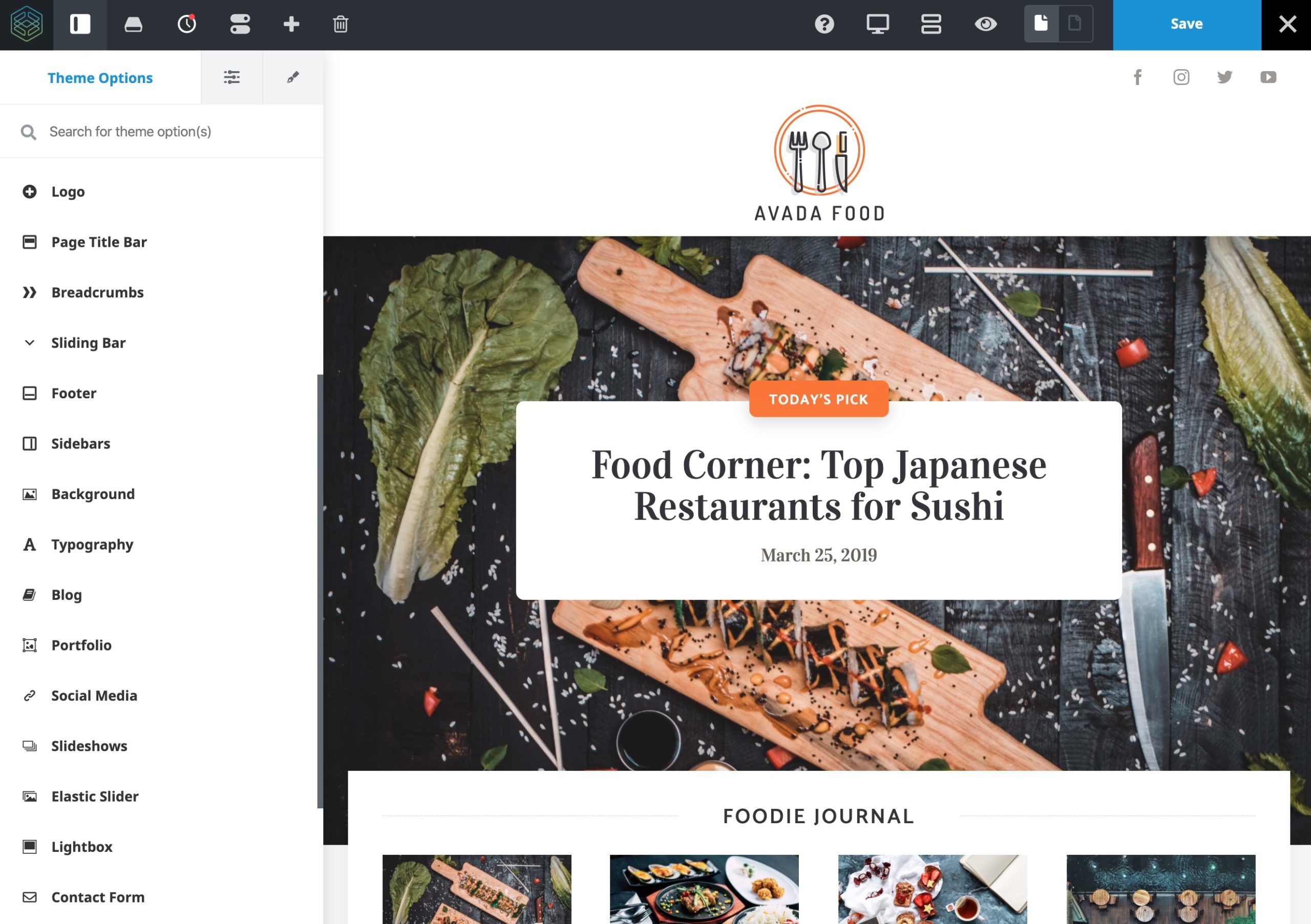 Overall, the structure is similar to what you'll find in other builder tools, such as Elementor or Beaver Builder. To customize an element on the page, just click into it and see the options in the sidebar.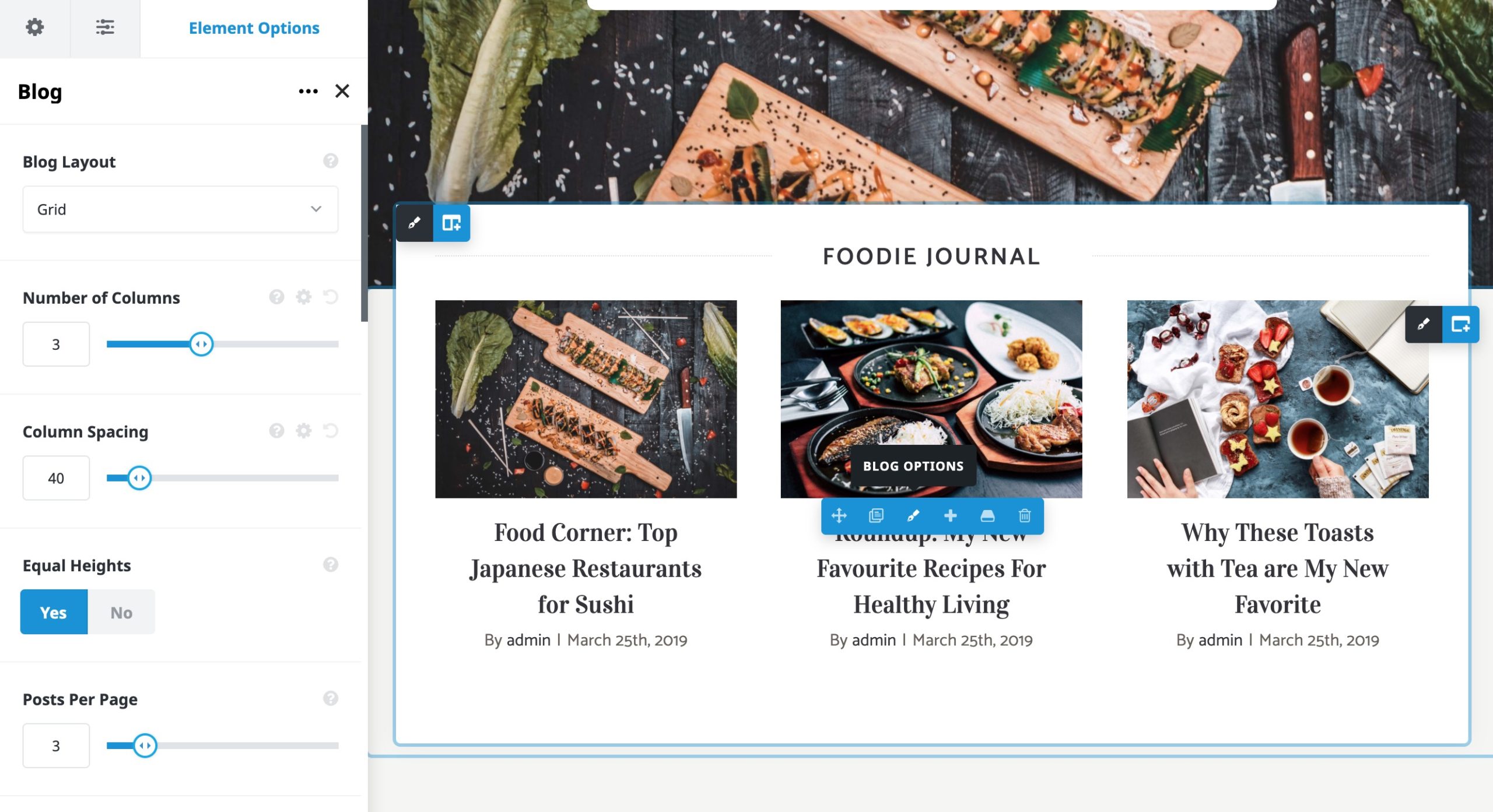 A somewhat surprising thing about Avada is that it has basically no integration with the WordPress Customizer. The visual elements can be tweaked via Fusion Builder Live, and all of the other stuff via the theme's options panel. Speaking of the options panel:
Avada has a massive theme options panel for you! And I really mean massive. Even the smallest detail of your site's appearance can be tweaked there.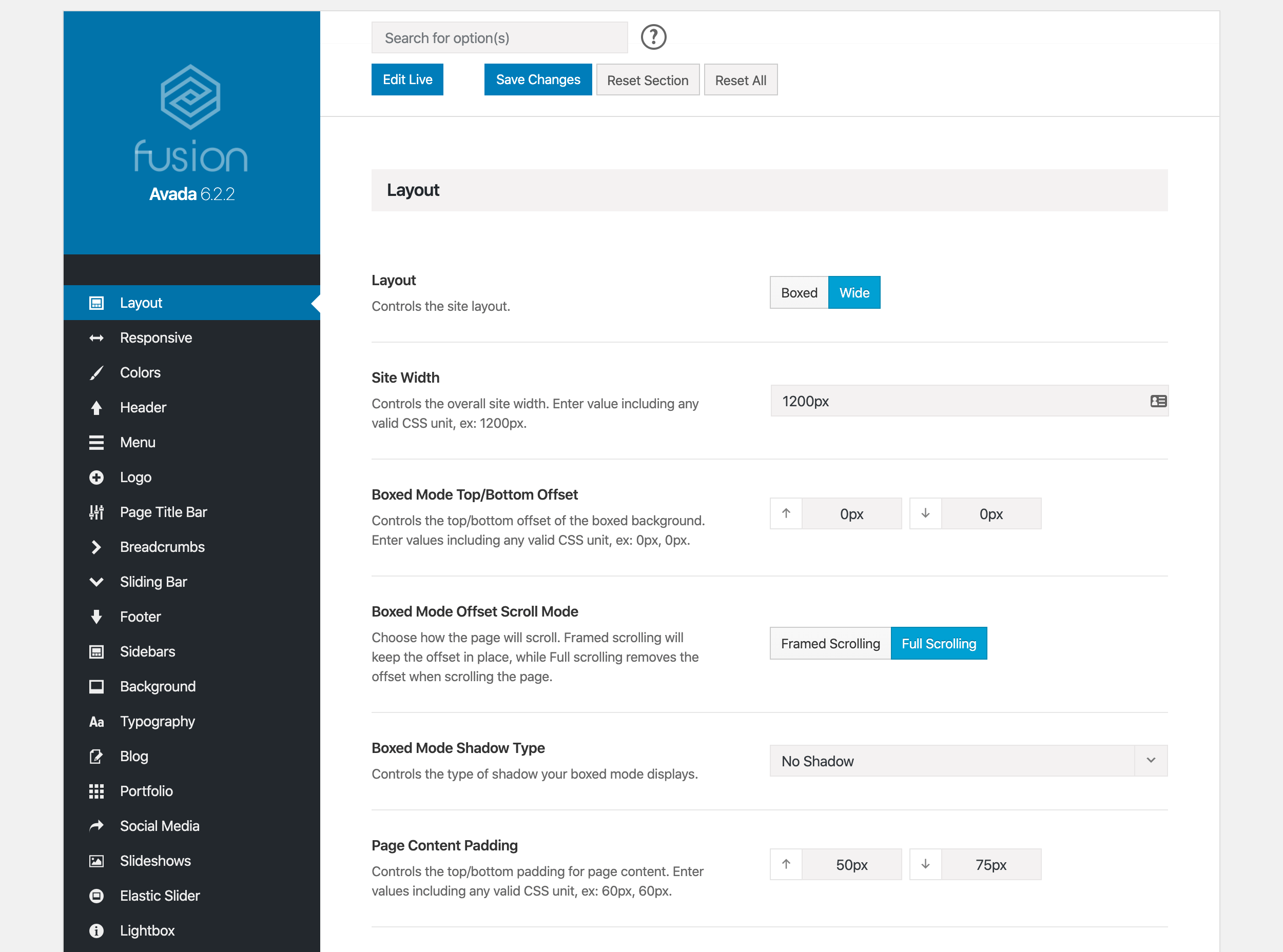 👉 Overall, Avada can be a very easy theme to use, as long as you're okay with the starter designs and you just want to replace the demo content with your own. From there, you can make things exceedingly more complex by getting into the options panel, customizations via Fusion Builder Live, and so on. This makes it a good tool for developers working on other people's sites. When it comes to the middle ground, though, Avada can be too difficult and intimidating to use for a DIY user who wants to customize things only a bit.
🎨 Designs
Both themes offer designs that are modern, good-looking and can be imported with a couple of clicks (though with some reliability issues in Avada's case).
Still, I have to give Avada a slight edge here. Even considering the importing glitches, it still offers a better choice of niche website designs with specific goals and audiences in mind.
Avada has a lot of designs for restaurants, authors, fitness experts, weddings, food sites, and even taxi businesses, landscapers, e-sports, and tens of other niches. Getting a ready-made design that matches your niche 90% or more from the get-go speeds up the launch process considerably.
An example OceanWP starter pack: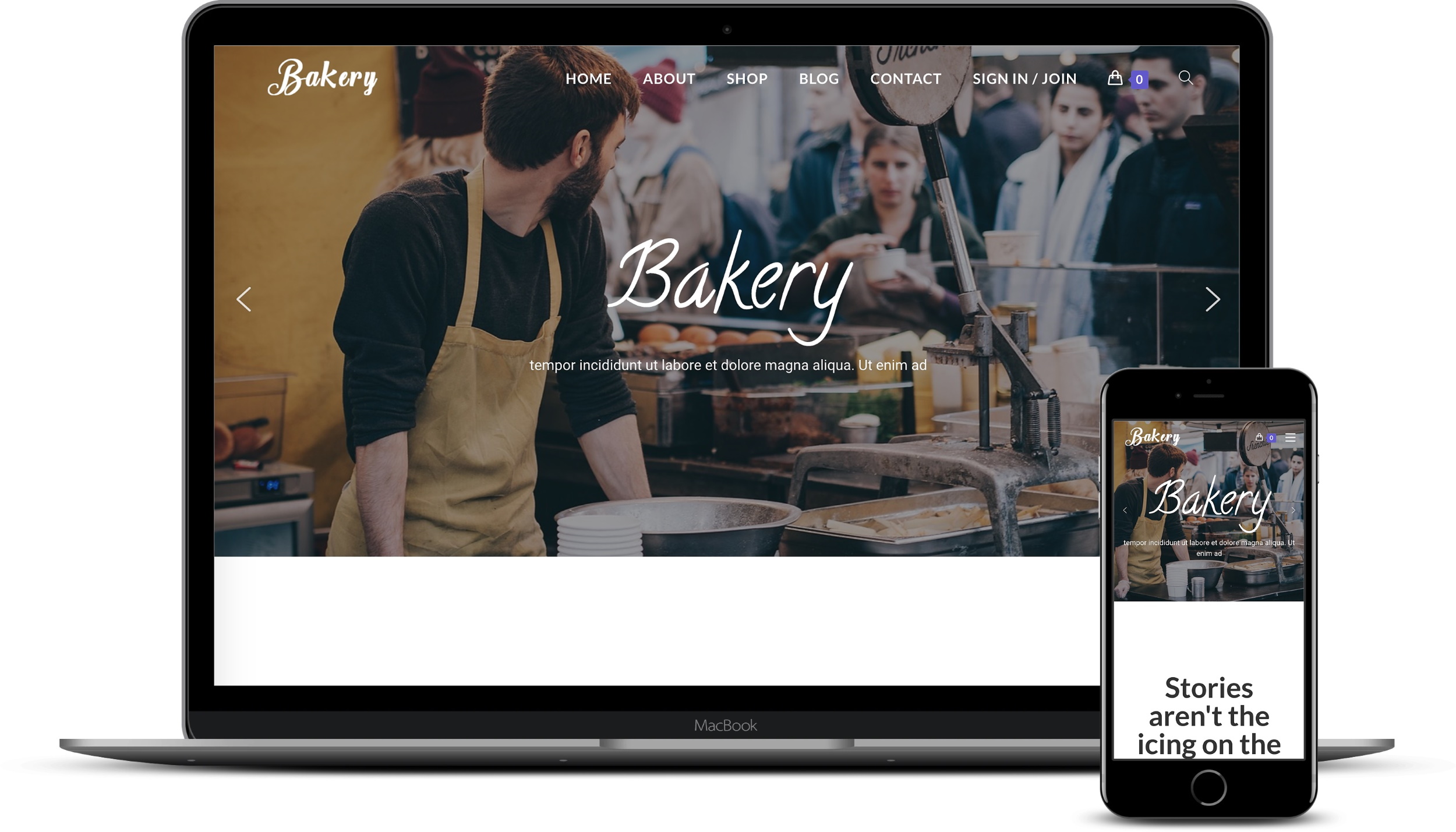 An example Avada pre-made design: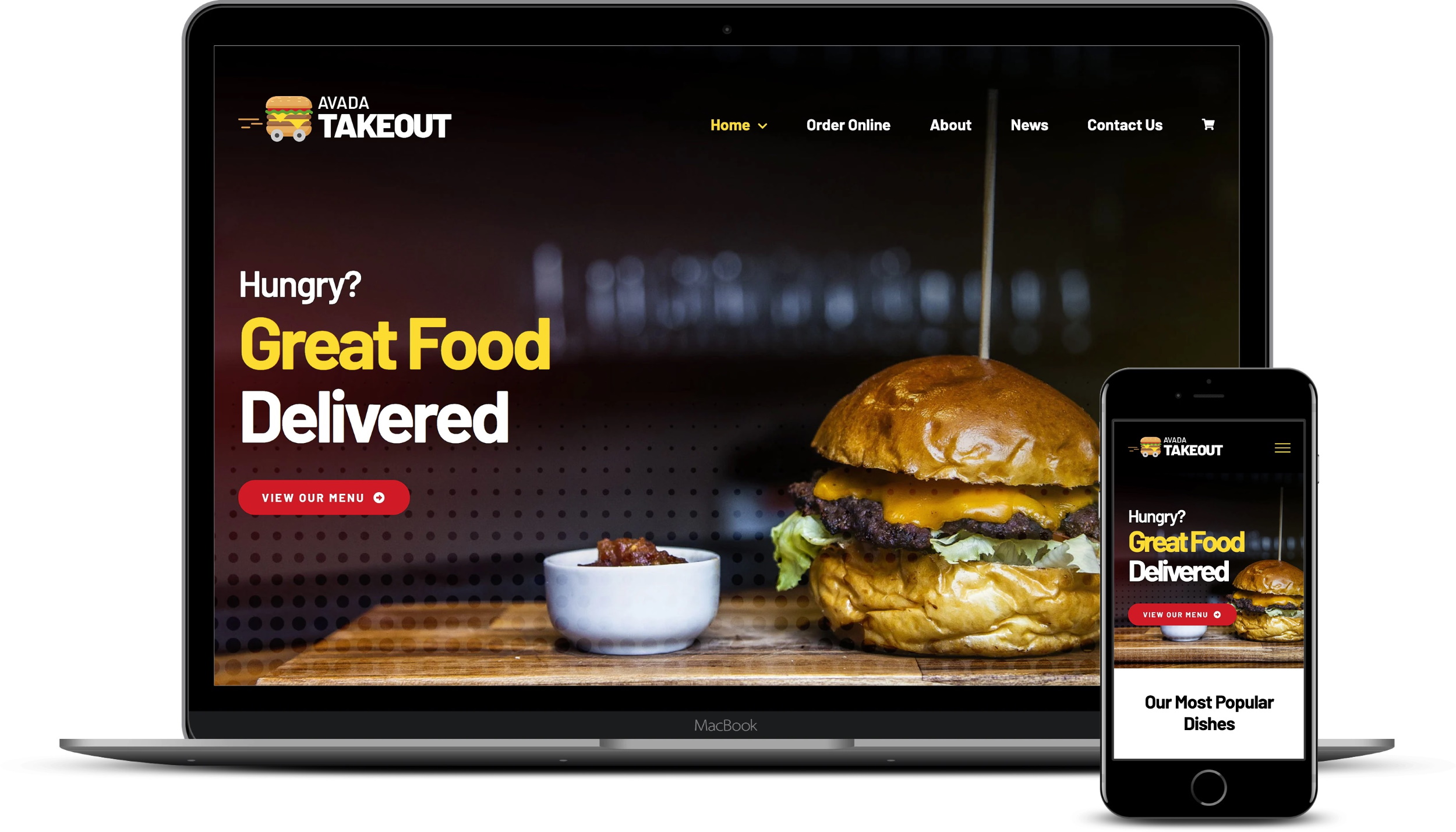 Here are the full design catalogs of OceanWP vs Avada:
Lastly, here are some beautiful examples of live websites built with OceanWP and Avada:
🏁 Verdict
No surprise here, there's no clear, hands-down winner of this OceanWP vs Avada battle. It all depends on what your needs and expectations are.
Here's what to consider:
💸 If you don't like spending money on your WordPress theme, there's only one solution: OceanWP. There's no free version of Avada.
🦾 If you're a DIY type of user and you like to tinker with your theme at a basic level, you'll likely enjoy OceanWP more. The fact that you can easily enable/disable individual features and you don't have to make your way through a huge panel helps a lot.
🎨 If you're looking for a beautiful ready-made design that can be imported (relatively) pain-free, go with Avada. This WordPress theme may also be a better choice for a developer looking for a platform to use as a base for their client sites (due to Avada's huge options panel and customization features).
Who do you think is the winner between OceanWP vs Avada? Let us know in the comments.
Related Posts: