What's the difference between a website and a domain name? It's a common question for people wanting to build their first website, and one I'll be diving into in this article. To get you up to speed with the basics of launching a website, I'll be covering the following:
What a website is
The basics of web hosting
What a domain is
The basics of domain registration
Frequently asked questions about websites and domains
💡 Note: Considering WordPress? Here's a quick comparison of the three officially recommended WordPress hosting providers: Bluehost, DreamHost and SiteGround.
I'll also point you to some resources that'll help you to get your domain and website set up.
What Is a Website?
In a nutshell, a website is a collection of interconnected web pages that are hosted at a specific domain. They store and display the images, text and multimedia elements you see in the main area of your browser.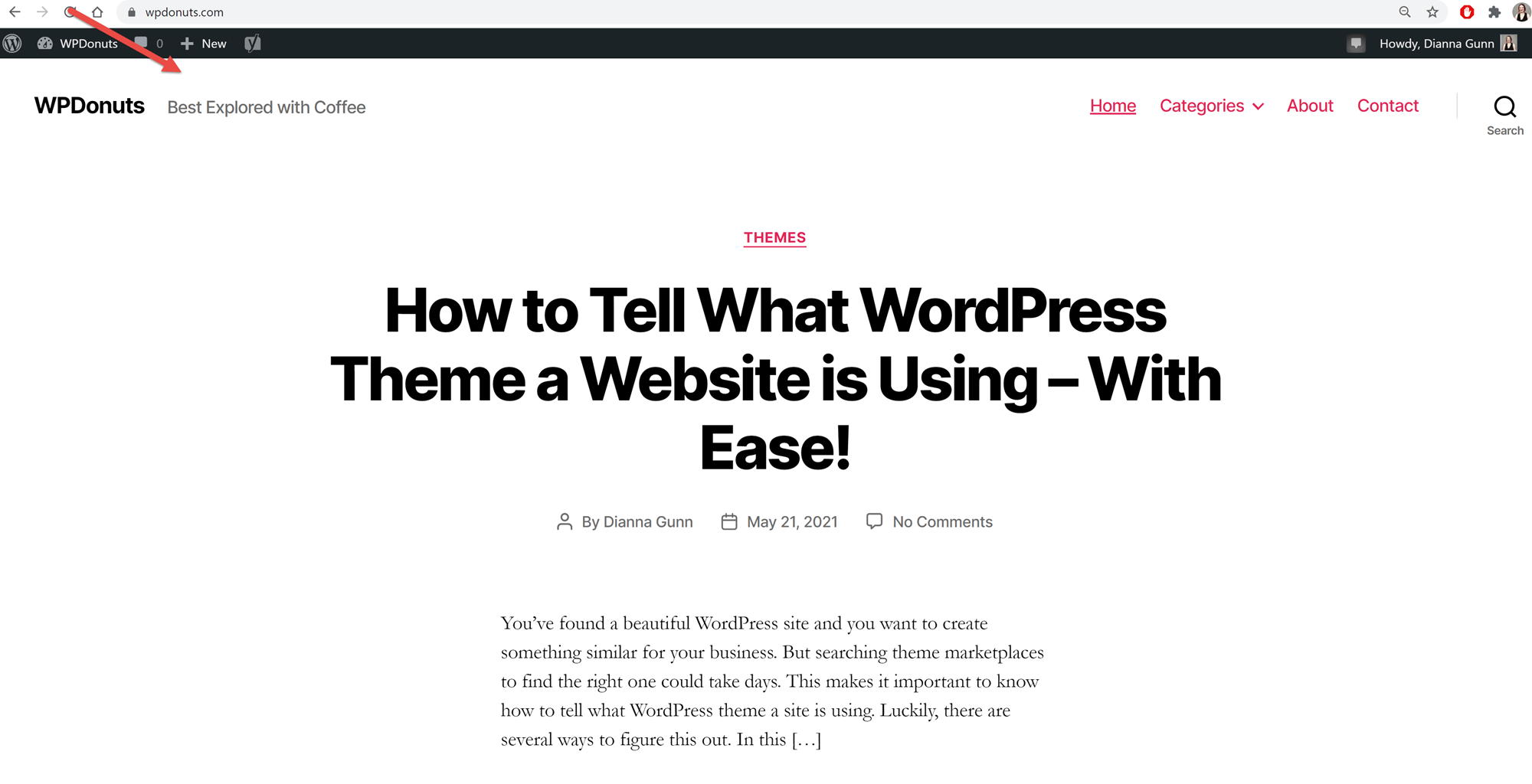 What's the Difference between a Website and a Web Page?
To understand the difference between a website and a web page, consider the file system on your computer. This system is divided into folders, and each one of those folders is like a separate website containing a specific type of media or information about a specific topic.
Your web pages, then, are the individual documents inside each folder. They typically provide one type of information about their subject, whereas a website might contain many different types of information.
What Is Web Hosting?
Web hosting is a service that stores and displays the content of your website. There are numerous types of web hosting, with some of the most common options being hosting through a website builder, shared hosting and managed WordPress hosting.
Website hosting plans are typically bought on an annual basis. Some hosts offer month-to-month plans, but these are usually more expensive.
There are a couple of other things you need to look out for when looking at web hosting costs:
Sales listings for long-term plans. Often the lowest price being promoted by a web host is the price you get when you pay for a full three to five years of hosting. These plans can save you a lot of money over time, but the initial cost can be prohibitive.
Renewal costs. The promoted price is often only for the initial signup period. Pay close attention to what the price will go up to when you renew; sometimes the jump is as much as $10 a month.
With that in mind, let's take a closer look at different types of web hosting.
Website Builders
Website builders are visual tools that make the process of creating a website incredibly simple. When you work on a web page in one of these tools, the editor will typically display the page exactly as it will appear to visitors. Two of the most popular site builders are Wix and Squarespace.
Shared Hosting
Shared hosting is a type of hosting that shares resources from a single server between multiple sites. The shared resources allow companies such as Bluehost to offer this type of hosting for quite affordable prices. Most website hosts offer some type of shared plan. This includes website builders, which typically only offer shared hosting.
Most shared hosting plans will require you to choose a content management system (CMS) such as WordPress to build your website with.
Managed WordPress Hosting
Managed WordPress hosting is a specialized web hosting service that handles all of your WordPress updates for you, allowing you to focus on creating content. This is a great solution for business owners who don't want to worry about the technical side of things.
The great thing about WordPress hosting is that it doesn't have to be more expensive than regular shared hosting. In fact, the cost of WordPress hosting from hosts such as Dreamhost and Bluehost is the exact same as the cost of regular shared hosting.
What Is a Domain Name?
The next thing to understand in the discussion of websites vs domain names is what a domain name does.
A domain name is like an address for your website, and it appears in the small text bar at the top of your browser.

The domain is what your visitors use to access your site, but this isn't what their computer sees. Instead, their computer sees an IP address, which looks something like this:
23.57.40.37
Most humans won't remember a string of numbers like this, so they use domain names instead.
A domain name consists of two components: The site name and the domain extension.
Site Name
The site name is the identifying part of the domain; it tells visitors the name of your site. For example, in the domain for this site 'wpdonuts' is the site name. Your site name will probably be the name of your brand or a related keyword.
Domain Extension
The domain extension, also referred to as the Top Level Domain (TLD), comes after the site name and looks something like '.com'. There are hundreds of domain extensions, including localized extensions for sites in places such as Australia, and niche extensions such as '.charity'.
Common domain extensions such as .com, .net, and .org can be purchased by anyone for around $10 to $20 a year. Some extensions, such as .io, are more expensive. Others, such as .edu, may have specific requirements you must meet to purchase them.
You can look at the full list of current TLDs, but, in most cases, you'll want to stick with something recognizable. In fact, most of the time it's recommended that you only purchase a domain name if you can get the .com.
Domain Names vs URLs
Along with the differences between websites and domain names, it's also important to understand the difference between domain names and URLs.
A domain name is the top-level address for your website. When a user types it into their browser, they'll be taken to your home page.
A URL (Universal Resource Locator) is a link that goes to a specific page or area of your site. This will start with your domain, then include a forward slash, followed by the title of the page you're looking at.
Domain Registration
To use a domain, you'll need to register it with an ICANN-approved company. Most business owners do this directly through their web host, since domain registration is often bundled into the price of hosting, but you can purchase a domain separately through a site such as Namecheap.
Domains are typically purchased on an annual basis. You can save money by purchasing a domain for two or more years at a time, with some registrars letting you purchase domains for up to ten years at a time.
It's important to note that domain registrars often offer sales where the price of the domain goes up at renewal time. When looking at options for domain registration, pay close attention to both the initial price and the renewal price.
WHOIS Privacy
The WHOIS database tracks information about ICANN-registered domains. This includes how long the domain has been registered, what registrar the domain is with, and the name and contact information of the site's owner. This means anyone with internet access can instantly find your name, email, phone number and even address.
If you don't want this information published, you'll need to choose a domain registrar that offers WHOIS privacy. Most domain registrars charge extra for this service, so you'll have to factor it into your overall cost.
Bundled Domains
Some domain registrars let you buy your domain name with multiple TLDs as a bundle. This typically includes the .com, .net, and .org extensions. You can then set up all of these TLDs to redirect to your main site. This can make it easier for people to find you and protect you from cybersquatting.
Websites vs Domain Names: FAQ
Can I Have a Website without a Domain Name?
Tools such as WordPress.com and Wix offer free plans hosted on sub-domains. These typically look something like this:
site-name.wordpress.com
This allows you to build a site without registering a domain name. Unfortunately, subdomains such as this are harder to remember and look less professional than regular domains. If you're planning to use your site for business purposes, we strongly recommend paying for a domain.
Can You Have a Domain without a Website?
You can register a domain without associated website hosting using any reputable domain registrar. This is a great way to reserve the domain name for a business you're not ready to start building yet. You may also want to register the .com for your name to protect your reputation.
Can I Move My Domain to a New Registrar?
Once you've purchased a domain, it's yours until the renewal date. You can legally move your domain to a new registrar at any time. This is a somewhat involved process, though, so you only want to do it if you'll receive a significant benefit.
Can I Switch Web Hosting Companies without Changing Domains?
Since you have all rights to the domain, you can switch it to a new web host at any time. You can do this by changing the DNS server your domain is pointed at. Some web hosts also offer services where they handle this transition for you, along with the transition of your existing site.
How Can I Start a Website?
The best answer to this depends on your goals. If you're creating a hobby site, your best choice may be one of the free options, such as WordPress.com.
On the other hand, if you want to build an online business, you'll want to buy a domain and hosting plan. I recommend choosing either Dreamhost or Bluehost for WordPress hosting that's both high quality and affordable.
Final Thoughts
If a website is your online house, a domain is the address for that house. You can have a domain without a website, but people won't be able to view anything on it until you invest in a hosting plan.
If you're considering building a website for the first time, check out some of our other guides:
With these guides in hand, you'll have all of the inspiration you need to start building your first website.
Any questions?